For a landlocked city like Pittsburgh, fresh seafood many not be the first food that springs to mind, but we're actually lucky to have a plethora of restaurants flying in fresh oysters from all over the country – time to enjoy!
As we're officially in the thick of summer, there is no better time to indulge in a crisp glass of Muscadet and a dozen oysters on the half shell. From West Coast specialities to $1 oyster happy hours, below we've outlined everywhere in Pittsburgh you need to go to find great oysters.
Tag all of your oyster pictures with #goodfoodpgh and @goodfoodpgh.
The Best Spots for Oysters in Pittsburgh:
Off The Hook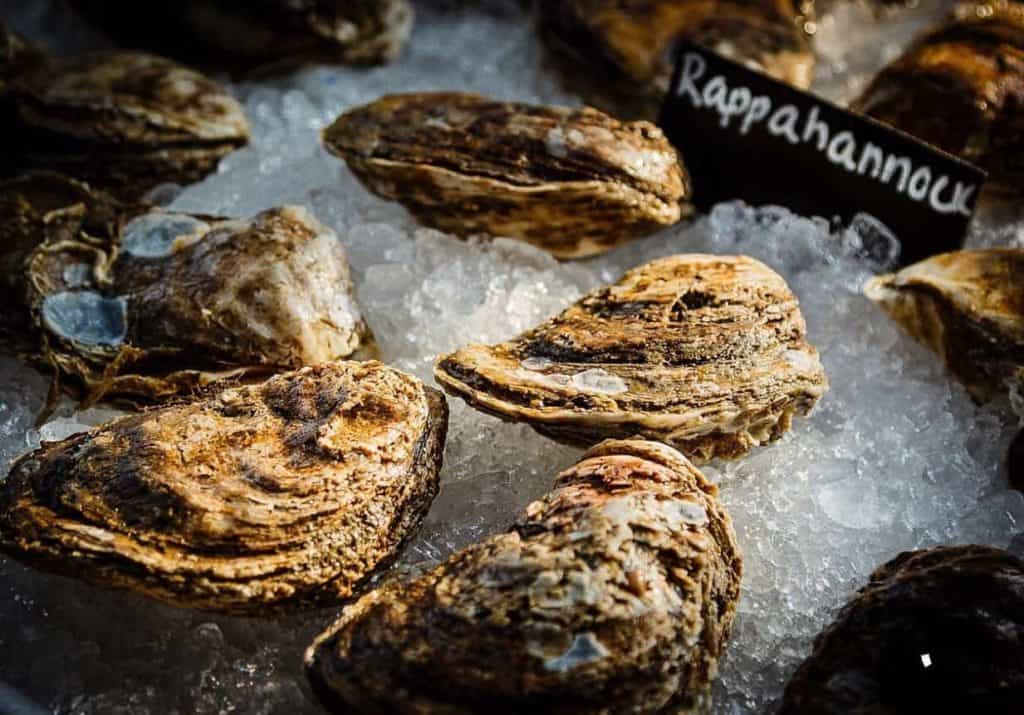 North of the city in Warrendale is Off The Hook, a popular seafood restaurant from the founders of Monterey Bay Fish Grotto. While Off The Hook has a plethora of seafood options flown in daily from across the country, the oyster bar is prominently featured. Guests can choose from an entire menu of East Coast, West Coast, grilled oysters, and sauces. And from the open oyster bar, guests watch as chefs shuck their oysters. The restaurant also features outdoor dining, and extensive wine by the glass program, and a unique hand-cut fish to-go option.
Off The Hook (908 Warrendale Village Dr)
Merchant Oyster Co.
Head to Lawrenceville to enjoy seafood staples from this classic New England-style chowder house. As the name would suggest, the restaurant specializes in oysters from around the country, but don't miss other seafood staples like lobster rolls, crab cakes, baked oysters, linguini & clams, chowder, conservas, and more. Merchant also offers a Happy Hours, every Sunday from 11:00 A.M. – 5:00 P.M., and Tuesday – Thursday 4:00 P.M. – 6:00 P.M., with 1/2 off select oysters, 1/2 off narragansett, and 1/2 off wines on tap. Oyster options rotate according to what is available, and are served sold by the piece with cocktail sauce, barrel aged hot sauce and lemon.
Merchant Oyster Co. (4129 Butler St)
Muddy Waters Oyster Bar
Another popular oyster house in Pittsburgh is Muddy Waters, located on Highland Avenue in East Liberty. For the past couple of years, Muddy Waters has been a brunch destination in Pittsburgh, heralded for their over-the-top Bloody Mary bar. The restaurant is also known for their oyster Happy Hour deal, offering $1 featured east coast oyster & $2 featured west coast oyster on Tuesday- Friday, 4:30pm-6:30pm, Tuesday 9pm-11pm, and Saturday 11am-1pm. And in even more exciting news, the Tuesday late-night happy hour lines up perfectly with Muddy Waters live music from 8:00pm – 10:00pm. The full oyster menu can be viewed online.
Muddy Waters Oyster Bar (130 S Highland Ave)
Original Oyster House
The Original Oyster House is the oldest bar and restaurant in the city of Pittsburgh. This Pittsburgh classic is located in the heart of Market Square. When the restuarant first opened in 1870, oysters sold for a penny and beer was 10 cents a glass. The restaurant is known for their fresh seafood platters, including the "Fish Boat" featuring their famous jumbo fish sandwich, and the "Maryland Style Crab Cakes" made fresh daily with lump crab meat. Guests can also, of course, order oysters, including the Key West Oyster Dinner, which features lightly seasoned and breaded oysters, a Key West recipe.
Original Oyster House (20 Market Square)
Gandy Dancer Saloon
Adjacent to the main dining room at the Grand Concourse restaurant is the Gandy Dancer Saloon. Also housed in the beautifully preserved Pittsburgh & Lake Erie Railroad Station building, the Gandy Dancer is a separate seafood restaurant. The menu is printed daily, as to offer fresh seafood, seasonal and local offerings. The restaurant dubs itself an "Oyster Bar," offering oysters from around the country, including Blue Point from New York, Cape May Salt Oysters from New Jersey, and Hood Canal Oysters from Washington. Don't miss their "Buck-A-Shuck," every Thursday from 4:00 PM – Close.
Gandy Dancer Saloon (100 W Station Square Dr)
Luke Wholey's Wild Alaskan Grille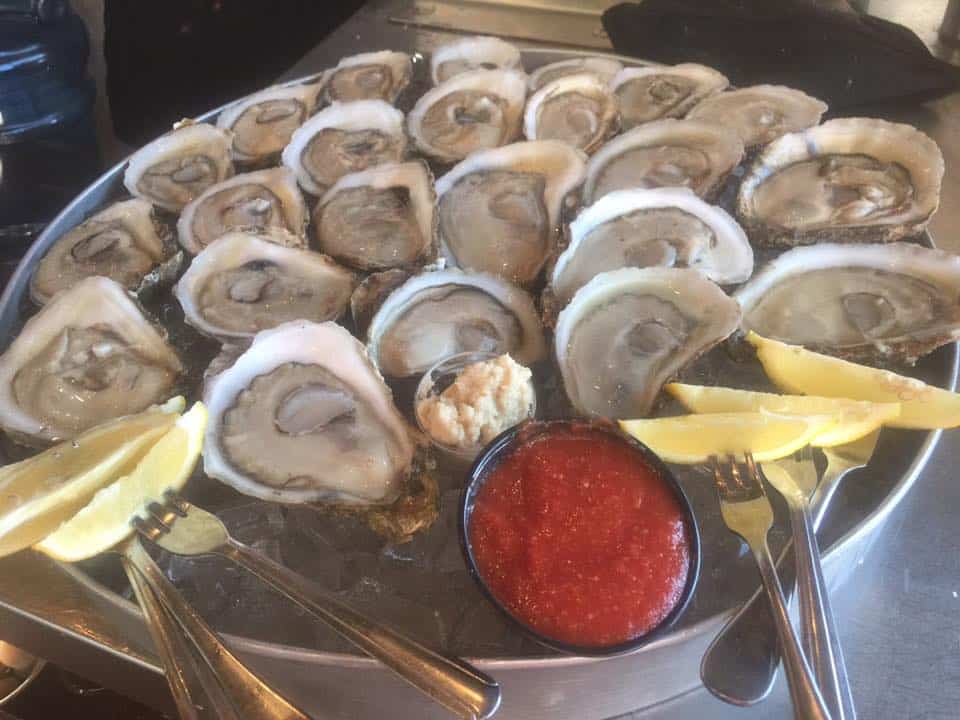 If you're looking for fresh oysters in The Strip, head to Luke Wholey's Wild Alaskan Grille. Oysters are available at market price with a fresh selection of East and West Coast options. They are served with house-made cocktail sauce, horseradish, and lemon wedges. The restaurant also offers a Shrimp & Oyster platter with Old Bay Baja shrimp. While you're there, be sure to try one of Luke Wholey's famous Bloody Marys (served with a crab on top!).
Luke Wholey's Wild Alaskan Grille (2106 Penn Ave)
Union Standard
Unlike other options on this list, The Union Standard is not a seafood restaurant, instead specializing in local and seasonal foods, featuring an ever-changing menu of American Northeast, Mid Atlantic, & Appalachian cuisines. In addition to these offering, the restaurant has a Raw Bar, offering shellfish and seafood from the Northeast. The entire raw bar menu can be viewed online. Enjoy your fresh oysters with Union Standard classics like Warm Potato Bread, Laurel Hill Trout, Gerber Farms Rotisserie Chicken, and the Fried Chicken Sandwich. The Happy Hour (bar only) is Monday – Friday 5:00 pm – 7:00 pm, offering $1 Oyster of the Day, $4 Select Draft, and $6 Prosecco.
Union Standard (524 William Penn Pl)
or, The Whale
Another Downtown Option for Oysters is or, The Whale, a seafood and chop house located inside of The Distrikt hotel. Located inside historic Salvation Army building, the dining space occupies the former gymnasium, with two tiers of seating, an open kitchen, butcher room, and ornate details. The restaurant has an excellent brunch menu, and is known for their carefully curated selection of wine, beer, and cocktails. One of the many seafood options on the menu are the oysters, offered as a fresh, daily selection with charred tomato cocktail sauce or pickled pepper mignonette. The hotel also has The Boulevard Lounge (open for lunch), located on the hotel's mezzanine, with a robust cocktail menu, raw bar, and selection of soups, salads, bar-bites.
or, The Whale (463 Boulevard of the Allies)
Penn Avenue Fish Co
One of the best places in Pittsburgh for fresh seafood is Penn Avenue Fish Co, which is both a seafood market and restaurant. Oysters are available wholesale as part of Penn Avenue's retail offerings, and can be purchased on the half shell at the restaurant, served with your choice of saffron mignonette, cocktail sauce, fresh lemon, or sriracha. The restaurant is BYOB and has a Oyster Happy Hour at their Strip District location, Wednesday-Saturday from 4-6.
Penn Avenue Fish Co (2208 Penn Ave)
Eleven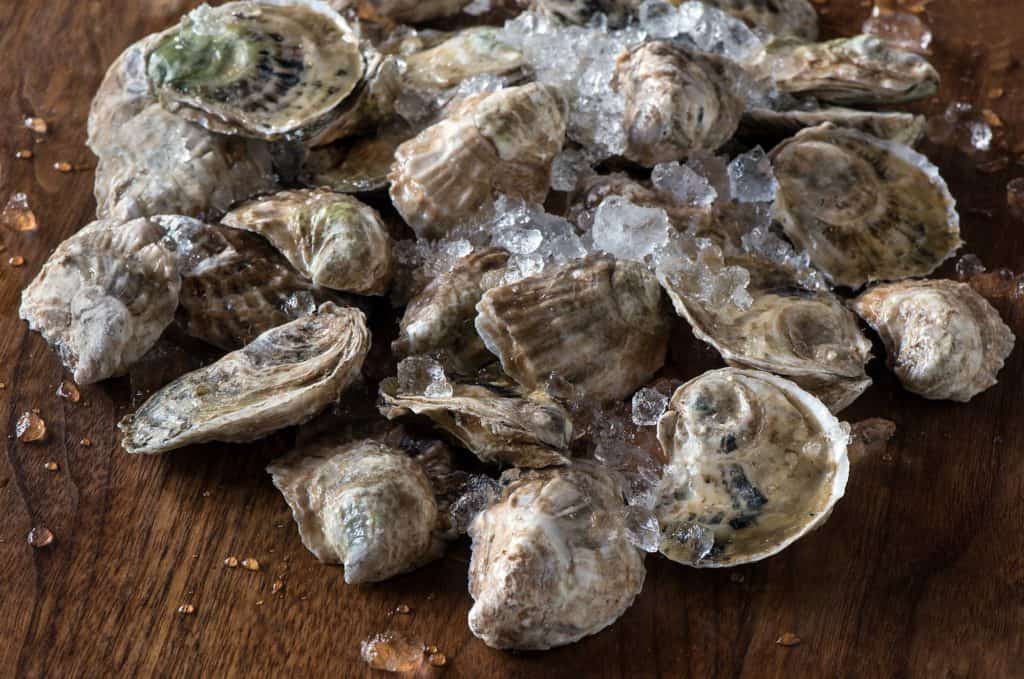 Eleven is an elegant Pittsburgh hotspot restaurant located in The Strip inside of a rehabilitated warehouse alongside old Pennsylvania rail lines. The restaurant offers a seasonal menu and an outstanding wine list. Oysters are a very popular menu item, and are part of the Eleven's $7 Happy Hour menu, available Monday – Friday from 4-6 PM in the bar and lounge only.
Eleven (1150 Smallman St)
Monterey Bay Fish Grotto
Oysters with a view of the city? Yes, please! Monterey Bay Fish Grotto is a Pittsburgh seafood classic, located on Mount Washington with a fantastic view of Downtown Pittsburgh. Oysters are available both grilled (with butter, garlic, fine herbs, panko, lemon) and on the half shell (with apple cider mignonette, cocktail, lemon).
Monterey Bay Fish Grotto (1411 Grandview Ave)
What is your favorite spot for oysters in Pittsburgh? Please leave it in the comments below!