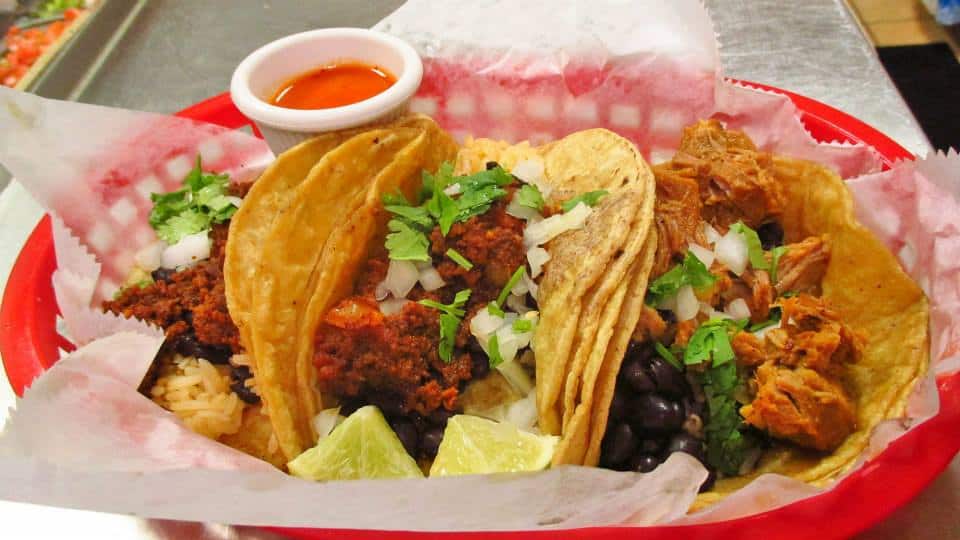 Pittsburgh, we hope you're hungry.
With a few more weeks of warm, glorious weather ahead, we can think of no better time to explore the city's taco scene! Below we've rounded up a few of the most popular taquerias in and around Pittsburgh. From Coraopolis to Bloomfield, here's everywhere you need to go to get fresh and delicious tacos.
If you visit any of these spots, we want to see! Please tag #goodfoodpgh and @goodfoodpgh.
Where to Find the Best Tacos in Pittsburgh:
Edgar's Best Tacos
Edgar's owner and operator Edgar Alvarez is well known in the Pittsburgh taco scene, beginning his business 20 years by the name "Taco Loco." Edgar's is often heralded for serving some of the freshest and most authentic tacos in the city, loaded with homemade toppings and salsas. Try options like 24-hour barbacoa, lengua, pollo, carnitas, and more. They also have burritos, empanadas, quesadillas, tostadas, Mexican soda, and salads. Find them at their Strip District location, or one of their mobile trucks.
Edgar's Best Tacos (108 19th St)
La Palapa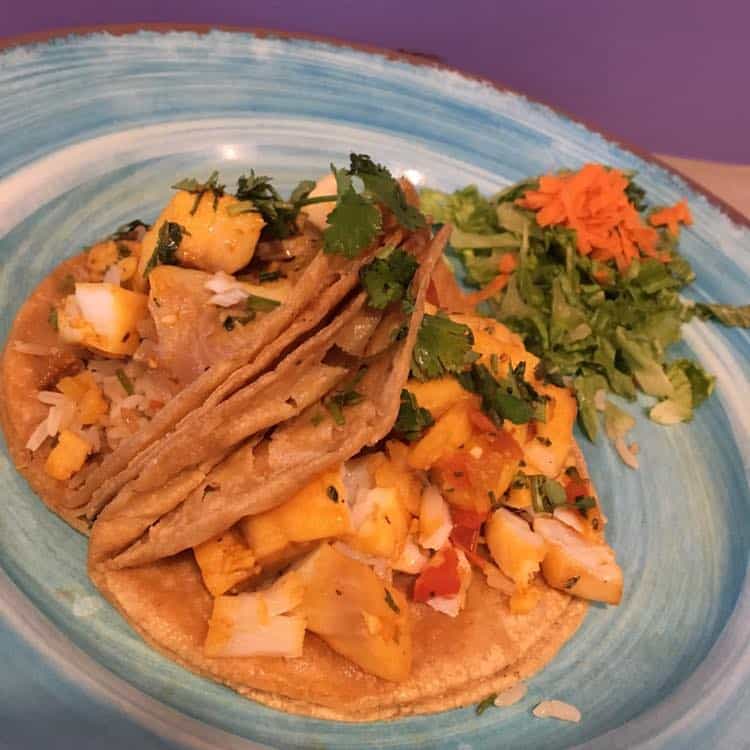 Right across the street from the Birmingham Bridge in Southside is La Palapa, a popular Mexican restaurant that first opened in the neighborhood in 2013. In 2018 they moved to this new, larger space across from bridge, which offers a patio, bar, and more dining space. La Palapa has an expansive menu of Mexican dishes, including soups, salads, and specialities like beef tongue, barbacoa, mole chicken, and more. They are also well known for their tacos, which are topped with rice, pico de gallo, sour cream and cheese. Stop by on Mondays from 7:00 pm – 11:00 pm when the restaurant serves "All You Can Eat" tacos for $10.
La Palapa (2224 E Carson St)
Täkō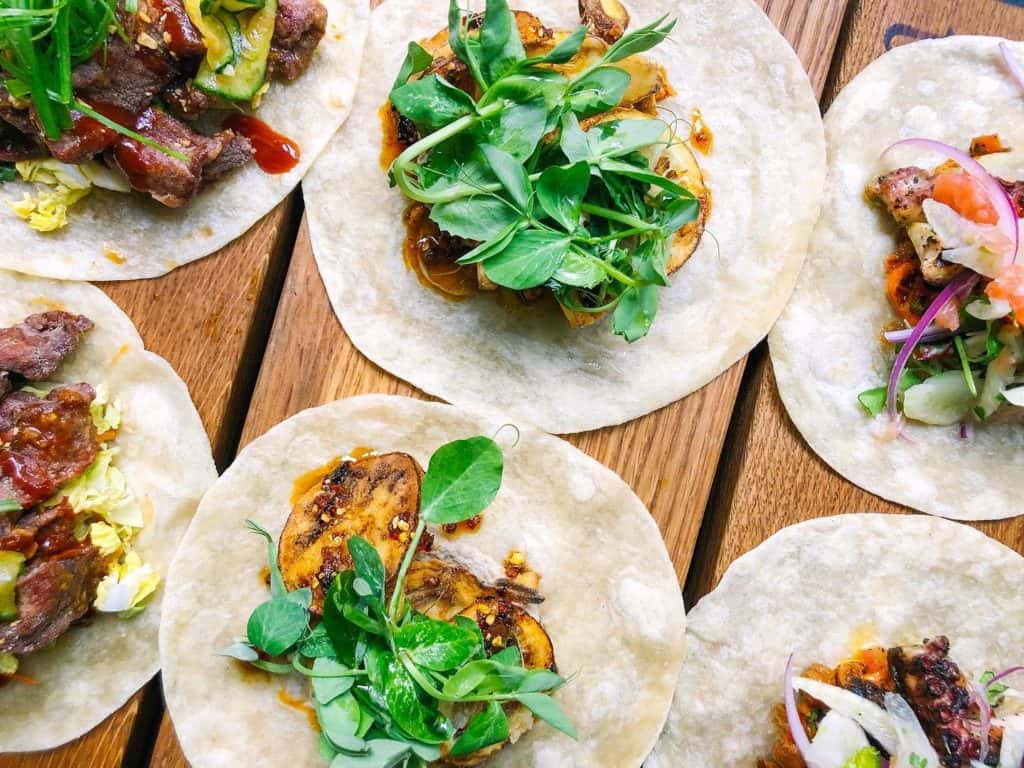 Tako joined the Pittsburgh food scene in 2015 and is still one of the most popular restaurants in the city. The restaurant offers a funky, "so-cal surf vibe" while serving up unique, fusion-style tacos. Favorites include the "Octopus" taco, "Artichoke" taco, and the "Korean" taco with flat iron, cucumber, cabbage, peanuts, and red dragon sauce. While you're there, sample drinks from their extensive tequila program. Be sure to make a reservation (very) far out to get your hands on these elusive tacos!
Täkō (214 6th St)
Round Corner Cantina
Located in the heart of Lawrenceville, Round Corner Cantina fills a perfect niche in the neighborhood, offering a fun spot to grab tacos and drinks. Hang out at the bar, the cozy interior, or on the back patio as you drink margaritas and eat chips & salsa. Personally, I'm a longtime fan of Round Corner and have tried almost every taco on the menu. Favorites include the brisket, shrimp, and al pastor. Stop by during Friday happy hour when chips & salsa are free! I'll probably be there too.
Round Corner Cantina (3720 Butler St)
Doce Taqueria
Located on East Carson Street in the Southside is Doce, a solid spot for fast, freshly made tacos. This tiny restaurant has limited seating, so it's a great take-out option. Many of the tacos feature smoked meats from their sister-restaurant, Twelve Whiskey Barbecue, which is located next door.
Doce is also in the process of opening a second location on McKnight Road in Ross Township.
Doce Taqueria (1220 E Carson St)
Las Palmas
Las Palmas is a Mexican grocery store offering a wide selection of specialty items. They also sell freshly made tacos on their front sidewalk, which many people claim are the best tacos in Pittsburgh. To procure a few, pay at the register for your number of tacos (at the bargain price of $2.50) and bring the receipt outside to the taco station. After your tacos are ready, load up on salsas from the condiments station.
Las Palmas (700 Brookline Blvd)
Baby Loves Tacos
This hip taco shop started as a pop-up around the city of Pittsburgh and quickly grew into of the most happening taco shops in town. Baby Loves Tacos is know for filling their tacos with unique options like buffalo cauliflower, adobo carrot, bbq mushroom, and more. They also have your classic meat options like chicken, carne asada, chorizo. If they're offering it, don't pass up the brisket, which is made with the perfect hint of cinnamon.
Baby Loves Tacos (4508 Liberty Ave)
Casa Reyna – [CLOSED]
Another great taco option in The Strip District is Casa Reyna. This restaurant is located next door to the popular "Reyna Foods" Mexican grocery, and has both indoor and outdoor seating. In addition to their tacos, expect a full menu of dishes like table side guacamole, tacos, fajitas, burritos, and more. They are also well-known for their margaritas, which they claim are the best in the city!
Casa Reyna (2031 Penn Ave)
Condado Tacos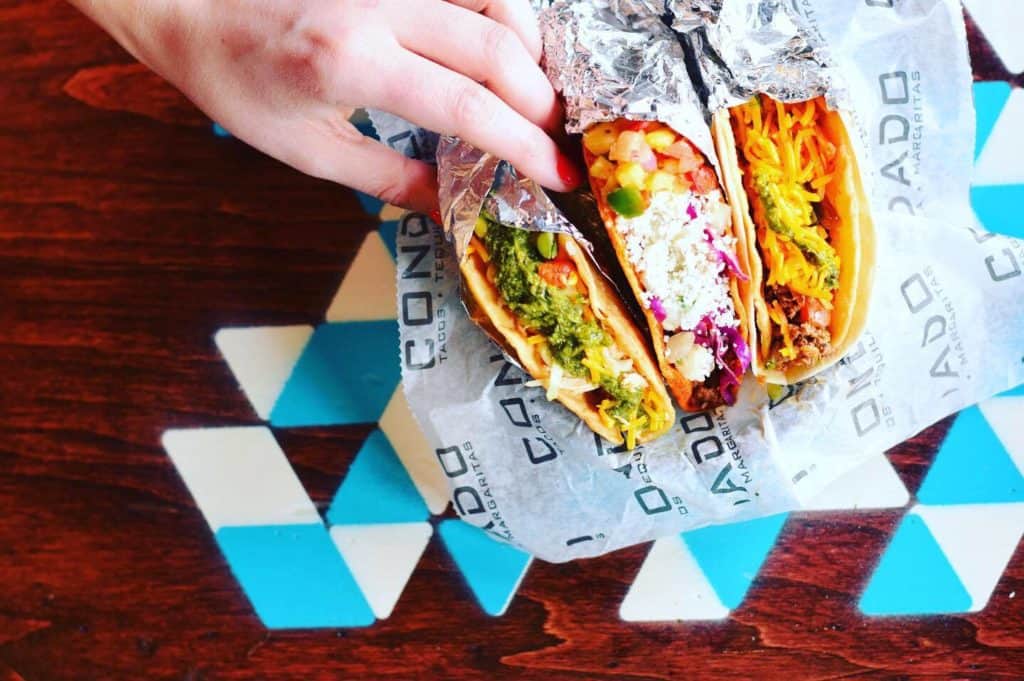 Condado Tacos has locations in both Lawrenceville and Downtown Pittsburgh. Both restaurants have a fun atmosphere, and are a great spot to grab drinks or hang with a group of friends. Condado is known for their unique tacos, margaritas, and brunch options. Patrons choose between seven tortillas and nine different protein options, as well as sauces and toppings. And if all the options are overwhelming, don't sweat it – Condado has a menu of suggested house favorites.
Condado Tacos (Multiple Locations)
El Burro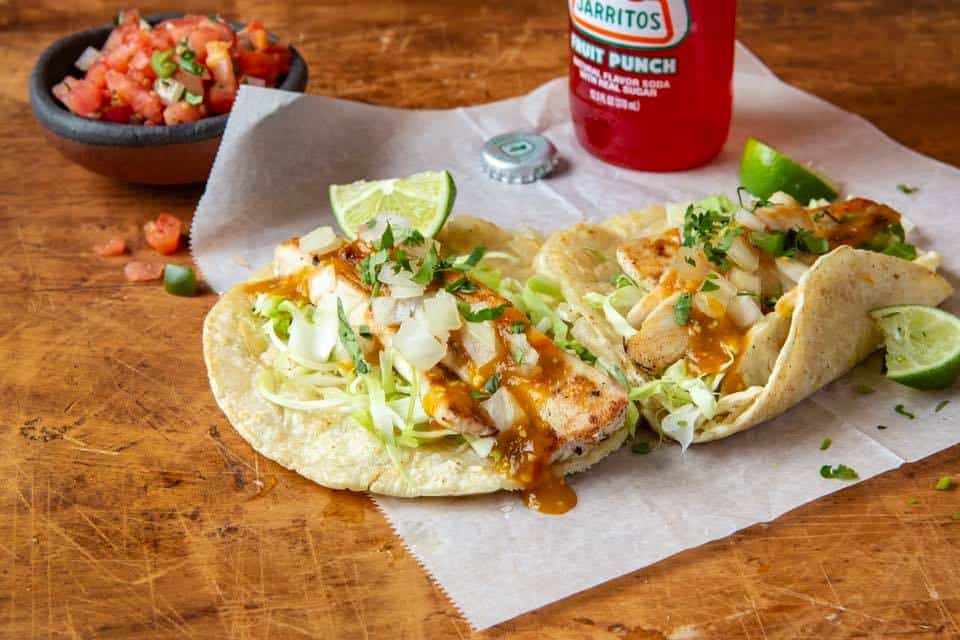 Offering burritos, tacos, y mas, El Burro has locations on the Northside and in Regent Square. Order online, or stop into the shop for fast and delicious food. On "Taco Tuesday," the restaurant offers two tacos and rice & beans for only $8.95. While the tacos are delicious, plant-based eaters will love their hearty vegan burrito. More good news – their location in Regent Square now offers a patio and booze menu.
El Burro (Multiple Locations)
PGH Taco Truck
The PGH Taco Truck is a longtime favorite in Pittsburgh, and one of the original food trucks on the streets of Pittsburgh. Expect the unexpected from this Taco Truck, which frequently serves creations like Thai Peanut, Spicy Jerk, Mango, and more, in addition to traditional tacos. Follow them on social media to track them down around Pittsburgh.
PGH Taco Truck (Pop up)
Bea Taco Town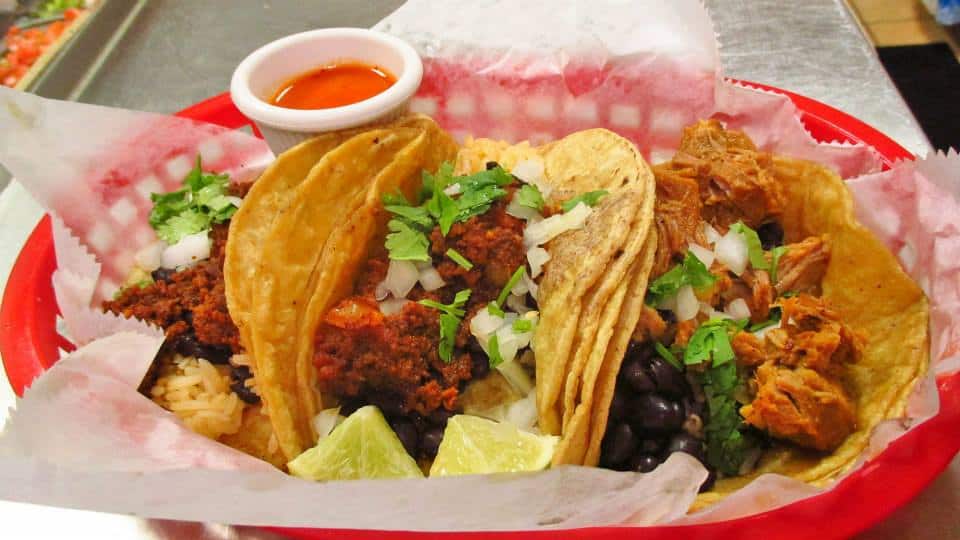 A favorite spot for tacos in Downtown Pittsburgh is Bea Taco Town, which has locations on either end of Smithfield Street. Bea customers are very loyal to the restaurant's tacos, served with meat, cilantro, onions, pico de gallo, and rice & beans. They also have "OMG Tacos," enchiladas, chimichangas, and much more. Check them aht next time you're craving a taco Downtown!
Bea Taco Town (Multiple Locations)
Penn Avenue Fish Company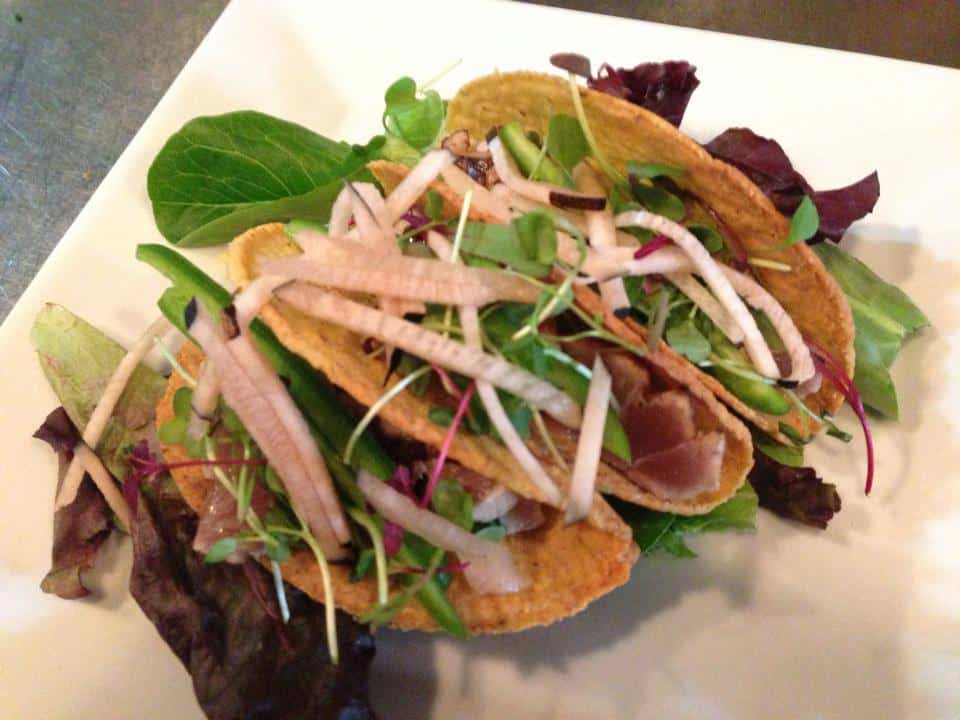 Penn Avenue Fish Company gets a special shout out for their fish tacos, loaded with options like swordfish, salmon, and tuna. Penn Avenue Fish Co is the spot in the city for fresh, hearty fish tacos, served in a hard shell and topped with cabbage, cilantro salsa and sriracha. Keep an eye on their social media, as they often offer discounts on their tacos (and other dishes!)
Penn Avenue Fish Company (2208 Penn Ave)
La Poblanita
La Poblanita Mexican Grocery is a favorite spot in Coraopolis for authentic tacos. Located in an old gas station, La Poblanita serves customers from under their awning and offers a few picnic tables for seating. These tacos are well worth the drive, and many So-Cal transplants swear this is the best spot in Pittsburgh for authentic tacos!
La Poblanita (801 Fourth Avenue, Coraopolis)
Bakersfield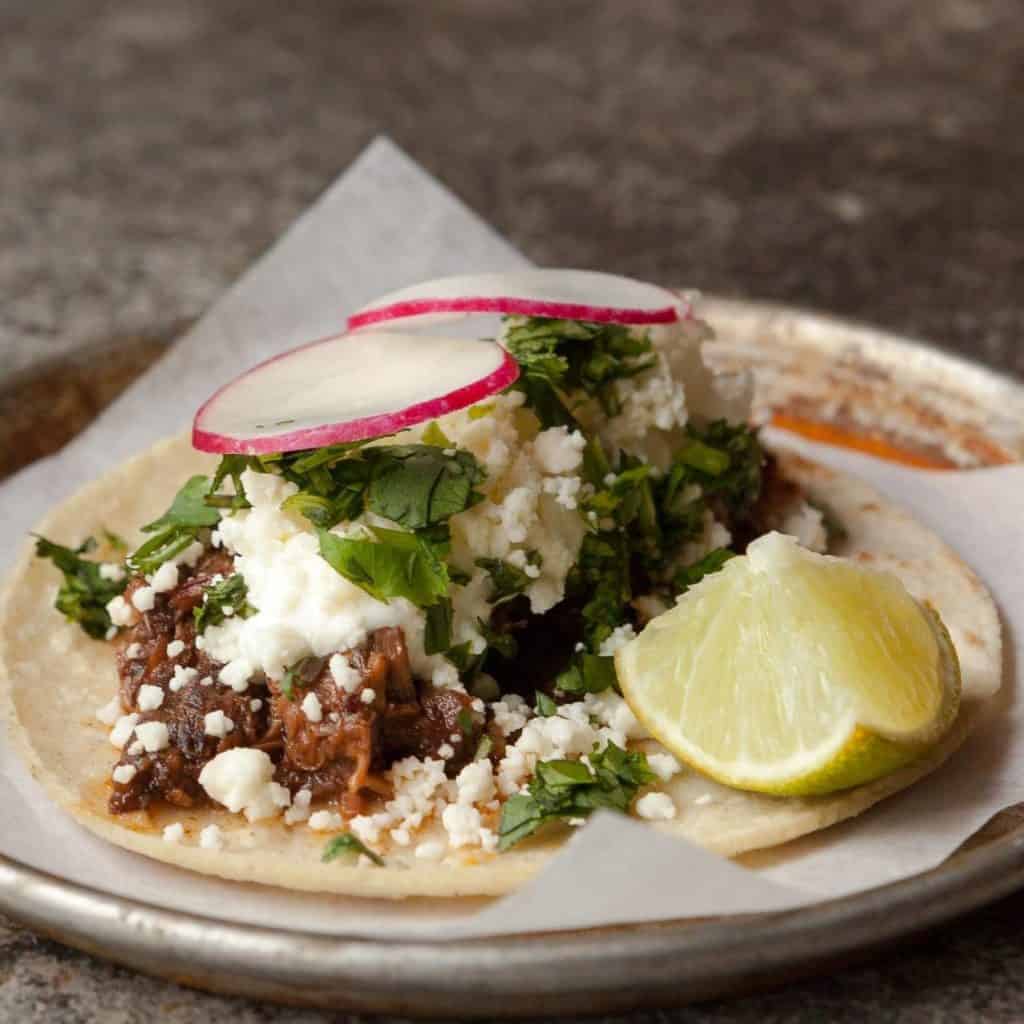 Bakersfield's motto is "Tacos. Tequila. Whiskey." so you know exactly what they are about! The Pittsburgh outpost of this regional-chain is located on Penn Avenue Downtown, and offers Mexican street fare and over 100 tequilas and American whiskeys. The restaurant is a popular spot for dining and nightlife in Pittsburgh.
Bakersfield (940 Penn Ave)
Did we forget your favorite? No worries! Please leave your favorite taco in Pittsburgh in the comments below!