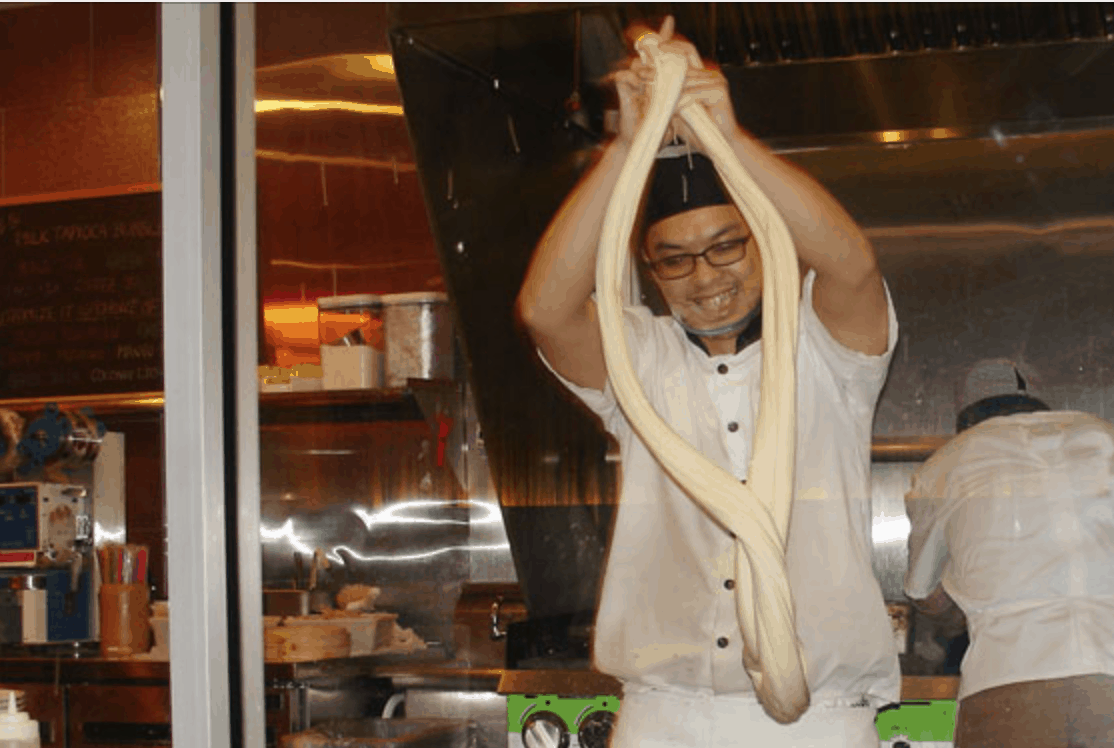 Last updated: 1/24/20
Sometimes you're just looking for a spot to have fun with the whole family!
Below are a few of our favorite restaurants in Pittsburgh that take family friendly dining to the next level. Oh, and there are even a few spots for bringing along your pooch, too! 🐶
Visiting one of these restaurants? Be sure to tag all of your pictures with #goodfoodpgh and @goodfoodpgh!
The Best Family-Friendly Restaurants in Pittsburgh:
Threadbare Cider
Spring Garden
Considering it's a cider house themed around one of America's most beloved childhood icons, Johnny Appleseed, Threadbare Cider is a perfect spot to dine with the kiddos. The restaurant has an extensive pizza menu, and an entire children's section with a life-sized LightBright wall (!). If you're interested in including a little history with your meal, Threadbare also offers family tours on the weekends.
Ineffable Cà Phê
Lawrenceville
This large cafe (located inside of a former auto body) has an entire kids corner with plenty of games and books to keep every kid entertained. Owner Phat Nguyen built the children's area himself with his own daughter in mind. The cafe offers a limited menu of authentic Banh Mi sandwiches. There are also plenty of fun and refreshing tea drinks.
Federal Galley
Northside
Bring the whole family – and the stroller – to Federal Galley! At this spacious dining hall, there is room for everyone. Plus, with four different restaurants under one roof, there is a dish for everyone as well! In the summer, Federal has two different outdoor dining spaces, both with the option for shade. Kids will love the Faygo and Vernor's floats from Michigan & Trumbull, which is a soda float topped with Pop Rocks!
Double Wide Grill
South Side
What is more fun than a themed restaurant located inside an old gas station? The Double Wide Grill – located on East Carson Street in the South Side is not only a fun dining experience, but has great food as well! Kids will love menu items like grilled cheese, pizza, and tofu skewers. Bring the pooch – there is a special dog-friendly portion of the patio!
Everyday Noodles
Squirrel Hill
Often considered one of the best restaurants in the city, Everyday Noodles is a traditional Chinese eatery on Forbes Avenue in Squirrel Hill that is famous for their soup dumplings. At this restaurant, every meal is served with a show! Tables are positioned so diners can watch the action in the kitchen, which is located behind a glass window on the left wall. Be amazed as the chefs pull noodles right before your eyes.
Square Café
Regent Square
Families are a staple at this popular breakfast spot in Regent Square. Between their fun colored cups, comfortable booths, and decadent pancakes, there is something for everyone. Square Cafe's menu has an entire kid section, offering $6.50 meals for children under 12 years old. Pick from favorites like a cheese quesadilla, chicken fingers, and french toast. In a rush? Order take-out ahead of time on square-cafe.com
Church Brew Works
Lawrenceville
As the name would suggest, The Church Brew Works is a brew pub located inside of an old church. Located on Liberty Ave, The Church Brew Works has tons of indoor and outdoor seating. Their menu is just as expansive, and has plenty of options that will satisfy the whole family. The kids menu includes Pittsburgh classics like a "Pittsburgh Style" salad (with fries), and potato & cheese pierogies, among other dishes.
Jerome Bettis' Grille 36
North Shore
Calling all sports fans! The Jerome Bettis' Grille 36, located on the North Shore of Pittsburgh, is the perfect spot to bring your little Steelers and Pirates fan! With views of Downtown, PNC Park, Heinz Field, and the three rivers, there is plenty of stuff to keep the family entertained. The restaurant also has many TVs, and is decorated with sports memorabilia. Kids love dishes like "Jerome's Mac & Cheese," featuring corkscrew noodles in a five cheese sauce, as well as the "Quarterback Quesadilla" and the "First-Down Chicken Fingers."
Anthony's Coal Fired Pizza
Multiple Locations
Pizza? Good. Pizza topped with meatballs? Even better! Have a fun afternoon at Anthony's Coal Fired Pizza, a pizzeria chain with locations in Monroeville, McMurray, Cranberry, and Settlers Ridge. In addition to their delicious pizzas, Anthony's menu features other Italian classics.
Burgatory
Multiple locations
Burgatory has tons of dining options for kids on their "Little Angels and Devils" menu. However, the real show-stopper are the restaurant's decedent milkshakes. Funky combinations like caramel pretzel, campfire s'mores, salted nutella crunch, fluffer nutter butter, and cookie monster are sure to mystify any child (and ensure they finish their whole meal to earn dessert!)
D's Six Pax & Dogz
Regent Square
Another family-friendly spot for funky meals is D's Six Pax & Dogz. This tiny cafe and beer shop has a menu of over a dozen unique hot dogs. Favorites include the "Mac & Cheese Dog," and the "Big Ben," with fries, cheese, and coleslaw. The inside is decorated with fun murals, and in the summer, dogs usually walk by and drink from the restaurant's water bowl.
Over the Bar (OTB) Bicyle Cafe
North Park
Finish a fun day exploring North Park (play grounds, kayaking, biking) by having a meal at the OTB Boathouse. Kids will be thrilled that their meals are served on free frisbees! During the winter, the restaurant offers free kids meals on Tuesdays with the purchase of an adult meal.
Gateway Clipper
Downtown
This Pittsburgh landmark offers riverboat dining combining with Pittsburgh sightseeing. The boat has an entire lineup of children's events, including weekend cruises with princesses, superheroes, Star Wars characters, wizards, and much more! The boat also offers traditional tours throughout the day from 10:00 a.m. – 8:00 p.m.
Hofbrauhaus Pittsburgh
South Side
With plenty of indoor and outdoor space, as well as a delicious children's "Kinder" menu, Hofbrauhaus Pittsburgh is a perfect choice for child-friendly dining. After a delicious meal of brats and pretzels & cheese, head to the multiple parks surrounding Hofbrauhaus Pittsburgh, or the dancing fountains in the Southside Works.
Pamela's Diner
Multiple locations
With their giant pancakes and retro feel, Pamela's is a fun spot for the whole family. This Pittsburgh staple has locations around the city, including Millvale, The Strip District, and Squirrel Hill. While Pamela's is known for their giant, specialty pancakes, there are plenty of plain options (eggs, toast, ect.) for more picky eaters.
Tessaro's American Bar & Hardwood Grill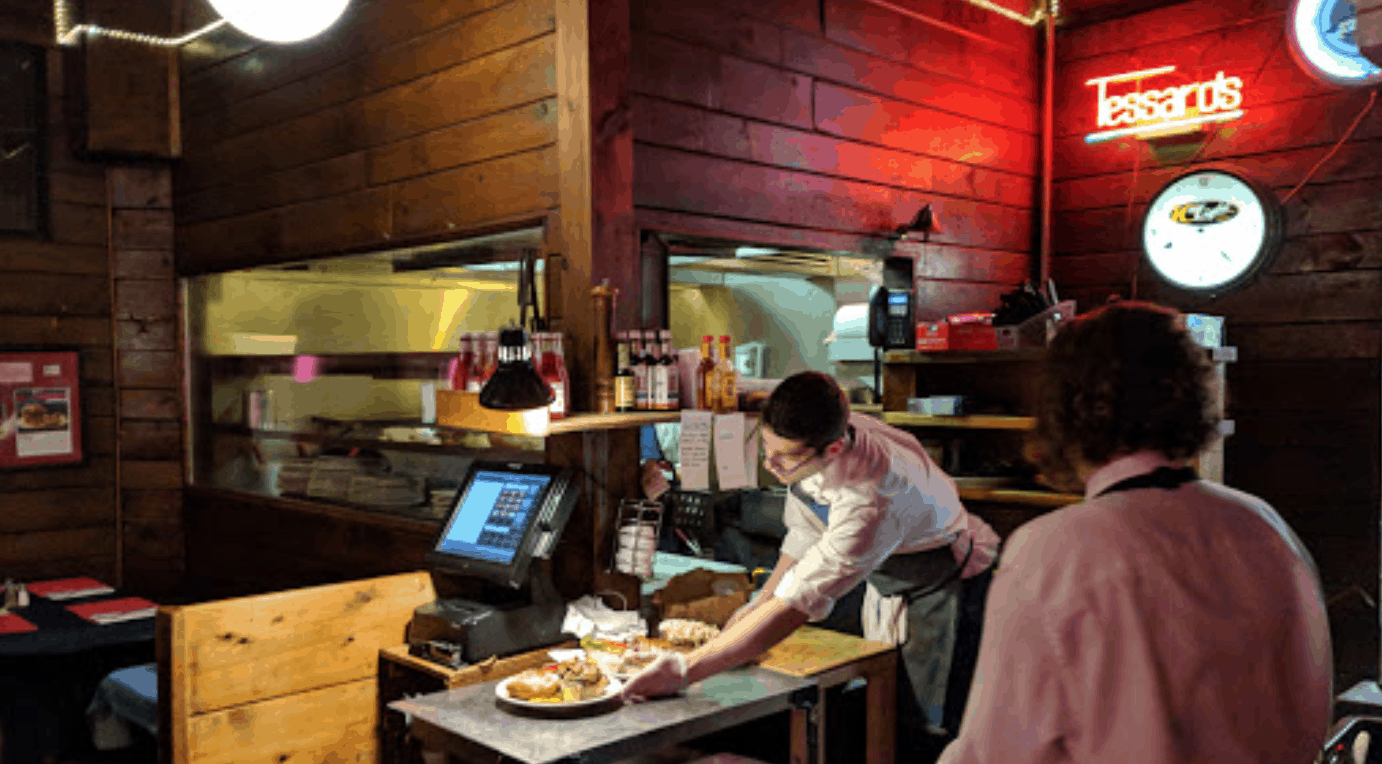 If you can secure the back corner booth at Tessaro's, kids love watching burgers sizzle on the restaurant's famous hardwood grill! The booth has a window looking straight into the kitchen. But even if you can't get this spot, the entire restaurant has a fun atmosphere (and after their 2015 renovation, room for the whole family).
Tessaro's (4601 Liberty Ave)
Eat'n Park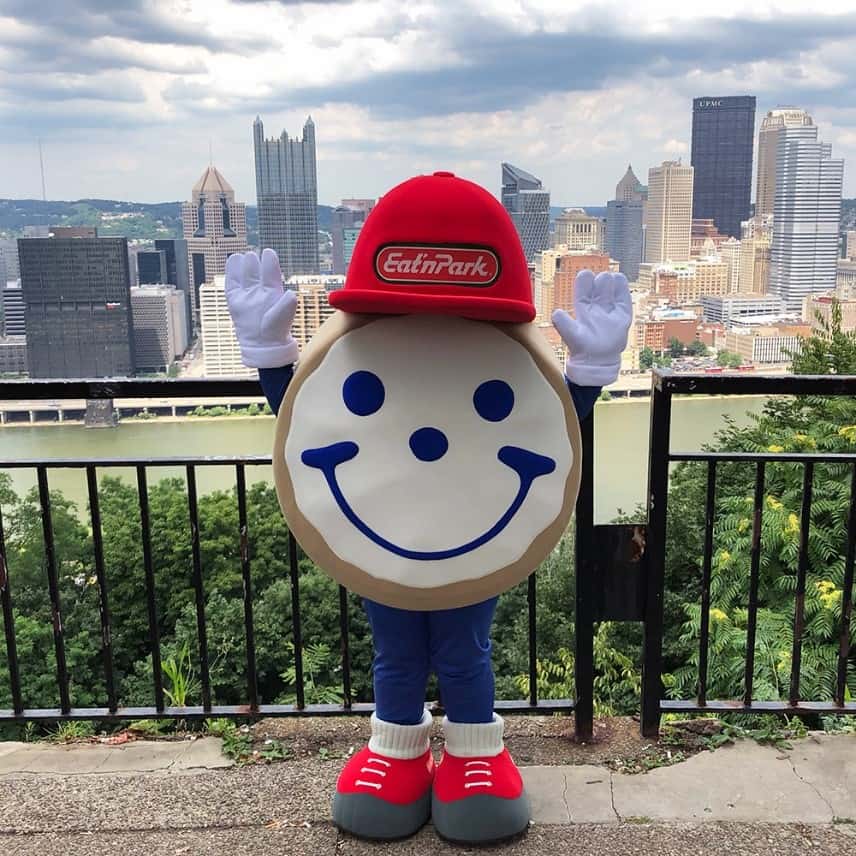 It should go without saying that Pittsburgh's most famous diner, Eat'n Park, is a great choice for family-friendly dining. With their excellent kid's menu, smiley cookies, and locations all over the city, consider this your new go-to spot!
Eat'n Park (Multiple Locations)
Bonus Spots: North Park Lounge, Mad Mex (kid quesadilla and nachos!), Emporio: A Meatball Joint
Did we forget your favorite family-friendly restaurant in Pittsburgh? Don't fret – please leave it in the comments below!