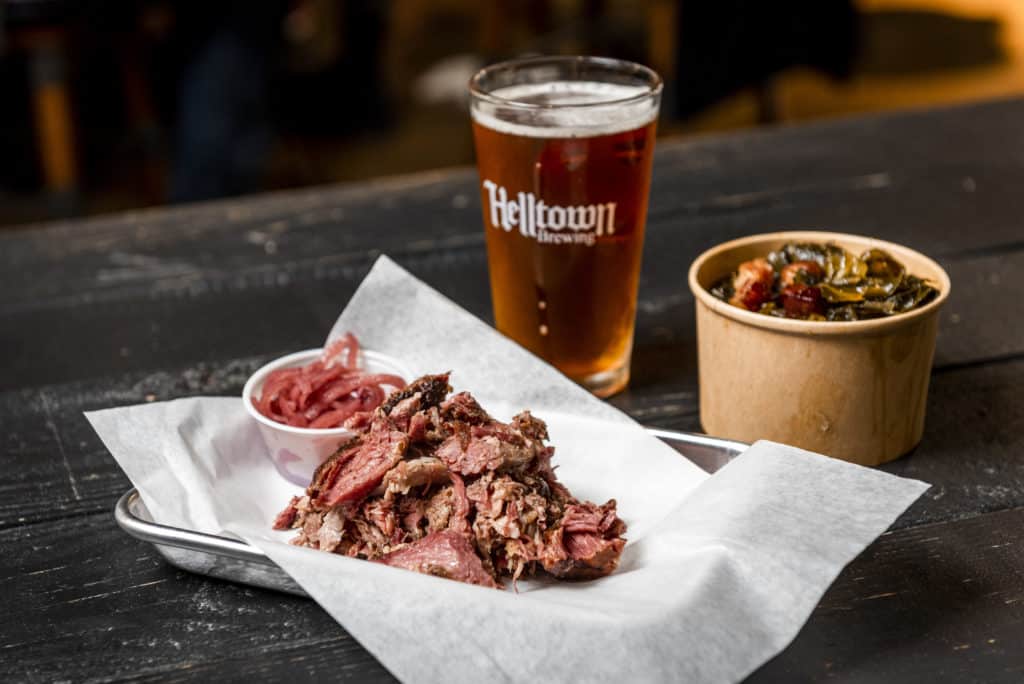 Some delicious new changes are coming to 1700 Penn.
The Pennsylvania Libations Wine Shop and Helltown Brewing Taproom in the Strip District is relaunching with a brand-new smokehouse BBQ menu, and an expanded outdoor biergarten.
Chef Aaron Busch is helming the kitchen, bringing his experience in restaurants in Miami and North Carolina to create a well-done, casual menu, serving lunch and dinner daily, and brunch on the weekends. The new menu will feature smokehouse meats from the restaurant's new custom brick wood smoker, which was built by Busch and the kitchen crew.
"Building the cooking vessel from scratch was an important part of this creative process," Busch says. "It's like a blacksmith—the first thing is to forge your own tools. And then you go from there."
Standout menu items include St. Louis spare ribs, pulled pork, and Vietnamese BBQ Shrimp Skewers, made with whole prawns, plus smoked King Trumpet Mushrooms, watermelon feta salad, and popcorn ice cream for dessert.
Guests can also choose from an array of house-made sauces to accompany their smoked meats, including Chimichurri, Tennessee Blueberry, Char Siu (with beet syrup and five spice), and Carolina Mustard.
Brunch is available on Saturdays and Sundays, with a new menu that features items like Shrimp & Grits (served with bacon-merlot BBQ), Pulled Pork Benedict, Smoked Salmon Hash and Tiramisu French Toast. Brunch cocktail highlights include mimosas (available by the pitcher), Coconut Daiquiris, and the 'Electric Pancake,' made with three flavors of vodka.
Additional changes to 1700 include an updated and expanded 7,000-square-foot outdoor space with new tables, lighting, and fencing, and an updated outdoor drinks menu, featuring local wines, beers, and cocktails made with Pennsylvania-made spirits. They'll also be regularly hosting live music throughout the spring and summer, including a theCAUSE concert on June 25.
1700 Penn is open for lunch, dinner and drinks on Wednesdays from 11:00 a.m. to 9:00 p.m., Thursdays from 11:00 a.m. to 10:00 p.m., Fridays from 11:00 a.m. to 11:00 p.m., Saturdays from 10:00 a.m. to 11:00 p.m., and Sundays from 11:00 a.m. to 6:00 p.m.
The new menu is available now.
1700 Penn (1700 Penn Avenue)