Cookies, cupcakes, and croissants… oh, my! Pittsburgh has tons of amazing neighborhood bakeries, some of which have been serving the city for more than 90 years (we're looking at you, Potomac Bakery).
These small, family-owned spots have cult-like followings, thanks to their decadent desserts and home-baked goodness. Though this list is far from complete, (and some are solely bread-focused), we've rounded up 18 of our favorite small bakeries in Pittsburgh. Did we miss your favorite? Share in our comments!
Bethel Bakery
Bethel Park 
Since 1955, Bethel Bakery has been serving pretty much every sweet dessert you could ever want, from doughnuts and cupcakes to cookies and cheesecakes. They're well-known for their intricate, one-of-a-kind wedding cakes, and their seasonal desserts, including their Nut Rolls (available around the holidays), and their famous New Year's Pretzels. Late last year, the popular bakery opened a second location in North Strabane.
Bethel Bakery (5200 Brightwood Rd. Bethel Park)
Spinola's Bake Shop
Murraysville
Much-loved Spinola's Bakery has been a Murraysville staple since opening in 2011. Everything from Stacey Spinola's kitchen is made-from-scratch, from their decadent cupcakes (with flavors like Red Velvet, S'mores, and Cocoa Salted Caramel), to their seasonal sweet breads, like Pumpkin Bread and Lemon Blueberry Bread. They also have adorably-decorated cookies, fruit tarts, apple dumplings, and French macarons.
Spinola's Bake Shop (3845 Old William Penn Hwy, Murraysville)
Oakmont Bakery
Oakmont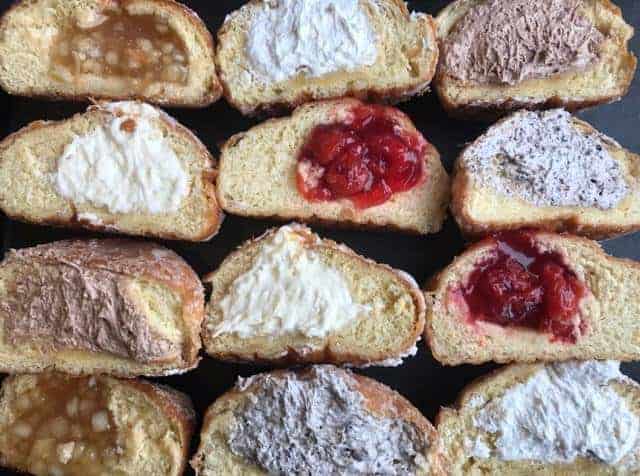 Photo: Oakmont Bakery
This bakery in Oakmont is so popular, we've even tracked when all of their special treats come out throughout the year.  In the last year, the bakery moved locations to a much bigger facility just down the road, where they're offering their doughnuts, cookies, cupcakes, cake, pies, pastries… and so much more.
Oakmont Bakery (1 Sweet Street, Oakmont)
Five Points Artisan Bakeshop
Squirrel Hill 
If you're looking for some of the best bread in the city, you've come to the right place. At Five Points Artisan Bakeshop in Squirrel Hill, you'll find fresh-baked baguettes, croissants, whole loaves, and more. Each of Five Points' breads are started 20 or more hours before they're baked, giving them more flavor and a better shelf life. And, that means that all of the products sold at the bakeshop have been made the day you take it home – how's that for fresh? Five Points also makes it a point to use high-quality eggs and butter, and local produce whenever they can. In addition to bread products, the shop also sells cookies (try their Chocolate Rye), seasonal pies and sticky buns.
Five Points Artisan Bakeshop (6520 Wilkins Avenue)
Grandview Bakery
Mount Washington 
Consider this your one-stop shop for all your baking needs. Grandview Bakery opened its doors in 2011, and serves a wide-range of products, like breads, cookies, muffins, doughnuts and cakes. The bakery also contains a sweet shop, with homemade, hand-dipped chocolate candies, including chocolate-covered pretzels, peanut clusters, and chocolate caramel pretzel drumsticks. Plus, the bakeshop features a party room for cake-decorating events, and they sell baking products, from hard-to-find molds to icings, sugars and sprinkles for decorating.
Grandview Bakery (225 Shiloh Street)
Potomac Bakery
Dormont
Dormont's Potomac Bakery is celebrating 90 years in the bakery business… and they must have learned something in the better part of a century, because their cakes cannot. be. beat. The bakery (which also has a second location in Mt. Lebanon) also serves pies, breads, cheesecakes, cookies and assorted pastries, but they're mostly known for their celebratory cakes, and their moist, delicious cupcakes (yellow with chocolate icing are a personal favorite, by the way). Don't miss the day-old selection, which are sold for $1.
Potomac Bakery (1419 Potomac Avenue)
Sanchioli Brothers Bakery
Bloomfield
In business for more than 95 years (we're sensing a theme here), Sanchioli Bakery is Bloomfield's go-to place for fresh-baked bread. Everything at the bakery is done by hand at the family business, and the generations-old dough recipe contains nothing but the basics – flour, salt, yeast and water. (Arthi Subramaniam wrote a fabulous feature on the bakery for the Pittsburgh Post-Gazette last year, which we can't recommend enough). At the bakery, you'll find ciabatta bread, hoagie buns, round rolls – and some of the absolute best Italian bread that you'll ever have, all coming from their hearth oven.
Sanchioli Brothers Bakery (4731 Juniper Street)
Kretchmar's Bakery
Beaver
Kretchmar's Bakery has been a part of Beaver since 1960, serving tortes, cookies, doughnuts, pies, fruit-filled Danishes and celebratory cakes. Stop by the family-run bakery for their famous Bavarian Creme Doughnuts, and their over-sized Oatmeal Raisin cookies, which are customer favorites.
Kretchmar's Bakery (664 3rd St., Beaver)
Gaby et Jules Pastisseries et Macarons
Squirrel Hill 
Gaby et Jules is an authentic Parisian-style French bakery in Squirrel Hill, known for their out-of-the-world macarons. These delicate bites, hand-crafted by Chef David Piquard, come in more than a dozen signature flavors (like Almond, Chocolate, Coffee, Rose, Pistachio, Sea Salt and Earl Grey), along with a rotating selection of seasonal flavors (think Cassis & Lavender, Mango Saffron, and Strawberry). The patisserie also serves other French specialties, including Millefeuille, Tartelettes, Bavarois and Eclairs.
Gaby et Jules Pastisseries et Macarons (5837 Forbes Avenue)
Prantl's Bakery
Shadyside
When you think of Prantl's Bakery, you probably think of one thing: Their Burnt Almond Torte. And while the famous dessert is one of Pittsburgh's best (and available for shipping), this Shadyside bakery has a lot more to offer, including cakes, cookies, cupcakes, croissants, dumplings, Gobs and strudels. Keep a special eye out for their Yule Log Cake, which is available throughout the holidays every year.
Prantl's Bakery (5525 Walnut Street)
Lincoln Bakery
Bellevue
Established in 1945, Lincoln Bakery has been serving up pastries, cakes and pies in Bellevue for over 70 years. They offer a daily selection of baked-fresh fancy treats, from canoils and cream puffs to sweet tarts and petit fours. Customers are particularly fond of their Pasticciotti (Italian cream puffs filled with lemon custard and dusted with powdered sugar), and their Charlottes, a French pastry with layers of cake that comes in raspberry cheesecake, tiramisu, triple chocolate mousse, mocha and more.
Lincoln Bakery (543 Lincoln Avenue, Bellevue)
Brother Tom's Bakery
Sharpsburg
Not only will you find traditional bakery goods at Sharpsburgh's Brother Tom's Bakery, like Bear Claws, pies, doughnuts, cookies and nut rolls, but you'll also find a breakfast and lunch restaurant serving everything (and we mean everything) homemade. Stop by for traditional egg breakfast sandwiches, sandwiches, homemade pierogies, soups, and a daily rotating list of specials.
Brother Tom's Bakery (808 Main Street, Sharpsburg)
La Gourmandine Bakery
Various locations
With the announcement that La Gourmandine is set to open their fourth location, the patisserie has solidified its place in Pittsburgh as one of the city's most-loved places to pick up an elegant sweet treat. Specializing in artisanal French breads, tarts, and sweet pastries (madeleines and choux à la crème are on our must-get list), the shop also sells savory sandwiches, breakfast pastries, quiches, and brie tarts.
La Gourmandine Bakery (various locations)
Prohibition Pastries
Point Breeze
Care for a little booze with your dessert? How about a little booze in your dessert? Prohibition Pastries has been spiking their treats since they first opened as a small bake space in the Pittsburgh Public Market. Earlier this year, they officially opened their own brick and mortar in the city's Point Breeze neighborhood, serving up sweet and savory specialties like Apple Whiskey Pies, Chocolate Cherry Stout Cupcakes and Blueberry Gin Muffins. Prohibition Pastries works primarily with local distilleries and breweries on their booze-infused creations, like East End Brewing Company, Wigle Whiskey and Maggie's Farm Rum.
Prohibition Pastries (7105 Reynolds Street)
Stoecklein's Bake Shop
Penn Hills 
This little family-owned bake shop has been serving fresh-made, from-scratch offerings for years, though they've only been at their Penn Hills location for less than a decade. The original Stoecklein's Bake Shop was opened in East Liberty in the 1930s, then moved to Fox Chapel. Though the location has changed, the family recipes have stayed the same. You'll find cakes, cookies, ladylocks, breads, brownies, muffins, apple fritters and doughnuts (pro tip: get their early for those) all stacked daily in their over-stuffed display cases.
Stoecklein's Bake Shop (6545 Saltsburg Road)
Sumi's Cakery
Squirrel Hill 
Not only will you find traditional baked goods like cakes and fruit tarts at this Squirrel Hill bake shop, but you'll also find Korean specialties, like sweet potato cake, green tea buns, sweet chestnut loaves, red bean buns and coffee buns. Plus, they serve some of the best Bubble Tea in town – if you're a fan of the beverage, you won't want to miss it.
Sumi's Cakery (2119 Murray Avenue)
Colangelo's Bakery
Strip District
This small spot in the Strip District has classic Italian baked goods, and a whole array of savory dishes, too (their pizza is particularly well-loved). If you visit, you've got to try the Ricotta Pie, the filled Meles, their monster-sized cookies, and their coconut macaroons…. and of course, you'd defintitely regret not trying one of their famous cannoli. Oh, and don't even think about leaving without taking a chocolate flower torte home with you. Just crispy enough on the edges, and a little on the ooey-gooey side in the middle, it's a treat that you can't pass up. So yeah, basically, you're going to want one of everything.
Colangelo's Bakery (201 21st Street)
Gluuteny Bakery
Squirrel Hill 
Back when Gluuteny Bakery first opened in 2007, being gluten-free wasn't as mainstream as it is today. But founder Mojca Pipus saw a need in the community, and opened the bake shop, creating from-scratch treats that don't contain gluten or dairy. Gluuteny Bakery offers celebratory cakes, cookies, pies, breads, Gobs, muffins, doughnuts and more – including their famous brownies, which come in soy-free and vegan varieties. You'll also find mixes to make your own treats, and a goodies-of-the-month club, which will ship glunten-free goodness to your door every month.
Gluuteny Bakery (1923 Murray Avenue)
Share your favorite bake shops in the comments below!