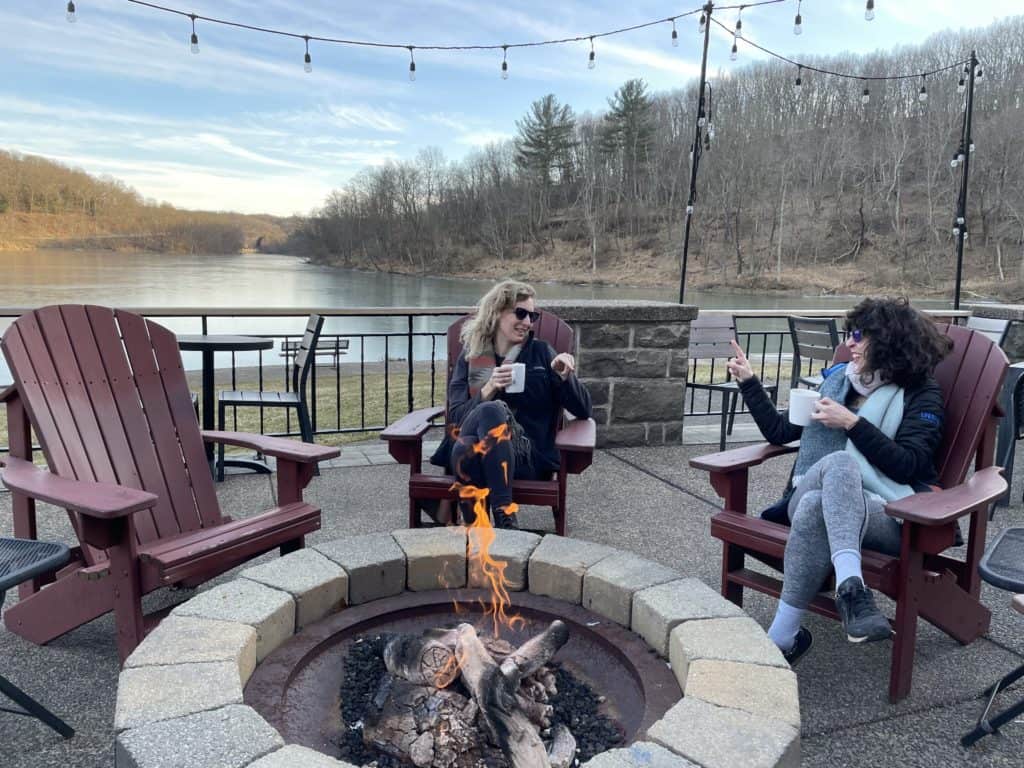 We may be in the middle of some seriously wintery weather, but some Pittsburgh restaurants and breweries are still offering outdoor dining options — at least, depending on what your definition of "outdoor dining" may be.
From completely open-air patios and fire pits to fully enclosed tented sidewalk dining areas and individual heated domes, here are some of Pittsburgh's most popular current outdoor dining setups.
1700 Penn Avenue
Strip District
The outdoor bar at 1700 Penn Avenue is still open with fire pits when the weather is permitting, but guests are encouraged to call and ask before arriving to make sure that they're available. (1700 Penn Ave.)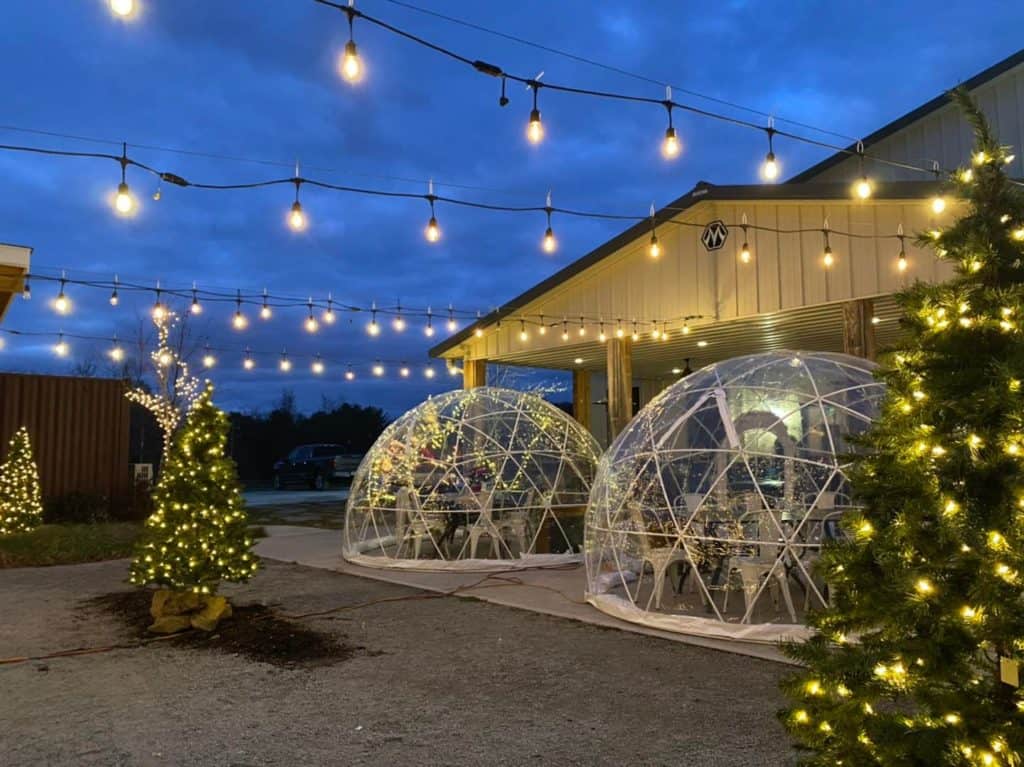 Bella Terra Vineyards
Hunker
Private igloos are available for two-hour reservations at Bella Terra Vineyards in the Westmoreland County community of Hunker, open to a maximum party of eight. Each igloo is heated and costs $50 to reserve. (121 Sunny Lane)
Bonfire Food & Drink
South Side
Bonfire Food & Drink has open-air outdoor sidewalk dining available throughout the winter, when the weather is reasonable, or by request or reservation. (2100 E. Carson St.)
Bridges & Bourbon
Downtown
"The Domes" at Bridges & Bourbon are private, tented igloos on the sidewalk in front of the restaurant that can accommodate up to eight guests. Reservations are required in advance, and groups are required to spend a minimum of $200 per reservations. (930 Penn Ave.)
Burgatory
Multiple Locations
All Burgatory spots have enclosed and covered patios, complete with heaters, that are open year-round.
Carson Street Deli
South Side
Carson Street Deli's outdoor open-air dining area is open for the winter, complete with heaters to keep diners warm. (1507 E. Carson St.)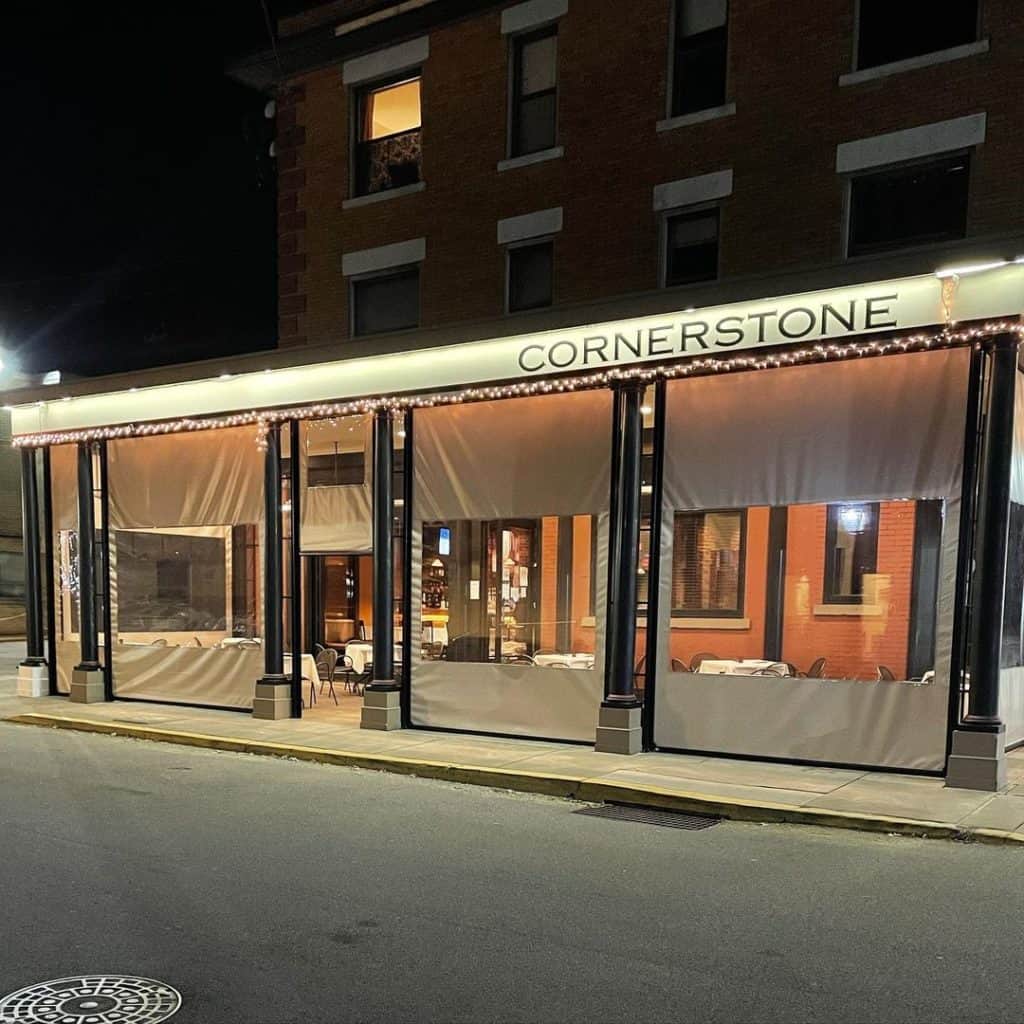 Cornerstone Restaurant & Bar
Aspinwall
The patios at Cornerstone Bar & Restaurant are open during the winter, with adjustable enclosure panels that allow some outside airflow, and heaters. (301 Freeport Road)
Dancing Gnome Brewery
Sharpsburg
The Dancing Gnome Brewery has a patio with an open-air area, and a covered area, with heaters in the covered space, and fire pits in the open space. (1025 Main St.)
D's Six Pax & Dogz
Regent Square
D's Six Pax & Dogz, which recently reopened after repairing damage caused by a fire in the back alley, does have outdoor tables throughout the winter, but puts them away when the temperature dips in the 20s and below. (1118 S. Braddock Ave.)
East End Brewing Company
Larimer
East End Brewing's open-air patio is open throughout the winter for outdoor drinking and dining, and it's equipped with fire pits to keep guests toasty and warm. (147 Julius St.)
Federal Galley
North Side
Outdoor dining is available year-round at the Federal Galley at Nova Place on their open-air patio. If a guest would like to dine outside, inquire within the restaurant. (200 Children's Way) 
The Foundry
North Shore
The Foundry has open-air patio seating open all winter when the weather is permitting, complete with space heaters. Private igloos are also available on the patio facing the Allegheny River; they come heated and can accommodate up to seven guests. Reservations for the igloos are required in advance. (381 North Side Drive) 
Hartwood Wine Cave
Allison Park
North Hills wine bar Hartwood Wine Cave has personal igloos available for reservation, with a $30 fee for a two-hour reservation. The wine bar offers a full wine menu, plus small plates, including charcuterie, cheese plates and dips. (3141 Harts Run Road)
Hidden Harbor
Squirrel Hill
Hidden Harbor is offering outdoor seating on their covered, heated back patio on Tuesdays through Saturdays, featuring Hidden Harbor's full food and drink menu, plus beers and wines from sister restaurant next door, the Independent Brewing Company. Outdoor table reservations are available online, and maximum party size is six guests. (1708 Shady Ave.)
Galley Bakery Square
Larimer
The Galley Bakery Square is offering outdoor dining throughout the winter on their open-air patio. (145 Bakery Square Blvd.) 
Golden Age Beer
Homestead
The recently opened Golden Age Beer boasts a dog-friendly outdoor, open-air drinking area, complete with fire pits on Wednesdays through Saturdays. (337 E. Eighth Ave.)
La Palapa
South Side
La Palapa has an enclosed tented patio area behind their South Side restaurant, with heaters when the weather is cold. (2224 E. Carson St.)
Mediterra Cafe
Mt. Lebanon
A fully covered patio with heaters is available for outdoor dining all winter long at this location of Mediterra Cafe. (292 Beverly Road)
Off The Rails Barbecue
Verona
Off the Rails Barbecue in Verona offers a mostly enclosed heated patio during the winter, and regularly has an open-air outdoor area with a fire pit available, too. (549 Allegheny River Blvd.)
OTB Bicycle Café
Bridgeville
The Hastings location of OTB Bicycle Cafe offers open-air outdoor seating year-round (upon request if it's really cold out), with gas heaters. (1595 Mayview Road, Bridgeville)
OTB Bicycle Cafe
North Park
The North Park location of OTB Bicycle Cafe is also open for year-round outdoor dining, with fire pits and gas heaters available, and umbrellas offering coverage in snow or rain. (10301 Pearce Mill Road, Allison Park)
The Pennsylvania Market
Strip District
The Pennsylvania Market offers both uncovered open-air seating in its courtyard and on its balcony, and covered outdoor seating for use throughout the year. They also have tall heaters and fire pits for guests to use while dining outdoors. (108 19th St.)
The Porch
Multiple Locations
Both The Porch at Schenley in Oakland and The Porch at Siena in Upper St. Clair offers open-air porch seating that is open throughout the winter; each location has fireplaces and heaters for warmth. 
Poulet Bleu
Lawrenceville
Enjoy an intimate dinner in one of Poulet Bleu's enclosed outdoor dining domes, located on the restaurant's roof. Each dome holds a maximum of six guests, and a minimum spend of $450 is required for reserving the space. (3517 Butler St.)
Pusadee's Garden
Lawrenceville
Pusadee's Garden's gorgeous outdoor space is "open-ish," during the winter with heaters, but only when the weather is permitting. (5319 Butler St.)
Etna's Rear End Gastropub has two patios that are closed in the winter, and are open-air in the summertime. They also have open-air tables outside and a fire pit. (399 Butler St.)
Sly Fox Taphouse
Downtown
Sly Fox's Downtown location offers partly covered and heated outdoor space. Their South Side location, possibly opening as early as March, will also have outdoor seating along the Three Rivers Heritage Trail. (300 Liberty Ave.)
Spoonwood Brewing Company
Bethel Park
Spoonwood Brewing Company has a covered and heated patio that is open during the winter. (5981 Baptist Road)
Stick City Brewing Company
Mars
Stick City boats custom, locally made fire pits in their open-air outdoor space, which is open throughout the winter. (109 Irvine St.)
Truss Brewing Company
Pleasant Hills
Truss Brewing Company calls their open-air outdoor space "weather-permitting self-service seating," because they don't have a wait staff that services the area, which is open year-round. (42 Old Clairton Road)
Union Brothers Brewery
Harmony
The open-air outdoor area at Union Brothers Brewery is always open with fire pits, and the Harmony brewery also boasts a 60-person enclosed heated tent. (365 Mercer Road) 
The Warren
Downtown
The Warren's outside sidewalk patio is enclosed, and open throughout the winter. (245 Seventh St.) 
This story was produced in partnership with Pittsburgh Magazine.