As much as we love Pittsburgh, there's something to be said about packing up your car, and hitting the road… especially if your final destination involves some seriously delicious dishes.
We've rounded up seven destinations with an eye toward each location's food scene, all just a short, five-hours-or-less drive from Pittsburgh, where you can enjoy everything from fresh oysters with a view of the water (hello, Annapolis) to award-winning pies in the heart of a downtown city (Detroit, we love you).
If you're late on planning a Fall getaway, consider this your official call-to-action, and make some moves on planning an out-of-town trek.
7 Drivable Weekend Road Trips to Take This Fall
Cleveland, OH
Drive Time: 2 hours, 15 minutes
We can't make a road trip list without mentioning our friends to the west in Cleveland, Ohio. Less than three hours away, you'll find a city is bursting with art and culture (the Cleveland Museum of Art and the Rock and Roll Hall of Fame are two must-see spots), and Cleveland's ever-growing food scene is worth exploring as much as you can.
Where to eat and drink:
Salt: Make reservations ahead of time for this small plate restaurant from two-time James Beard Award-nominated chef Jill Vedaa. The menu changes regularly, and currently features dishes like baby carrots with roasted figs, farmer's cheese and caramelized orange honey vinaigrette, and chicken liver pâté with toasted rye and pickles.
West Side Market: For more than 100 years, Cleveland's West Side Market has been home to dozens of food vendors, selling everything from fresh produce to popcorn. Current vendors to check out include Bohar Bakery, Jack Frost Donuts, Ohio City Pasta, and Pittsburgh's own Mediterra Bakehouse.
Momocho: Momocho has been a Cleveland mainstay since opening in 2006, offering modern Mexican dishes, with fun, laid-back vibes.
Larder: An Eastern European delicatessen and bakery, the James Beard Award-nominated Larder is known for their fantastic, seasonal menu, with standouts including Georgian Roast Pork sandwiches, pastrami pie, and chocolate Babka.
Mason's Creamery: You'll find incredibly delicious small batch ice cream in unique flavors, like paw paw, black vanilla and chocolate donut.
Columbus, OH
Drive Time: 3 hours
As one of the easiest road trips (get on I-70 W and don't stop), Columbus could practically be a day trip from Pittsburgh…. though, you're going to want more than a few hours in this fun city. Hang out in charming neighborhoods like The Short North and German Village, and then soak up local art at the Wild Goose Creative gallery. After filling up on the local cuisine (see below), finish the day by watching the sun set from Scioto Audubon Metro Park.
Where to eat and drink:
Huong Vietnamese Restaurant: This family-owned spot offers an extensive menu featuring pho (rare steak, fish fillet, chicken and shrimp options are available), hủ tiếu (a noodle soup served with light chicken broth), and bánh mì.
The Alibi Bourbon & Cocktail Lounge: The extensive cocktail menu at The Alibi is divided into an easy-to-follow chart, offering drinks that range from 'approachable and sweet' to 'spirit forward and bitter,' and more than 250 whiskey and bourbon selections.
Buckeye Donuts: A 24-hour doughnut shop that can satisfy your sweet cravings any time, day or night? We're so in. They feature classic doughnuts like glazed, custard-filled and buttermilk, along with fancier selections, like the Ohio favorite Buckeye (with chocolate glaze and peanut butter filling).
Paulie Gee's: You'll find fantastic wood-fired pizzas on the menu at Paulie Gee's, like the Greenpointer (fresh mozz, arugula, lemon juice and shaved parm), the Swellboy (with hot soppressata, goat cheese, peppa dew peppers and orange blossom honey), and a large selection of vegan pies, too.
Ray Ray's Hog Pit: With locations across central Ohio, Ray Ray's Hog Pit in Clintonville has walk-up ordering for their smoked ribs, brisket, and pulled pork, plus sides like baked beans, collard greens, and Mac & Cheese.
Shepherdstown, WV
Drive Time: 3 hours, 15 minutes
Shepherdstown may be tiny, but there's a lot of fantastic flavors packed into this town. Located just across the Maryland border, this colonial village gives you Fall-in-New-England vibes, without the 9+ hour drive. Explore the downtown area, or take a bike or kayaking trip from Shepherdstown Pedal and Paddle while enjoying the fall foliage.
Where to eat and drink:
Press Room: With a focused menu and daily features, Press Room is a classic Shepherdstown restaurant. You'll find seasonal favorites like braised pot roast, and over-roasted butternut squash cannelloni, plus standard fare like steak and pasta.
Maria's Taqueria: Taco shop Maria's Taqueria offers tacos, burritos, rice and beans, and taco salad, plus a rotating list of locally-made cupcakes.
Lilah Restaurant: With a menu featuring "old favorites, as well as seasonal and internationally inspired dishes and drinks," Lilah Restaurant is open for lunch, dinner, and Sunday brunch.
Blue Moon Café: Blue Moon Café's has been a staple in Shepherdstown since opening in 1999. Known for their house-made crab cakes, Blue Moon serves a diverse lunch and dinner menu, with options like Beef & Brie sandwich melts, and house-made meatloaf, plus a craft beer bar.
Bavarian Brothers Brewing: Located in the Bavarian Inn, the Bavarian Brothers Brewing has house-brewed beers, plus a menu of small bites, like Swiss fondue, Spätzle, and Sauerbraten. They also have outdoor fire pits, complete with S'mores.
Lansing, WV
Drive Time: 3 hours, 40 minutes
Now is the perfect time to visit New River Gorge National Park and Preserve, the nation's most recently-designated national park. There's a lot of outdoor activities to keep you busy in the fall, from fishing and guided rafting to biking and camping. And there's some fantastic hiking throughout the park, including the Endless Wall Trail, a moderate five-mile hike with stunning views (particularly gorgeous when the leaves are changing color). Look for local bites and brews in nearby Fayetteville, West Virginia, a short drive away from the park.
Where to eat and drink:
Smokey's on the Gorge: Located inside the Adventures on the Gorge resort, the Smokey's on the Gorge restaurant offers a selection of slow-smoked barbeque favorites, plus beefy burgers, stacked sandwiches and more.
Swiftwater General Store: Not only will you find camping necessities and select groceries at this general store, but they also have a breakfast and lunch menu, with homemade specialties like smoked chicken, BBQ sandwiches, chili, and the ever-popular pepperoni rolls.
Cathedral Café: As the name suggests, Cathedral Café was built inside a converted church, and has been serving the Fayetteville community since 2000. They're open for breakfast (breakfast snadiwches, pancake platters) and lunch (salads, paninis and sandwiches), and always have specials on the menu.
Wanderlust Creativefoods: On the menu at Wanderlust Creativefoods, you'll find an eclectic menu, with options like Elysian Fields lamb burgers (with pickled red onion and goat cheese), Penne a la Vodka (in a sauce made with smoke salmon and prosciutto), and Naan Dumplings (served with hot pepper jelly and candied peppers).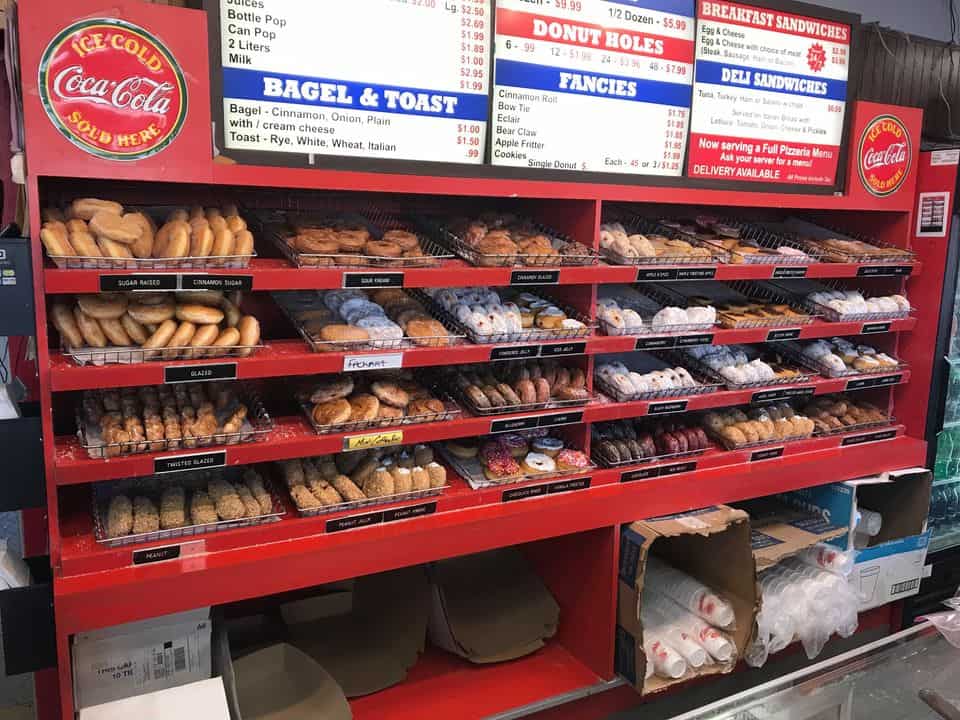 Niagara Falls, NY
Drive Time: 3 hours, 50 minutes
In just under four hours, you can see one of the country's most amazing natural attractions – the three waterfalls at the southern end of Niagara Gorge, collectively known as the Niagara Rapids. Not only are there plenty of ways to see the Falls including boat tours (the Maid of the Mist is probably the most famous one to try), helicopter rides and cruises, but there's also a number of hiking trails throughout Niagara Falls State Park, a family-friendly aquarium, and Niagara Wine Trail to explore, with more than a dozen wineries.
Where to eat and drink:
Polish Nook: In operation since 1964, Polish Nook is known for Polish dishes, like Polish sausage and sauerkraut, pierogies, and Golumpki.
Anchor Bar: Known as the home of the original Buffalo Wing, the Anchor Bar's Niagara Falls location serves the classics, in sauces that include Spicy BBQ, Honey Bourbon BBQ, Spicy Garlic Parmesan and Extreme Heat.
Frankie's Donuts & Pizza: The name really says it all at Frankie's Donuts & Pizza. This nondescript shop offers fresh-made doughnuts (cinnamon rolls, bear claws, and apple fritters are also available), plus breakfast sandwiches, deli sandwiches, and pizza.
Wine on Third: Cozy wine bar Wine on Third also offers a full dinner menu, including which includes brick-oven pizzas.
Red Coach Inn Restaurant: Located inside the historic Red Coach Inn, the Red Coach Inn restaurant features panoramic vies of the Niagara Rapids, and a full menu for breakfast, lunch or dinner.
Annapolis, MD
Drive Time: 4 hours, 25 minutes
One of the loveliest cities to visit in the Chesapeake Bay area, Annapolis offers plenty to do for a quick trip away, including boat tours, people-watching on the waterfront, a tour of the town's historic district, wineries, and lots of places to indulge in fresh-caught seafood.
Where to eat and drink:
Iron Rooster: This beloved all-day restaurant serves new twists on classic comfort foods, like Cajun Fried Shrimp Eggs Benedict for breakfast, and farmhouse salads, Maryland Blue Crab cakes, and Southern fried chicken sandwiches for lunch and dinner.
Carrol's Creek Café: Located right on the waterfront, Carrol's Creek Café is known for its seafood – local oysters and crabs are featured throughout the menu, along with seasonal salads, and house-made soups. The entire restaurant is also completely nut-free.
Flamant: Enjoy a seasonal, regularly-changing menu at Flamant, which is open for lunch and dinner. Current highlights include octopus with saffron aioli, Berkshire pork porchetta, and a whole grilled branzino.
Chick & Ruth's Delly: This family-owned staple has been an institution in Annapolis for more than 50 years, serving all-day breakfast (biscuits & gravy, chicken & waffles, omelets), lunch (burgers, wraps and sandwiches), and dinner (crab cakes, country-fried steak). They're also known for their homemade pies (take one home to go!), and their super-stacked milkshakes.
Preserve: With a focus on fermentation and pickling, Preserve is open for lunch and dinner, serving everything from cheeseboards and smoked fish dip to beef tongue Reubens and catfish & chips. They also offer an extensive natural wine list, and local beers on tap.
Detroit, MI
Drive Time: 4 hours, 30 minutes
You may not think of Detroit as a 'weekend getaway' destination, but, in less than five hours, you can find yourself in one of the country's great food cities. In addition to trawling the city for tasty bites, Detroit also boasts the Motown Museum, Michigan Science Center, the Detroit Institute of Art, and a Detroit Brew Trail, with stops at iconic Michigan breweries, like Founders Brewing Company.
Where to eat and drink:
Michigan & Trumbull: If you miss Michigan & Trumbull as much as we do, you're in luck. After leaving Federal Galley (where they launched in 2017) owners Nathan Peck and Kristen Calverley returned to their native Detroit to serve their Detroit-style red and white pies, along with salads, roasted sides, and wings.
Rose's Fine Food & Wine: A bakery, natural wine shop, and restaurant, Rose's Fine Food & Wine is a must-visit spot in downtown Detroit. They use local and seasonal ingredients, and offer paninis, salads, and soup, along with a selection of natural wines.
Sister Pie: With pies available for both in-shop sales and pre-orders, Detroit's famous Sister Pie features a menu that caters to the season. Currently, you can find options like Apple Sage Gouda, Salted Maple, and Brown Butter Plum Crumble, plus a selection of cookies, muffins and scones.
Marrow: Three-time James Beard Award-nominated Marrow is a hybrid butcher shop and restaurant, with a $65 five-course prix fixe chef's tasting menu, and additional carry-out options available.
Detroit Shipping Company: We love a food hall, and Detroit Shipping Company is a great one. It features different concepts, including Thai street food, Caribbean fusion, Nepalese dumplings, and burgers and poutine.