When a global pandemic knocks out an entire calendar of weddings and events, what's a caterer to do? If you're Kimberley Ashlee of Kimberley Ashlee Catering, you assess the situation – then, get back to work. The Pittsburgh-based caterer shares what we should know about know about planning a party right now, and what future events will look like.
What's the state of the catering industry right now?
We're in an ambiguous state. It seems like while we think we have a solution and are putting it into action, circumstances change, and it's back to the drawing board. As caterers, we're creatives, typically finding that new, innovative way to make our clients happy. And that's what we're doing now. But we're all in a reactive position, too. To be frank, it feels like I'm starting my company all over again. This time around, though, I'm coming from a learned place, and have moxie.
Are people planning parties for the summer?
They really are, but primarily with close friends and family, or people they have been in contact with on a daily basis. There is still so much to celebrate, but, there are really polarizing views on this. We're taking our lead from our clients, however, and are making sure that our teams (both front-of-the-house and back-of-the-house) are taking the right precautions.
What kind of health and safety precautions are you taking now? What has changed in the way you do business since the pandemic began?
We've always had such high expectations and standards when it comes to health and safety, but even more now. Our team wears the proper masks throughout the event, and now serve with gloves that are changed whenever they return to the kitchen area. We also have moved away from self-serve stations, and require an attendant to serve guests. Gone are the days of an elaborate charcuterie and mezze display. These have turned into individual boards, which are passed. Regarding staffing, we've now specifically assigned servers to specific tables or zones on the floor, and we've also designated servers to clear plate or serve – a server cannot do both.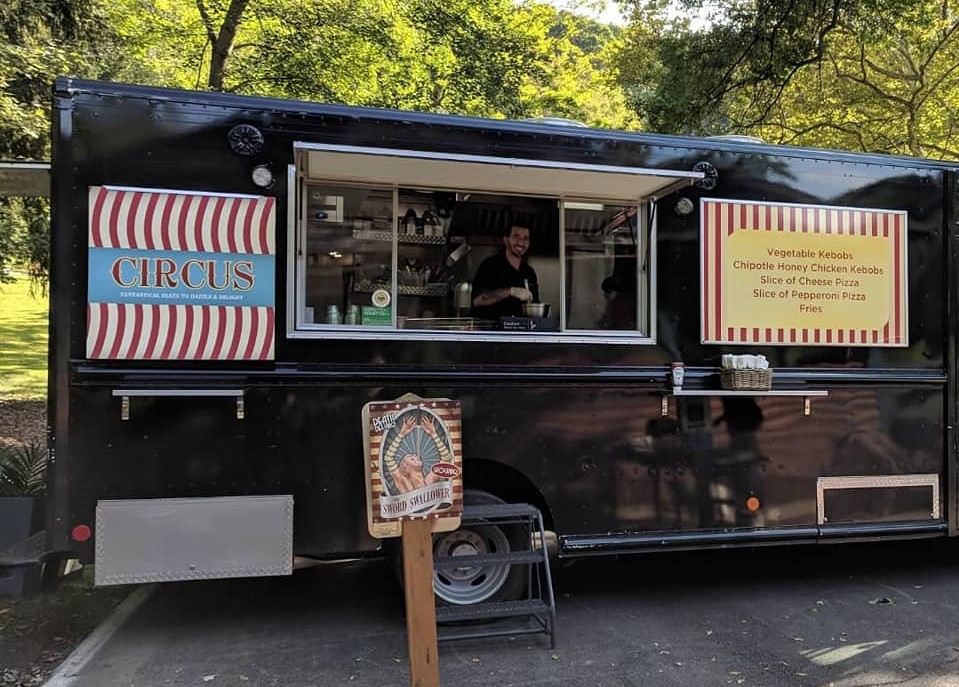 What are some of the unique options that clients are requesting for their events right now?
Our clients are really loving our personalized food truck right now! Our mobile catering kitchen was designed with interchangeable signs. We can design these signs to fit the theme of their party, or put the names of the bride and groom on the truck. Like all of our events, we also work closely with the client to create a completely personalized menu, and will carry through the design of their event. We recently did a wedding with passed hors d'oeuvres for the first hour, then guests were able to order dinner off the truck, which we served to them at their seats. It worked out perfectly. There was no food sitting out, and the client didn't have to spend on additional servers, and there's still room in their budget for a "big wedding" later on, if that's what they want. It's a little unconventional, but these are the times we're in, and our job is to serve our clients the best way that we can.
What does the future look like? Are people planning parties for next year?
For sure! Especially couples who have chosen to move their wedding date. Right now, we're seeing mostly social events, instead of corporate events. People still want to celebrate those milestones, and those life events. And we can help make it happen.
Want to learn more about Kimberley Ashlee Catering? Reach out to them here.
This post is sponsored by Kimberley Ashlee Catering.