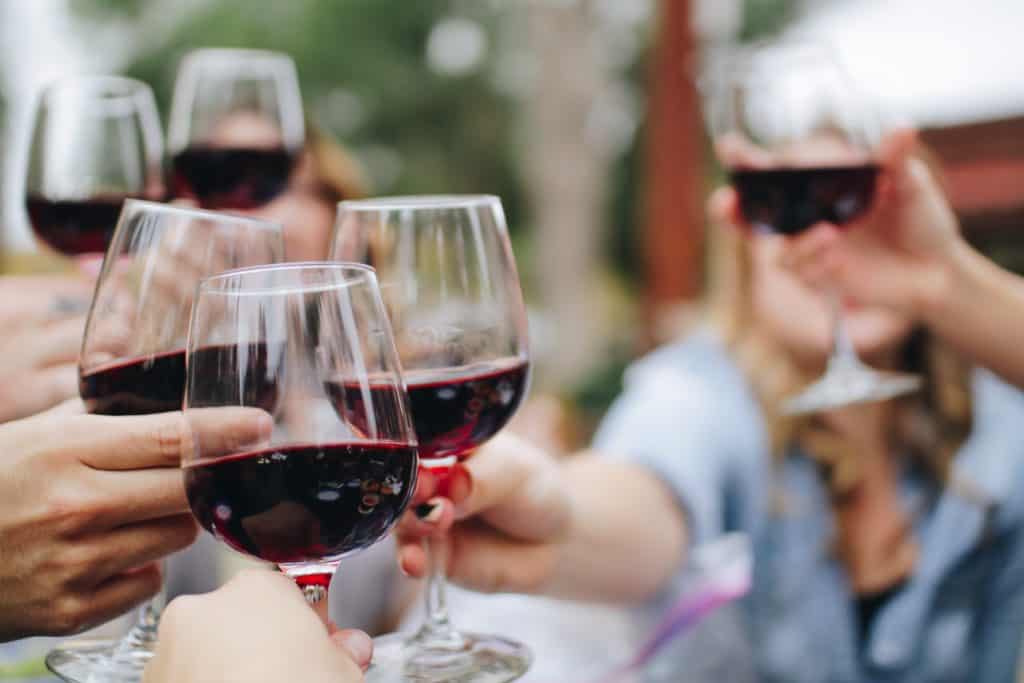 If you're looking for a way to enjoy a glass of wine (or two!) these wineries, all within driving distance to Pittsburgh offer ample outdoor space for gathering with friends and family.
As the weather warms up and opening hours change, if you're planning to visit one of these spots, call ahead to see if the business has made any recent changes to their operations.
La Casa Narcisi Winery
Gibsonia
Founded in 2001, Narcisi Winery has become Pittsburgh's go-to destinations for everything from rehearsal dinners, to sipping wine on a patio with friends. The winery's large complex is located in Gibsonia, and features a full restaurant, back yard, and bar. The outside dining area has a small stage and hosts performances on Friday and Sunday. The winery promise their location – nestled within the beautiful rolling hills of Western PA – will remind you of a Tuscan villa!
La Casa Narcisi Winery (4578 Gibsonia Road)
J&D Cellars
Eighty Four
Located in Eighty Four, Pennsylvania (close to Washington, PA), J&D Cellars makes small batch, high-quality wines. Stop by their tasting room to try a wide selection of wines. Thanks to their wonderful atmosphere, J&D Cellars is a fun stop to meet friends for a few glasses of wine. Guests are welcome to take a picnic, and enjoy their meal (with some wine!) on the property's lush setting.
J&D Cellars (290 Roupe Road)
Vinoski Winery
Belle Vernon
For a true California Winery experience, head to Vinoski Winery in Belle Vernon. This tasting room is located inside of an actual castle, and it's a serene setting to enjoy Vinoski's California grapes. The winery aims to provide customers with a regal experience in a magnificent setting. Stop by to enjoy a bottle of wine and food on the patio. Reservations are not necessary, but are recommended to guarantee seating, especially on weekends when there is live entertainment.
Vinoski Winery (333 Castle Dr)
Arsenal Cider House & Wine Cellar
Lawrenceville
As the name suggests, Arsenal Cider is a popular cider house located in the heart of Pittsburgh that specializes in hard apple cider, cider-style wines, and mead. The company started in Lawrenceville (right next to Arsenal Park!), but they have expanded to include taprooms at Trax Farms and Soergel Orchards. Their Lawrenceville location is housed inside of a historic row house that is charming all year round. Our favorite time to visit is in the summer because of Arsenal's massive, outdoor "cider garden" with tons of seating – and they're currently open now.
Arsenal Cider House & Wine Cellar (300 39th Street)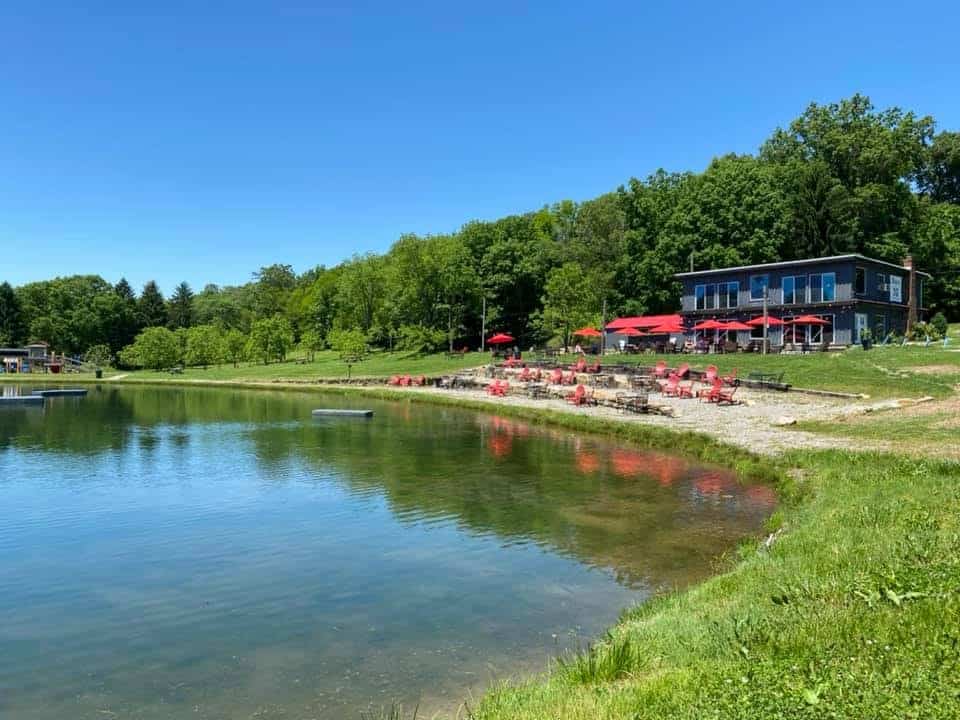 Nova Cellars Winery
Pulaski
Nova Cellars is actually closer to Youngstown, Ohio, than it is Pittsburgh, but it's well worth the trip to Pulaski, PA, to try some of these delicious wines! The winery recently move, and now Nova's offers a pondside tasting room, fabulous outdoor seating, and plenty of live music. Bring along your beer-loving friends on the trip! The new tasting room at Nova has expanded to include Brew 32, a craft brewery and restaurant. The brewery features handcrafted beers and light fare in a 1900's sports themed space.
Nova Cellars Winery (445 PA-208)
Black Dog Wine Company
Penn Hills
Black Dog Wine Company many only have been established in 2016, but they're already producing several award-winning wines! This a boutique winery is located in the countryside of Allegheny County, just 15 miles from Downtown Pittsburgh. In addition to their Riesling and and Blush wines, Black Dog also produces wines with fun names and flavors, like "Tipsy Turkey," a pumpkin-spiced wine, and "Johnny Applespice," a Sweet Apple Spice wine. The winery is currently open, offering outdoor seating and a limited food menu.
Black Dog Wine Company (7425 Steubenville Pike)
Greenhouse Winery
Irwin
Also in Irwin, Pa, is Greenhouse Winery. This boutique winery has been in operating since 2007, offering guests at their tasting room a peaceful and relaxing atmosphere to enjoy good wine, good friends, and good times. Beer fans are welcome – the Greenhouse now serves PA craft beer! Guests are welcome to bring their own appetizers, and Greenhouse is pet friendly (lawn only).
Greenhouse Winery (1048 Pinewood Road)
Greendance Winery
Mt. Pleasant
The onsite winery extension of the famous Sandhill berries farm, Greendance Winery, is the perfect place to sip delicious wines made from raspberries, blackberries, red currants, black currants, gooseberries, blueberries, strawberries, elderberries, and apples – all grown on the farm! The small, but beautiful outdoor space is a tucked into the natural foliage of the garden. In the mood for something sweet? Stop by the dessert stand (outside in the garden!) which features an old-fashioned kitchen that serves whatever pies are fresh that day!
Greendance The Winery at Sandhill (306 Deerfield Road)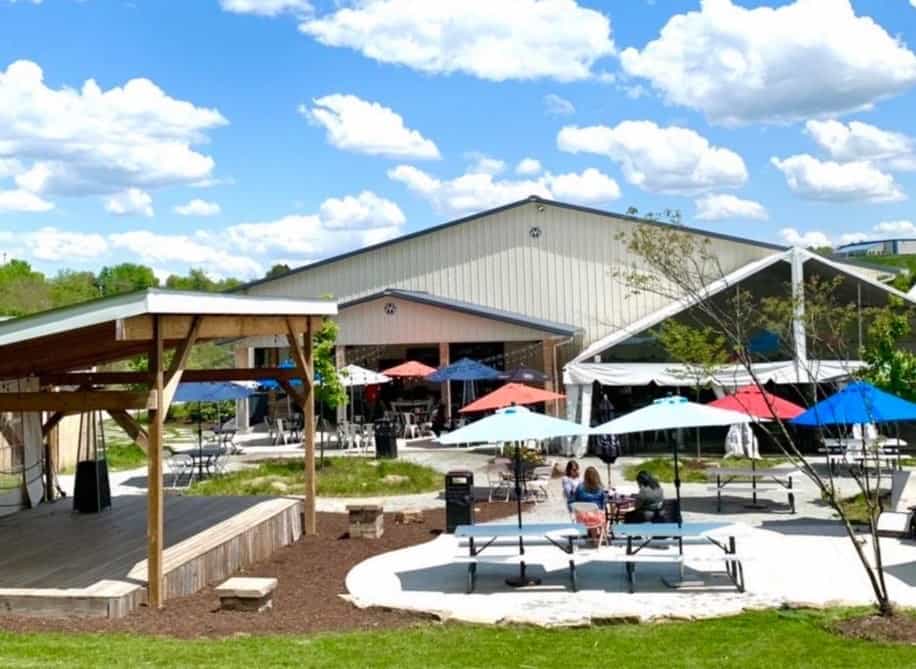 Bella Terra Winery
Hunker
Pet-friendly Bella Terra Vineyards in Hunker, Pennsylvania, offers live entertainment every weekend at their vineyards from May through October. The vineyards sit on 17 acres, including a three-acre lake and vineyard. They offer dry, semi-sweet, and sweet wines, including Diamond Rio, Sunday Afternoon, and a Riesling.
Bella Terra Winery (121 Sunny Lane, Hunker)
Red Fox Winery & Lounge
Hickory, PA
South of Pittsburgh you'll find Red Fox Winery & Lounge, a rustic winery and tasting room with event space – and cabins for rent, too. Red Fox Winery offers at least eight wines at a time, including seasonal wines to dry reds and whites. They also regularly have live music on Sunday nights.
Red Fox Winery & Lounge (80 Red Fox Road, Hickory)
The Wooden Door Winery
New Kensington
The Wooden Door Winery has two locations in Allegheny Township and Vandergrift, PA (northeast of Pittsburgh). The Allegheny Township location is currently open for business, with lots of outdoor seating and a full food menu.
Ripepi Winery
Monongahela
Head to Monongahela, PA to discover the beauty of Ripepi Winery. Founded by Richard Ripepi in 1987, what started as a few rows of grapes is now a ten acre vineyard. While the tasting room is currently closed, the winery is hosting small, private parties.
Ripepi Winery (93 Van Voorhis Lane)
Know of any other Pittsburgh wineries that are currently open for business? Let us know in the comments!
Please drink responsibly and never drink and drive.