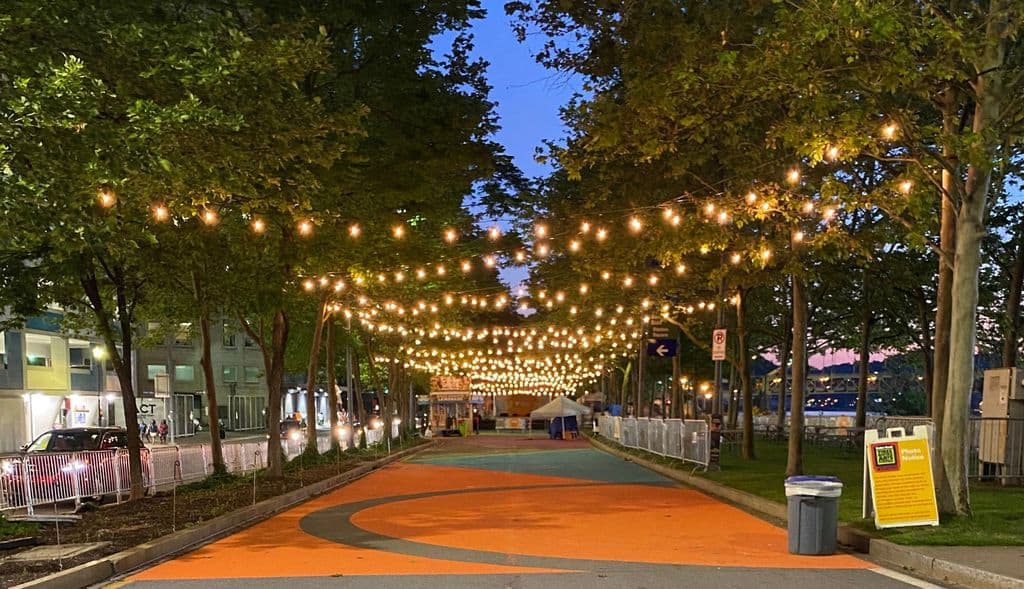 Summer has just gotten a little cooler in Pittsburgh.
Allegheny Overlook, a pop-up park on Fort Duquesne Boulevard, just across the river from PNC Park, is officially open for the summer season.
The park, from Pittsburgh Downtown Partnership, features a fixed stage for regular concerts, a green park area, and a Brew Gentlemen beer garden, which will be serving beer and other beverages all summer long. Made-to-order food will also be available at the park from a rotating list of vendors, including Blue Sparrow and Good Eats.
The beer garden will be open daily from noon to 10:00 p.m., and Brew Gentlemen will be serving their signature brews, including General Braddock's, Akamai, and a bevy of lighter summer options, like their Garden Party cucumber ale, lagers, and a brand-new radler. The menu will also include a summer sangria from Bella Terra Winery, and plans are in place for a coffee pop-up series, too.
Allegheny Overlook is currently celebrating their grand opening weekend, with a weekend concert series. On Friday, June 25 at 5:00 p.m., the stage will feature Bindley Hardward Co., with William Matheny, and on Saturday, June 26 at 6:00 p.m., the show will feature Jordan Montgomery, with Sierra Sellers.
Other upcoming concerts and events are listed on the AO's website.
The family-friend space, which features picnic tables, a canopy, and a mural created by Pittsburgh artist Janel Young, also boasts a number of games and activities, including a giant Connect 4, Spikeball, Giant Jenga, Bocce, badminton, cornhole and ping-pong, with a kid's space that includes bubbles and giant Legos.
Allegheny Overlook (Ft. Duquesne Boulevard between 6th and Stanwix Streets)