In the last few days, a lot of readers have asked us to put together a list of black-owned restaurants and businesses for easy access and reference, and to help them find businesses to support today and in the future.
Putting this list together sounded like a great idea – but our profiting off of it gave us pause. In order to use our platform in the best way we can, we've decided that every dollar this post makes, in perpetuity, will go to an organization that is fighting against racial injustice. Currently, we're funding Black Lives Matter.
That means that all ad dollars spent on this page through our ad network AdThrive will be donated directly to the organization – every click and share will go to support the movement (we're able to keep track with an RPM by Page feature on our site, and will make the donation at the end of every month when our report is delivered).
We put together this list through a number of resources, including reader submissions, business owner emails, social media posts (including very helpful collections by @heatcheck and @sugarspellscoops_pgh), the incredible work done by the Pittsburgh Post-Gazette from this piece, the African American Chamber of Commerce, and our own reporting.
If we've missed any businesses, please let us know, either in the comments or by emailing [email protected], and we'll get them up.
Black-Owned Restaurants in Pittsburgh
9 Cafe
Wilkinsburg
This Wilkinsburg cafe offers a menu with items like the 'Great Beyond' (honey mustard grilled chicken, rice and vegetables), the 'Fat Vegan' (rice, peppers, onions and broccoli with red curry), and Pineapple Bowls, a fresh-cut pineapple, stuffed with shredded chicken, vegetables, and rice with teriyaki sauce. They also have fresh-squeezed lemonade, and Gin-tum, their signature fresh ginger and turmeric tea. 9 Cafe (900 Wood Street)
Aunt Cheryl's Cafe
Braddock
Breakfast and lunch options, including salads and sandwiches. Also serves house-made desserts, like Sweet Potato Pie, Apple & Peach Cobbler, and Vanilla & Almond Cake. Catering options are also available. Aunt Cheryl's Cafe (416 Library Street)
Back to the Foodture
Pitcarin
You'll find more than 25 different burger options (like the Dusty Rhodes, with provolone, crispy onion, bacon and Carolina wing sauce), plus loads of fries, wings and hot dogs on the menu at this fun Pitcarin spot. Back to the Foodture (378 Broadway Blvd.)
Blowfish BBQ
Mobile
The Blowfish BBQ food truck can be found at lots of places around town, regularly making stops at Brew Gentlemen and Roundabout Brewery. They offer pulled pork, brisket, ribs, and homemade sides, including Mac & Cheese and cole slaw. Follow their Facebook page to see their weekly schedule. Blowfish BBQ
Brrats Deli
Swissvale
Massive sandwiches are on the menu at Brrats Deli in Swissvale, with options that include the Parkway Pastrami, the 'Love and Happiness' (mozzarella, honey-roasted turkey, and corned beef), and the 'Bob Marley,' piled high with vegetables and cheese. Brrats Deli (1703 Monongahela Avenue)
Cafe on the Corner
Marshall-Shadeland
Cafe on the Corner is a cafe and catering company, serving sandwiches, salads, wraps, and homemade desserts, along with soul food favorites, and their famous gumbo. Cafe on the Corner (2700 Shadeland Avenue)
Carmi Soul Food
South Side
Carmi Soul Food's menu include favorites like fried chicken, turkey ribs, meatloaf, and stuffed pork chops. The South Side restaurant also offers catering, and the restaurant owners also just opened Carmi Express, a takeout spot on the North Side. Carmi Soul Food (1825 East Carson Street)
Casa Brasil
Highland Park
Casa Brasil serves up authentic Brazilian cuisine in Highland Park, including mouth-watering platters withen trees like Codfish Stew with coconut milk, Shrimp Moqueca, and a 'Blue Collar' special with pinto beans, rice, pan-seared chicken and farofa. Delivery is available Casa Brasil (5904 Bryant Street)
C&D's Kitchen
Hazelwood
On the menu at C&D's Kitchen in Hazelwood, you'll find Chicken & Waffles (including specialty waffles with chocolate chips, jalapeno & cheese, and banana nut), plus lots of wings, Fish & Grits, burgers, salads and more. Call 412-224-2658 to order. C&D Kitchen (4901 Second Avenue)
Chef's Table
Ross
Chef Kevin Watson opened Chef's Table earlier this year, serving fresh, made-to-order healthy meal options, including salads, sandwiches, pizza and entrees, like Merlot-Braised Short Ribs, and Pan-Seared Salmon. Watson is also launching a give-a-meal program, to help serve Pittsburghers in need. Chef's Table (2193 Babcock Blvd.)
Cobbler World
Downtown nd East Liberty
You can order (almost) any kind of cobbler you want from Cobbler World, along with cheesecakes, cakes, pies and turnovers. There are dozens of varieties available, in flavors like Pineapple, Hawaiian Punch, Cherry Chocolate Chip, Red Velvet and Peach. Check out their Facebook page for daily menu updates. Cobbler World (multiple locations)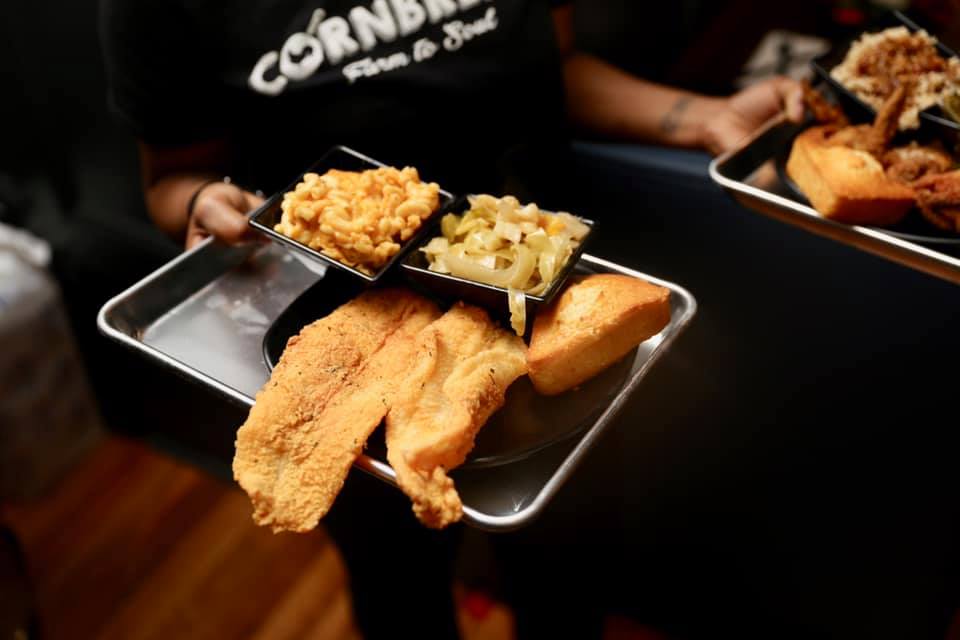 Cornbread
Multiple Locations
The "farm-to-soul" fast-casual restaurant has locations in West Mifflin, Tarentum and Greensburg, and serves dishes like BBQ Chicken, Fried Catfish, Chicken & Waffles and collard greens – and cornbread, of course. Cornbread (multiple locations)
Crabs R Us
Wilkinsburg
Snow Crab Steam Pot, Seafood Samplers (with snow crab claws, crab cakes, Teriyaki salmon, fried shrimp and shrimp scampi), and Stuffed Salmon are just a few of the menu items you'll find at this Wilkinsburg spot. Order takeout or delivery by calling 412-871-5740. Crabs R Us (764 Penn Avenue)
Cuddy's
Homewood
Deep-fried whole chicken, sandwiches, hoagies, burgers, pulled pork and more is available at Cuddy's in Homewood. They're open for takeout, and delivery. Cuddy's (7901 Tioga Street)
Dana's Bakery
Homewood
Sweet treats from Dana's Bakery include doughnuts, cupcakes, Pineapple Upside Down bites, Ladylocks, and their famous Butter Crust Rolls. Place an order to go by calling (412) 731-0929. Dana's Bakery (720 N Homewood Avenue)
Everyday Cafe
Homewood
Coffee, tea, pastries, and breakfast and lunch options, including sandwiches, wraps, paninis, salads and flat breads. Open Monday through Friday from 7:00 a.m. to 8:00 p.m., and Saturday from 7:00 a.m. to 3:00 p.m. Everyday Cafe is also a cashless restaurant. Everyday Cafe (532 North Homewood Avenue)
Fireside Caribbean Restaurant
Wilkinsburg
Generous portions of delicious Caribbean food can be found at Fireside in Wilkinsburg. The restaurant serves specialties like oxtail with beans and rice, curry shrimp, jerk chicken and curry chicken. Order by calling 412-243-6344. Fireside Caribbean Restaurant (796 Penn Avenue)
Flavors Famous Street Food
Marshall – Shadeland
You'll find all kinds of cuisines at Flavors Famous Street Food, including more than a dozen flavors of wings, plus hoagies, burgers, fried chicken, tacos, wood-smoked BBQ, loaded fries and salads. They also offer catering. Flavors Famous Street Food (3231 Brighton Road)
Fudge Farm
Multiple Locations
Looking for some of Pittsburgh's best milkshakes? You've come to the right place. The Fudge Farm (with locations in Bloomfield, on the Waterfront and on the South Side) offers super-loaded milkshakes, plus handmade fudge, chocolates, fruit bouquets, and chocolate-covered fruit. Fudge Farm (multiple locations)
Grandma B's
The Hill District
The Hill District's Grandma B's is a lunch counter serving homestyle diner fare, including French Toast, pancakes, Shrimp & Grits, Philly cheesesteaks and more. Grandma B's (2537 Wylie Avenue)
Griff's Grounds Coffè
Penn Hills
Griff's Grounds Coffè coffeehouse offers a number of special coffee blends (like French Apple, Tiramisu, and Butter Rum), along with special teas, espresso, and traditional coffee drinks. Griff's Grounds Coffè (1817 Leechburg Road)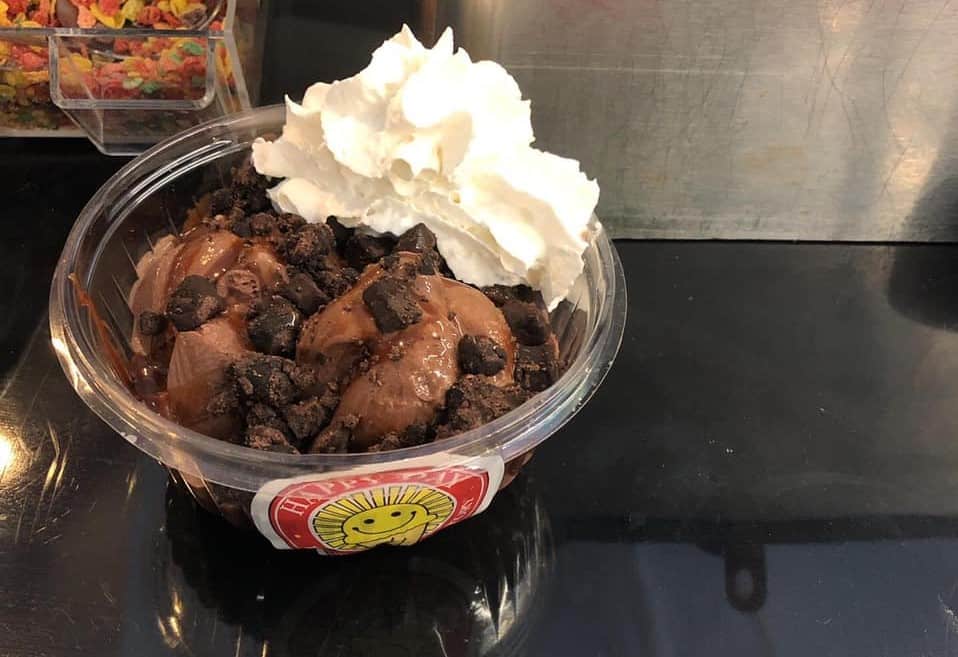 Happy Day Dessert Factory
North Side
Find homemade hard ice cream, water ice, frozen yogurt and almond milk soft serve at Happy Day Dessert Factory on the North Side. Other products include freshly-baked waffle cones, milk shakes, sundaes, fresh-baked cookies, and ice cream sandwiches. Happy Day Dessert Factory (906A Western Avenue)
Hilda's Soul Kitchen
Munhall
Hilda's Soul Kitchen offers a tasty menu of soul food favorites, plus daily specials (check their Facebook page for updates), like meatloaf, oxtail, smothered pork chops and BBQ dinners. Hilda's Soul Kitchen (514 E. 8th Avenue, Munhall)
Island Spice
Carnegie
This small spot in Carnegie offers Caribbean dishes, like Jerk Pork, Curried Goat, Stewed Chicken and Pork Ribs, served with sides like steamed cabbage, rice and beans, and plantains. Island Spice (116 Washington Avenue B, Carnegie)
Kevin's Deli
Oakland
Located in Webster Hall, Kevin's Deli serves breakfast and lunch, with egg-and-sausage sandwiches, burgers, Pittsburgh salads (piled high with fries!), Reubens, cheesesteaks, and lots more on the wide-reaching menu. Kevin's Deli (4415 Fifth Avenue, Suite 120)
Kilimanjaro Flavour
Mobile
Mobile food truck Kilimanjaro Flavour serves up authentic Tanzanian food at various spots around the city. On the menu (available at MobileNom), you'll find dishes like Zanzibar-style Coconut Chicken, Vegan Makande, samosas and Braised Beef with sauteed vegetables. Kilimanjaro Flavour
Leon's Caribbean Restaurant
Allentown
Pittsburgh favorite Leon's Caribbean Restaurant serves authentic Jamaican cuisine in Allentown for lunch and dinner. All entrees are served with their house Rice & Peas and Steamed Cabbage, and options include dishes like Steamed Fish in Pumpkin Sauce, Curry Goat, Curry Fish and Brown Stew Chicken. Leon's Caribbean Restaurant (823 E Warrington Avenue)
Lettuce Eat
Monroeville
Lettuce Eat is located in the Monroeville Mall, offering build-your-own salads, wraps and soups, all made with locally-sourced produce. Lettuce Eat (200 Mall Circle Drive, Monroeville)
Live Fresh Cold Pressed Juice + Smoothie Bar
Homestead
Healthy eatery Live Fresh offers cold-pressed juice, smoothies, acai and smoothie bowls (like the Pittsburgh Pina Colada, with banana, mango, pineapple, house granola, honey and toasted coconut shreds), and immunity-boosting shots. Live Fresh Cold Pressed Juice + Smoothie Bar (114 East 8th Avenue, Homestead)
Los Chiludos
Canonsburg
Serving lunch and dinner, Los Chiludos offers tacos, burritos, enchiladas, quesadillas and fajitas, along with a healthy selection of flavored margaritas. Los Chiludos (325 Southpointe Blvd., Canonsburg)
Love Rocks Cafe
McKees Rocks
Located in the Father Ryan Arts Center in McKees Rocks, the Love Rocks Cafe serves homemade breakfasts and lunches from an ever-rotating menu, with options like Stuffed Cabbage, Shrimp Scampi and BBQ ribs. Love Rocks Cafe (420 Chartiers Avenue, McKees Rocks)
Ma's Honey
Penn Hills
Ma's Honey offers all-day breakfast and lunch options, like blueberry French toast, homemade pancakes, hoagies and more. Homemade sides include Mac & Cheese, fried cabbage, and fresh-cut French fries. Ma's Honey (11101 Frankstown Road)
MexiSoul Smokehouse & Taqueria
Monaca
Find Mexican and soul food fusion at MexiSoul Smokehouse & Taqueria in Monaca. The menu features dishes like enchiladas, quesadillas, and fajitas, plus BBQ favorites, like ribs, brisket and pulled pork. MexiSoul Smokehouse & Taqueria (1426 Pennsylvania Avenue, Monaca)
Ms. Jean's Southern Cuisine
Wilkinsburg
Ms. Jean's Southern Cuisine is a Wilkinsburg staple, serving an array of Southern specialties, including pork ribs, chicken wings, smothered chicken, and homemade pies. Ms. Jean's Southern Cuisine (807 Wallace Avenue)
Naka EndZone BBQ
Crafton
Crafton's Naka EndZone BBQ serves fall-off-the-bone pork ribs, turkey ribs, and chicken wings, along with sides that include sweet baked beans, sweet candied yams, Mac & Cheese and cabbage & greens. Naka EndZone BBQ (1310 Crafton Blvd.)
Nana's Place by Gibson's
Multiple Locations
Nana's Place in Bloomfield and Gibson's Takeout in Penn Hills serves homestyle favorites, like smothered chicken, baked chicken, roast beef, baked ham, catfish and BBQ ribs. Nana's Place by Gibson's (multiple locations)
Observatory Hill Deli
Observatory Hill
Deli sandwiches (including their signature options, like Meatball Hoagies and Italian Hoagies), plus salads and sides – along with homemade sweet potato pie and cheesecakes – are on the menu at Observatory Hill Deli. They also offer a massive "Big Dipper" Italian hoagie sandwich that must be ordered a day in advance (call 412-251-0416 to order). Observatory Hill Deli (2856 Baytree Street)
Pauline's Caribbean Soul Cuisine
North Side
There's lot s of Caribbean dishes to choose from at Pauline's on the North Side, including Brown Stew Chicken, Curry Chicken, Oxtail platters, Curry Goat, Jerk Pork, Callaloo & Saltfish, and Pepper Steak. Vegetarian options are also available, like Curried Vegetable Stir Fry. Pauline's Caribbean Soul Cuisine (1204 Federal Street)
Quik-It Chicken
North Side
This North Side fried chicken joint serves boneless strips, wings, sandwiches, chicken & waffles, and fried chicken dinners with all the fixings, like Mac & Cheese, cornbread stuffing, potato salad and red rice and beans. Quik-It Chicken (820 Pennsylvania Avenue)
Ribs n' Bread
Oakland
Turkey ribs and pork ribs dominate the menu at this BBQ restaurant, but there are sandwich options, including chopped pork and chopped turkey. Sides include Cole Slaw, collard greens, corn bread, Mac & Cheese, and green beans. Ribs n' Bread (4707 Centre Avenue)
Royal Caribbean Takeout
Wilkinsburg
Royal Caribbean Takeout offers traditional Caribbean favorites in Wilkinsburg. Look for tasty menu items like Curry Shrimp, Oxtail, Curry Goat, Brown Stew Chicken, Esco Snapper and steamed cabbage. Royal Caribbean Takeout (1568 Montier Street)
Savoy
Strip District
Savoy offers upscale dining options in the Strip District, with a dinner menu that includes dishes like Teriyaki Salmon, Handmade Chicken Fettuccine, Chilean Sea Bass and Bone-In Ribeye. Live jazz nights are also a regular occurrence. Savoy (2623 Penn Avenue)
ShadoBeni
East Liberty Farmers Market
ShadoBeni will sell their vegan Trinidadian cuisine at the East Liberty Farmers Market, starting June 15 this year. Menu items include Trinidadian Doubles, Aloo pie, Pelau, and Sorrel, plus they sell their homemade pepper sauce by the jar. Pre-orders are available each week. ShadoBeni
Showcase BBQ
Homewood
This BBQ joint serves dinner options (with ribs by-the-bone and chicken wings), plus sandwiches and sides, including red beans & rice, yams, green beans and baked beans. Showcase BBQ (6800 Frankstown Avenue #1370)
Simmie's Restaurant and Lounge
Homewood
Simmie's Restaurant & Lounge has been open since 1991, serving specialties like include Steamed Snow Crab Legs, Chicken & Shrimp Jambalaya, and cod sandwiches. They're also currently offering family-style meals. Simmie's Restaurant and Lounge (8500 Franktown Road)
Soul Food Connection
Wilkinsburg
Soul food dishes make up th emenu at Soul Food Connection in Wilkinsburg. Look for from-scratch items like fried fish, fried chicken, Mac & Cheese, ribs and green beans. Soul Food Connection (819 Wood Street)
Soul & Sea
Multiple Locations
The name says it all: Soul & Sea offers fantastic soul food (turkey ribs, pork ribs, Mac & Cheese), and seafood (crab cakes, crab legs, and shrimp boils). They have two locations, one in Penn Hills, and one on the South Side. Soul & Sea (multiple locations)
The Dream BBQ
Homewood
This small restaurant serves BBQ ribs and chicken with homemade sides, including Mac & Cheese, collard greens and potato salad. They also offer a number of different sauces with their BBQ, including their crowd-favorite mustard sauce. The Dream BBQ (7600 North Braddock Avenue)
The Spot
Penn Hills
Wings, burgers, salads and sandwiches are on the menu at The Spot in Penn Hills. Restaurant specilaities include bacon cheeseburgers, Philly chicken hoagies, and steak salads. The Spot (11675 Frankstown Road, Penn Hills)
True Pizzeria & Lounge
Robinson
True Pizzeria & Lounge in Robinson offers a huge menu, with a focus on pizza and African food, like Jollof Rice (tomato-based rice mixed with West African spices and a side of chicken wings), and shawarma. True Pizzeria & Lounge (5474 Campbells Run Road)
Veggies N'At
Mobile
Every week, Veggies N'At posts a new menu of healthy plant-based available for pickup on their Instagram page. Look for tasty options like Deconstructed Lasagna (with lentil Bologonese and cauliflower ricotta), Curried Vegetable Pot Pies, and Chickpea and Cauliflower Bowls. Veggies N'At
Vickey's Soul Grill Takeout & Catering
McKeesport
Dinner options at Vickey's Soul Grill include oxtail, chicken wings, fried whiting and catfish meals, plus homemade sides (like yams, mixed Southern greens, and potato salad) desserts, including peach cobbler, cream cheese pound cake, 7-Up pound cake and sweet potato pie. Vickey's Soul Grill Takeout & Catering (410 9th Street, McKeesport)
Walter's Southern Kitchen
Lawrenceville
Walter's Southern Kitchen has been a Lawrenceville staple since they opened a few years ago, thanks to their fantastic BBQ and their massive outdoor space. Menu items include smoked wings, catfish sliders, Frito Pie, and a whole lot of smoked meats, including brisket, pulled pork, turkey and pork belly. Walter's Southern Kitchen (4501 Butler Street)
Wild Rise Bakery
Online
Wild Rise Bakery creates baked goods that are made using locally-sourced, gluten-free grains and wild and bakers yeasts. Menus are posted weekly for pickup (typically in Garfield), and options include treats like Orange and Cranberry Walnut Bread, Apple and Ginger Tarts, and Chocolate Chip Sourdough Waffles. Wild Rise Bakery
Wings And A Prayer
Shadyside
There are lots of wings on the menu at Wings and a Prayer, plus hot dogs, fish dinners, fresh fish sandwiches and 'Goliath' burgers, along with fried chicken and BBQ ribs. Side dishes are also available, including fresh collard greens, fried cabbage, baked Mac & Cheese and yams. Wings And A Prayer (226 Shady Avenue)
Young Brothers Bar
Marshall Shadeland
You'll find lots of drinks at Young Brothers Bar, plus dancing, and food specials, too. Young Brothers Bar (1441 Woods Run Avenue)
Z-Best Barbeque, Chicken & Ribs
Uptown
Just up the street from the PPG Paints Arena, you'll find Z-Best Barbeque, Chicken & Ribs, serving platters of BBQ favorites, like pulled pork sandwiches, ribs and collard greens. They also offer catering. Z-Best Barbeque, Chicken & Ribs (1315 Fifth Avenue)
Other Black-Owned Businesses
First Sip Brew Box: First Sip Brew Box is a monthly subscription service that brings beer fear from some of the country's greatest breweries to your door. Also available for one-time gift purchases, each box contains awesome swag, including branded glasses, stickers, and more.
Fresh Fest: The Fresh Fest Beer Fest is the country's first Black beer festival, featuring Black-owned craft breweries from around the United States. Now in its third year, the organizers have just announced that this year's festival will take place online during a live-streaming event that will be broadcast in August.
Power Bites: Made with organic, non-GMO ingredients, Power bites offers gluten-free, dairy-free, and soy-free vegan snacks that are packed with protein, like their Almond Butter Crunch Bites and Salted Peanut Butter Crunch Bites.
Pure Grub: Pure Grub offers weekly menu options for organic, clean-eating meals that can be delivered or picked up at Tupelo Honey Teas in Millvale. Menus change regularly, but can include items like Cubano Stir Fry, Spicy Japanese Sweet Potatoes, Zucchini Noodles Stir Fry, and their Balls of Goodness nut-based sweet treats.
The Smokey City's 412 BBQ: Jamal Etienne-Harrigan owns The Smokey City's 412 BBQ, featuring Uncle Jammy's Sauces & Seasonings. His sauces and rubs, like the Bridge City Brisket Rub, Smile for Smokey BBQ sauce, and Cajun of the 412 seasoning, are sold in various spots around town, including Whole Foods, Janoski's Farm, Tom Friday's Meat Market, and RSVP in Greensburg. Etienne-Harrigan also owns 412 BBQ, a catering and BBQ company.