Just because this Independence Day is going to look a little different doesn't mean you can't celebrate – especially with these tasty grill kits, family meals and holiday-inspired treats from Pittsburgh restaurants and bakeries.
Big Batch Cocktails
Bar Botanico: Not only does Bar Botanico have pizzas to go, they also have large batch cocktails that serve up to eight people for $48, with a cocktail list that includes Negroinis, Rye Old Fashioneds, Margaritas, Daquiris, The Bees Knees (made with vodka, lavender, honey and lemon) and The Cool Hand Cuke (made with gin, cucumber, celery shrub, Carpano Banoc, mint and lime). Call 412-258-4790 to order.
DiAnoia's Eatery: DiAnoia's Eatery is offering an Aperol Spritz Party Pack this week for $85. The kit is large enough to make 10 cocktails, and includes Aperol, H20 soda, a bottle of Prosecco, orange slices, straws and instructions on how to make the cocktails. Pre-orders are open now, and pick-up is available Wednesday through Friday. They also offer four-pack cocktails to go, and house-made bottles of limoncello.
Tina's: Tina's is offering freshly-made bottled cocktails that serve between three to four people to go, with a menu that includes Frozen Jabroni, Cosmopolitans, Gimlets, French 75s, Jungle Birds, Penicillins, Whiskey Sours, Negronis, White Negronis, Old Fashioneds and Manhattans. Order online here.
Grill Kits
Butterjoint All Day: Give your friends and family the gift of one of the best burgers in Pittsburgh! Butterjoint All Day is offering Burger Kits for the Fourth of July, featuring hand-formed local beef burger patties, brioche buns, Swiss cheese, and garlic scape aioli. Order online.
Mayfly Market: Mayfly Market has put together an awesome grill kit package for pickup on Friday. Each kit is $125 and includes ground beef, 24 hot dogs, and one prime beef rib roast, Bread Works Kaiser buns and hot dog rolls, locally-grown salad mix, one quart of Mayfly potato salad, and six chocolate chip cookies. The deadline to order is Thursday, July 2 at noon by calling 412-322-1300.
Station: Station in Bloomfield has just re-opened with a brand new marketplace, offering family-style meals, including Tagliatelle with Smoked Pork Shank for Two, Grilled Hanger Steak for Two, and big batch cocktail kits. And for the Fourth of July, they'll also have some fantastic grill kits available. Order online.
Taco Kits
Franklin Inn: The Franklin Inn is serving up Fourth of July Fajita Kit specials, with steak and chicken options. Each kit includes fresh fajita vegetables (peppers and onions), flour tortillas, toppings, Black Bean & Corn Salsa and chips, and chicken or steak, ready for you to grill as needed. Pick up will be on Friday, July 3. You can also order house margaritas to go. Order online.
Round Corner Cantina: Order a build-your-own taco kit from Round Corner Cantina, featuring any one of their proteins, plus all of the tortillas and fixings you need to make eight tacos.
Specials & Events
Blanket & Board: Make your Forth of July extra special by booking a charcuterie board-catered picnic at one of Pittsburgh's parks. New business Blanket & Board will bring one of their fantastic boards to you, along with everything you need for a picnic for two (or more), including napkins, utensils, plates, and beverages. Book online.
Bob's Diner: Bob's Diner locations in Kennedy and Carnegie are offering family meal packs for the Fourth of July, including a Pulled Pork meal ($48) and a BBQ Ribs meal ($68), each which comes with a variety of sides and serves four people each. For more information, and to place an order, visit their website.
Roman Bistro: Forest Hills' Roman Bistro will be opening a big outdoor to-go tent on the Fourth of July, offering fresh from-the-grill dinners, including beef brisket sandwiches, BBQ chicken, ribs, and their famous Mac & Cheese for takeout.
Sweet Treats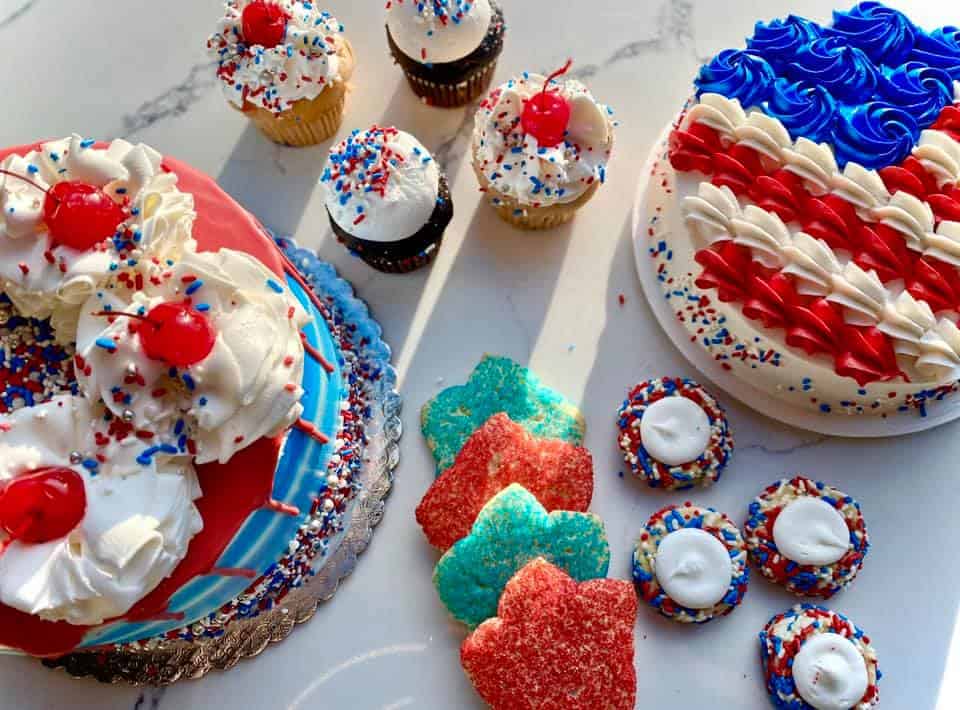 Oakmont Bakery: Order your Fourth of July baked goods (like cookies, cupcakes, pies and cakes) from Oakmont Bakery for pick up on Friday, or Saturday (from 6:00 a.m. to 3:00 p.m.). Call 412-826-1606 ext. 3, or visit online to order.
Signature Desserts: Pre-order Fourth of July cakes, cupcakes and their special 'Patriotic Pie' (half strawberry and half blueberr) by calling Castle Shannon's Signature Desserts at 412-882-9960
Know of any other Fourth of July specials or deals? Let us know in the comments!