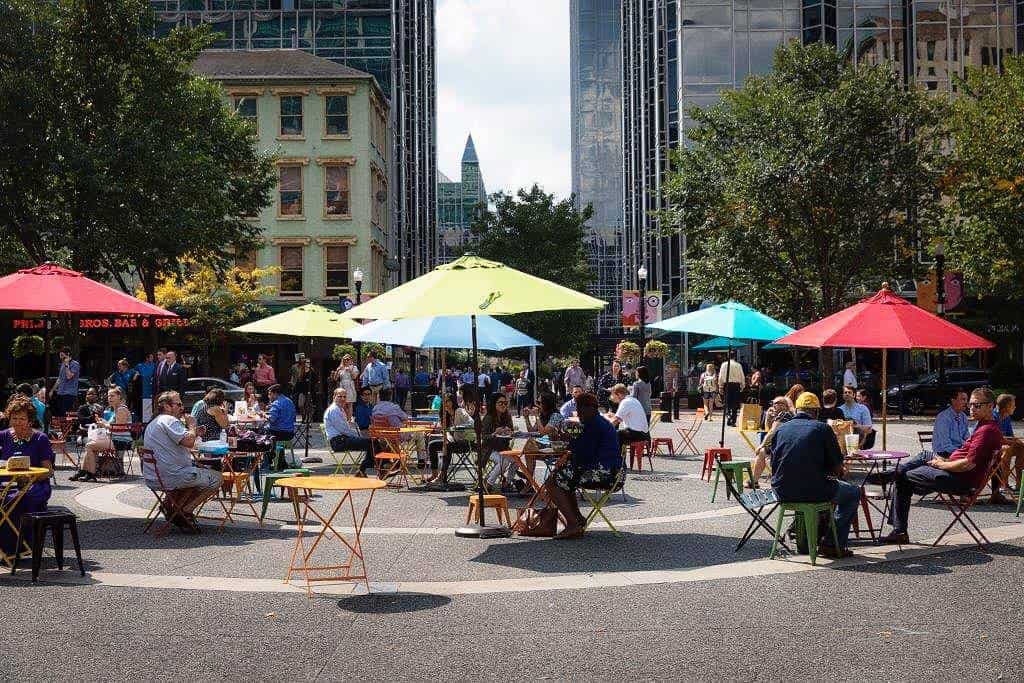 Pittsburgh Downtown Partnership has announced that it is reimagining Downtown streets to allow restaurants and bars to expand their outdoor dining opportunities in various locations throughout the Golden Triangle.
This new reconfiguration will allow businesses to more effectively adhere to safety requirements, occupancy restrictions, and best practices to reduce the spread of COVID-19 by giving restaurants and bars more space to operate outside.
Roadway reconfigurations will be implemented at 6th Street between Ft. Duquesne Boulevard and Liberty Avenue, Strawberry Way between Smithfield Street and Grant Street, Penn Avenue between 9th Street and 10th Street, and Market Square.
All told, there will be 72 restaurants and other nearby businesses that will be positively impacted, with expanded outdoor space.
The outdoor spaces are expcted to be fully activated by early July.
In a release, Jeremy Waldrup, president and CEO of the Pittsburgh Downtown Partnership says that the organization's move to reinvent the street space was an effort to create outdoor dining experiences that allow restaurants more opportunities to reopen safely.
"These inviting spaces will continue to evolve over the next few weeks as we introduce public art and live music," Waldrup says.
The reconfigured street spaces are expected to remain a fixture until mid to late October. Adjustments to pavement markings and signage, appropriate barricades, ADA accomodations, and seating options that ensure a safe experience will also be required.
The PDP says that it anticipates expanding this effort to other locations Downtown throughout the summer.
Funding for this initiative was made possible by the Richard King Mellon Foundation and PNC Bank.