East End Brewing Company has always been one of our favorite Pittsburgh businesses to watch. The Larimer brewery was one of the earliest entrants into Pittsburgh's craft beer scene, and since their launch in 2004, owner Scott Smith has found countless ways to evolve the business – and their latest announcement is no different.
They've recently announced that East End Chewing, a new restaurant within their brewery, is officially open and serving rustic, thick-crust pizzas that pair perfectly with East End brews.
"What started out as a bit of an inside joke and a way to meet PA's mandatory food requirements, has gradually evolved into a more significant part of the East End Brewing experience," Smith says in a release.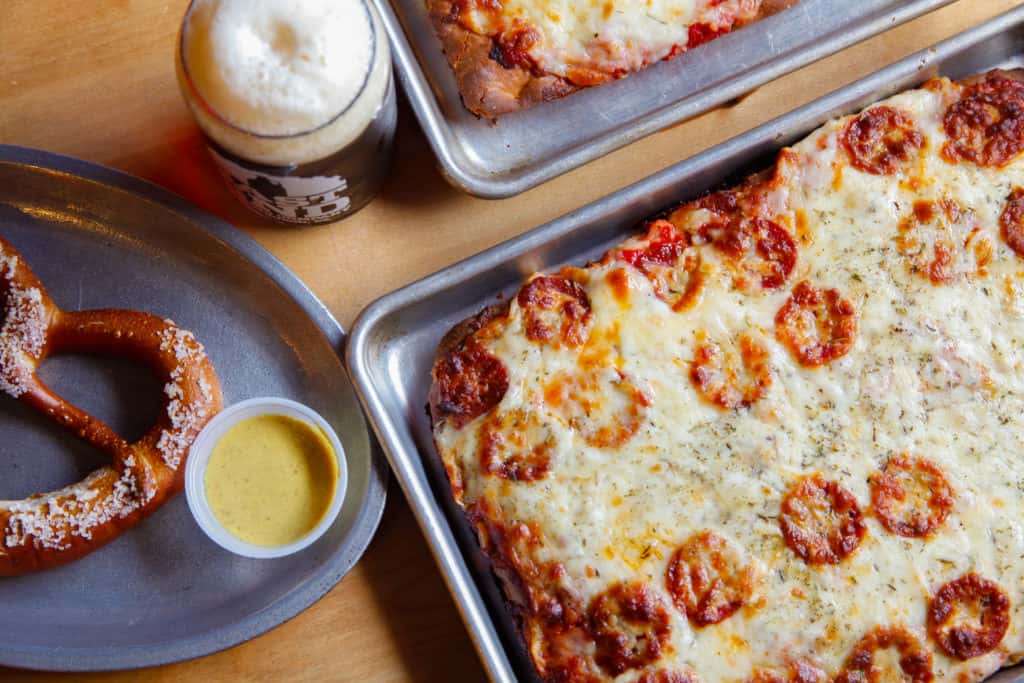 East End Chewing was launched after the Larder at East End, a restaurant concept from Justin and Hilary Severino, ceased operations last year, leaving an empty kitchen and dining space within the brewery. The team at East End, led by Sheryl Johnston, started offering a small menu of thick-crust pizzas as a temporary food option, but the concept proved to be so popular, it's now a permanent offering.
The menu features a classic cheese pizza, a pepperoni pizza, and an ever-changing Pizza of the Week, which often incorporates seasonal ingredients. Previous options have included a Reuben pizza, an Eggplant Parmesan pizza, and a Bahn Mi sandwich pizza – with weekly offerings shared on their Instagram (this week's special is the Gyro pizza, with garlic oil, mozzarella, beef and lamb gyro meat, fresh tomato, cucumber, and red onion salad, fresh dill, garlic-lemon yogurt or tahini sauce). Most of their pizzas can be made vegan or vegetarian, too.
Other menu items include roasted garlic and herb bread sticks, pickled vegetables, and a big soft pretzel, served with house-made beer mustard made with their own Big Hop beer.
East End Chewing is open Tuesdays through Sundays, and closes one hour before the brewery does.
East End Brewing (147 Julius Street)