Winter blues got you down? Perhaps an over-the-top cocktail, live music, and tiki brunch is just the solution you need…
Pittsburgh tiki bar Hidden Harbor is channeling warmer weather and beachy music for their inaugural "Hi-Tide Winter Holiday" festival. The event is held in collaboration with New Jersey-based record label Hi-Tide Recordings. Hi-Tide Recordings produces "Surf, Lounge & Exotic Sounds" – all of which will be featured throughout the weekend.
The three-day festival begins on Friday, February 21 and runs through Sunday, February 23.
Cocktails will, of course, be poured all weekend, but Hidden Harbor also collaborated with local breweries Grist House, Dancing Gnome, and Roundabout to release tropical-inspired ales for the weekend.
The official schedule can be viewed below: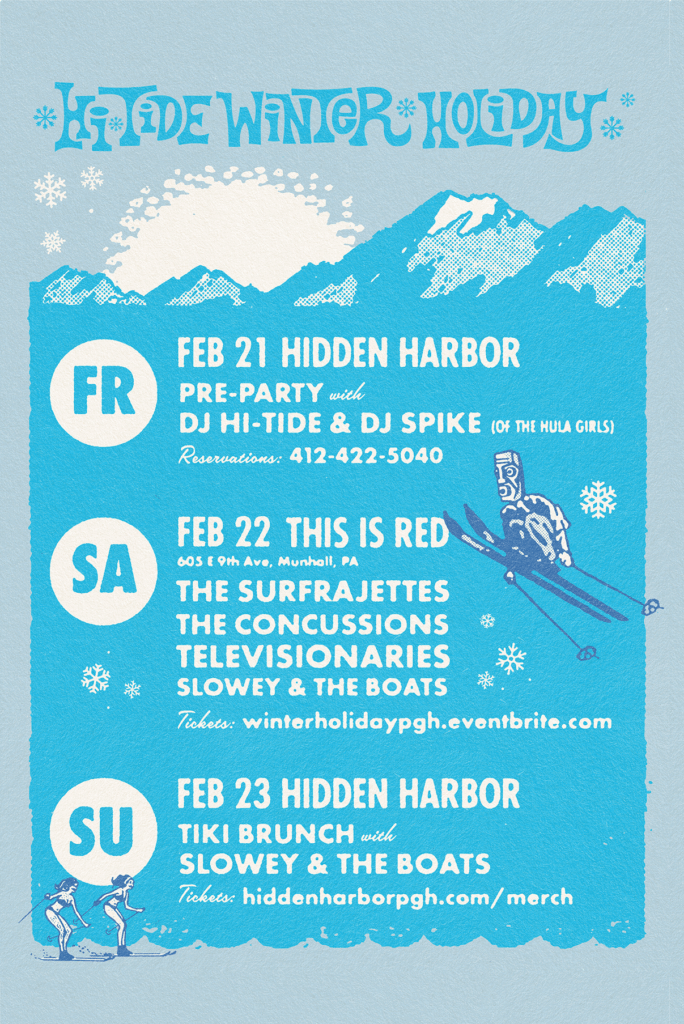 The pièce de résistance of the event is the Saturday Hi-Tide showcase concert at THIS IS RED in Munhall. The Surfrajettes from Toronto will headline with support by The Concussions, Televisionaries and Slowey & The Boats.
At the concert, Hidden Harbor will serve exotic cocktails and Blowfish BBQ will serve food. There will also be a vintage vendor market with clothing, mid-century artwork, and tiki collectibles, highlighted by Pittsburgh Vintage Mixer. Doors open at 5:00 pm.
Two sessions of brunch will be held on Sunday. The menu includes:
Spanish tortilla with chorizo, leeks, potatoes
Breakfast burrito with eggs, beans, tomatillo, crema
Biscuits and sausage gravy
Candied bacon
Grain salad
Pineapple and coconut bread pudding
Quesitos (Puerto Rican cream cheese-filled pastry)
Passion fruit pound cake
Seatings are available at 11:00 a.m. and 1:00 p.m. Tickets include an assigned seat and access to the brunch buffet. Tax and gratuity on the brunch component are included. Drinks may be purchased separately. Slowey & the Boats, pioneers of Philadelphia's Hawaiian jazz scene, will be on-site playing a blend of traditional folk melodies, western swing, ballads, tangos, and Hawaiian party classics for the event.
More information can be found online.