The details are out about Picklesburgh, one of Pittsburgh's most beloved events.
The festival, which celebrates everything pickled, is happening this Friday, August 20, Saturday, August 21, and Sunday, August 22, after taking last year off due to the pandemic. And there's a lot of new things to look forward to this year, including a new location and expanded entertainment schedule.
Picklesburgh 2021 is moving to the Andy Warhol (7th Street) Bridge this year, and the festival's primary entrance will be located at 7th Street and Ft. Duquesne Boulevard. In an effort to reduce congestion on the bridge, festival organizer Pittsburgh Downtown Partnership has announced that all prepared foods and cocktail stands will be located along Ft. Duquesne Boulevard between Stanwix and 9th Street, offering room for more seating.
More than three dozen vendors will be at the festival, offering pickle-inspired foods like kimchi grilled cheese, bacon-wrapped and cheese-stuffed pickles, salted dill almonds, sauerkraut, dill pickle pierogies, pickle ice cream, dill pickle lemonade and more. Vendors include:
Allegheny City Farms – All-natural peppers that have been pickled, fermented, and crafted into hot sauces, BBQ sauce, and mustard.
Atria's – Drinks including Pickle Paloma, PickleBerry Mule, and hand-pressed lemonades
Bae Bae's Kitchen – Kimchi, Boba drinks, and house favorites
BRGR – Gourmet burgers and food including a Pickled Pepper BRGR, fried pickles, kimchi hot
dog, Pickle Rita, and more
Bylers Relish House – Small-batch canned goods, including old-fashioned dill pickles, hot pickled garlic, mustard pickles, bread and butter pickles, and more
Chocolate Fusion Candy – 20+ classic fudge flavors, including peanut butter pickle swirl, pickle
fudge pops, and chocolate covered pickles-on-a-stick
Chocolate Moonshine Company – Handmade fudge and candies, including spicy pickle fudge, pickle cheesecake fudge, and more
CinnaRoast – Cinnamon-roasted almonds, pecans, cashews, and limited-edition salted dill almonds
Cleveland Kitchen – Four flavors of sauerkraut, including roasted garlic and whiskey dill, along
with dilly garlic spears and chips
Crooked Creek Distillery – Handcrafted bottled spirits, including a special pickle-infused Bloody Mary
Moonshine
DiAnoia's Eatery & Pizzeria Davide – Pickle-flavored fried mozzarella and pickled Marinara
Philly Cheesesteaks along with pickled negroni cocktails and more
Ekernally Yours Gourmet Popcorn & Sweet Treats – Unique flavors of popcorn including dill
pickle, hot pickle, and bread & butter kettle corn, along with dill pickle shaved ice
Gosia's Pierogies – Pierogies with specialty flavors including dill pickle and dill, potato and feta, sauerkraut, or sweet potato and cabbage
Grandpa Joe's Candy Shop – Snacks, candies, gifts, and more, including Kool-Aid Pickles, Pickle
Cotton Candy, Pickle Lollipops, Scented Plush Pickles, and pickles in a pouch
The I'Dill Pickle – Presented by the Pittsburgh Irish Festival, find bacon-wrapped fried pickles, cheese-stuffed pickles, "Dog in a Dill" hotdogs stuffed in a pickle wrapped in bacon, Limerick Limeade with a pickle twist, and more
Le's Oriental – Pickle eggrolls, kimchi, Mac & Cheese eggrolls, and fresh-squeezed lemonades
Millie's Homemade Ice Cream – Locally-made ice cream
Pickle Me Pete – Brooklyn barrel-cured pickles and fried pickles on a stick
Pittsburgh Mobile Bars featuring Goodlander Cocktail Brewery – Mocktails, including dill pickle lemonade, raspberry shrub, Pickled Tom Collins, Strawberry Basil Fizz, and more
Pittsburgh Pickle Co. – Fire & Smoke pickle chips, Briney Mary Bloody Mary Mix, Picklexir pickle juice, hot sauces and more
Pretzel Revolution – Stuffed pretzels, including the Pickled Chicken Stuffed Pretzel, Pickled Cheese Dog, and Pickle in a Pretzel
Simons Food Concessions – Pickle funnel cakes, pickles on a stick, chicken tenders, corn dogs, and more
The Brinery @ Two Acre Farm – Hand-crafted fresh pickles brined in many flavors, including maple bourbon, smokehouse, garlic herb & wine, whiskey sour, mojito, Pride Pickle Spears, and a new "Monster Pickle"
The Pickled Chef – Grilled cheese sandwiches, ready-to-eat pickles and ferments, Bloody Mary
pickles, and various kimchi and krauts
The Warren Bar & Burrow – Cuban egg rolls, pickled beet salad, ceviche with pickled watermelon, jarred products from Made by Scratch & Co., Picklesburgh Old Fashioneds, Vodka Cucumber Refreshers, and more
Uncle Bunk's – Pickles and condiments based on old Appalachian recipes, such as 14-day sweet pickles, zucchini bread & butter pickles, mustard relish, and rustic pepper sauce, all made one small batch at a time
Wigle Whiskey – Pennsylvania Bourbon, Pennsylvania Rye, Eau de Pickle spirit and more
Other vendors will be selling everything from pickle-inspired onesies and tees to handmade crafts and Picklesburgh balloons.
This year, there will be two performance venues, and more than 25 local acts performing, including Donora, Soulful Femme, Elias Khouri, Snowdonia, Miss Freddye, Isaiah Small, Pierce Dipner, KELS, Byron Nash, and Buckle Downs.
The popular Pickle Juice Drinking Contest will also be back this year, with preliminary contests being held on Friday and Saturday, and a championship contest on Sunday.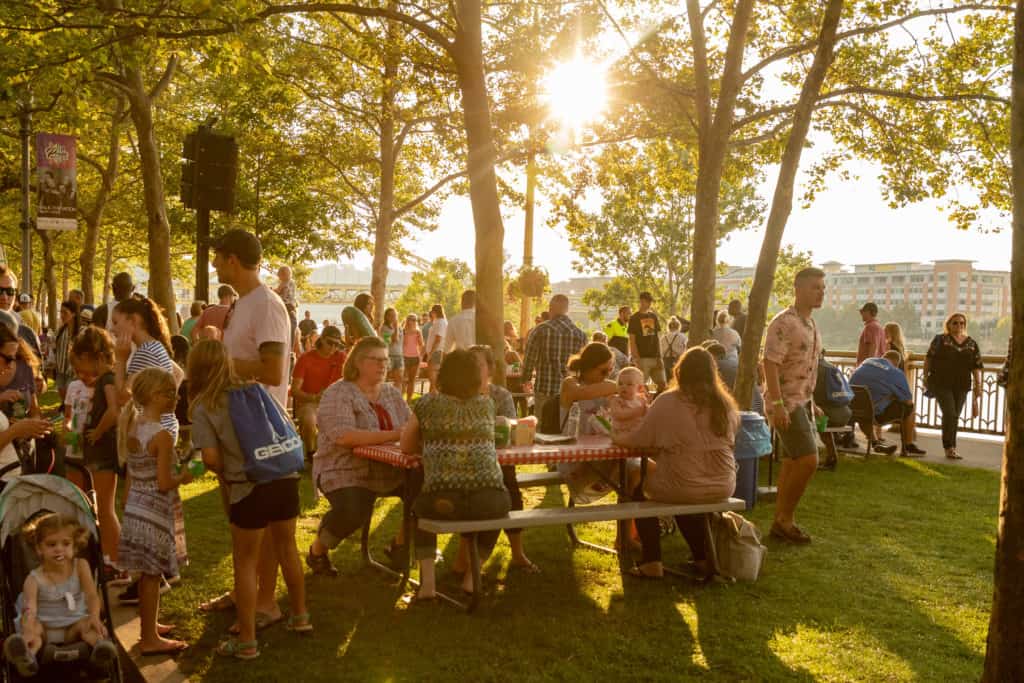 And, while Picklesburgh is not requiring a COVID vaccine to attend, the Pittsburgh Downtown Partnership is recommending that those who attend be fully vaccinated, and if you're not vaccinated, you're required to wear a mask.
Picklesburgh will kick off on Friday at noon, and opening hours are:
Friday, August 20: 12 – 10 p.m.
Saturday, August 21: 12 – 10 p.m.
Sunday, August 22: 12 – 6 p.m.
More information can be found online.