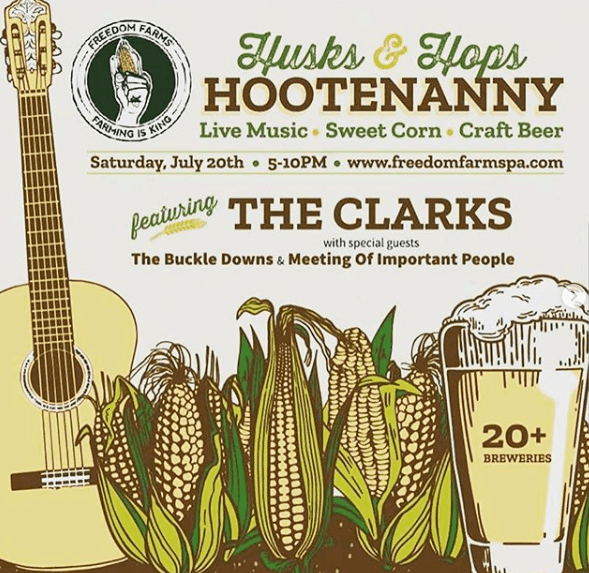 Get down on the farm!
Butler's famous Freedom Farms is hosting a seasonal festival filled with everything we love about summer – local beer, fresh corn, and live music!
The Husks and Hops Hootenanny will take place on the farm on Saturday, July 20 from 4:00 to 10:00 p.m., and will feature beers from over 20 local farms, fresh-picked sweet corn from the farm, and live music from The Buckle Downs, Meeting of Important People, and the Clarks.
Tickets are $70 per person, and include beer from each brewery, corn, an event tee-shirt, a tasting glass, and all entertainment.
Participating breweries include:
Big Rail Brewing
KingView Mead
The Leaning Cask Brewing Company
Union Brothers Brewing
Straub Beer
East End Brewing
Voodoo Brewery
B.A.S.H. / Butler Area Society of Homebrewers
Hitchhiker Brewing Co.
Crooked Tongue Brewing
Aurochs Brewing Co.
Recon Brewing
Mortals Key Brewing Company
North Country Brewing Co.
Erie Brewing Company
Butler Brew Works
Eleventh Hour Brewing
Koehler Brewing Company
Reclamation Brewing
Hop Farm
Erie Brewing
Conny Creek Brewing
This event is 21+ only, and a portion of the proceeds will benefit the Glade Run Lake Conservancy.