The holiday season is upon us!
To help you with all of your gift-giving needs, we have rounded over 25 unique items for everyone on your list. 16 are locally made or sold in Pittsburgh, and the rest can be ordered online!
If you purchase any of these gifts! Please tag @goodfoodpgh and #goodfoodpgh in all your pictures.
Local Pittsburgh Gifts:
All Clad Cookware
This world-renowned cookware manufacturer is headquartered in Canonsburg, PA. All of their products are chef quality, and if you turn on The Food Network, odds are, your favorite chef will be using All-Clad. You can order online, or attend their annual sample sale December 7-8 at the Washington County Fairgrounds for discounts up to 70% off.
Simple Sugars Scrubs
This Pittsburgh-based skincare brand makes their products with sensitive skin in mind. Initially developed for eczema-prone skin, these scrubs come in a wide variety of scents and are gentle enough to be used every day. The founder started the company at 11 years old, and appeared on Shark Tank in 2013 at the age of 19 (and got a deal with Mark Cuban!)
Wigle Whiskey Old Fashioned Bottled Cocktail
Wigle's new Bottled Old Fashioned is a ready-to-drink beverage! Simply pour over ice, garnish with an orange peel, and serve. Find it online, or at one of their multiple Pittsburgh locations.
Day Pass to the Fairmont Hotel Health Center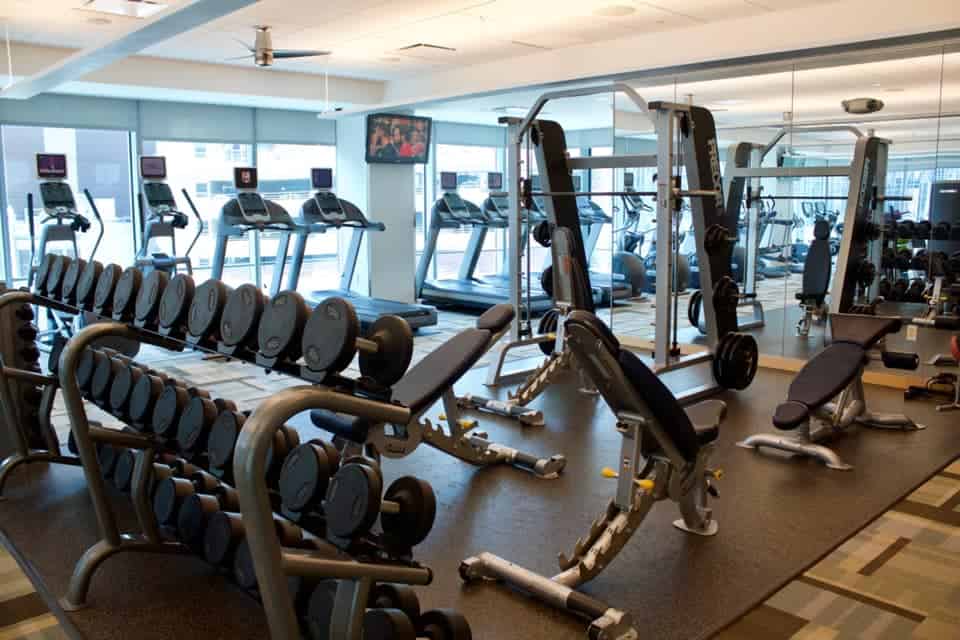 Gift someone a relaxing day at the Fairmont Health Club in Downtown Pittsburgh. A day pass includes access to the fitness center (which has Peloton Bikes!), and the health center with sauna, steam room, and more. Finish up the experience with a spa service, or meal at the hotel's restaurant, Floor 2.
Lily and Val Hand Lettered Goods
This popular design company is headquartered in Pittsburgh, PA. They offer unique prints, cards, journals, totes, and much more! All designs are hand-lettered by owner and Pittsburgh native Valerie McKeehan. Shop their designs online.
Porter Craft Beer Tour
Hop on the bus! This boutique brewery tour company takes passengers on a tour de beer, visiting three breweries around the city of Pittsburgh. Stops include Dancing Gnome, Full Pint, Couch Brewery, and more. Both public and private tours can be booked online.
Prints by Reconstructing Ideas
Deck the halls with pictures of Pittsburgh! Local illustrator Reconstructing Ideas offers colorful prints of various Pittsburgh landmarks, including the Alcoa Building and Union Station. Find these (and even more awesome designs) on their Etsy.
Gridlock Lacquer Pittsburgh Nail Polish
Paint your nails with Pittsburgh pride! The hilarious Pittsburgh nail polish collection form Gridlock Lacquer has colors like Chipped Ham, Church Pierogi, Gumband, Cookie Table, Parking Chair, various neighborhoods, and more! View the whole collection online.
Ultra Matcha Herbal Matcha Blends
Know someone who loves a good matcha latte? Pittsburgh company Ultra Matcha can help you give the gift of making it at home! The company's various matcha blends (Recover, Focus, Charge, Ascend & more) and all the tools necessary for a frothy drink can be found online.
Carnegie Museums of Pittsburgh Membership
The gift that keeps on giving! A membership to Pittsburgh Carnegie museums offers admission to the Carnegie Museums of Art and Natural History, Carnegie Science Center, and The Andy Warhol Museum – for a year! Different levels can be shopped online.
Cookbooks By Local Authors:
This cookbook by Pittsburgh-based author Quelcy Kogel provides 75 gluten-free recipes using unique grains like buckwheat, millet, sorghum, teff, wild rice and more.
Identify how your eating habits interact with your moods and feelings with this cookbook by Pittsburgh author Lindsey Smith. From being "hangry" to eating while bored, this book covers it all (with recipes!)
Pittsburgh superstar blogger Jessica Merchant (@howsweeteats) has compiled some of her prettiest recipes for her new cookbook, The Pretty Dish. The pages provide more than 150 recipes and 50 beauty DIYs to "nourish your body inside and out."
On The Rocks Clear Ice
Believe it or not, producing crystal clear ice is very difficult. That's why local Pittsburgh company On The Rocks offers their custom clear ice packages, providing everything necessary for clear ice, every time! This is a must-have for any passionate cocktail connoisseur.
Knotzland Bowtie Co.
Knotzland is a zero waste bowtie business that makes bespoke ties from discarded textiles. To date they have already rescued over 1,700 lbs of textile waste! The brand offers a myriad of styles from their online store and showroom on Trenton Avenue. They also take custom orders for weddings, and recently added leather wallets to their collection.
Rivers of Steel City Tour
Tour the city and learn more about Pittsburgh's gritty history on a Rivers of Steel. The Rivers of Steel Explorer Riverboat offers sightseeing tours, private events, corporate charters, and more. The boat is the world's first green passenger riverboat. Tours educate guests on how the region evolved to become the vibrant city that it is today.
Bombabird Ceramics at Adda Coffee House
Local ceramicist Bombabird collaborates with Pittsburgh coffee shop Adda to offer an ever-evolving line of custom mugs. The pieces are unique, limited run, and wheel-thrown. They can be purchased at Adda Coffee & Tea House locations (Northside and East Liberty).
Coffee Passport to Pittsburgh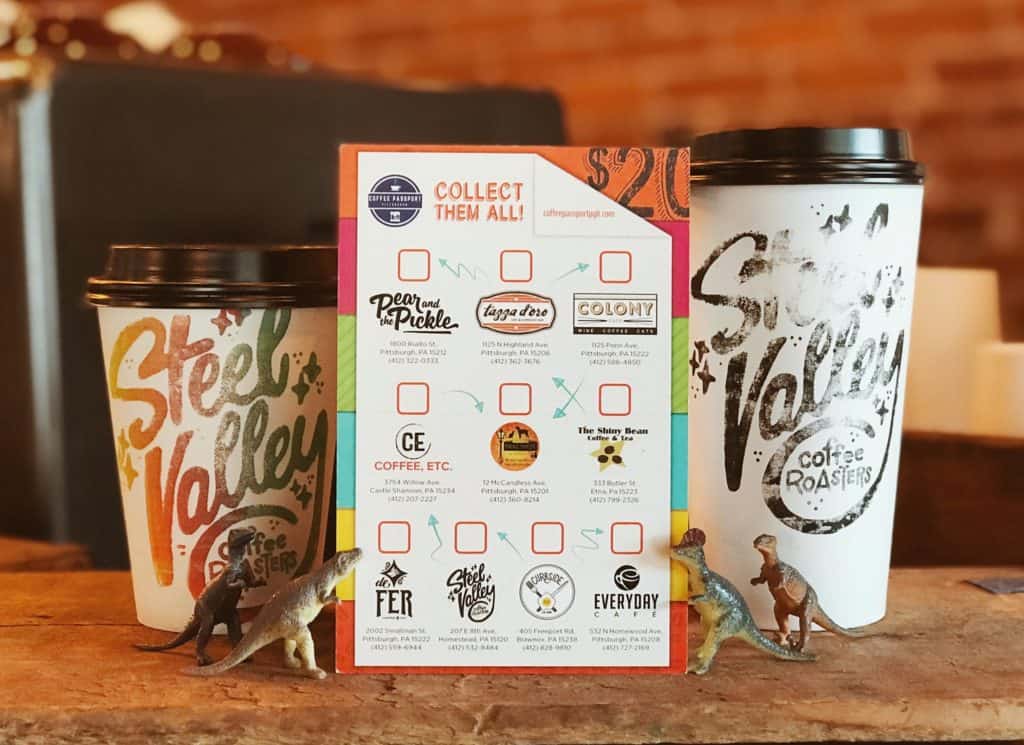 This gift is an excellent stocking stuffer, Secret Santa gift, or office party White Elephant present. With the coffee passport, pay $20 and get a beverage at 10 local shops. Perfect for anyone who loves coffee or trying new places (or both!)
Looking for more coffee? Check out our guide to local coffee roasters in Pittsburgh.
Gifts You Can Order Online:
Jeni's Splendid Ice Creams
Yes, you CAN send friends and family ice cream in the mail, and yes they WILL love it. Columbus-based ice cream company Jeni's Splendid Ice Creams is known for the creamy, dreamy, and expertly formulated ice creams, which come in a variety of unique flavors like Boozy Eggnog, Texas Sheet Cake, Boston Cream Pie, and more! Flavors can be shopped online, and arrive frozen and ready to eat!
Martha Stewart's Cookie Perfection Cookbook
The perfect gift for any cookie lover! Martha Stewart's latest cookbook provides over 100 imaginative cookie recipes, like Sparkly Lemon Cookies, Peanut Butter Sandwiches, Chocolate Chip Brownies, and more! With recipes at every level, it's a wonderful gift for every type of baker (or would-be baker!)
Bon Bon Bons Chocolates
Chocolates from Bon Bon Bon are the ultimate gift for anyone in your life who loves chocolate… and anything eclectic! This funky business offers fun and unique flavors like Nog, Maple Chestnut, Pepper-Mint, Polar Vortex, Lump of Coal, Cookies & Milk, Hot Cocoa, and more (all part of their Winter 2019 Collection). Order online.
Sizzle and Drizzle Cookbook by GBBO Winner Nancy Birtwhistle
Calling all Great British Bake Off fans! Season 5 winner Nancy Birtwhistle has self-published a cookbook with 100 recipes and hits and tips for around the house. You can purchase a copy exclusively from her website.
Brian Giniewski Drippy Pot Ceramics
Another ceramic option are mugs from Brian Giniewski in his signature "Drippy Pot" style. His website is loaded handmade pieces ranging from bowls to cups, dishes, planters, plates, and more. Add some brightness to your day by drinking your morning coffee from a colorful drippy pot mug. Use our code to get 10% off your order of $50 or more.
The Sill Plant Subscription
The Sill is a monthly subscription service that sends subscribers a plant in a colorful planter every month. Subscription options range from plants that are impossible to kill, to more fussy varieties for dedicated and experienced plant parents.
Our Food Blogging Essentials:
Vinyl Photography Backdrop 3-Pack
This backdrop pack is great for staging food photoshoots. Slap one down next to a window during daytime hours and we promise you'll have a beautiful food photo. Great for making homemade treats look professional. Being paper, you can roll them up for easy storage when not in use!
SD Card Reader for iPhone
We have been using this card reader for years to quickly and efficiently transfer photos from a digital camera onto our iPhone. Once you start using it, you'll never understood how you lived without it! A must-have for vacations, and an excellent stocking stuffer for any photo-savvy friend.
Brydge Keyboard for iPad
Another life-changing device is this iPad keyboard. It basically turns an iPad into miniature laptop that you can easily slip into a small bag or purse. It's very helpful if you need to focus on writing and don't want the temptations and distractions of a full laptop.
Digital Instant Read Thermometer
This instant read thermometer will change the way you cook! No more cutting into chicken on the stove. Great for anything from cooking meat to making caramel.
Sony Digital Camera
This is THE digital camera we have used for years. It takes incredibly high quality pictures (even better than an smartphone!) The best part is the 30x optical zoom, which maintains picture quality even when zoomed in. It also is small enough to fit in a purse or handbag.
What's your favorite Pittsburgh holiday gift? Please leave it in the comments below!
GoodFoodPittsburgh.com is a site that provides daily food news and recommendations to our readers. To offset the costs of running the site, Good Food Pittsburgh participates in Amazon Associates, an affiliate advertising program designed to provide means for us to earn fees by linking to Amazon.com. If you purchase an item through some of the links on our site, we will earn a small amount of money at no additional cost to you. Thank you for helping us continue to bring you up-to-date Pittsburgh food news.