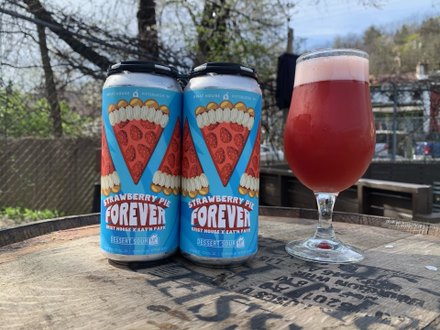 If it's springtime in Pittsburgh, it means it's Eat'n Park Strawberry Pie season – and this year, Grist House is teaming up with the local restaurant chain to celebrate their popular seasonal dessert.
The Millvale brewery will be releasing 'Strawberry Pie Forever,' a small batch dessert sour ale starting today. Inspired by Eat'n Park's pie, the beer has been brewed with strawberries and Tahitian vanilla.
The ale will be available on draft for $8 and in four-packs to go for $22 at Grist House for a limited time. From Wednesday, April 27 to Sunday, May 1, anyone who purchases a draft or four-pack of Strawberry Pie Forever will also receive an Eat'n Park Smiley Cookie, plus a $2-off voucher for a Strawberry Pie at any of the restaurant's locations.
Strawberry Pie Forever will also be available on draft for a limited time at The Porch at Schenley in Oakland, and The Porch at Siena in Upper St. Clair. Tasting events, with samples, will occur at the Waterworks Eat'n Park on Friday, April 29 from 4:00 – 6:00 p.m., and at the Porch at Schenley on Wednesday, May 4 from 4:00 – 6:00 p.m.
Eat'n Park's Strawberry Pie is one of their most popular seasonal releases, with other strawberry-inspired summer dishes including strawberry waffles, chicken salad, lemonade and a seasonal Strawberry Sundae. The restaurant's Strawberry Pie recipe was created in 1954 by Claire Moore, the daughter of Eat'n Park founder Larry Hatch, in the kitchen of her Scott Township home.
This is just the latest beer collaboration for Grist House, which has also partnered with other local businesses including Turner's Dairy, Mad Mex, and Allegheny Coffee and Tea Exchange.
"At Grist House, we love collaborating on new and exciting beers with different partners, and to
be the first to bring an iconic Pittsburgh institution like Eat'n Park into the fold of craft beer is an
honor," said Bailey Allegretti, Marketing Manager at Grist House in a release. "We brewed this sour ale to be reminiscent of all the flavors of your favorite Eat'n Park Strawberry Pie, making it the perfect
way to kick off summer."
Grist House Craft Brewery (10 E. Sherman Street)