Gussy's Bagels is getting into the pizza game.
The much-loved Oakland bagel shop is launching a brand-new pizza program, offering its new super-thin pizza both by the slice and as a whole pie.
Chef and owner Scott Walton says that since the shop opened in 2021, its breakfast business has always been brisk. But rising food costs have made its lunch menu, which consists of bagel sandwiches, stuffed with everything from pastrami and corned beef to Buffalo chicken salad, more expensive.
"Breakfast sandwiches are sold seven to one to lunch sandwiches today," he says. "And it's because of price, I think. Corned beef – nobody can afford that. And even the price of turkey has doubled since we opened. Who can afford to pay $25 for lunch these days?"
The one thing that hasn't changed, he says, is what it costs to make his dough.
Walton says that his customer base, made up of mostly University of Pittsburgh students, and nurses and staff at the surrounding hospitals, have been asking for a cheaper lunch options. So, he started experimenting.
"I'm kind of a tinkerer in the kitchen," Walton says. "My staff is so good now, they can do so much on their own. So I just thought that I needed to figure out something to do for myself."
"I started playing with the bagel dough, and figuring out how we could make it work for a pizza," he says. "And it was fantastic. It has different hydration levels and sodium levels as what we use for bagels, but at the base, it's the same."
The result of those experiments is a super-thin crust pizza, which can be made in the same 70-year-old Italian oven that the restaurant uses for its bagels.
"I don't want to say that it's New York-style, because people from New York will say it's not," Walton says. "But, like, you probably will have to fold it in half, and it's really thin, all the way to the edge."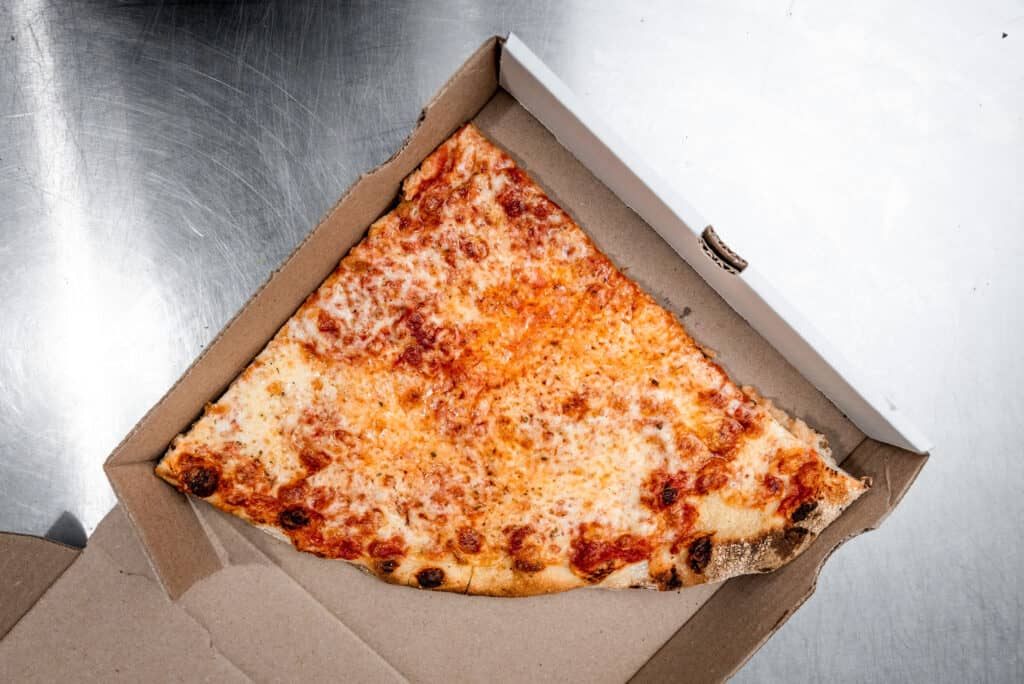 The pizza will be available daily from 11:00 a.m. to 2:00 p.m., and the crew will keep a number of pies ready to go. When customers come in for a slice, it will be put in the oven to crisp, and will be ready in about two minutes.
"Because the crust is so thin, each pie is fast to make – just about six or seven minutes," he says. "And each slice will be huge. The pizzas are 21-inches each, and a slice will be a quarter of that."
To start, Gussy's will offer five different pizzas: A New Haven-style tomato pie with just tomato sauce and Pecorino Romano cheese, a cheese pizza, a pepperoni pizza, a sausage pizza, and a pepperoni and sausage pizza.
"Once we get it down, we'll start introducing a lot of things," he says. "But for now, I'd rather get it right and go slow."
Walton says that his bagels have always been a hit with the students from the East Coast, and he hopes that his pizza will give them a taste of home, too.
"One thing that I didn't realize before I opened was that so many kids are from Philly, Jersey or New York," he says. "And they love our bagels. So we wanted to do something that's familiar to them."
The full lunch menu will eventually consist of just pizza, as Walton phases out the bagel deli sandwiches. Breakfast, including bagels with spread, and breakfast bagel sandwiches, will continue to be available all day. Gussy's will also soon be expanding its hours on Thursdays, Fridays, and Saturdays until 11:00 p.m. for pickup and carryout orders.
Gussy's Bagels & Pizzeria (3606 Fifth Avenue)