Let's have a quick chat about the doughnut scene in Pittsburgh.
While it's basically a fact that anything deep-fried and coated is sugar is going to be delicious, Pittsburgh doesn't coast on that promise. We take our doughnuts seriously, and there are countless shops in the southwestern corner of the state treating doughnuts like the true art form that they are.
Whether it be glazed, cake batter, sugar-coated, or filled, there's only one way to discover your favorite doughnut in Pittsburgh – try them all.
So we did all the hard work here at Good Food Pittsburgh, and devised the Ultimate Pittsburgh Doughnut Road Trip.
If you decide to head out on the trail, be sure to tag us on social media: @goodfoodpgh and #goodfoodpgh. Complete the whole trip, and you may just get a special prize.
How to Take the Ultimate Pittsburgh Donut Road Trip:
Stop 1: Freedom Farms Donut Shop
Butler, PA
Would you rather be a reality tv star, or a delicious doughnut baker? How about being both? The good folks from the Freedom Farm empire do it all, from selling produce, to hitting local farmer's markets, slinging sandwiches, and staring in their own reality show on the Great American Country channel. Oh, and they also bake some of the best doughnuts in the area.
Start your doughnut road trip by heading out to Butler and seeing what all the buzz is about. Freedom Farms offers different cake and raised donuts, covered and stuffed with decadent toppings and fillings. Be sure to check out the other Freedom Farm's offerings while in the area.
Freedom Farms Donut Shop (663 Pittsburgh Road, Butler, PA)
Stop 2: Oram's Donut Shop
Beaver Falls, PA
If you've been making doughnuts since 1938, you must be doing something right. This tiny shop in Beaver Falls, PA, has been baking these confectionery marvels for over 77 years – and they promise that their customers will immediately see and taste the difference in their doughnuts.
The most popular treat at Oram's is their cinnamon roll doughnuts (which may or may not change your life), but their cake, raised, and filled doughnuts are drool-worthy as well. If you don't believe us, go see for yourself.
Oram's Donut Shop (1406 7th Avenue, Beaver Falls, PA)
Stop 3: Mac's Donut Shop
Aliquippa, PA
Another Southwestern Pennsylvania doughnut institution, Mac's Donut Shop has been serving "fresh, not frozen" donuts since 1958. This shop is a fourth-generation family business, and is much loved for all of their raised treats, with the most popular being their glazed doughnuts. They also serve specialty doughnuts, with toppings like M&Ms, Reese's, and Froot Loops. They even have cannoli, sea salt caramel, s'mores, and creme brulee doughnuts!
Customer "loyalty" to Mac's is an understatement.  In 2012, when a Dunkin' Donuts opened less than a quarter mile from Mac's, friends and customers of the business organized a "Mac's Donuts Appreciation Weekend."
If that doesn't convince to you to check it out, this hilarious "donutgate" video probably will:
Mac's Donut Shop (2698 Broadhead, Rd. Aliquippa)
Stop 4: Duck Donuts
Upper St. Clair
Each Duck Donut is comprised of a freshly-made vanilla cake doughnut that's coated, topped and drizzled to the customer's specifications. Coating options include: cinnamon sugar, powdered sugar, glazed, chocolate icing, peanut butter icing, and maple icing.  Next up are the toppings (think rainbow sprinkles, graham crackers, and chopped peanuts). Finally, if you can stand to wait any longer, drizzle your doughnut with hot fudge, marshmallow, salted caramel, and more.
Duck Donuts (100 Siena Drive)
Stop 5: Better Maid Donuts
Crafton Heights
What would you do for a doughnut? Wait on a dark sidewalk at 5:30 a.m? That might be what's required to get your hands on the elusive doughnuts from Better Maid. Everyone who tries these doughnuts claims they are some of the best in the city.
Fans swear by the glazed and cinnamon varieties. And if you're there and they haven't sold out, be sure to try the doughnut holes. For more info, check out our Better Maid Donuts profile.
Better Maid Donuts (1178 Steuben Street)
Stop 6: Just Good Donuts
South Side
Every morning, from 6:00 a.m. to noon, Just Good Donuts takes over the counter at the Pub Chip Shop on East Carson Street.  You can see these doughnuts from a mile away, as they are practically the size of dinner plates, and covered in the most decadent toppings known to man – think Froot Loops, Reese's cups, Oreos and bacon. And we wouldn't have it any other way. The best part of Just Good Donuts is that doughnuts taste just as good (if not better) than they look. Fluffy with rich frosting, there's no better way to start a morning than to bite into one of these doughnuts.
Just Good Donuts (1830 East Carson Street)
Stop 7: The Cafe Carnegie
Oakland
If you want to eat a doughnut, but still enjoy a full meal afterwards, may we suggest the homemade jelly doughnut bits at the Cafe Carnegie? These little doughnut-poppers satisfy any early-morning sweet craving, but leave room for the rest of the menu at the cafe. Filled with homemade grape jelly and topped with sugar, they resemble tiny doughnut pillows.
The Cafe Carnegie (4400 Forbes Avenue)
Stop 8: Kaibur Coffee and Cafe (Vegan Donuts)
Polish Hill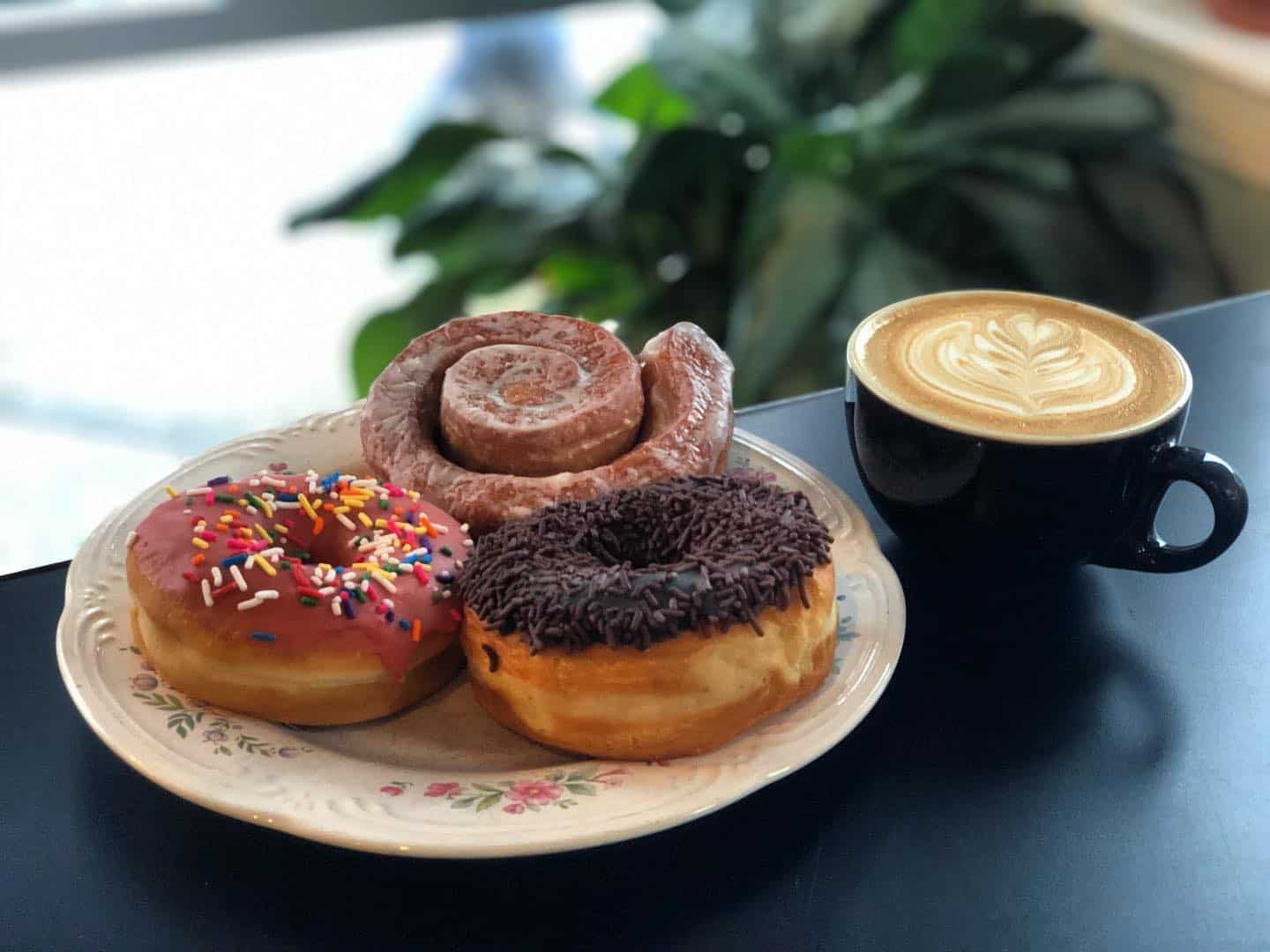 These doughnuts are yeast-raised, deep-fried, completely vegan, and made by hand. The brand often creates fun shapes, and the donuts are always decorated with delicious and unique toppings. Flavors rotate frequently, but some favorites have been matcha, chai, Almond Joy, PB&J, chick-o-stick, peach and rosewater, vanilla, and lemon cream pie.
Stop 9: Gluten Free Goat
Multiple Locations
Chef and owner Jeanette Harris has been cooking gluten-free for over a decade. After spending year perfecting her recipes, she's sharing them with the city of Pittsburgh at coffee shops and cafes around the city. The doughnuts have long been a favorite, with flavors like apple cider, lavender lemon, chocolate orange cardamom, pumpkin spice, and matcha rosewater. Even those who are not gluten-free will be back sooner than they think for another doughnut- don't say we didn't warn you.
Stop 10: Oakmont Bakery
Oakmont, PA
Life is full of hard choices, and one of those is picking just one sweet treat to munch on at the Oakmont Bakery. While you won't go wrong with anything, we suggest their doughnuts. Oakmont Bakery is famous for their doughsants, their own interpretation of the popular cronut. Flakey layers of croissant dough make a fluffy doughnut that is best enjoyed hot from the oven.
Oakmont Bakery (531 Allegheny Avenue, Oakmont)
We could never list them all, so be sure to share your favorite doughnut shop in the comments below!