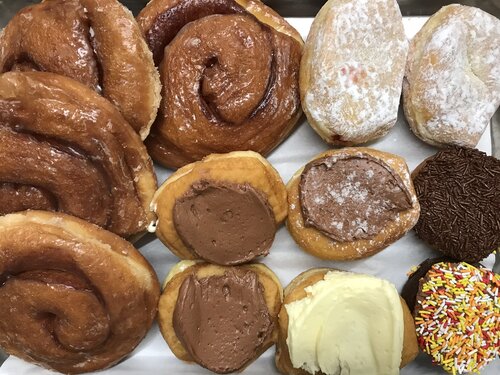 Can't make it to Beaver Falls to get your hands on a treat from Oram's Donuts? You're in luck, because the iconic bakeshop is now offering doughnut pickup spots across western Pennsylvania.
The bakery is working with a selection of resellers as weekly pickup spots for their doughnuts, available by the half-dozen and the dozen.
Orders at each location must be placed in advance, and pickup is only available on certain days of the week for each reseller.
Resellers include:
Anchor & Anvil Coffee Bar in Ben Avon (pickups on Saturdays).
Anchor & Anvil Coffee Bar in Coraopolis (pickups on Saturdays).
Fombell General Store in Fombell (pickups on Tuesdays and Fridays).
Old Crow Coffeehouse in Ambridge (pickups on Tuesdays, Wednesdays and Thursdays).
Reginald's Coffee in Bethel Park (pickups on Fridays and Saturdays).
All orders for pickup must be placed online, and options for doughnuts include cake doughnuts, filled doughnuts, and Oram's famous Cinnamon Roll doughnuts – or an assortment of all.
Various other resellers also offer Oram's Donuts on a first-come-first-serve basis, including Crazy Mocha locations, Joseph's Marketplace in New Castle, Mars Brew House in Mars, Pine Run Market in Freedom, and Soergel Orchard.
And, if you do make it to their Beaver Falls location, all month long, Oram's is celebrating National Strawberry Month with specials, including glazed strawberry cake doughnuts with cream cheese icing, strawberry-filled doughnuts with chocolate icing, and strawberry-filled doughnuts with lemon buttercream. Call ahead to order at 724-846-1504.
Oram's Donuts (1406 7th Avenue, Beaver Falls)