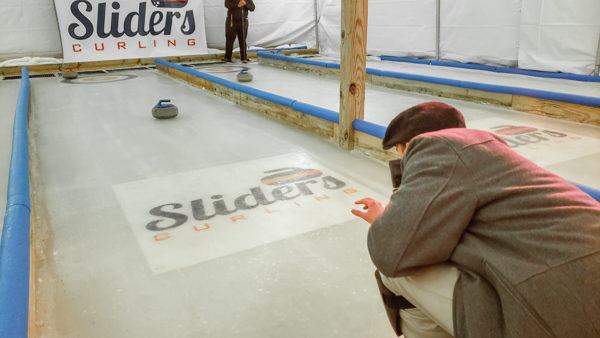 Sliders Curling, a bar-style outdoor ice curling rink, will soon be opening for its second season in Millvale.
The rink is the seasonal offshoot of axe-throwing business LumberjAxes, and will be located outside of LumberjAxes when it opens officially on Wednesday, November 25.
Traditional curling involves sliding large, smooth granite "stones" across a sheet of ice toward the target, while players stand on the ice, helping to "sweep" the ice to move the stone. At Sliders Curling, the rules are modified slightly to offer a more accessible version of ice curling, with individual competitors taking turns to throw stones while standing on rubber mats, instead of walking on the ice.
This will be the second year that Sliders Curling will be in business, and the team has made a few changes from last season, including shortening the rink to promote faster matches, and increasing the amount of time that can be booked for each slot.
There will be four outdoor lanes available to rent, with a tent providing weather protection. LumberjAxes is also open at 50% indoor capacity for axe-throwing, and the venue's full-service bar is open, too.
Reservations are open for parties of two to 16 participants. Each session includes a 10-minute training session with a Sliders coach. Ice-curling slots are open Monday through Sunday from 11:00 a.m. to 11:00 p.m., and both reservations and walk-ins are open.
Sessions are $35 per person, and last one hour and 15 minutes.
Sliders Curling (2 Sedgwick Street)