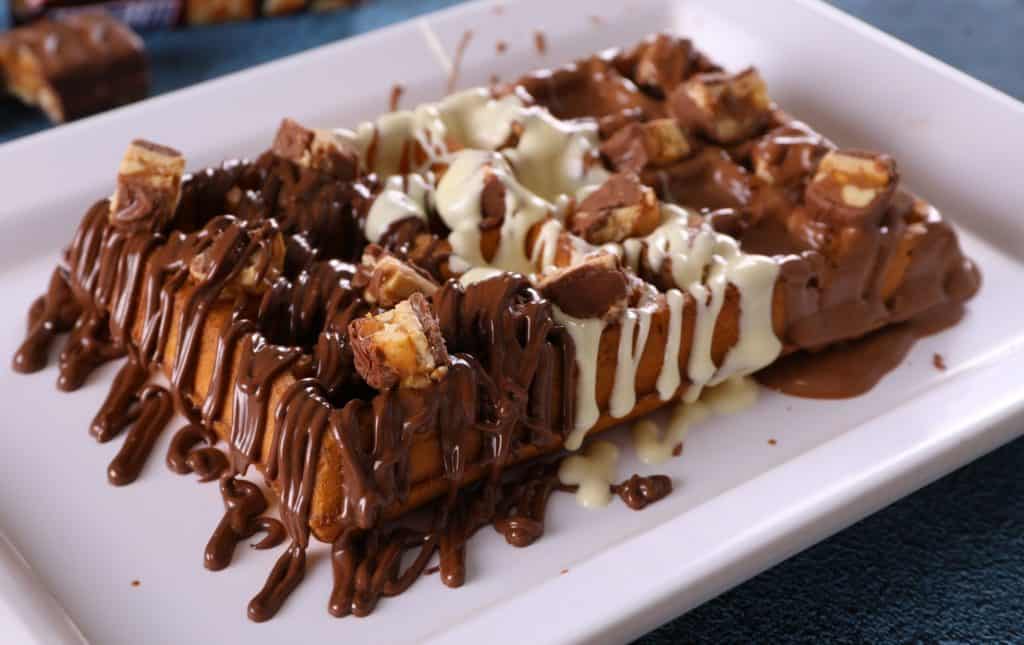 Yes, that is a picture of a waffle covered in three types of chocolate. We're not mad about it either.
If you're looking for a new date night idea, or simply want to treat yourself, we've got the perfect spot. This waffle is one of the many dessert options available at Treats and Beans, a new European cafe that opened in central Oakland earlier this year.
You'll smell the sweet aroma of homemade desserts as soon as you walk through the door. Located on Meyran Ave (near Piada and Hello Bistro), the shop specializes in gourmet, made-from-scratch desserts like waffles, crepes, pancakes, and milkshakes.
Everything on the menu is made-to-order using homemade recipes. The shop is the first American outpost of the Treats and Beans chain, which has three locations in Amman, Jordan. Owner Mahmoud Zalloum says cafes specializing in European desserts are very popular in Amman.
"These treats are very popular in the Middle East," says Zalloum.
Treats and Beans uses all the same recipes as their popular Jordan shops.
After moving to Pittsburgh to complete a Sustainable Architecture program at Carnegie Mellon University, Zalloum decided to open an outpost in Oakland. He designed the interior himself using local, recycled materials. The shop offers various types of seating, as well as special boxes for to-go orders.
The hallmark of the menu are all of the hard-to-find specialty flavors like Cadbury Flake, Kinder chocolate, Maltesers, and Lotus Speculoos, which are typically only available overseas.
All dishes are completely customizable, meaning you can add as many flavors as you want. The "TNB" Waffle, for example, has milk chocolate, speculoos, and white chocolate. And, if you're not in the mood for something fancy, everything taste just as delicious plain!
A full list of toppings includes: the finest Belgian chocolate in white, milk, and dark, M&Ms, Kinder, Bouty, Oreo, Flake, Hersheys, Nutella, Twirl, Reeses, Maltesers, Kit Kat, Ferrero Rocher, fruit, marshmallows, speculoos, and more. Customers are encouraged to create their own combination of flavors.
Eventually, the shop hopes expand their menu, possibly introducing some savory options and traditional flavors from Jordan.
Another highlight of the menu is their gourmet coffee program, hence the "beans" in "Treats and Beans." The shop imports Lavazza coffee from Europe, and has a full espresso bar, making it the perfect spot to grab your morning brew.
And, with its stellar location, Treats and Beans is perfectly situated in the heart of Oakland, making it convenient for students and hospital workers.
The shop is open Sunday – Thursday, 10:00 am – 11:00 pm, and Friday – Saturday, 10:00 am – 11:59 pm. They also deliver via Uber Eats and GrubHub.
More information can be found online.
This article is part of a paid promotion with Treats and Beans.
Treats and Beans (118 Meyran Avenue)