With an atmosphere like this, you may think you're in Italy. Or Spain. Or maybe even the south of France. Truth be told? You're hanging out in Pittsburgh at the South Hill's newest wine bar.
With just a few sips, Apericena transports guests to alluring destinations around the world. With their outdoor veranda, luscious fountain, live music, and exciting menu, it's easy to see how this new destination in Upper St Clair's is offering an unparalleled wine experience south of Pittsburgh.
Apericena: A Wine Bar opened at the end of 2018 on the lower portion of the Siena at St. Clair shopping complex, across the street from the Whole Foods on Washington Road.
Open Tuesday through Sunday, the bar offers an impressive selection of 100 wines varieties from around the world, with more than 35 available by the glass. A few of their varietals include La Salette Valpolicella Classico Blend from Italy, Mollydooker Cabernet Sauvignon from Australia, and Pares Balta Cava Blend from Spain.
At Apericena, guests are encouraged to try and learn about many wines, especially through their "Build Your Own Wine Flights" program, where guests choose three or four smaller wine pours to sip, sample and compare. Apericena also offers daily (!) happy hour specials, including 50% off open-bottle wines by the glass.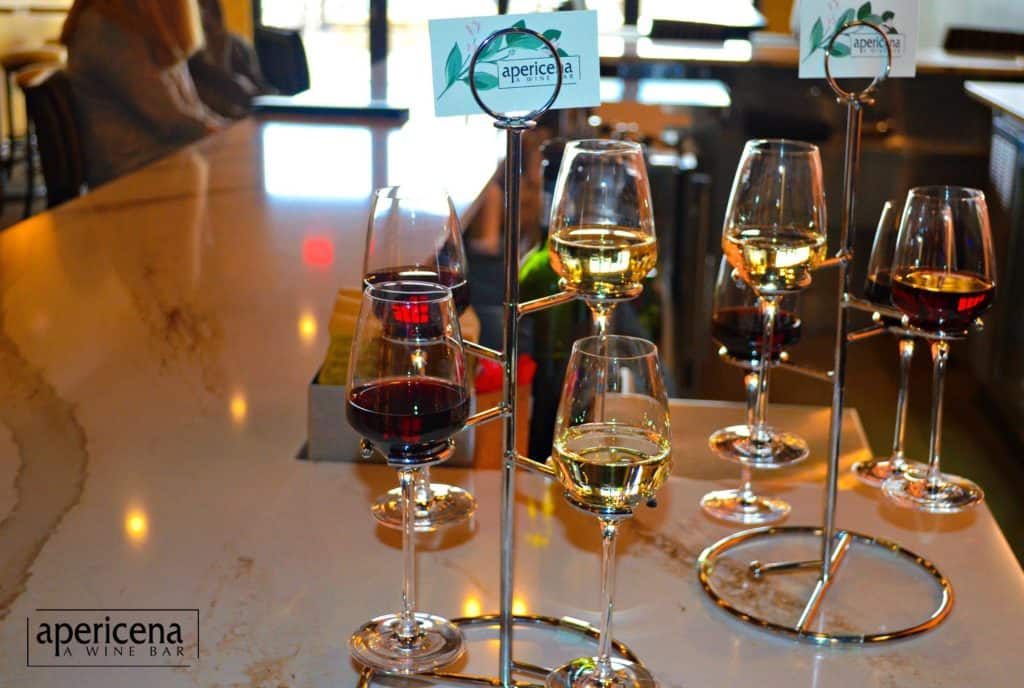 The name, Apericena , is a nod to "cena," the Italian word for dinner. Apericena (a-per-a-chain-a) is the ritual of enjoying a cocktail or glass of wine and a bite to eat before dinner. Because of this, the food options are light, perfect for a quick bite or snack before a larger meal. The menu includes charcuterie boards with meats and cheese from around the world, and freshly prepared flatbread pizzas.
Events are integral part of the the Apericena experience. The bar has live music every Thursday night, featuring a different local musician. They also host various tasting, pairings, and instructional wine classes throughout the year – for example, in February they hosted a 'Sweethearts Wine and Chocolate Tasting' for Valentine's Day.
Perhaps the best aspect of the bar is the accessibility. Located in the heart of the South Hills shopping district, a trip to Apericena fits in perfectly after an afternoon running errands at Whole Foods and South Hills Village mall, or before grabbing dinner in Mount Lebanon.
Make your evening at event by including a trip to Apericena Wine Bar.
Apericena: A Wine Bar (100 Siena Dr Suite 135)
This article is part of a paid promotion with Apericena: A Wine Bar.