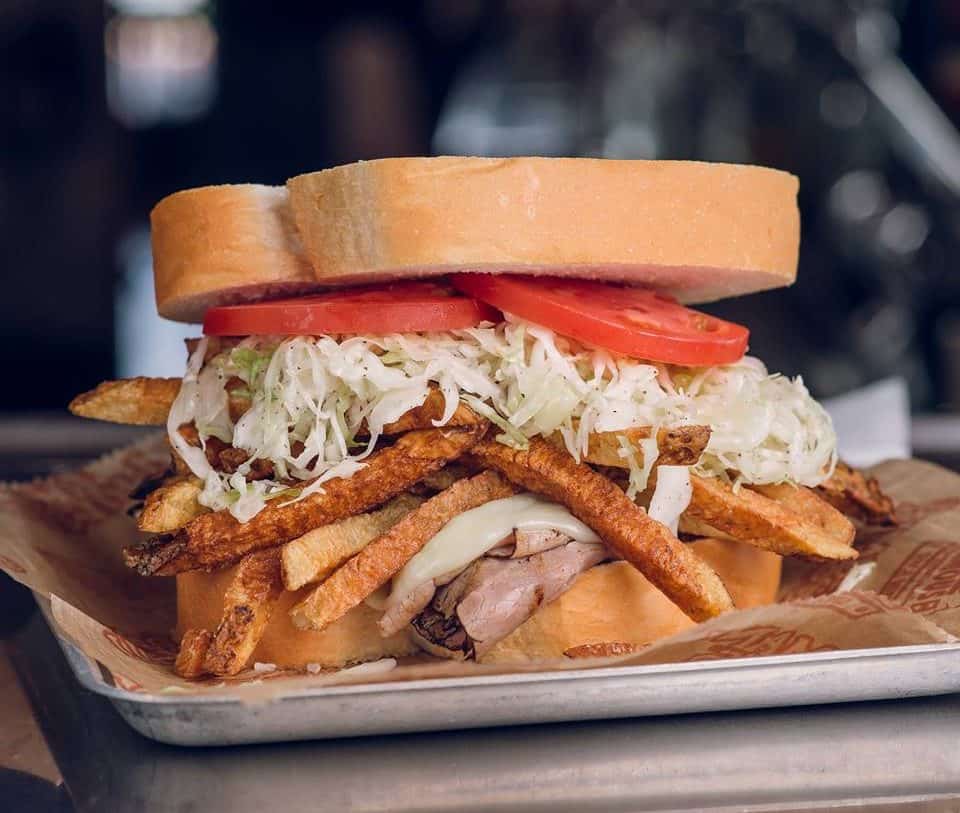 When a sports team becomes a legend, you thank all the players who got you there. Well, now that Pittsburgh is officially a "food city," it's about time we paid our respects to the dishes that define this city.
From new favorites to old school classics, below are some of Pittsburgh's most iconic dishes.
If we forget your favorite, don't fret! Leave it in the comments below so everyone knows check it out!
Cheeseburgers at Tessaro's
Bloomfield
There's nothing like a juicy burger, served piping hot from Tessaro's hardwood grill. This Bloomfield burger joint is a point of orientation on Liberty Avenue – everywhere can be described by its distance from Tessaro's. When Kelly Harrington bought the space over 20 years ago, he knew exactly he wanted to serve: "a genuine, authentic and honest hamburger." He certainly succeeded. Today, you can't say "burger" in Pittsburgh without thinking of Tessaro's. The patties are pulled together by Tessaro's in-house butcher, and then grilled on the establishment's signature hardwood grill. No frills, no fuss –  just one of the best burgers you'll ever try.
Tessaro's (4601 Liberty Avenue)
Moules et Frites at Point Brugge Cafe
Point Breeze
Point Brugge is one of those restaurants that has been a part of the East End dining scene since the beginning. Its Belgian-inspired menu has many dishes worth praising (have you ever tried the chocolate cake?), but the moules reign supreme. The moules (French for mussels) are steamed in a rotating selection of sauces, including red curry and classic white wine. They're paired with half pound of crispy fries, perfect for dunking and munching.
Point Brugge Cafe (401 Hastings Street)
Burnt Almond Torte at Prantl's Bakery
Shadyside
The Burnt Almond Torte at Prantl's isn't just Pittsburgh famous – it is famous famous. A quick Google-search will yield a "copycat recipe" from Food.com, and the Huffington Post thanking Pittsburgh for "The Greatest Cake America Has Ever Made."
And you know what? They are correct. While the bakery serves no shortage of mouth-watering treats, they're most famous for this torte. The recipe was created by Henry Prantl after he visited California many years ago. There was an almond surplus that year, and Almond Board was trying to convince bakers to use almonds in new ways. He brought a few of these ideas back to Pittsburgh, where he developed the current recipe for the Burnt Almond Torte.
Prantl's Bakery (5525 Walnut Street)
Tako Taco at täkō
Downtown
These days, it's commonplace to see octopus on a menu. However, before that was the case, there was the Tako taco at täkō (say that three times fast). There's a lot we can thank täkō for – the restaurant certainly helped springboard the Downtown dining scene to where it is today. It also introduced many Pittsburghers to the joys of sous-vide octopus, and for that we are forever grateful. Throwing an octopus tentacle on a crispy tortilla and piling it with slaws and sauces is still as delicious today as it was when the restaurant first opened two years ago.
täkō (214 6th Street)
Big Hop IPA from East End Brewing
Larimer
Yeah, yeah. So this isn't a dish. But in a city where there are now way too many breweries to be named, we must pay respect to some of the guys who have been here since the beginning. Today, you can pick up a draft list and order beers from Homestead, Sharpsburg, or Millvale. However, it wasn't too long ago that East End Brewing was the only local draft on the list. Of course, the Big Hop IPA is the classic choice. East End's brewery and taproom in Larimer is something of an institution in Pittsburgh. As some of the original folks in the drinking scene, East End is always collaborating with different groups and hosting different events.
East End Brewing Company (147 Julius Street)
Mac & Cheese at Kelly's Bar and Lounge
East Liberty
Our advice? Order the Mac & Cheese as soon as you sit down, and then order a beer and get ready to wait. This blisteringly hot dish takes about 20 minutes to cook, and needs about that long to cool down once served. But the final product is completely worth the wait. Excessively cheesy, the small size is only $5.
Kelly's Bar and Lounge (6012 Centre Avenue)
Smoked Bluefish Pâté at Butterjoint
Oakland
The menu at Butterjoint are about as hyper-local and seasonal as anywhere in Pittsburgh. As such, there aren't a ton of dishes that stick around for very long.  However, one exception is the Smoked Bluefish Pâté, and for that we are grateful. Piled high and served with tiny crostinis, this appetizer is plate-scraping good.
Butterjoint (214 N Craig Street)
Boxty at Piper's Pub
South Side
It's difficult to pick a favorite meal at Piper's Pub, let alone a favorite dish, but the pub's brunch options usually have everyone coming back for more. The English, Irish, and American breakfasts are sure to please, but you can't miss the Boxty. The Boxty is a traditional Irish potato pancake. Piper's stuff their boxty with sausage, ham, egg and cheese. They also have a rotating list of special Boxtys, like fried chicken, rib eye and brisket.
Piper's Pub (1828 E. Carson Street)
Prosciutto-Arugula Pizza at Dinette
East Liberty
No, it's not greasy or overly cheesy, but Dinette knows exactly what they are doing when it comes to pizza making in Pittsburgh.  Hovering above Center Avenue and Highland Street, Dinette has been offering Pittsburgh crispy pizzas with artisan toppings for nearly a decade. It can be hard to pick just one pie (so don't), but if it's on the menu, don't missed the "Berkshire Prosciutto," served with arugula, parmigiano reggiano, fresh mozzarella, and tomato. And, for the record, this pizza is equally delicious cold. Don't be ashamed to bring home a second pie for breakfast the next day.
Dinette (5996 Centre Avenue)
Coconut Pie at Grant Bar Inc. 
Millvale
Get your hands on a slice of pie at Grant Bar – if you can. This legendary pie has received so much attention of the years that there's a world map in the restaurant that shows everywhere people have traveled from to get a bite.
Frank Ruzomberka, son of Matthew and Maria Ruzomberka, who opened Grant Bar in 1933, is a pie efficendao. Currently in his 80s, each day he whips up dozens of pies from the recipes he perfected. While you can never go wrong with pumpkin or apple pie, the piece de resistance is the coconut pie. Layers of whipped coconut mousse pile high for this treat, which tastes (and looks) like a dream. Come in early – these pies sell out every single day.
Grant Bar Inc. (114 Grant Avenue)
The Gobblerito at Mad Mex
Multiple locations
It's not truly fall in Pittsburgh until Mad Mex releases their famous "Gobblerito." This "burrito" (if you can call it that) manages to fit an entire Thanksgiving dinner into one tortilla. That means house-roasted turkey, mashed black bean potatoes, stuffing and corn, topped with gravy, and stuffed into one portable pocket. The Gobblerito is served with a side of tangy cranberry sauce. It usually disappears from Mad Mex's menu after Thanksgiving, so don't dally to get your hands on this dish.
Mad Mex (multiple locations)
Cold Noodles at Chengdu Gourmet
Squirrel Hill
There is a lot to love about this favorite Pittsburgh Sichuan spot. James-Beard nominated Chef Wei Zhu brings the flavors of Sichuan, China, to Squirrel Hill. When dining at Chengdu, don't be afraid to experiment and order something out of the ordinary – that is exactly what Chengdu Gourmet specializes in. Don't miss the restaurant's Spicy Cold Noodles, which are balanced, filling, and an excellent palate cleanser between Sichuan platters. You'll be thinking about them for the rest of the day, guaranteed.
Chengdu Gourmet (5840 Forward Avenue)
Pitts-burger & Cheese at Primanti Brothers
Multiple locations
This list would have been painfully incomplete without a sandwich from Primanti Brothers. Pittsburgh's "almost famous" sandwich is one of the defining dishes of our city, for better or for worse. Served in wax paper and piled high with French fries and coleslaw, there's never a bad time for a Primanti Brothers sandwich. The "Pitts-burger" is one of the restaurant's most popular items.
Primanti Bros. (multiple locations)
Raw Pizza at Beto's
Beechview
It is exactly like the classic pizza you know and love… but only half-cooked. Beto's, located in Beechview, has made a name for itself by topping its pizzas with uncooked cheese. Don't bash it till you try it, because this is a pizza unlike any other. The toppings – everything from pepperoni to banana pepper and mushrooms – are also served cold.
Betto's Pizza (1473 Banksville Road)
Pittsburgh Salad at Whitfield
East Liberty
There is no shortage of places to get a "Pittsburgh Salad" in Pittsburgh, but one of the most popular places in recent years had been Whitfield in East Liberty. As you probably know, a "Pittsburgh Salad" is gigantic salad, minus the health. The basic recipe includes lettuce, cold vegetables, shredded cheese, Ranch dressing, more cheese, and French fries. Whitfield's version includes buttermilk fried chicken, mixed greens, cucumber, tomato, red onion, fries, house-made Ranch, and aged provolone.
Whitfield (120 S. Whitfield)
Pierogies at S&D Polish Deli
Strip District
As it is practically our city's unofficial mascot, there are too many amazing pierogi spots in Pittsburgh to pick just one. However, we had to try. Located on Penn Avenue in the Strip, S & D Polish Deli serves and sells some of Pittsburgh's favorite pierogies. If you ever need your middle-of-the-day potato fix, S & D serves lunch every day until 3:00 p.m. Potato, cheese, and mushroom (don't forget the kraut) are all available.
S&D Polish Deli (2204 Penn Avenue)
Bacon Night at the Harris Grill
Shadyside
If you've never been, it's not hard to explain. Every Tuesday is "Bacon Night" at the Harris Grill. The restaurant celebrates this salty pork treat by giving away free bacon at the bar, and $1 bacon baskets at the tables. Don't worry about there being any sort of bacon shortage – the restaurant typically fries up over 100 lbs. (!) of bacon every Tuesday. And, if you're really enjoying the bacon, it is possible to buy a round of beers for the folks in the kitchen for just $9.99.
Harris Grill (5747 Ellsworth Avenue)
Hotcakes at Pamela's Diner
Multiple Locations
What is a list of Pittsburgh's iconic dishes without the paper-thin flapjacks from Pamela's? This kitschy diner is the classic spot in Pittsburgh to take out-of-town guests. These pancakes are delicious plain, topped with butter, or drizzled in syrup. The sweet pancake options shouldn't be missed. Order a "Chocolate Chip Banana Hot Cake" for the table, and get ready to loosen a notch in your belt.
Pamela's Diner (various locations)
White Pie from Iron Born
Strip District
This new kid on the block practically broke the internet in Pittsburgh when they introduced Pittsburgh to "Detroit-style" pizza in mid-2017. Even now, months later, our Instagram feed is constantly flooded with pictures of this ooey-gooey, thick-crusted pizza. The classics are the "red pie" and the "white pie," but Chef Pete Tolman regularly introduces new and seasonal pizzas.
Iron Born (54 21st Street)
Potato Patch Fries
Kennywood Park
While not a restaurant (and also not a meal), there are plenty people who don't consider their summer to be complete without eating a pile of fries, covered with bacon and nacho cheese, from the Potato Patch at Kennywood Park.
Kennywood (4800 Kennywood Blvd.)
So, what's your favorite iconic dish not mentioned above? Leave it in the comments below!