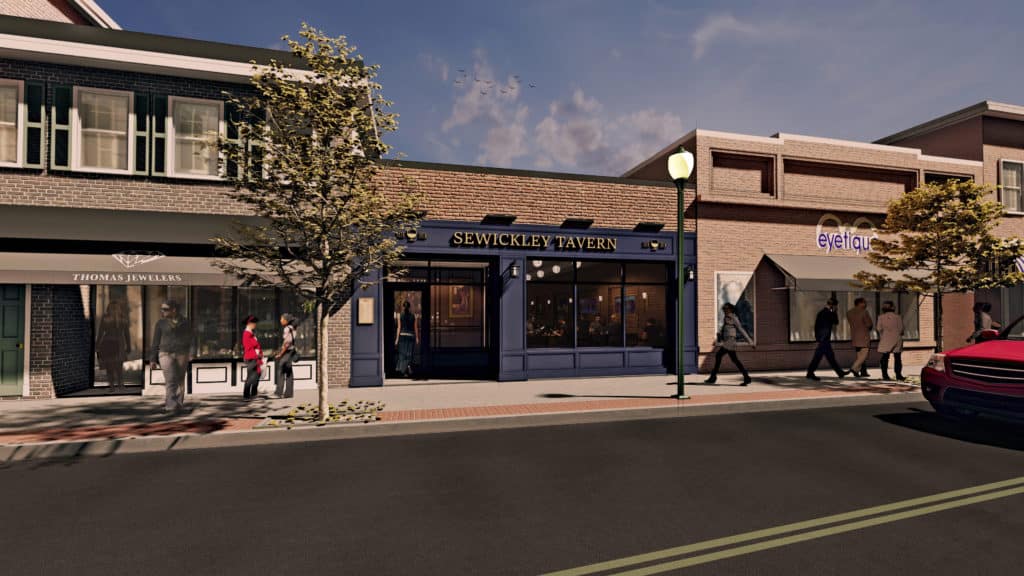 Sewickley Tavern has set its opening date – and it's happening soon.
The highly-anticipated restaurant (in the former Bruneaux space) will officially open its doors on Tuesday, March 17 on Beaver Street in Sewickley.
Owner Courtney Yates and chef Dave DeVoss (most recently of beloved Sewickley restaurant Cocothé) are "determined to raise standards for everyday casual dining," according to a release, and will serve elevated tavern favorites, like Baked Oysters and New York Strip Steak, in a restaurant space that aims to set the standard for sustainability practices.
The menu will be divided into three sections: Snacks, Small Plates, and Large Plates. In the Snacks section, look for dishes like Hush Puppies with house-made beer cheese sauce, Scotch Duck Eggs and Shrimp Spring Rolls. Small Plates include Beef Tartare with Quail Eggs, Beer-Battered Onion Rings, and Reuben Sliders. And the Large Plates section will feature heart sandwiches, plus entrees including Sea Bass, Jambalaya, and the aforementioned steak.
Yates and DeVoss have also paid special attention to crafting a special children's menu, with snacks and dishes like warm cheesy popcorn, Beef Short Ribs with potatoes and Cobb Salad.
When developing the menu, DeVoss took some Cocothé menu favorites and "taverned" them, creating more simple, straightforward dishes. "The platings are simpler, the flavors are amazing, and every dish eats well," says DeVoss.
Over at the bar, Sewickley Tavern will have eight draft taps, offering a mix of craft beer and ciders, plus a full wine list (and daily by-the-glass specials), along with a cocktail menu, with libations mixed with custom infusions and house-made mixers.
The building that houses the restaurant has been renovated from the ground-up, with an emphasis placed on sustainability and interior air quality. Sewickley Tavern's team worked with Sewickley-based architects Studio St. Germain to create the first restaurant designed for RESET Air certification, which is the highest internationally-recognized standard for indoor air quality. Other sustainable building features include solar panels on the roof, acoustic ceiling materials, antibacterial bathroom stalls, air quality montiors, and smart building infrastructure tools, used to manage and optimize health factors and environmental quality for both patrons and employees.
The restaurant, which seats 46 indoors, will also feature an outdoor patio with seating for 62, which will be open when the weather permits.
When the Sewickley Tavern opens on March 17, opening hours will be from 4:00 to 10:00 p.m. Tuesdays through Thursdays, and 5:00 to 11:00 p.m. Fridays and Saturdays.
Sewickley Tavern (409 Beaver Street, Sewickley)