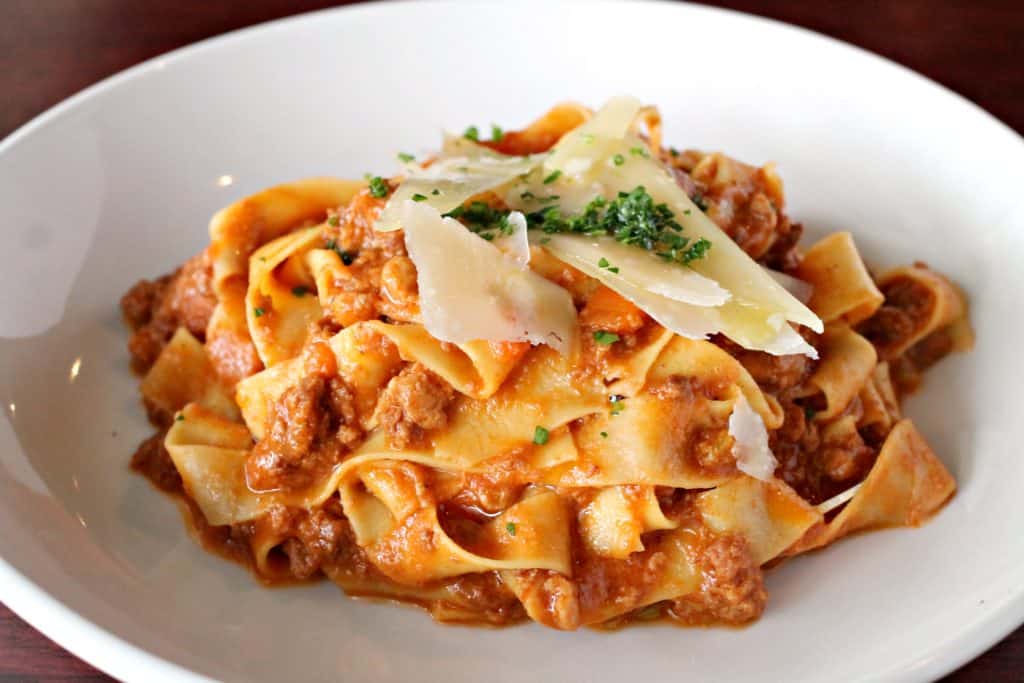 Italian food fans have a new restaurant to try in Butler County.
Spello, an Italian restaurant and wine bar, opened last month in the Adams Ridge area of Mars, serving antipasti selections, a variety of bruschetta, and hosue-made pasta.
Led in the kitchen by executive chef Justin Melnick (who most recently worked as the executive chef for The Terrace at the Charlotte Inn on Martha's Vineyard), the restaurant specializes in from-scratch pasta offerings, including Ravioli (with butternut squash, sage and walnut pesto, and brown butter sauce), Bucatini (with Amatriciana sauce and house-cured guanciale), and Tagliatelle Bolognese, Melnick's specialty.
All pastas are also available as half-portions.
Spello also offers a "Bruschetta Board" appetizer, with a choice of four varieties of bruschetta from their extensive list, including:
Classic: diced tomato, basil, garlic, balsamic glaze
Roasted Peppers: marinated peppers, fresh basil, balsamic glaze
Apple & Robiola: sliced apples, robiola cheese, vincotto
Pear & Bleu: sliced pears, gorgonzola cheese, honey
White Anchovy: marinated white anchovies, fresh mozzarella, olive oil, fresh herbs
Goat Cheese & Olive: creamy goat cheese, black olive tapenade
Salmon Tartare: fresh marinated salmon, salsa verde, crispy capers
Smoked Pate: smoked swordfish pate, fried capers, pine nuts
Proscuitto & Fig: prosciutto di parma, black mission figs, vincotto
Pork Ragu: braised pork shoulder, ricotta cheese
Rounding out the menu includes a selection of salads (the Funghi, with marinated trumpet mushrooms, spinach and proscuitto di parma is a highlight), and larger entrees, including Swordfish, 'Under a Brick' chicken, and grilled Snake River Wagyu sirloin steak.
Italian wines and European spirits and cocktails dominate the bar menu, and the restaurant serves a selection of wines on tap.
Spello is open Tuesday from 4:00 p.m. to 9:00 p.m., Wednesday and Thursday from 4:00 p.m. to 10:00 p.m., Friday from 4:00 p.m. to 11:00 p.m., Saturday from 4:00 p.m. to midnight, and Sunday from 4:00 p.m. to 9:00 p.m.
Spello (100 Adams Shops, Mars)