You're probably not planning a vacation this year, right? Right? Okay, then. Since we're all hanging around Pittsburgh for the unforeseeable future, at least these 11 Pittsburgh restaurants can offer us global cuisines, and take us everywhere from Italy to the Caribbean Islands.
Azores Islands
Azorean Cafe
Bloomfield
Azorean Cafe is now open for takeout and delivery Fridays through Mondays, serving traditional Portuguese breakfasts (like Azorean French Toast, made with Sweet Portuguese muffins and island jam), and lunches. Look for dishes like Bacalhau Natas (a salted cod casserole), Feijoada (a Portuguese stew of beans, chicken, chourico and carrots) and Polvo Guisado (baked octopus with potatoes and onions). And don't forget to add Pasteis de Nata, their homemade Portuguese custard tarts. (4715 Liberty Avenue)
Brazil
Casa Brasil
Highland Park
Casa Brasil in Highland Park is serving takeout and delivery, offering Brazilian specialties, including Pão de Queijo (cheesebread rolls), Moqueca de Banana da Terra (plantain stew cooked in coconut milk), and Vaca Atolada (Beef and yuca stew in tomato sauce with pinto beans). (5904 Bryant Street)
The Caribbean Islands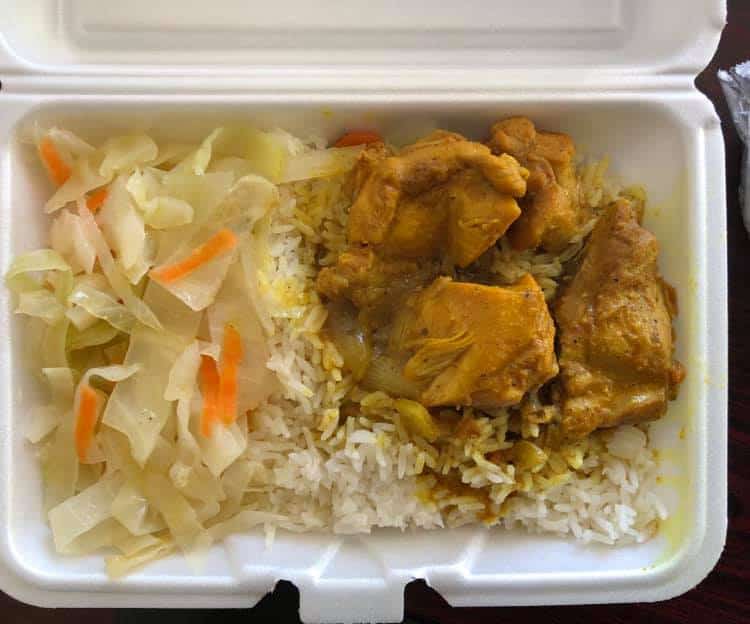 Leon's Caribbean Restaurant
Allentown
Leon's Caribbean Restaurant is known for their authentic Caribbean cuisine, including dishes like Oxtail Stew, Curry Goat, Jerk Shrimp and Red Snapper Stew. They're open for takeout for lunch and dinner from 10:30 a.m. to 8:00 p.m. (823 E. Warrington Avenue)
China
Chengdu Gourmet
Squirrel Hill
Chengdu Gourmet, from James Beard Award semifinalist Wei Zhu, serves Sichuan cuisine, both in traditional Chinese styles, and American Chinese styles. Favorites include Kung Pao Chicken (Chengdu-style), Tea-Smoked Duck, and Fish Fillet in Hot Pepper. They're currently open for takeout and delivery. (5840 Forward Avenue)
France
Poulet Bleu
Lawrenceville
Poulet Bleu is now offering takeout and delivery, with all orders taken through TOAST takeout. They're open Tuesdays through Saturdays from 5:00 p.m. to 10:00 p.m., serving French favorites including their outrageously delicious French onion soup, Salad Nicoise, and filet mignon with pommes frites. (3517 Butler Street)
Italy
Girasole
Shadyside
Girasole in Shadyside is open Tuesday through Sunday for curbside pickup and delivery, serving their authentic Italian menu, including Squid Ink Linguine, Spinach and Ricotta Ravioli, and Potato Gnocchi. They also offer family-style trays (with options like Osso Bucco Milanese and Chicken Lemon Escarole) daily. Call 412-682-2130 to place an order. (733 Copeland Street)
Japan
Umami
Lawrenceville
Umami, a Lawrenceville Izakaya (or Japanese pub) serves modern Japanese street food, including sushi, sashimi, nigiri and ramen, and they're offering Bento Boxes, with a selection of that day's best picks. They're currently open for takeout (call 412-224-2354 to order) and delivery through GrubHub. (202 38th Street, 3rd Floor)
Mexico
La Palapa
South Side
La Palapa is open for takeout and delivery (with free delivery to select Pittsburgh areas – check their website for more details). On the menu you'll find a variety of Mexican specialties, including tamales, enchiladas, and Flautas, plus meat-centric platters, like Carne Asada, Costilla de Puerco (slow-roasted pork ribs with mole sauce), and Pollo Asado (a marinated half chicken). Call 412-586-7015 to order. (2224 East Carson Street)
Thailand
Thai Gourmet
Bloomfield
Thai Gourmet is open for takeout, serving Thai dishes like curries (including Red Curry, Green Curry, and Pumpkin Curry), stir-fries (like Basil Leaves, Chili Paste and Thai Kung Pao), and noodle dishes (Pad See Ew, Nam Prik and Tom Yum Noodle Bowls are standouts). Order online or call 412-681-4373. (4505 Liberty Avenue)
Turkey
Alihan's Mediterranean Cuisine
Downtown
Traditional Turkish dishes like Mercimek Chorba (red lentil soup) and house-made falafel are the standouts at Alihan's Mediterranean Cuisine, which is open daily for lunch and dinner. They also offer a large selection of kebabs, and house-made desserts, including Baklava, künefe and kadayif. Alihan's is now open for takeout, delivery and indoor and outdoor dining. Call 412-888-0630 or order online. (124 6th Street)
Vietnam
Two Sisters Vietnamese
East Liberty
Takeout is available at Two Sisters Vietnamese, the East Liberty spot known for their authentic Vietnamese cuisine. Trinh Phan and Trang Somphonphakdy are two sisters from Ho Chi Minh City who have created an incredible restaurant, serving Pho (beef, chicken, seafood or vegan), noodle bowls and rice dishes. Call 412-404-2760 to order. (216 N. Highland Avenue)
What restaurants did we miss? Share your favorites in our comments!