Saturday and Sunday mornings are made for visiting your favorite brunch spots in Pittsburgh. These restaurants – a mix of recently-opened newbies and classic favorites – are where to this summer when you want to unwind before the week gets started.
Spirits & Tales
Oakland
Not only will you find brunch on the weekends at the Oaklander Hotel's Spirits & Tales restaurant, but it's also available every other day of the week, too. A healthy selection of salads and classic brunch dishes (like omelettes, Dutch Boys and a burger) make up the menu. Pay special attention to chef Jessica Lewis' baked goods, like can't-miss Cinnamon Chocolate Babka Bun.
Brunch Hours: Daily from 7:00 a.m. to 2:00 p.m.
Spirits & Tales (5130 Bigelow Blvd.)
Station
Bloomfield
Since re-introducing brunch earlier this spring, Curtis Gamble and his team at Bloomfield's Station have been killing it. The $29 prix fixe menu comes with two course options (like a roasted beet salad with warm goat cheese custard, a confit chicken frittata, and vegan cornmeal pancakes), and a brunch cocktail. A la carte options are also available.
Brunch Hours: Saturdays and Sundays from 11:00 a.m. to 3:00 p.m
Station (4744 Liberty Avenue)
Con Alma
Shadyside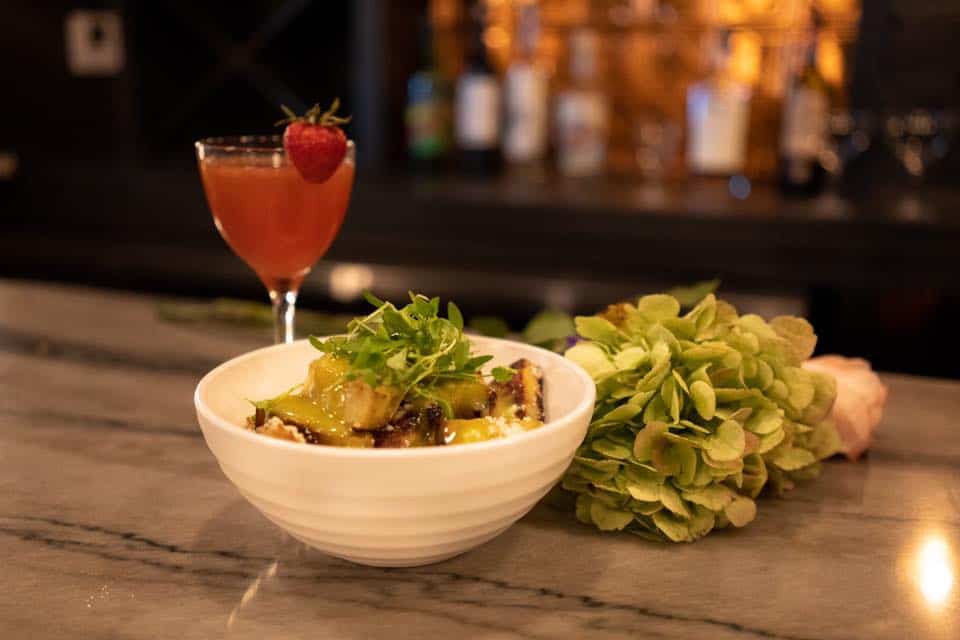 Eat, drink and be merry at Con Alma in Shadyside! Their Sunday brunch has live jazz music from noon to 3:00 p.m., so guests can enjoy a party atmosphere while dining on arepas, Aroroz con Huevo Frita y Pollo (Cuban-style chicken and rice), and house-made green chorizo. They also feature a stellar brunch cocktail menu.
Brunch Hours: Sundays from 11:00 a.m. to 3:00 p.m
Con Alma (5884 Ellsworth Avenue)
Soju
Garfield
Soju is doing Sunday brunch. The Korean restaurant (with a fantastic bar) just introduced brunch on Sundays, serving it from 11:00 a.m. to 3:00 p.m. The menu will feature favorites from their regular menu (Nori fries and Kimchijeon, anyone?) along with a few new dishes. And for drinks? You've got to try their Spam Jam, a cheery concoction made with Spam-washed Mezcal, rum with pineapple, passion fruit and lime.
Brunch Hours: Sundays from 11:00 a.m. to 3:00 p.m
Soju (4923 Penn Avenue)
DiAnoia's Eatery
Strip District
When it comes to brunch, DiAnoia's can do no wrong. Starting with their breakfast pastries (savory Stuffed Cornetti with Lebanon Bologna and fontina, sweet Nutella Panzerotti, or classic Zeppole), you'll find Italian-style takes on lots of classic brunch dishes. Italian 'French' Toast, Prosciutto Eggs Benedict and the personal breakfast pizza are all must-tries, and so is their take on a diner egg sandwich. Also keep an eye out for seasonal specialties, like their Pistachio and Marscapone Cinnamon Roll.
Brunch Hours: Sundays from 10:00 a.m. to 2:30 p.m.
DiAnoia's Eatery (2549 Penn Avenue)
Cafe Agnes
Various locations
If you're looking for pupusas and tamales, Cafe Agnes is the place to go… or, at least, the place to seek out. The pop-up food stall from chef Marcella Ogrodnik serves Salvadoran specialties (and refreshing horchata) at various locations around town, most regularly at the Lawrenceville and Mellon Square Farmers Markets, and (if you're looking for a weekend brunch option!) at the Squirrel Hill Farmers Markets on Sundays from 9:00 a.m. to 1:00 p.m. Follow along to find out where they'll be each week at @cafeagnes_pittsburgh.
Cafe Agnes (various locations)
Spirit
Lawrenceville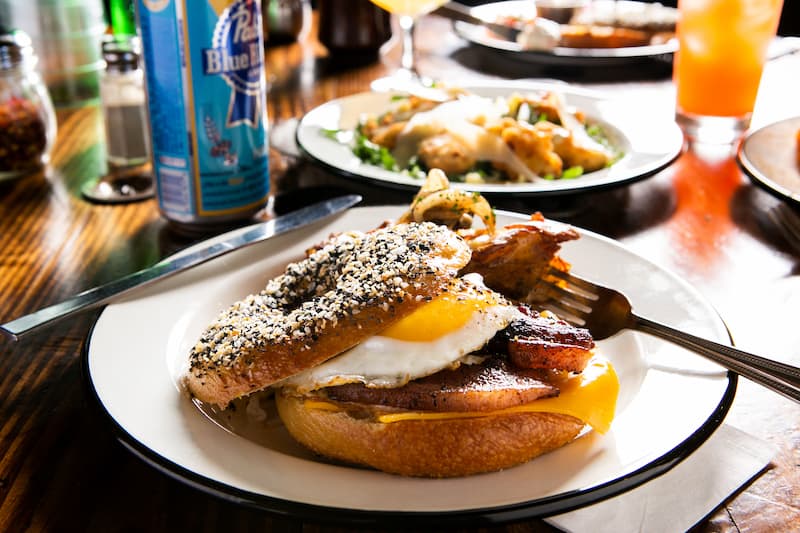 With chef Dave Rath taking over the kitchen, Spirit recently launched a new Saturday brunch menu – and you're going to want to check it out. The new menu features house-made bagels, lox and bacon, featured on their new 'larger plates' section (the Breakfast Sammy, with with bacon or Seitan, fried egg and lox on an everything bagel is especially tasty), along with lighter fare like a kale salad and ricotta toast. And yes, they still have their unlimited Pizza & Brunch Buffet on Sundays for only $15, stuffed full of seasonal salad, pizza, and breakfast sides.
Brunch Hours: Saturdays and Sundays from 11:00 a.m. to 3:00 p.m.
Spirit (242 51st Street)
Federal Galley
Northside
You've got four really solid brunch options at Federal Galley, including Guapo (for the Huevos Rancheros), Michigan & Trumbull (for the Sweet Brunch Pizza), and Provision PGH (for the classic Biscuits & Gravy), but we're crazy about the newly-opened Which Came First. The chicken-centric restaurant concept kills it at brunch with options like the State Fair (salted caramel funnel cake fries with fried chicken and berry compote), and the Georgia Benedict, a benedict made with fried green tomatoes and rosemary ham.
Brunch Hours: Saturdays and Sundays from 10:00 a.m. to 3:00 p.m.
Federal Galley (200 Children's Way)
Scratch Food & Beverage
Troy Hill
The Sunday brunch at Scratch has undergone some big changes since new chef Chris O'Brien took over the kitchen earlier this year. Split into three sections, including Best Intentions (starters, like Soda Bread and Beignets), No Guilt (lighter options, like Buddha Bowls and a Wedge Salad) and No Shame (heartier dishes, including Short Rib Dip, Creole Benedict and Shashuka), the menu also features an abundance of alcoholic brunch cocktails, along with a number of 0% ABV mocktails, too.
Brunch Hours: Sundays from 11:00 a.m. to 3:00 p.m.
Scratch Food & Beverage (1720 Lowrie Street)
The Vandal
Lawrenceville
You're going to find elegant, elevated brunch options at The Vandal on Saturdays and Sundays, with dishes like sweet French Toast (with lemon curd, strawberry jam and maple granola), a Chanterelle Tart, with Swiss chard, chevre and egg, and a cured salmon plate, served with seasonal salad, herbed crème fraîche, and bread from Mediterra Bakehouse. Look for seasonal specials that dot the menu each weekend, and a long list of delicate brunch cocktails, too.
Brunch Hours: Saturdays and Sundays from 9:00 a.m. to 2:00 p.m.
The Vandal (4306 Butler Street)
Acorn
Shadyside
Shadyside's Acorn has an eclectic brunch menu, with Scallion Pancakes (served with mushrooms, peas, sesame and soft scrambled eggs) sharing space with Peach & Meringue Pancakes. But what we're really big fans of are the homemade bagels, made by chef Scott Walton. They're served with everything from dill-cured lox and capers, to last year's tomato jam and jalapeno. Acorn also has really fantastic house-made sodas, and mocktails (along with traditional brunch cocktails) that brighten up any brunch.
Brunch Hours: Saturdays and Sundays from 10:00 a.m. to 3:00 p.m.
Acorn (5528 Walnut Street)
We also polled our (36,000+) Instagram fans, and asked them what they thought the best brunch in Pittsburgh was right now! We got so many fantastic answers, we thought we'd share those, too:
Fl. 2
Bonfire
Smallman Galley
Meat and Potatoes
Shubrew
DeLuca's
Le Petit DeJeuner
Square Cafe
Whitfield
Casbah
Eleven
or, The Whale
Fairlane
Park Brugge
Mediterra Cafe
Piper's Pub
Point Brugge
Pear and the Pickle
Looking for even more Good Food? Read these: