It's one of the best weeks of the year – Pittsburgh Restaurant Week! From now through January 17, more than three dozen local restaurants are offering specially-priced prix-fixe menus, new dishes, and takeout specials for diners.
While many of the restaurants are now open for in-person dining at 50% capacity, we're highlighting some of the best takeout options for those of us who choose to dine at home only.
The full list of participating restaurants for Winter Pittsburgh Restaurant Week, along with their menus, can be found here.
10 Great Takeout Options for Pittsburgh Restaurant Week
Tonkotsu Ramen at Fujiya Ramen
There's a $17.21 two-course lunch takeout option, or a $28.21 two-course dinner takeout option (which includes a sake or beer), at Fujiya Ramen during Restaurant Week. Look for favorites like Okonomiyaki, Tempura Shrimp and Karaage with spicy mayo, along with their stellar Tonkotsu Ramen, Spicy Miso Ramen, or Katsu Curry. The full menu is available here.
Fried Honey Cakes from Big Spring Spirits at Seven Fields
The newly-opened Big Spring Spirits at Seven Fields is participating in their first Pittsburgh Restaurant Week, offering a three-course lunch or dinner for $20.21, available for takeout. Menu items include Beet Salad, Patty Melts, Pesto Chicken Panini – and for dessert, their Fried Honey Cakes, house-made doughnut holes fried and tossed in sweet honey and spices. Order online.
Porchetta at Revival on Lincoln
There are lots of options for Restaurant Week at Revival on Lincoln in Bellevue, including New England Clam Chowder, Grilled Fresh Salmon, Shrimp Americana, and a Porchetta entree, served with whipped potatoes, celery Jardinière and jus. The three-course menu is $40.21 for takeout, and the full menu can be found online.
Robouchon Pomme Puree at Grazing Rights
Grazing Rights, the new concept in the former Twisted Frenchman space, is offering the full chop-house experience for Restaurant Week. Their three-course menu is $35.21, and includes options like French Onion Soup, beef tartare, steak filets, a 12-ounce Prime New York Strip Steak – and Roubouchon Pomme Puree, also known as the creamiest potatoes you can find. The menu is available online.
Confit Chicken from St. Clair Social
If you've been meaning to try St. Clair Social, now's the perfect time. For Restaurant Week, the Friendship restaurant is offering their Confit Chicken Leg & Thigh dinner, served with coconut dirty rice, apple and radish sald, and nam chim for $20.21. Order online.
The Classic Bagel Sandwich at Square Cafe
Enjoy an all-day breakfast option at Square Cafe during this Restaurant Week. They're serving their Classic Bagel Sandwich (cream cheese, smoked salmon, cucumber and red onion on a Sesame bagel), plus a Greek yogurt cup with their house-made granola, for $20.21. Order online.
Lobster Boil at Ocean Treasure's Cajun Seafood and Bar
There are two Ocean Treasure's Cajun Seafood and Bar locations participating in Restaurant Week this year (one in the North Hills and one in Monroeville). This year's offering is a Lobster Boil for $45.21 for lunch or dinner, which includes shrimp, two lobster tails, sausage, corn and potatoes (Snow crabs can also be added for an additional cost). See the full menu online.
Crème Brûlée at Paris 66
Treat yourself to something sweet this Restaurant Week! Beloved French spot Paris 66 is offering a three-course prix-fixe menu for $41.21, available for takeout. Dishes include French Onion Soup, Truite Meunière (Rainbow trout with butter, lemon and parsley), and their fantastic Crème Brûlée. See the mene here.
Rigatoni & Meatballs at Garbarino's
Pasta is on the menu for Restaurant Week at Garbarino's. The restuarant is offering seven entrée options on their three-course Restaurant Week menu, including Spaghetti Pesto Alfredo, Spaghetti Bolognese, and Rigatoni & Meatballs, which includes the famous Garbarino family meatballs. The Restaurant Week menu is $30.21, and will be extended at the restaurant through February 6. See the full menu online.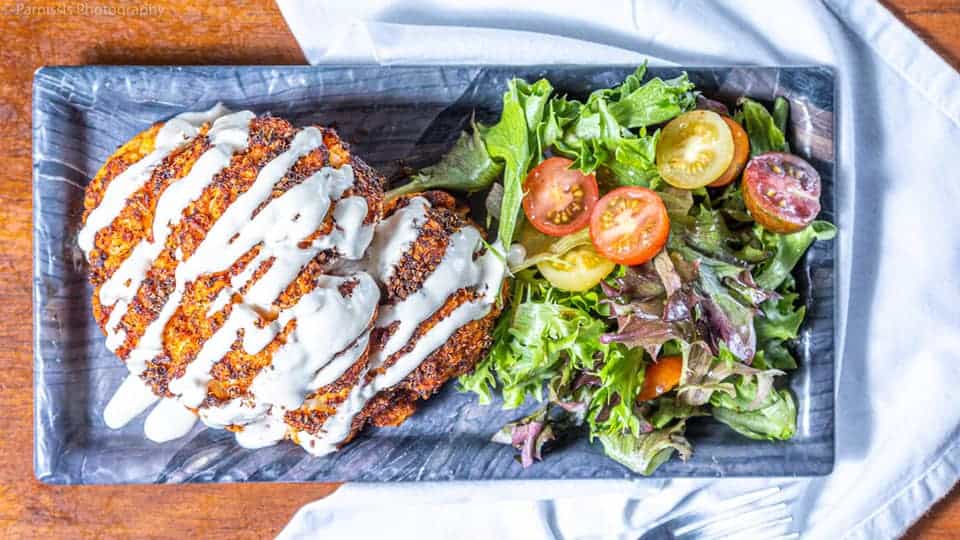 Blooming Cauliflower at The Forge
One of the very best dishes we had last year was the vegan-friendly Blooming Cauliflower at The Forge – and so we're super excited to see it on their Restaurant Week menu right now. The restaurant is also offering items like Braised Brisket (with sweet potato and figs), Drunken Mushrooms, and Baklava on their $35.21 three-course menu, available for takeout and dine-in. Order online.
All Restaurant Week specials and menus can be found here.