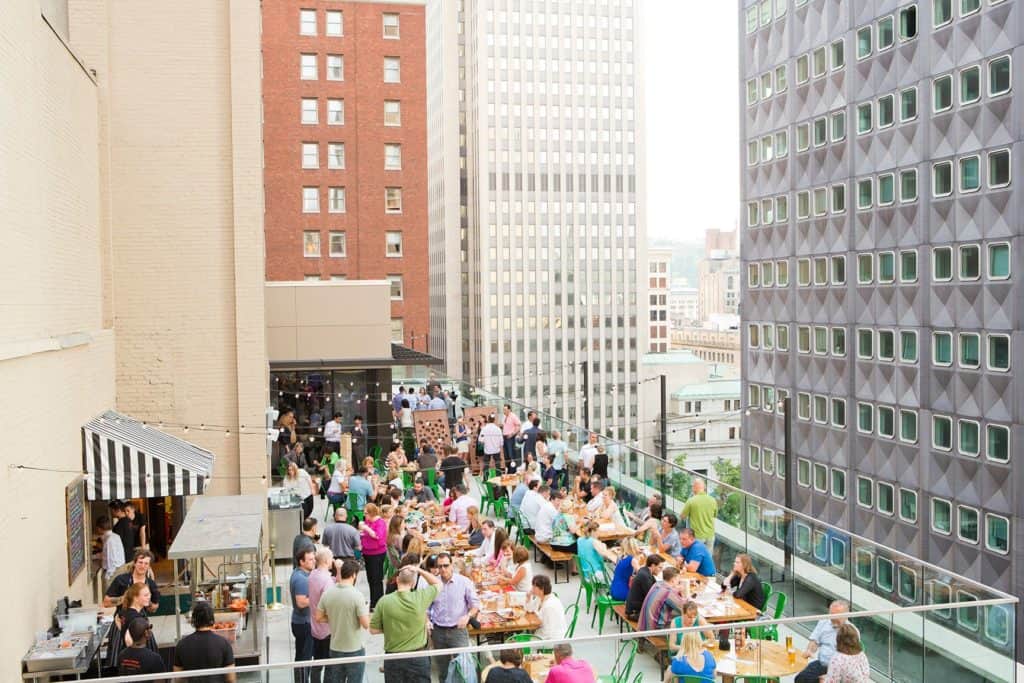 The Commoner is officially open… in a new space this year.
The restaurant at the Hotel Monaco is moving operations up to the rooftop for the summer in place of their seasonal Biergarten.
Starting today, the restaurant will be open for dinner service only, with two seatings available each night. The Commoner is operating on reservations only, which can be made online.
Other social distancing measures that will be taken including allowing patrons to enter only on the street level at Strawberry Way through The Commoner, and up the restaurant's elevator. A separate exit area will be provided for guests leaving. All tables will be placed six-feet apart, and guests are required to wear masks unless seated.
In case of inclement weather, the restaurant will move downstairs to the Commoner restaurant, and guests with reservations will be notified prior to arrival.
The menu, from executive chef Dave Racicot, features "creative and seasonal twists on casual favorites," like Tuna Tartare with avocado, white soy dressing, and nori, Grilled Corn with spicy mayo, salty cheese, and fried garlic and shallot, and a Cubano with pork belly, kielbasa, Swiss cheese, mustard and pickles.
Menu favorites from the Biergarten, including the Biergarten Pretzel with beer cheese and caramelized onion dip, the Smash Burger, and a Pierogi and Sausage dish will also be on the menu.
As an additional health and safety measure, guests will have the option to access the Commoner's menu on their phones via a QR Code and web link, or will be provided with a single-use menu.
Seatings during the weekdays will be 5:45/6:00 p.m. (early seating), and 8:15/8:30 p.m. (late seating). On the weekends, the early seating will be 6:00 p.m., 6:15 p.m., and 6:30 p.m., and late seatings will be 8:30 p.m., 8:45 p.m. and 9:00 p.m.
Takeout and delivery options are also still available.
The Commoner (620 William Penn Place)