Repping your favorite restaurant or brewery is one of the best ways to show your support for a local small business — and you can wear your love on your sleeve with these creative and stylish pieces of swag.
Mug drops at Hidden Harbor are a whole event. The tiki bar works with artists such as Bosko Hrnjak and Henrik and Denise Van Ryzin to create one-of-a-kind pieces that regularly sell out — they've done more than 60 mug drops since opening in 2016. Previous drops have included the popular "Suffering Banana" mug, a hand-crafted banana mug to commemorate Hidden Harbor's sixth anniversary that sold for $185, and the ever-popular "Cobra Fang" series, which has included pilsner glasses and snifters. The best way to snag one for yourself is to follow them on Instagram (you may want to smash that notification button, too) for the latest updates.
Shop online: http://www.hiddenharborpgh.com/merch
From super-soft vintage-inspired tees to Merchant-branded beer koozies, Merchant Oyster Company's swag shop has a little something for everyone. We're especially loving their hat selection, including a new canvas-colored snap-back option.
Shop online: https://www.merchantpgh.com/swag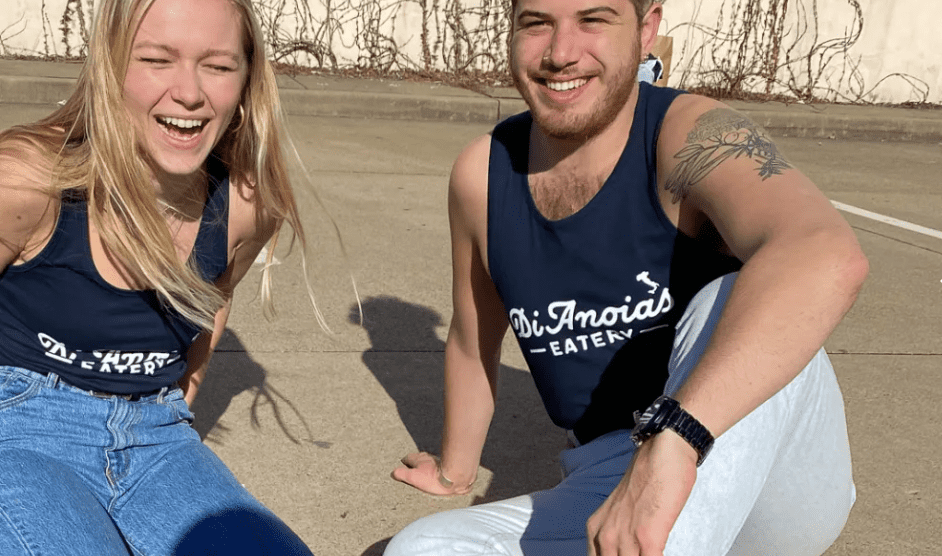 Can't get a reservation at DiAnoia's Eatery? Do the next best thing — order some DiAnoia's merch to go. DiAnoia's product shop includes a selection of men's and women's tees, sweatshirts and trendy tanks, plus some Pizzeria Davide selections, too (including a $5 dog bandana for your favorite four-legged, pizza-loving friend).
Shop online: https://www.dianoiaseatery.com/shop
South Side
What better way to honor one of the city's best fish sandwiches than by wearing The Pub Chip Shop's "The Fish and Chips That Saved Pittsburgh" tee? The restaurant's swag is available on their online shop, along with other tees from sister restaurants The Pub Chip Shop and Just Good Donuts.
Shop online: https://www.piperspub.com/merch
Various locations
We love a camp mug, and Cinderlands' one (a stainless steel version from MiiR) is one of the best. The brewery's online shop also has beanies, glasses, tees and a hand-crafted wooden bottle opener.
Shop online: https://shop.cinderlands.com/product-category/merch/
Grist House's well-designed merch store is packed with everything from long-sleeved thermals to brewery-branded blankets and their much-beloved 'Dad hat' (available in four colors). Merch drops happen regularly, often tied to some of their biggest events, like their annual Fire Fest.
Shop online: https://gristhouse.com/store/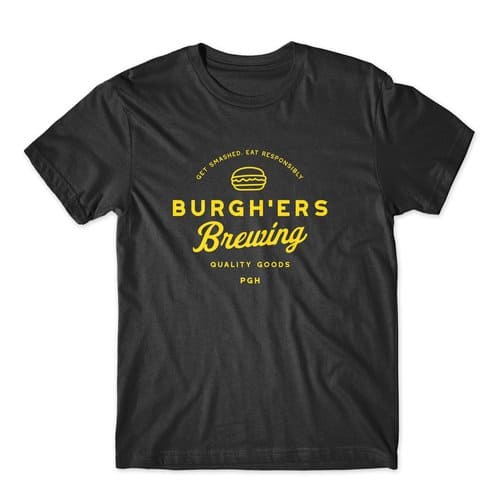 Tees, hoodies, hats and tanks are available at Burgh'ers Brewing's online shop, all in their classic black-and-gold style. We're partial to their comfy, super-soft tees, especially the ones featuring their "Get Smashed, Eat Responsibly" tag.
Shop online: https://burgherspgh.com/shop
Leona's Ice Cream has a fully stocked merch shop with adorable tanks, tees, bags and onesies, available with their instantly recognizable ice cream sandwich-inspired logo graphic. And, they're also about to drop a new Pittsburgh-made merch collaboration. Follow their Instagram to get the info as soon as it's available.
Shop online: https://www.compressmerch.com/collections/leonas-ice-cream-sandwiches
Trace Brewing's simple triangle logo is featured on a number of products in their online merch shop, like their best-selling tees and stickers. The brewery also sells hoodies, crewneck sweatshirts, and branded pint glasses and teku stemmed glasses, too.
Shop online: https://trace-brewing.square.site/
Know of any other restaurant swag we missed? Let us know in the comments!