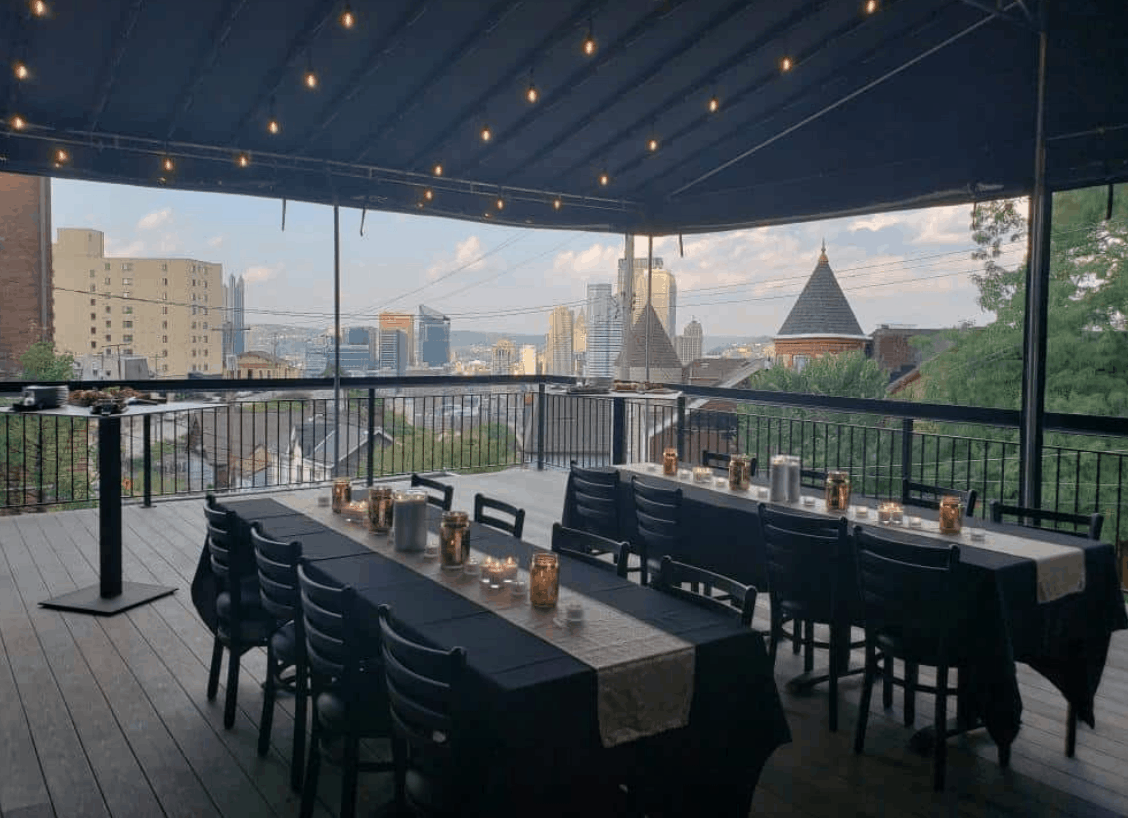 Let's get real: it's a lot of pressure trying to entertain an out-of-town guest.
Everyone has a different idea of where they want to eat. This, combined with diet restrictions and conflicting schedules, can make finding a restaurant a real headache.
But there is no need! There are plenty of options in Pittsburgh for every guest that rolls through town. This holiday season, we want to take the pressure off dining out. Below are a few of our favorite spots to take visitors. Enjoy!
Where do you take Pittsburgh visitors? Leave it in the comments below!
The Best Restaurants to Take Pittsburgh Visitors:
A spot to impress: fl.2
If you're looking for spot that will impress with both decor and food, try Fl.2. Located on the second floor of the Fairmont hotel, Fl.2 is an upscale American eatery in a stunning setting. The restaurant is the vision of Barcelona-based designer, Lazaro Rosa Violan, and the menu reflects Chef Julio Peraza's unique modern American cuisine. With views of the city, a glittery interior, and a sinful cocktail menu, it is the perfect place for a celebratory night out with your guests.
Be sure to order: anything from the cocktail menu
fl.2 (510 Market Street)
Brunch on a Tuesday: The Lot at Edgewater
Sometimes hosting guests means entertaining on a random Tuesday morning. It was once difficult to grab brunch and mimosas in the middle of the week in Pittsburgh – until The Lot at Edgewater. This Oakmont-based eatery is a new-age diner by day, steakhouse by night. Breakfast is served from 6:00 A.M. to 3:30 P.M. daily. Don't overlook the beverage menu, which features 8 types of spiked coffee.
Be sure to order: Thin Crispy Pancakes
Lot at Edgewater (145 Allegheny Ave)
Loves trendy restaurants: The Vandal
If you have a guest in town that both wants a great meal, and wants to take a great picture of that meal, head to The Vandal. This artfully-sparse space is beautifully lit, and has thoughtful decor. The menu always impresses, whether you stop in for breakfast, lunch, or dinner. Additionally, once the meal is over, you're perfectly poised in the heart of Lawrenceville for some post-lunch shopping.
Be sure to order: anything pasta
The Vandal (4306 Butler St)
Fun atmosphere: Poulet Bleu
If you're looking for a lively night out with all the sounds of a bustling kitchen, head to Richard DeShantz's new French endeavour, Poulet Bleu. This charming restaurant is beautifully decorated, and is always packed with Pittsburgh foodies (be sure to make a reservation). Between the French music and cerebral cocktails, Poulet Bleu is the perfect place for a memorable evening.
Be sure to order: the chocolate soufflé
Poulet Bleu (3519 Butler St)
View of the city: Coughlin's Law
Even if your guest is a picky eater, this view of the city won't let you down. This new Mount Washington hotspot is a great restaurant to visit before or after taking in the sights from the Mt. Washington overlook. The name is an ode to the Tom Cruise movie Cocktail, so you know the beverage program is top-notch. The menu offers a wide variety of gastropub classics.
Be sure to order: Coughlin's burger
Coughlin's Law (10 Virginia Ave)
Enough space for a large group: Industry Public House
If the whole family is in town, and you're looking for a place to dine with a party of 6+ people, head to Industry Public House in Lawrenceville. This spacious restaurant is almost always able to accommodate large parties, even without a ton of notice (but you should always call ahead). The expansive menu is sure to have something on it for everyone in the fam.
Be sure to order: the Mac & Cheese
Industry Public House (4305 Butler St)
Loves cocktails: Butterjoint
Delicious dinner with a drinks? Look no further than Butterjoint. This laidback eatery is located on Craig Street in Oakland, squeezed between its sister restaurants, Legume and Pie for Breakfast (two other great options). At Butterjoint, you can order a plate of pierogies, a juicy burger, and a world-class cocktail. It doesn't get much better than that.
Be sure to order: The Fancy Burger (or the pierogies. or both.)
Butterjoint (214 N Craig St)
Doesn't want a long wait: Noodlehead
If someone is a hangry and wants food asap, try Noodlehead in Shadyside. This popular Thai street restaurant has a limited, but carefully curated menu. Once seated, food arrives to the table at lightning speed. Do note that you'll have to wait for a table after work and on weekends. Cash only (ATM on site).
Be sure to order: Pork Belly Steamed Buns
Noodlehead (242 S Highland Ave)
Craft beer fan: Burgh'ers Brewery
Pittsburgh is overflowing with new craft breweries (we aren't complaining!), but not all of them serve food on site. One of our favorite combination breweries/restaurants is Burgh'ers, which has locations in both Harmony and Lawrenceville. The restaurants brews a small selection of homemade beers that perfectly compliment the menu.
Be sure to order: Fried chicken sandwich
Burgh'ers Brewery (3601 Butler St)
Vegan eaters: Onion Maiden
There is no better time to entertain a vegan eater in Pittsburgh. Many restaurants have vegan options on the menu, and we also have several completely plant-based eateries. One of our favorites is Onion Maiden in Allentown. This punk-rock inspired restaurant serves vegan dishes with hilarious heavy metal names.
Be sure to order: Totchos
Onion Maiden (639 E Warrington Ave)
Art lovers: The Café Carnegie
Pittsburgh is lucky enough to be home to the world-class Carnegie Museum of Art, but we are even luckier now that the museum has a top-notch restaurant located on the first floor. Chef Sonja Finn (of Dinette) has a curated a menu of playful dishes that compliment the bright and airy space. Take a break from browsing and grab a meal at Cafe Carnegie.
Be sure to order: Onion Soup Gratin
The Café Carnegie (4400 Forbes Ave)
Can't make up their mind: Federal Galley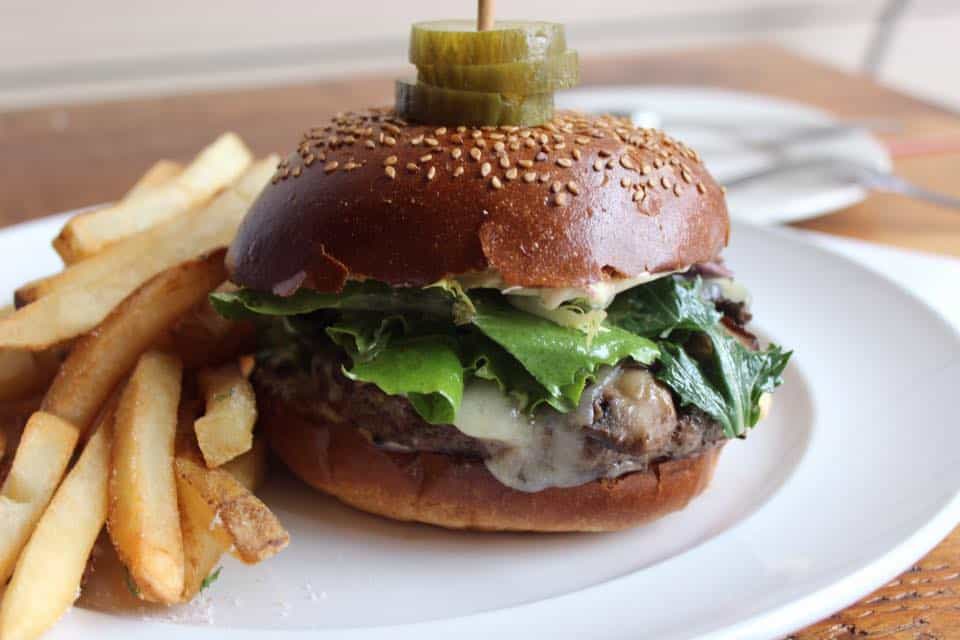 Can't pick just one spot? Never fear! Federal Galley, located on the Northside, is the solution. This upscale dining hall features four different restaurants, and offers something for every type of eater. Options include everything from salad and tacos, to pizza and steak. Stop by between 4:30 p.m. — 6:30 p.m, Monday-Friday, when the restaurant has happy hour and drinks are 1/2 off.
Be sure to order: Provision Fries
Federal Galley (200 Children's Way)
Health(-ish) Conscious: Bitter Ends Garden & Luncheonette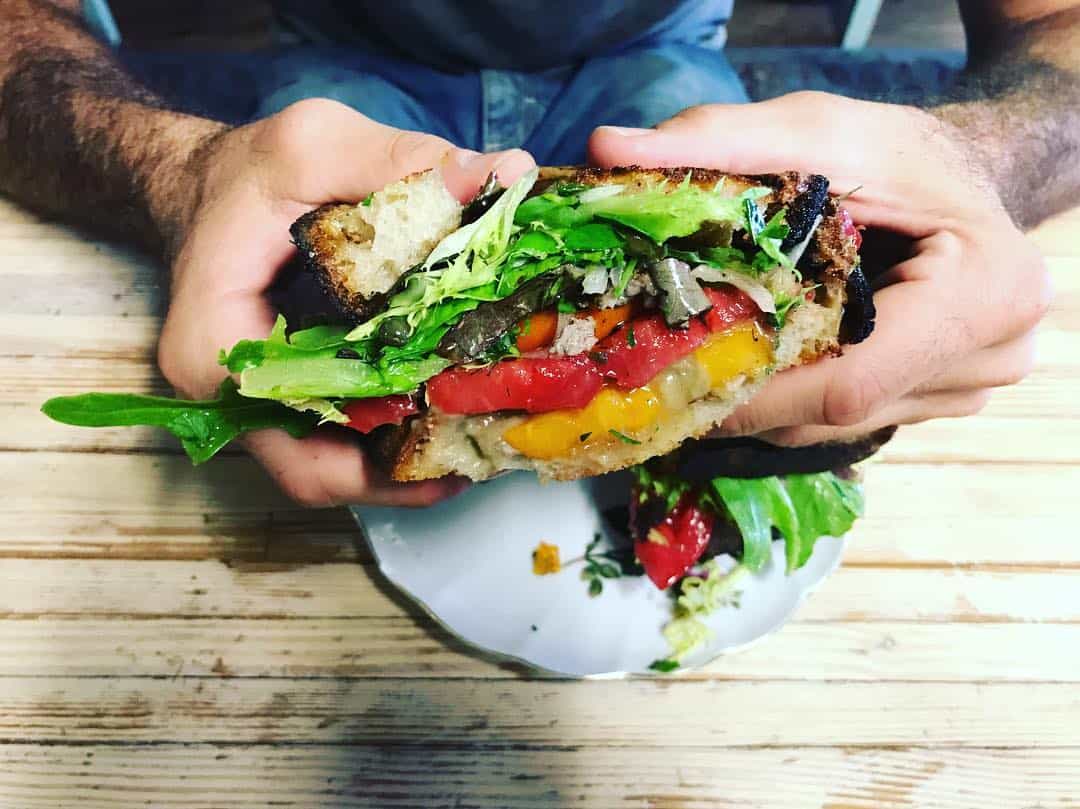 A meal from Bitter Ends Gardens is guaranteed to sneak in more than a few vegetables. This veggie-forward luncheonette severs a thoughtful and seasonal menu of sandwiches, soups, salads, and, for good measure, pastries. Everything is so colorful, and so delicious.
Be sure to order: Veggie Hoagie.
Bitter Ends Garden & Luncheonette (4613 Liberty Ave)
Wants a late breakfast: Pear and the Pickle
Sometimes time slips by and you need to grab a quick (and delicious) breakfast before running to your next activity. When you need a quick breakfast sandwich at 11:30 A.M., head to Pear and the Pickle. With Stumptown Coffee and Boars Head meats, you won't regret your choice. Plus, this Troy Hill eatery provides a perfect opportunity to check out the neighborhood.
Be sure to order: The classic – a sausage, egg, cheese sandwich
Pear and the Pickle (1800 Rialto St)
Needs to try a Pittsburgh Salad: Whitfield
Want your guest to try a Pittsburgh tradition? Head to the Whitfield and order a Pittsburgh salad. It's impossible to not laugh (and devour) and this comically large salad, piled high with fries and fried chicken. That's Pittsburgh! Be sure to save room for dessert. The Whitfield has one of the best pastry programs in the entire city.
Whitfield (120 S Whitfield St)
Honorable mentions:
Gaucho Parrilla Argentina
Driftwood Oven
DiAnoia's Eatery
Baby Loves Tacos
Where do you take out-of-town guests to Pittsburgh? Leave it in the comments below!