While Pittsburgh isn't exactly known for our Southern cuisine, we do have a pretty high-quality selection of fried chicken sandwiches on menus across the city. And, although most restaurants are currently closed for in-person dining (and with good reason), you can still get your hands on these tasty treats by placing a takeout order.
Whether it's the Katsu Fried Chicken Sandwich at Hapa Hawaiian Grill or the Bad Arse option at Walter's Southern Kitchen (hello, candied bacon!), these 11 fried chicken sandwich offerings are some of the best in Pittsburgh.
Downtown's Bill's Bar & Burger is open for curbside pickup, featuring their full menu, including their crazy-delicious Crispy Chicken Sandwich, which comes with Applewood bacon, Vermont white cheddar and Ranch dressing. They also have a spicier version, with Buffalo sauce and Pepper Jack cheese. (1001 Liberty Avenue)
Get your fried chicken extra hot at Bird on the Run in East Liberty. A plain fried chicken sandwich comes with mayo and pickles on a Brioche bun, and their Lil Chunky's Deluxe option comes with lettuce, American cheese, bacon, pickled green tomatoes, spicy mayo and a sunny-side-up egg. Order online. (128 S. Highland Avenue)
BRGR
Multiple Locations
The fried chicken sandwich at BRGR is just So Clucking Good… so that's what they called it! Hot honey chicken topped with American cheese, plus lettuce, pickle and mayo make up this two-handed affair. Both the East Liberty and Mt. Lebanon locations are currently open for takeout. (Multiple Locations)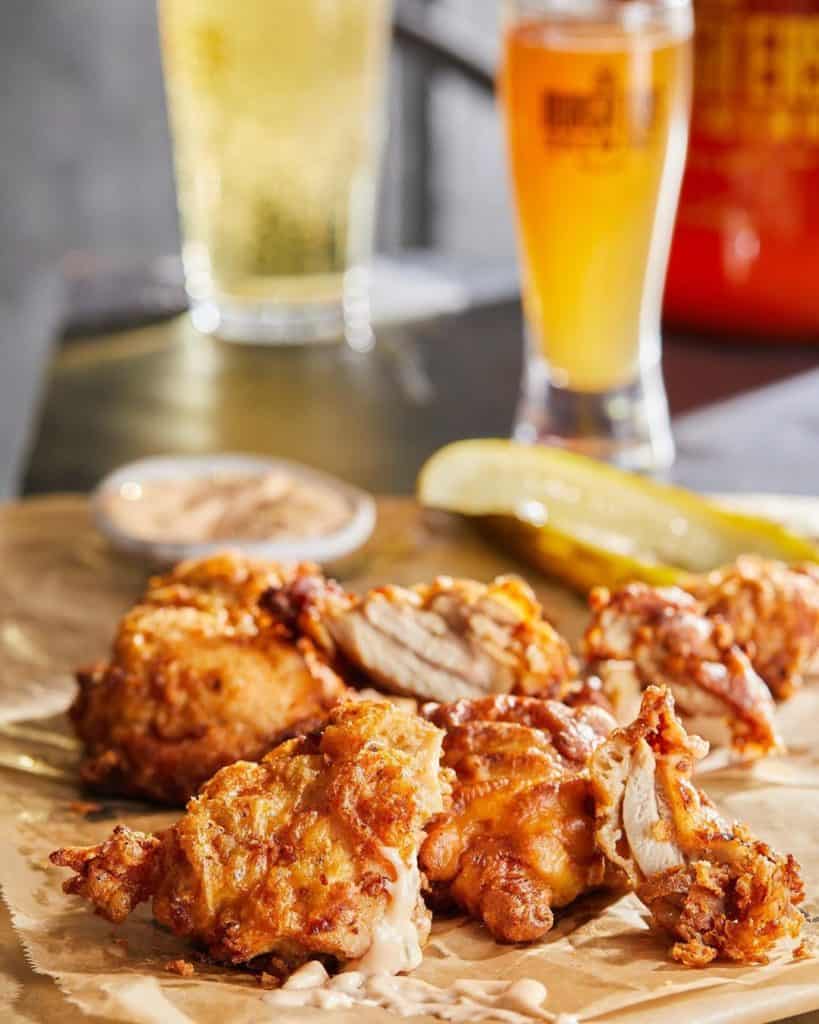 Burgh'ers
Multiple Locations
While the Burgh'ers in Lawrenceville is currently only open for takeout, the location in Zelienople is open for very limited indoor seating. On both menus, you'll find Burgh'ers fantastic Pickle-Brined fried chicken sandwich, which comes with mixed greens, tomato, onions and mayo. (Multiple Locations)
CHiKN
Multiple Locations
Now open for takeout and delivery in Oakland, Wexford and Gibsonia, CHiKN is serving up some seriously good fried chicken options. Their standard sandwich comes topped with fresh dill pickles and tangy cole sale, and Southern 'comeback' sauce on a brioche bun. Choose from varying levels of heat, including mild, medium and 'Damn Hot.' Other options include Chicken & Waffles, and hand-breaded chicken nuggets. Order online. (Multiple Locations)
On the takeout and delivery menu at Cinderlands Warehouse, you'll find their take on a classic fried chicken sandwich, with Swiss cheese, honey mustard, iceburg lettuce, tomato – all served on a house-made potato roll. Order online for delivery or curbside pickup. (2601 Smallman Street)
The fried chicken sandwich at Hapa Hawaiian Grill is made with crispy Chicken Katsu, a Japanese-style fried chicken made with panko bread crumbs. Hapa's version is served on a Hawaiian sweet bun, with their homemade tangy sauce. Order online. (1334 Fifth Avenue)
In addition to Quik-It-Chicken's tenders, Chicken & Waffles, and wing, they also offer a 'Big Q' Sandwich, topped with cheese and lettuce – and it comes with an entire pound of French fries! Call 412-321-1535 for takeout. (820 Pennsylvania Avenue)
The Vandal in Lawrenceville is currently open for takeout only, offering a selection of "Dinners for Two," including their famous fried chicken sandwiches. Two sandwiches come per $35 order, and includes two sides, with options like Shishito Peppers, Garlic Scape Risotto, Marinated Tomatoes with Roasted Eggplant and Marinated Cucumbers. Order online. (4306 Butler Street)
Walter's Southern Kitchen is offering their full menu of BBQ and Southern favorites for takeout right now, including their 'Big Arse Fried Chicken' sandwich, which comes with lettuce, tomato, candied bacon, and Walter's special homemade sauce. Call 412-683-7474 for takeout. (4501 Butler Street)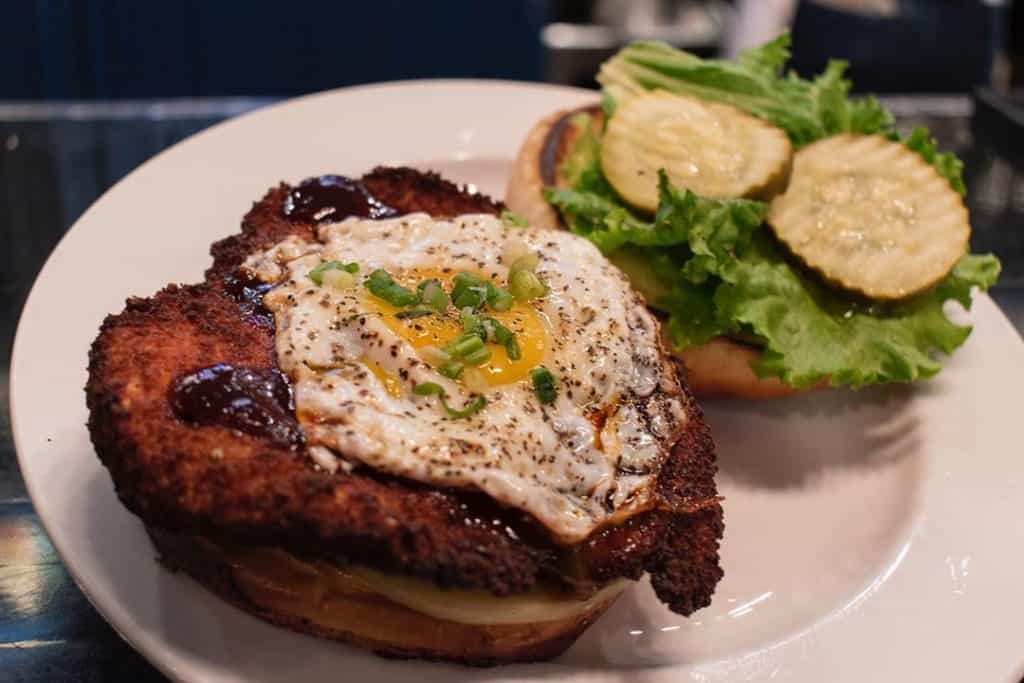 The Warren (and sister restaurant Penn Cove Eatery) have their own version of a Katsu Fried Chicken sandwich on their takeout menu. This one is topped with a fried egg, a pickled green tomato, spicy mayo, and Tonkatsu sauce – and served on a Brioche bun. Side options include fries, tots or slaw. Order online for pickup or delivery. (245 Seventh Street)
Did we miss your favorite fried chicken sandwich? Let us know in the comments!