There's nothing better than digging into a bowl of handmade pasta. And, luckily for us, Pittsburgh is experiencing a bit of a pasta renaissance right now, with lots of places churning out fresh rigatoni, tagliatelle, ravioli and more.
Did we miss your favorite place or hidden gem making handmade pasta in Pittsburgh? Share with us in our comments!
15 Places to Find Handmade Pasta in Pittsburgh
Iron Born
Strip District
The newly-opened Iron Born in the Strip District has a secret weapon on their menu – not only do they offer fantastic Detroit-style pizzas, but they also have a full handmade pasta program, courtesy of pasta extraordinaire Ryan Peters. In addition to daily specials, the menu offers hand-crafted spaghetti, rigatoni, orecchiette and fettuccine in build-your-own bowls (with sauces like marina, Bolognese, basil pesto and Alfredo), and they also have a gluten-free penne. (1806 Smallman Street)
Piccolo Forno
Lawrenceville
All of Piccolo Forno's pastas are made "from scratch, by hand, and with love." And it shows. The cozy BYOB's pasta menu is filled with classic standards (like Tuscan Lasagna, and Pappardelle with Rabbit), along with seasonal specialties (right now, you'll find Pumpkin Cappelletti and Lemon Cavatelli), all made in their own kitchen. (3801 Butler Street)
Cenacola
North Huntingdon
We've sung the praises of Cenacola on our podcast more times than we can count, but it's for a great reason – their fresh pastas are phenomenal. Once you find this out-of-the-way spot, located in a nondescript business park, you'll be a fan for life. The menu changes seasonally, but always includes about a dozen handmade pasta dishes, like Ricotta Gnocchi with short rib ragu and porcini mushrooms, Pappardelle with braised veal Osso Buco, and Rustic Linguine, with shrimp, Langostinos, and a white wine saffron cream sauce. (2000 Commerce Loop, North Huntingdon)
The Vandal
Lawrenceville
Hand-crafted pasta is always on the menu at The Vandal, though options change frequently. Led by executive chef Becca Romagnoli, there's always unique variations and flavors, like pistachio garganelli, black garlic spaghetti and celery root costini. Additionally, Romagnoli runs a pasta subscription service called Forma Pasta, which delivers a selection of hand-made pasta to your door once a month. (4306 Butler Street)
Il Pizzaiolo
Mt. Lebanon
Though Il Pizzaiolo in Mt. Lebanon is known for their Neapolitan pizza, they also serve some of the best handmade pasta in town. Some of the fresh pasta options they make in-house include their ravioli, pappardelle, tagliatelle and gnocchi, all made using imported Italian flour. We're particularly taken with their Ravioli Caprese, stuffed with Ricotta di Bufala, Fior di Latte and Parmigiano-Reggiano. (703 Washington Road)
Alla Famiglia
Allentown
Alla Famiglia is a Pittsburgh classic – and one of our favorite special-occasion restaurants. They offers all handmade pasta, made in-house with Semolina and imported '00' flour, including Bucatini Bolognese with house-ground veal, lamb and pork, Linguine with eggplant, squash and Bufala mozzarella, and Tagliatelle, served with South African lobster tail, scallops, mussels, clams, shrimp and crab. But if you really want to go all out, treat yourself to The Fallen Angel, made with Canestri (tubular pasta), roasted bone marrow, grana padano, and fresh-shaved truffles. (804 E. Warrington Avenue)
Dish Osteria
South Side
Pittsburgh rejoiced when Dish Osteria announced they were reopening after an extended hiatus last year, with their Scilian and Mediterranean specialities. They offer a few handmade pasta options regularly (though the menu changes daily), such as house-made semolina cavatelli, potato gnocchi, and pappardelle. (128 South 17th Street)
Alta Via
O'Hara Township
big Burrito's Alta Via serves about ten different pasta varieties each day, all made in-house daily. As they say, "peek through the kitchen window and see non-stop rolling, extruding, cutting and stamping." The menu changes all the time, but some favorites include Cacio e Pepe Bucatini, Rigatoni with roasted tomato sauce, and Butternut Squash Ravioli. (46 Fox Chapel Road)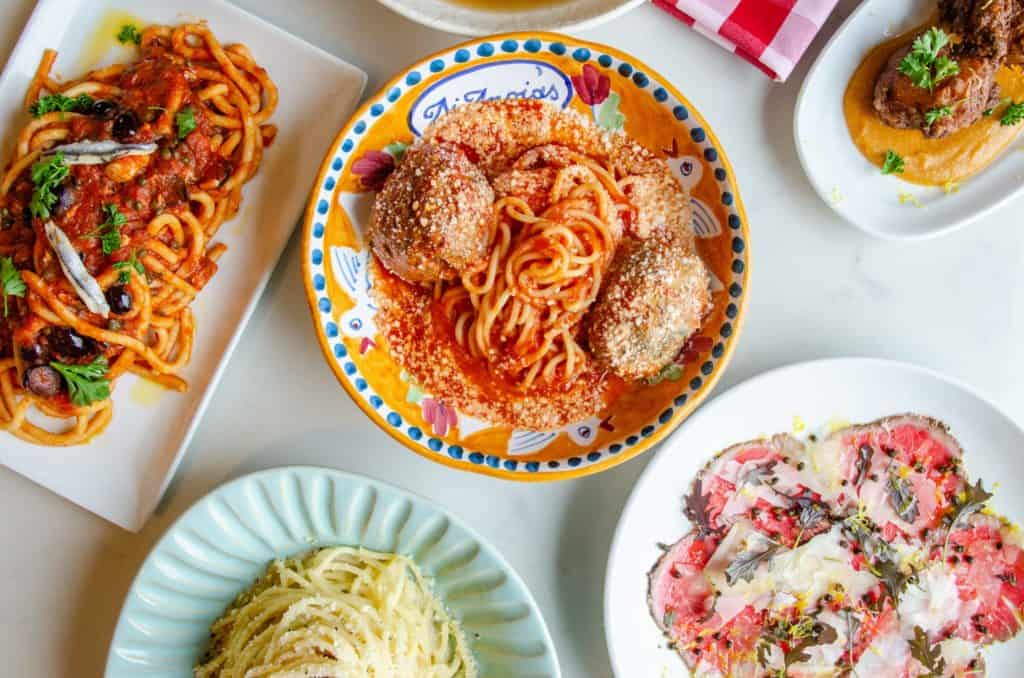 DiAnoia's Eatery
Strip District
Almost everything is made in-house at DiAnoia's Eatery, and their pasta is no exception. Standout options include Angel Hair Con Granchio, with blue lump crab, lemon and cream sauce, Gnocchi with meatballs (get it Sorrentina-style, and served in a bread bowl with mozzarella, pecorino romano and basil), and Pappardelle with Chianti-braised pork shoulder.
Stagioni
South Side
Stagioni, a cozy BYOB spot on the South Side, has been making handmade pasta in Pittsburgh for more than ten years, serving a variety of fresh options each night. The menu changes seasonally, but pastas that are regularly on the menu include Ricotta Gnocchi with sausage-rapini ragu, Spaghetti Bolognese, and Beet Cavatelli with brown butter and cannellini. They also offer half-portions of pasta, so you can order a few! (2104 East Carson Street)
Garbarino's
East Liberty
Chef/owner Andrew Garbarino's Italian restaurant is a tribute to his family's Long Island restaurant, which was open for more than 50 years. Garbarino's serves family recipes, including a selection of house-made fresh pastas, like Cavatelli (served with Italian sausage, rapini and white wine), Rigatoni with ragu, and Frutti di Mare Fusilli (5925 Baum Boulevard)
Della Terra
Zelienople
Though Della Terra recently moved to a brand new location in Zelienople, one thing hasn't changed – they still make all of their own pastas, fresh and in-house. On the menu now you'll find a Bucatini with guanciale, sweet onion and chili, a Kale and Ricotta Ravioli, served with a walnut pesto, and Rigatoni in a spicy tomato cream sauce. (100 North Main Street, Zelienople)
Fish nor Fowl
Garfield
Richard DeShantz's Fish nor Fowl is now in the second "chapter" of their restaurant story, focusing on small plates and hand-made pastas. Pasta dishes on the current menu include Spaghetti alla Chitarra with melted leeks and truffle butter, Fusilli with duck Bolognese, and Agnolotti, served with white beans and green tomato in a Parmsean brodo. (5523 Penn Avenue)
Spork
Garfield
While the menu at Spork constantly changes, there's always at least a few handmade pastas to try. Chef/owner Chris Frangiadisis a genius at making his own pasta, and offers up a few different options every night, such as Forest Mushroom Ravioli and Tagliatelle Bolognese. (5430 Penn Avenue)
Bar Marco
Strip District
The handmade pastas are the star of the show at this Strip District stalwart, and the kitchen makes their own spaghetti, gemelli, rigatoni and bucatini. As owner Justin Steel told Melissa McCart in the Pittsburgh Post-Gazette last year, they also don't use eggs in their pasta, instead taking after more traditional Southern Italian pastas.
Know of any other restaurants making handmade pasta in Pittsburgh? Share with us in the comments!
Looking for more food stories in Pittsburgh? Read these: