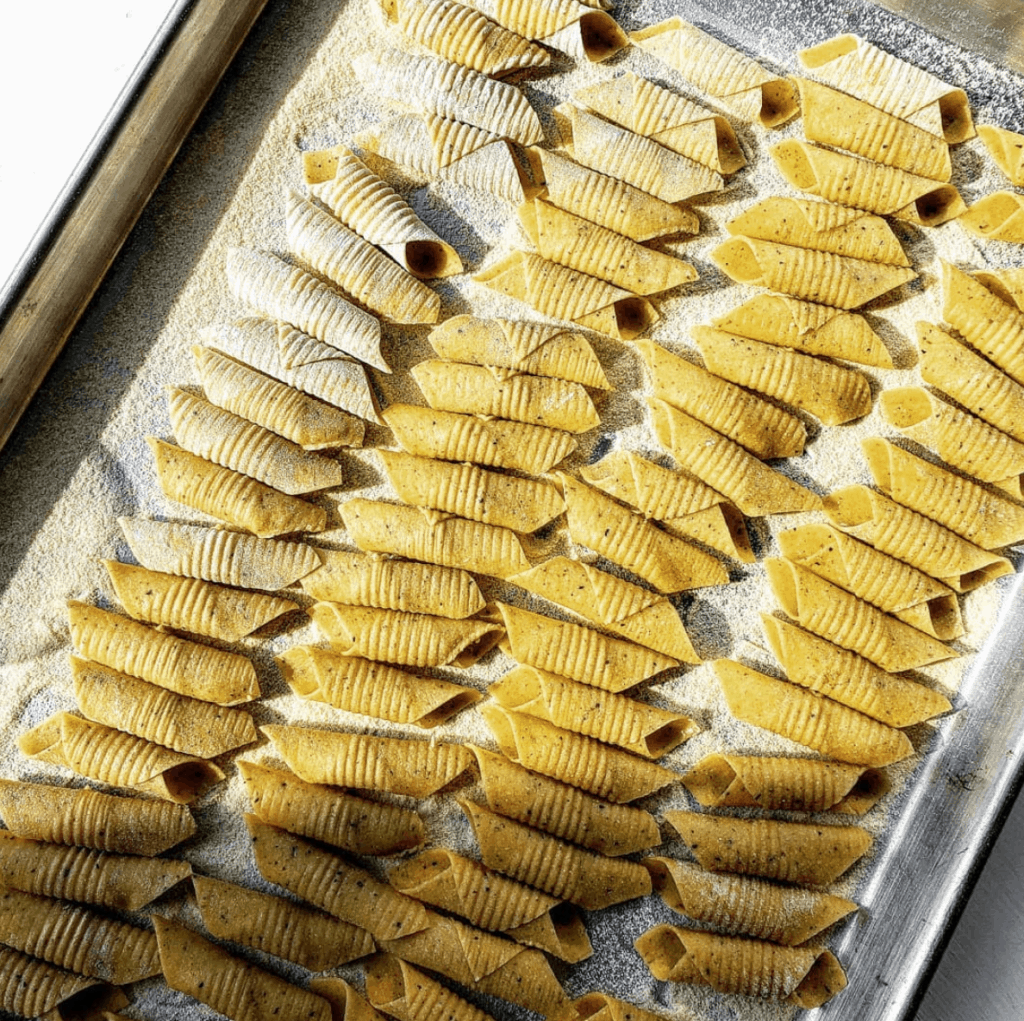 Their Instagram bio really says it all.
"We're a monthly subscription pasta box that uses seasonal ingredients to make hand crafted pasta delivered to your front door."
Presenting: Forma Pasta. Pittsburgh's newest pasta subscription service. The company, which just launched on August 1, is now serving their fresh, homemade pasta to the city of Pittsburgh.
The new brand was started by Becca Romagnoli, currently the executive chef at The Vandal. Growing up in a big, Italian family, making pasta has always been a big part of Romagnoli's culinary experience. 
"I wanted to take that tradition and really turn it into something young and hip and fun," says Romagnoli.
And as a subscription service, Forma will provide that new format to share Romagnoli's passion for pasta. Each month, subscribers will receive two bountiful bags of pasta delivered to their door. The flavors are seasonally inspired, and offer a "unique fresh take on artisan pasta crafting," as Forma states on their website. Subscribers will receive about a pound of each type of pasta, frozen upon arrival.
"It's really as much pasta as we can shove in the box," laughs Romagnoli.
The flavors of pasta will change every month, and will be influenced by the season. Typically, customers can expect a "filled" pasta (such as cappelletti, ravioli, or tortellini) and traditional noodles – but "traditional" doesn't necessarily mean it will be conventional.
"Our motto is definitely 'traditional with a modern twist,'" says Romagnoli.
The current August pasta flavors include: Heirloom Tomato and Ricotta Basil Cappelletti and Red Wine & Beet Fettuccine. Monthly boxes start at $22.95.
"We really wanted it to be different than something you can just find a grocery store," says Romagnoli.
Prior to working at The Vandal, Romagnoli cooked at the restaurant at Diamond Run Golf Club in Sewickley, PA, which offered a pasta-focussed menu. Romagnoli combines this experience with her time The Vandal, a restaurant known for their innovative approach to dining.
"I can play around with it a little more," says Romagnoli. "I can start adding different shapes, and have flavored doughs with herbs or spices."
Romagnoli comments that the idea for Forma was partly inspired by "Salty Pork Bits" the popular charcuterie subscription service by chef Justin Severino (Cure, Morcilla).
Forma orders can be placed throughout the entire month. Customers hvae the option to purchase a one-time box, or set up a recurring, monthly membership. Inside each box there will be two frozen bags of pasta and a recipe card with a recommended sauce pairing.
More information can be found online.