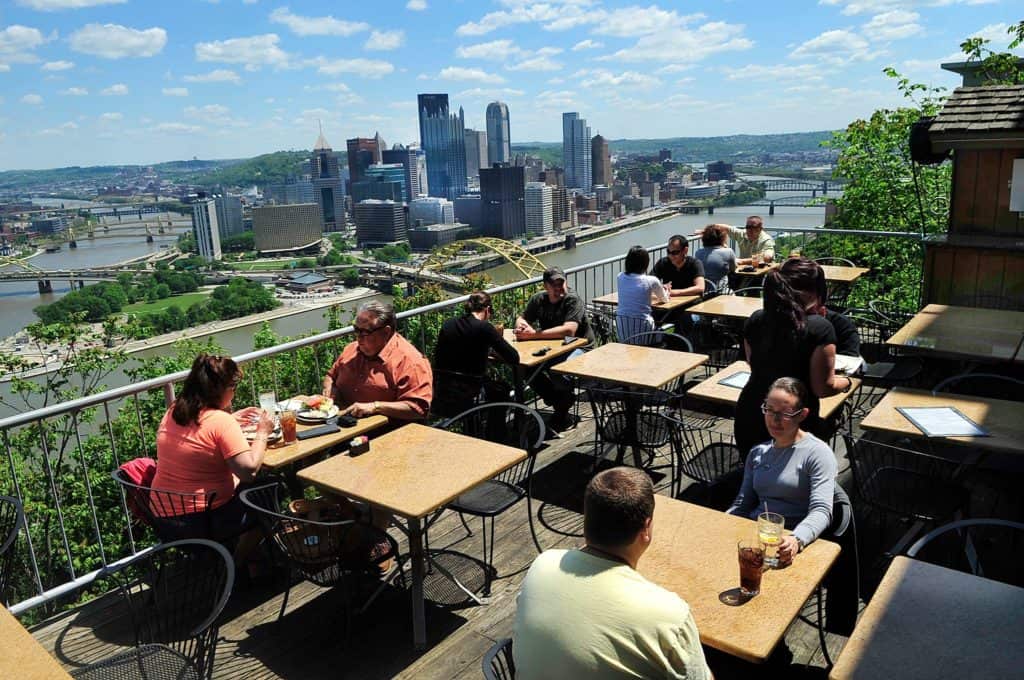 Everything in Pittsburgh tastes better when paired with a view of our favorite city. And for that reason, we've rounded up 19 of our favorite restaurants with a view.
From Mount Washington to Oakland and back again, here are some of our favorite scenic restaurants in Pittsburgh. Enjoy!
If you visit any of these spots, we want to see! Please tag @goodfoodpgh and #goodfoodpgh in all of your pictures.
Altius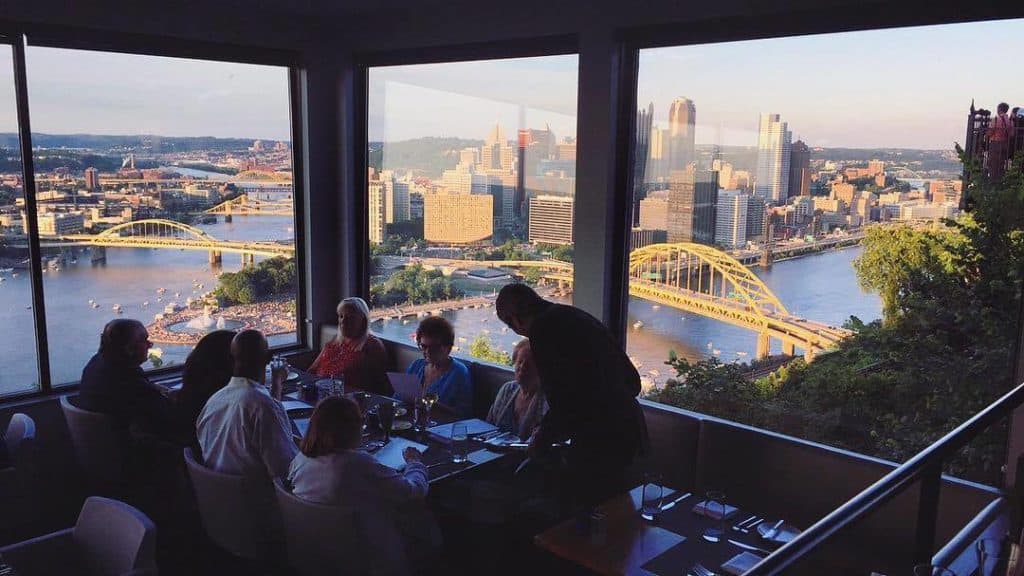 Altius combines elegant cuisine with jaw-dropping views of Pittsburgh. Guests will get to sample one of the most exciting menus in Pittsburgh while watching the sun set over the city. Dishes include Ora King Salmon Poke, Heron Point Crab Toast, Veal Osso Bucco, and Hokkaido Scallops. This is a perfect restaurant for celebrating any occasion.
Altius (1230 Grandview Ave)
Spirits & Tales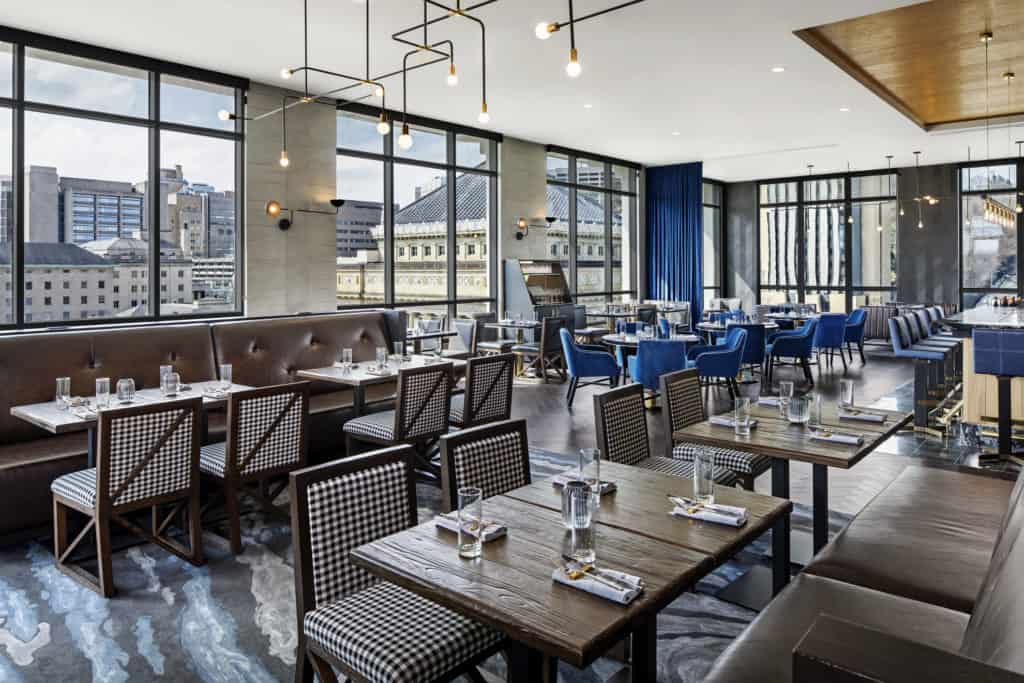 Overlooking the neighborhood of Oakland is Spirit & Tales, an upscale brasserie inside the new Oaklander Hotel. Lead by Chef Jessica Lewis, guests can expect French-inspired dishes with an emphasis on vegetables, seafood, and locally sourced meats. The restaurant has a view of many iconic Oakland buildings, including Soldiers & Sailors Memorial Hall, the Cathedral of Learning, and The University Club.
Spirits & Tales (5130 Bigelow Blvd)
Over Eden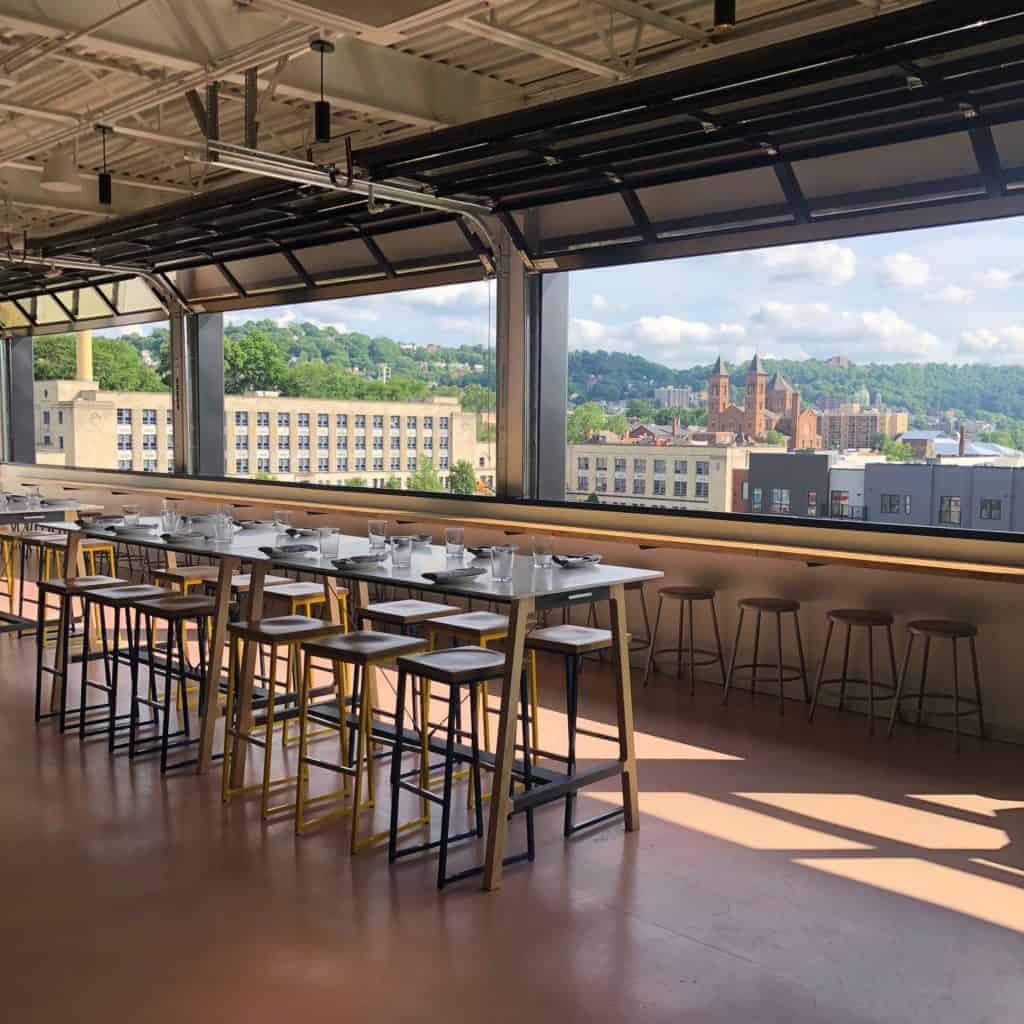 Located on the top floor of the new Tryp Hotel in Lawrenceville, Over Eden has a panorama view of Pittsburgh. From their rooftop bar, you'll spot Lawrenceville, Downtown, the 40th Street Bridge, Millvale, Troy Hill, the Allegheny River… and more! When the weather is nice, Over Eden also offers an open-air deck. The menu specializes in shared plates and Eastern Mediterranean cuisine.
Over Eden (177 40th St)
Monterey Bay Fish Grotto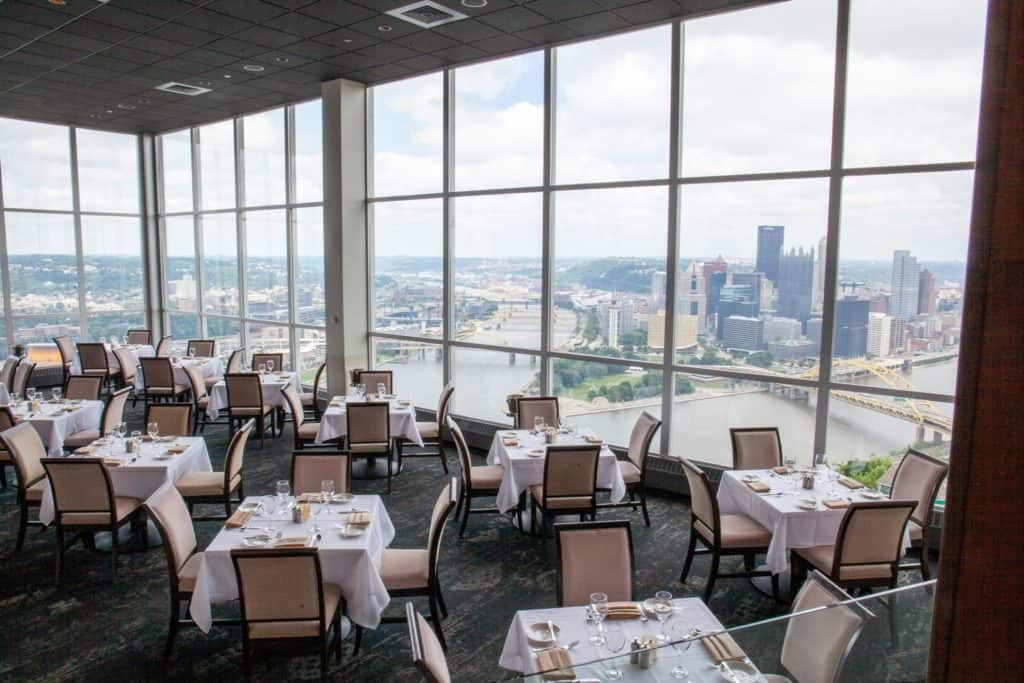 One of the most famous restaurants in Pittsburgh for an excellent view is Monterey Bay Fish Grotto. This upscale eatery is Pittsburgh's premier seafood restaurant. They also specialize in private dining accommodations for events and meetings.
Monterey Bay Fish Grotto (1411 Grandview Ave)
LeMont Restaurant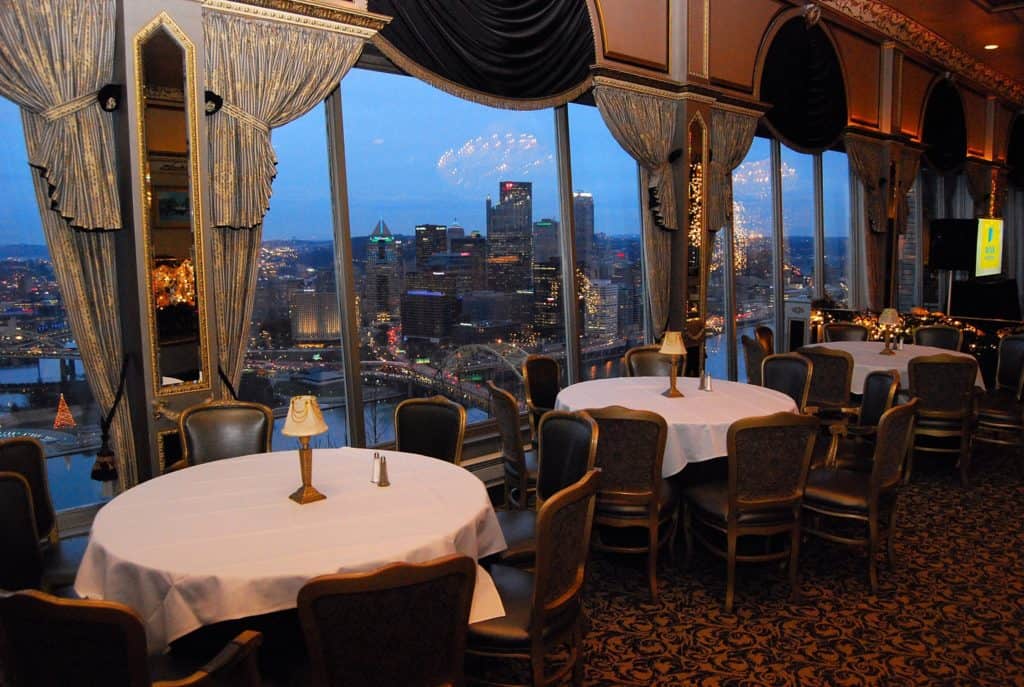 Indulge in cocktails, cuisine, and conversations – all with a view of Pittsburgh – at Le Mont on Grandview Ave. For nearly sixty years, the restaurant has offered Pittsburgh upscale dining and impeccable service in a romantic atmosphere. Le Mont also offers catering for weddings, receptions, banquets, and parties from 25 – 250 guests, and has a lounge with live music on Friday and Saturday nights.
LeMont Restaurant (1114 Grandview Ave)
Vue 412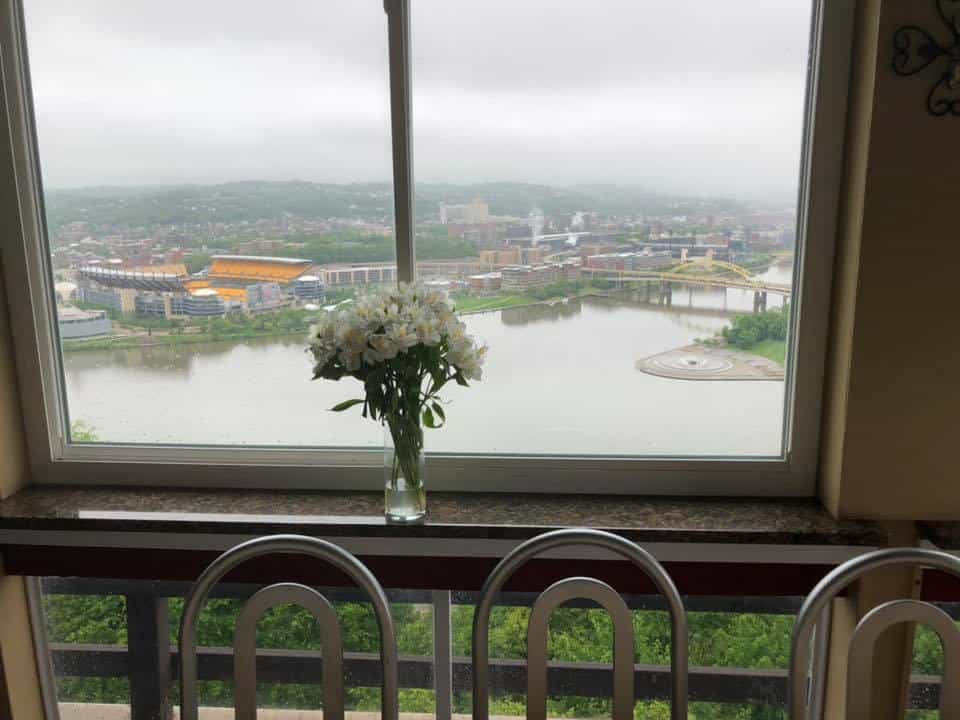 The name says it all. For a vue of the 412, head to this Mount Washington eatery. The restaurant prepares their seasonally inspired ingredients with classical cooking techniques, all paired with a rotating menu of wine, beer, and craft cocktails.
Vue 412 (1200 Grandview Ave)
The Coal Hill Steakhouse at the Grandview Saloon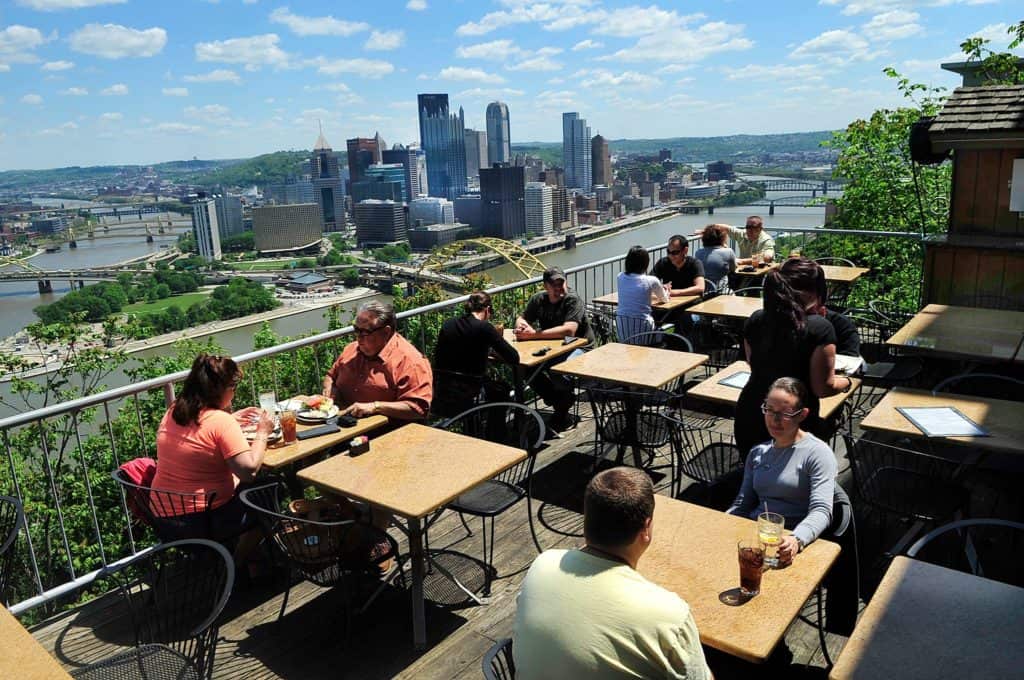 Many restaurants on Grandview Avenue boast a view of Downtown, but not all have an outdoor patio with a view. The Grandview Saloon has not one, but two decks, where you can soak up with sun while gazing upon Downtown Pittsburgh. This restaurant is open for dinner and breakfast seven days a week (yes, breakfast, seven days a week), and often hosts special dinners and events.
The Grandview Saloon (1212 Grandview Ave)
Redfin Blues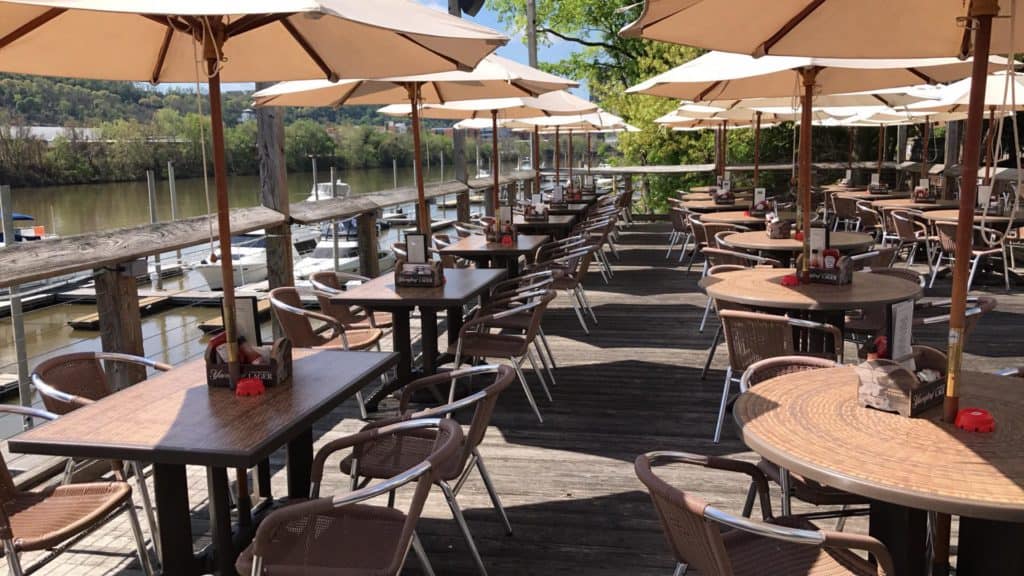 One of the few options for riverfront dining in Pittsburgh is Redfin Blues. Located on Washington's Island, guests can appreciate a view of the 31st Street Bridge and the Allegheny River from this waterfront eatery. One popular menu item is the $49 "All You Can Eat" steamed Alaskan Snow Crab.
Redfin Blues (100 Waterfront Dr)
Stack'd Oakland
The rooftop patio at Stack'd Oakland provides a unique view of central Oakland. From the rooftop of the restaurant, watch the traffic on Forbes (crawl) by, or gaze upon the infamous Pitt "towers" and the Cathedral of Learning while munching on your burger.
Stack'd Oakland (3716 Forbes Ave)
OTB at the North Park Boathouse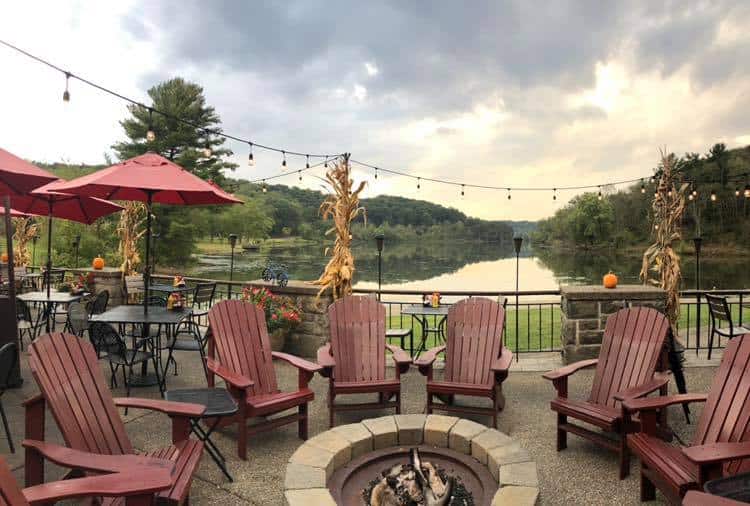 Just outside of the city, North Park is one of Pittsburgh premier parks, offering hundreds of acres of trails and green aspace, as well as a large, public lake. At the tip of the lake is the OTB Boathouse restaurant. OTB has another location on the South Side, where they serve a similar menu of salads, sandwiches, and burgers. OTB's expansive outdoor patio offers one of the most naturally beautiful views in Pittsburgh.
OTB at the North Park Boathouse (10301 Pearce Mill Rd)
Coughlin's Law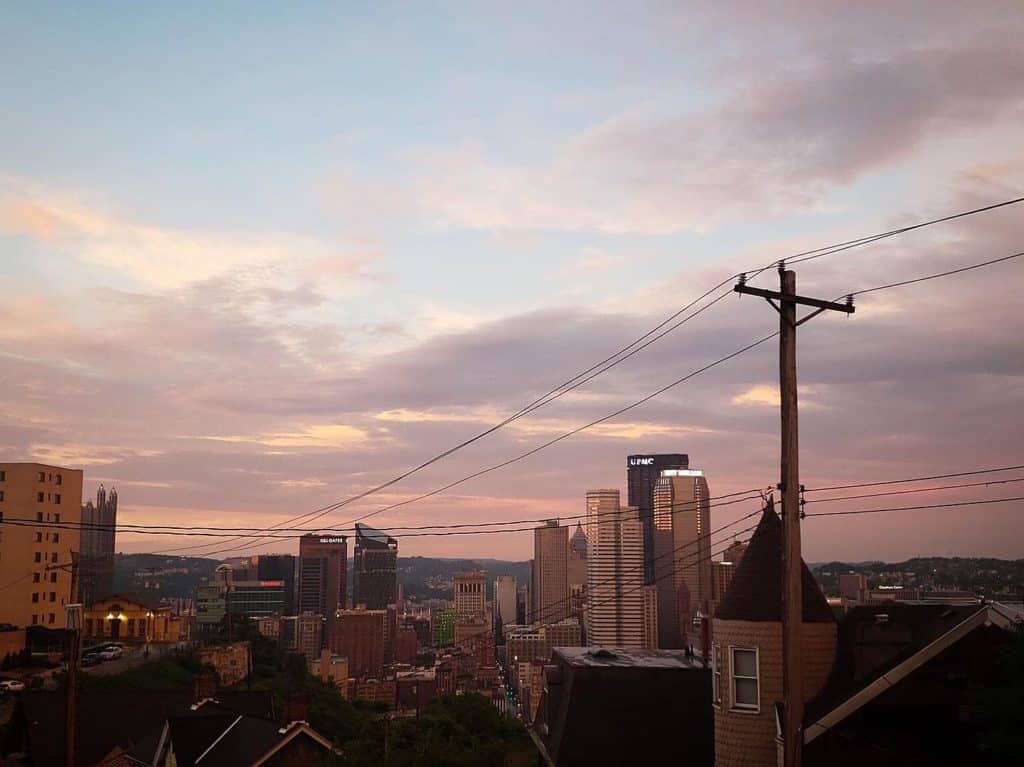 Also located on Mount Washington – but not on Grandview Ave – is Coughlin's Law. From their back deck guests can enjoy a peek of Downtown Pittsburgh. The restaurant offers a solid pub menu with, appetizers, entrees, local beers, and an emphasis on craft cocktails.
Coughlin's Law (10 Virginia Ave)
Biergarten at Hotel Monaco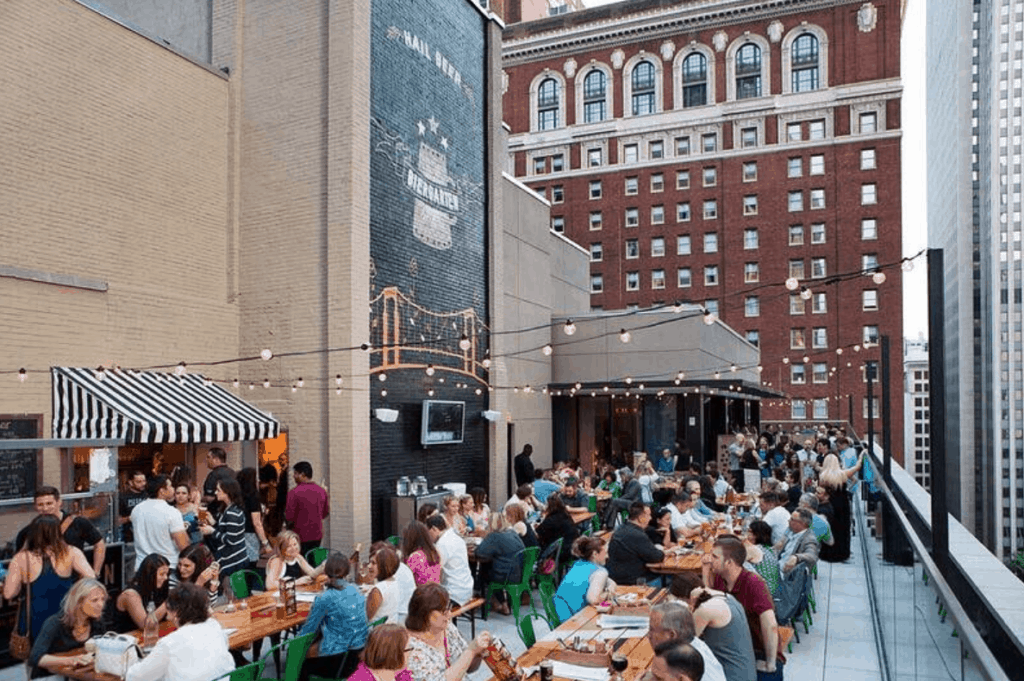 A summertime favorite in Pittsburgh is the rooftop Biergarten at Hotel Monaco. This bar always has an exciting menu of rotating craft cocktails, frozen drinks, and beers, as well as German-themed bar bites, like their their giant soft pretzel.
Biergarten (620 William Penn Pl)
Sienna Mercato
One of largest rooftop bars in Pittsburgh is Il Tetto, located on the third (rooftop) level of Sienna Mercato. The building has three distinct concepts: a meatball restaurant, a charcuterie restaurant, and a rooftop beer garden. The bar at Il Tetto has 36 drafts, cocktails, wine, and a menu of light fare. The bar has a retractable glass roof that allows Il Tetto to be open year-round, and open-air in warmer months.
Sienna Mercato (942 Penn Ave)
Level 7
The AC Hotel, located at the crossroads between Downtown and The Strip District, has a bar and lounge on their 7th level, aptly named Level 7. The menu has a carefully curated selection of cocktails, beers, and wines, as well as European and Spanish inspired Tapas. Keep an eye on their social media for updates on live music and events.
Level 7 (1126 Smallman St)
Grand Concourse
On the south shore if the Monongahela River sits the Grand Concourse restaurant, located inside of the opulent former Pittsburgh & Lake Erie Railroad station. This extravagant building offers riverside views of Pittsburgh from the former passenger loading area, as well as the opportunity to appreciate the station's over-the-top architecture on the inside.
Grand Concourse (100 W Station Square Dr)
The Porch at Schenley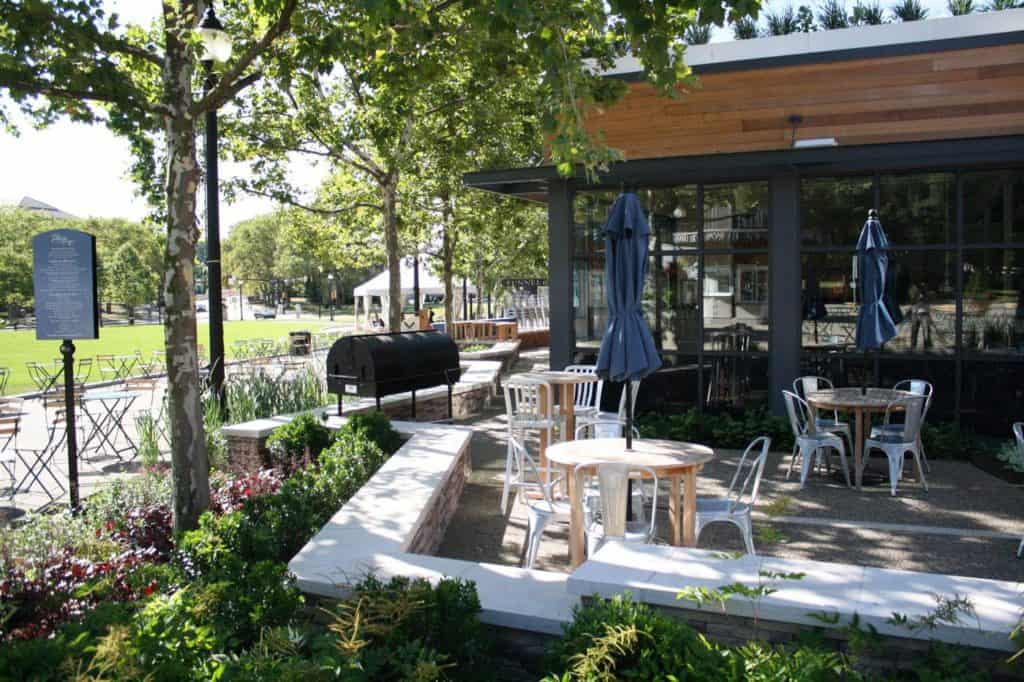 The perfect place to people watch in Schenley Plaza is The Porch, a mainstay restaurant on the square. This restaurant is one of many Porch restaurants across Pittsburgh, and you can enjoy their solid menu of popular American dishes. Weekend brunch is available with a special drink menu (aka Wigle Bloody Marys and carafes of Mimosas).
The Porch at Schenley (221 Schenley Drive)
Floor 2
From the second floor of the Fairmont Hotel, view the happenings in Downtown Pittsburgh. Floor 2 is an incredibly elegant and beautifully decorate bar and restaurant with floor-to-ceiling glass window walls. Chef Julio Peraza offers a modern American menu, influenced by his time cooking with his mother in her Italian restaurant in El Salvador. Menu offerings vary from a raw bar, to family-style dishes.
Floor 2 (510 Market St, Floor 2)
The Café at the Frick
Different than views of Downtown Pittsburgh, but equally as charming, are the views from the glass rotuna at the Cafe at the Frick. This quaint cafe offers a light, but flavorful lunch menu, as well as tea service, and dinner on Friday nights. While dining, take in the the grounds of the Frick mansion, Clayton. NOTE: The Café at the Frick is currently closed due to the pandemic.
The Café at the Frick (7227 Reynolds St)
Gateway Clipper Dining Cruises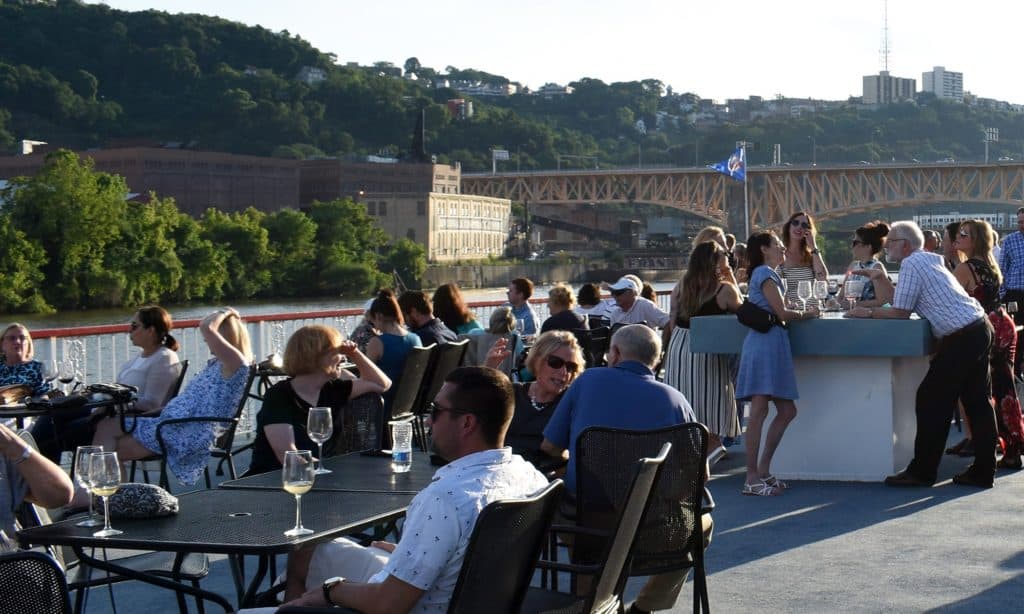 All aboard! One of the many options available from the Gateway Clipper fleet are their dining cruises. The boats offers dinners, holiday dining, brunch, luncheons, kid-themed dinners, and 21+ specialty dining cruises. No matter what you option you pick, every meal is paired with a truly unique view of Pittsburgh from the three rivers.
Gateway Clipper Dining Cruises (350 W Station Square Dr)
Did we forget your favorite Pittsburgh restaurant with a view? Don't fret! Please leave it in the comments below!