This holiday season, we could all use a little light.
We've rounded up all the best drive-thru Christmas lights near Pittsburgh, in western Pennsylvania and in West Virginia that we could find, offering a safe, socially-distanced seasonal experience.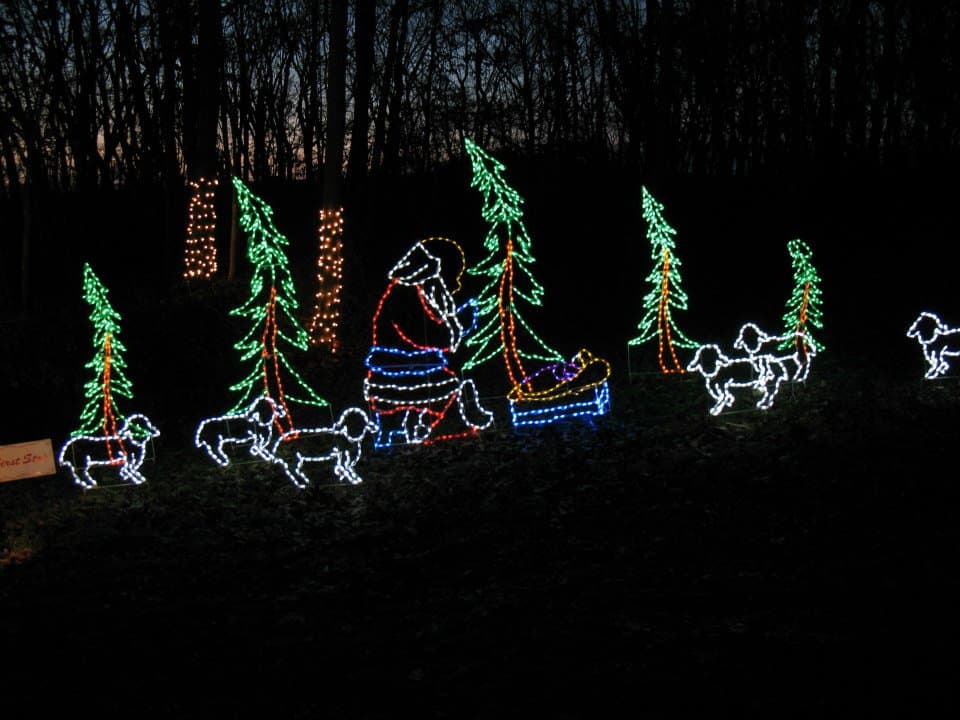 Drive Thru Christmas Lights Near Pittsburgh
Holiday Laser Show at North Park
December 9 through December 22, 2022
Celebrate the holidays with a one-of-a-kind drive-in laser show at North Park. The 45-minute light show is synchronized with holiday music, and can be enjoyed from the safety of your own vehicle. Ticket prices range from $20 to $25, depending on the date and time. Find more information, and purchase tickets in advance (required), online.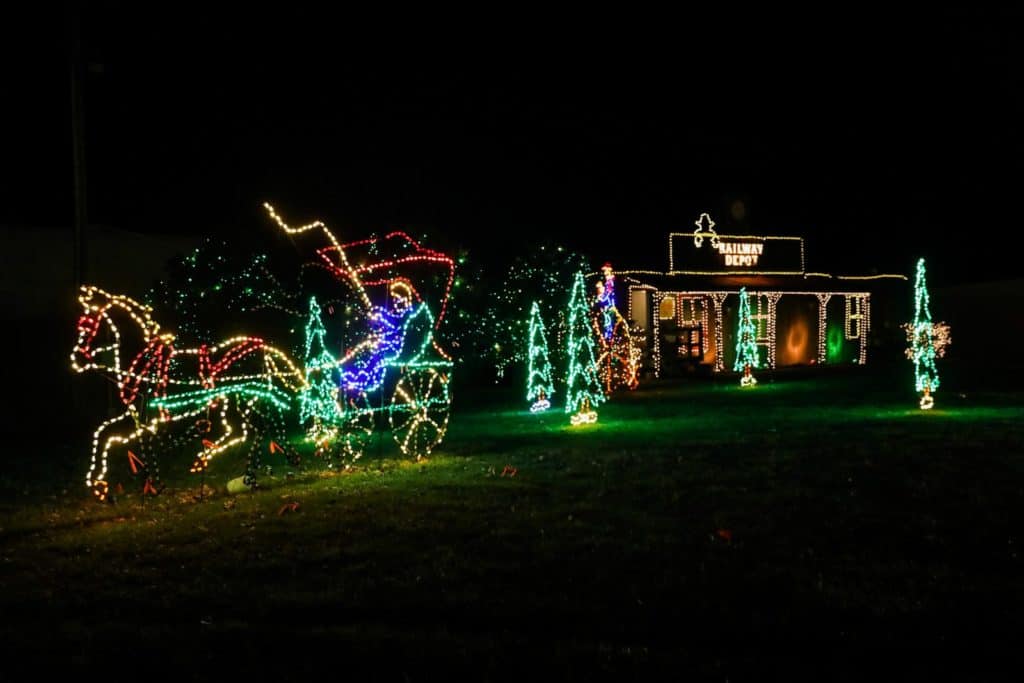 Overly's Country Christmas
Select dates through December 30, 2022
Head to the Westmoreland County Fairgrounds to visit Overly's Country Christmas, a drive-thru Christmas lights display that has been a tradition since 1956. New light displays are open this year, and guests can wave to Santa from their cars (and drop off a letter to him!), listen to Christmas carols, and see the Grinch sneaking around the grounds. Operating hours during the 2022 season are select Sundays through Thursdays from 5:30 – 10:00 p.m., and select Fridays and Saturdays from 5:30 – 11:00 p.m. Check for all available dates online. Tickets are $20 per vehicle, and they are cash-only. Check for weather-related updates on Facebook.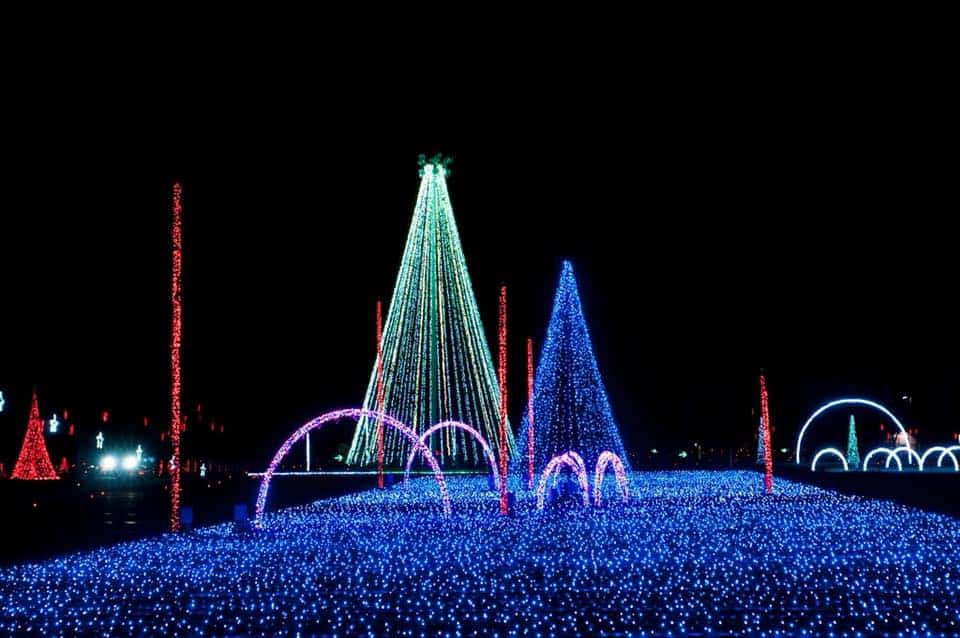 Shadrack's Christmas Wonderland
Nightly through January 1, 2023
Billed as the "most immersive drive-through Christmas experience on Earth," Shadrack's Christmas Wonderland is one of a few Shadrack's exhibits around the country. This year, the exhibit has moved from the Butler Fairgrounds to Cooper's Lake Event Venue, but still features drive-thru custom-built light displays, synchronized to music, including a 300-foot drive-through lighted tunnel and a 50-foot lighted tree. New this year, is a 'Favorite Tales' display theme, featuring custom-built, all-LED displays showcasing fairy tale scenes. Shadrack's Christmas Wonderland is open nightly from 6:00 to 10:00 p.m. (even in the rain) through January 1. Ticket prices vary depending on the day, but start at $30 per vehicle for off-nights. Find more information, and purchase tickets, online.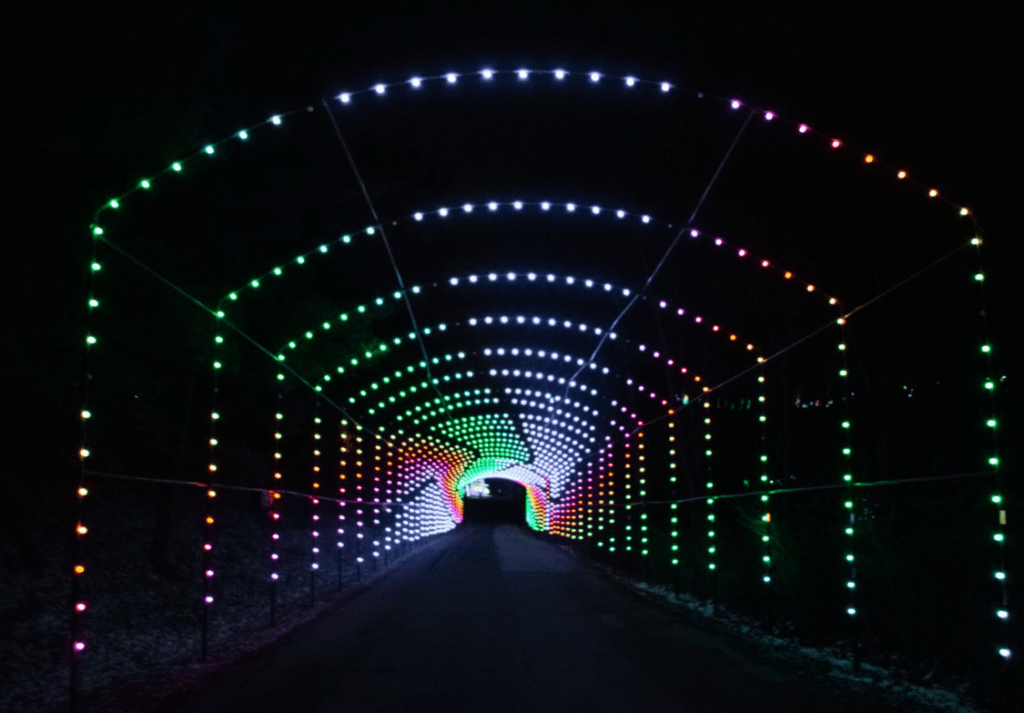 Oglebay's Festival of Lights
Through January 8, 2023
Just about an hour or so south of Pittsburgh you'll find Oglebay Resort, near Wheeling, West Virginia. Their annual Winter Festival of Lights display features 300 acres of lights over a six-mile drive, and includes more than 90 lighted attractions. Try their Sounds of the Season audio experience synced with 12 displays, a Grinch display, and an automated 5-minute Magical Mansion show. The experience also includes a life-sized Nativity display, and a walk-through Gardens of Light display, and, new for 2023, a lighted display of West Virginia's famous Suspension Bridge. The drive-thru experience is open nightly from dusk to midnight, including holidays, through January 8. A donation of $30 per vehicle is suggested. More information can be found online.
Zoo Lights Drive-Thru
Select nights through December 30, 2022
The Pittsburgh Zoo & PPG Aquarium Zoo Lights Drive-Thru offers themed light displays, classic "frosted" characters, and carols. Featuring thousands of environmentally-friendly LED lights, this is a vehicle-only experience. Tickets are $50 per vehicle (or $40 if you're a Zoo member), and are available for purchase in timed increments online.
Christmas Light-Up in Clinton
Nightly through January 1, 2023
For more than 25 years, the Christmas Light-Up Celebration in Clinton, Findlay Township, has offered a one-mile drive-thru experience of light displays in a wooded setting. Tickets are $10 per vehicle, and must be paid in cash. The display is open nightly from 5:00 to 10:00 p.m. Find directions (set your GPS to 600 Clinton Park Drive, Imperial, PA), and more information, online.
Holiday Lights on the Lake
Daily through January 8, 2023
Take the drive to Altoona to visit Holiday Lights on the Lake, a festive and family-friendly event that has been offering more than 50 acres of drive-thru light displays for more than 25 years. Tickets start at $15 for cars, and the exhibit is open nightly from 6:00 to 10:00 p.m. Holiday Lights on the Lake also includes a Santa Village with a gift shop, and socially-distanced Santa sightings. Find out more information online.
Dazzling Nights at Pittsburgh Botanic Garden
Through January 1, 2023
An all-new light-up attraction is hitting Pittsburgh this holiday season! Though it's not a drive-thru event, Dazzling Nights offers a 65-acre walk-through journey of sparkling lights (and awesome photo opportunities). There's a 30-foot tall towering holiday tree, interactive lights, a "forest of light and fog," and a massive light tunnel. Tickets are between $12 and $25 each, and can be purchased online.
Kennywood Holiday Lights
Select dates through January 1, 2023
While Kennywood doesn't have a drive-thru light show, they do have more than one million lights throughout the park – and the tallest Christmas tree in the state. Select rides and attractions will also be open. Kennywood is open for the holiday season on select nights through January 1, 2023. Fine more information, and purchase tickets here.
Know of any other drive-thru Christmas lights near Pittsburgh? Let us know in the comments!
Keep reading…