Grab your lederhosen (and a beer or two), because it's almost time for Oktoberfest!
Bars and breweries across Pittsburgh are celebrating this September, with lots of brews, big pretzels, and German music.
Here's where to find the best Oktoberfest celebrations in town.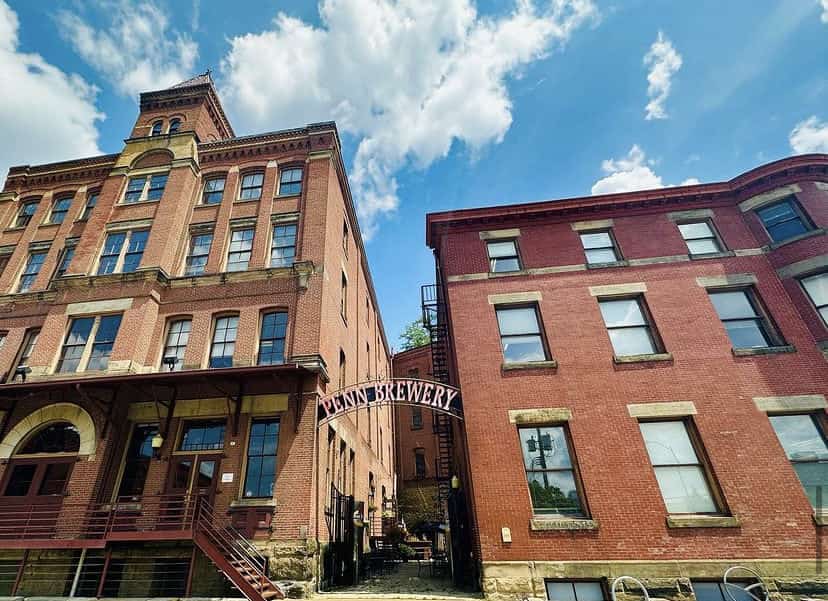 Penn Brewery
September 15 – 16 and September 22 – 23
Held over two weekends at the Troy Hill brewery, Penn Brewery's Oktoberfest celebrations is one of the city's best. You'll find tons of German-style beers (including Penn Oktoberfest, Penn Dark, Penn Pilsner, and Kaiser Pils), and a food tent with bratwurst, kielbasa, sausages and sauerkraut. There will also be plenty of entertainment, including traditional Bavarian music. While Penn doesn't charge a cover or require advanced ticket purchases, VIP Packages are available. Penn Brewery (800 Vinial Street)
Hofbrauhaus
September 15 – 16, September 22 – 23 and September 29 – 30
Hofbrauhaus Pittsburgh on the South Side preparing for their biggest event of the year. For three weekends during September, they'll feature live music, lots of family-friendly activities, plenty of Hofbrauhaus Oktoberfest drafts (they're officially tapping the Oktoberfest keg on September 15 at 7:00 p.m.), and a special food menu, including dishes like Oktoberfest-style pork cutlets with homemade German potato salad and fried cabbage. Hofbrahaus Pittsburgh (2705 S. Water Street)
Golden Age Beer
Friday, September 15 – Sunday, October 1
Oktoberfest at Golden Age kicks off on Friday, September 15. The brewery will be tapping two Oktoberfest beers, including a smoked Märzen (it's been lagering since March, getting ready for the event). Get there are 4:00 p.m. on the kickoff day to watch the brewmasters hammer in the faucets to the barrels, and enjoy the brews the traditional way. They'll also be featuring a new Oktoberfest food menu, live music and entertainment, and will have a commemorative glass Oktoberfest book stein available for purchase. Golden Age Beer Company (337 East 8th Avenue, Homestead)
Church Brew Works
Starting September 15
From September 15 until October, the Church Brew Works is celebrating their own Oktoberfest, with a new menu of traditional German food and their Oktoberfest brews. Menu items will include Pork Schnitzel, and Jagerschnitzel with green peppercorn spätzle. Church Brew Works (3525 Liberty Avenue)
Pennsylvania Bavarian Oktoberfest
September 15, September 16 and September 17
It's the 25th anniversary for the Pennsylvania Bavarian Oktoberfest in Canonsburg, with food, live music, beer, a craft and vendor market, and amusement rides. Pennsylvania Bavarian Oktoberfest
Trace Brewing
Saturday, September 16
Prost with Trace Brewing on Saturday, September 16. Their Oktoberfest celebrations will feature pretzels by Third Space Bakery starting at noon, live music from the Polkamaniacs from 1:00 to 3:00 p.m., flower crowns for sale, and a special Oktoberfest menu from Blue Sparrow from 4:00 to 9:00 p.m. Find more information online. Trace Brewing (4312 Main Street)
Vandergrift Oktoberfest
Saturday, September 16
Vandergrift, in Westmoreland County, is hosting their annual Oktoberfest celebration on Saturday, September 16. They'll have live music, a cornhole tournament, food trucks and more. Vandergrift Oktoberfest
Rocktoberfest
Saturday, September 16, 2:00 to 10:00 p.m.
Beers of the Burgh and ZeroFossil are teaming up to host a family-friendly music festival at the Town Square at South Side Works for an afternoon of craft beer, cocktails, food trucks, dancing, and more. The event is free to attend, and tickets for $10 can be purchased for a sampling pass for one 5-ounce pour from each brewery. Rocktoberfest
Eleventh Hour Brewing
Weekends, September 22 to October 7
Eleventh Hour Brewing in Lawrenceville is creating a German Village for their Oktoberfest celebration this year. Over three weekends, they'll be featuring German food from Blue Sparrow, pretzels from Driftwood Oven, a stein-holding competition, Oktoberfest trivia, and their Oktoberfest beer, Festbier. Eleventh Hour Brewing (3711 Charlotte Street)
Oktoberfest with Pittsburgh's Syria Shriners
Saturday, September 23
The Syria Shriners are hosting an Oktoberfest event on Saturday, September 23 in Cheswick with the band The Barons. Tickets are $35, and include an Oktoberfest buffet, a Stein-holding competition, Penn Brewery beers and more. Syria Shriners Oktoberfest
Necromancer Oktoberfest
September 29, September 30 and October 1
Tickets to Necromancer's first-ever Oktoberfest are $15, and include a limited-edition plastic stein (and your first beer fill), live music, and a dedicated bar. They'll also have pay-as-you-go food, featuring items from their soon-to-open Greenfield pub, The Midnight Whistler. Tickets are available online. Necromancer Brewing (2257 Babcock Blvd.)
Southern Tier Brewing Co.
September 29 and September 30
Southern Tier will be celebrating Oktoberfest by tapping their PGH Brew'd Oktoberfest brew, and hosting Oktoberfest games, including stein-holding. Southern Tier Brewing Co. (316 N. Shore Drive)