If there's ever been a time for comfort food, it's now.
While dine-in ice cream shops are closed for regular service for the time being, there are still ways to get your favorite frozen treat. These shops are open for takeout, curbside pickup, and (in some cases) delivery to your door, too.
Betsy's Ice Cream: Betsy's Ice Cream in Mt. Lebanon is open for business with abbreviated hours. They're also offering pints for delivery from Uber Eats, Grub Hub and DoorDash. (664 Washington Road)
FRIO Creamery: This Lawrenceville ice cream shop (which serves ice cream from Penn State's Berkey Creamery) is currently only accepting delivery and pickup orders via UberEats, GrubHub and DoorDash. They're open Wednesdays from 4:00 to 10:00 p.m., Fridays from 4:00 to 11:00 p.m. and Sundays from 4:00 to 10:00 p.m.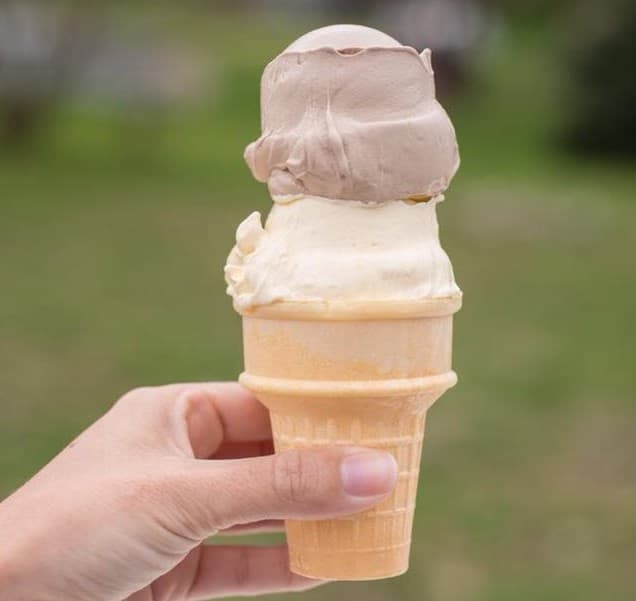 Glen's Custard: Both the Lower Burrell and Springdale locations of Glen's Custard are open for business, serving pints and scoops of their super-creamy custard to go. They're also still delivering pints of custard to area grocery stores – check their locations list for updates.
Handel's Ice Cream: The West Mifflin location for the small chain ice cream scoop shop is officially back open from noon to 9:00 p.m. They're only taking call-ahead orders, and are currently offering 24 flavors available in dishes or pints, along with vanilla ice cream sandwiches. Call ahead at 412-653-1983 to place an order. (2240 Lebanon Church Road)
Janie's Homemade Hard Ice Cream: This Coraopolis scoop shop is currently open with limited hours – check their Facebook page for updates. They serve homemade ice cream in a variety of flavors, and Bubble Teas. (1020 5th Avenue, Coraopolis)
La Scola's Italian Ice and Custard: La Scola's in Highland Park is open with window service only for their Italian ices and custards, along with La Prima Espresso coffee. Temporary hours are currently Wednesday, Thursday and Friday from 8:00 a.m. to 7:00 p.m., and Saturday and Sunday from 10:00 a.m. to 7:00 p.m. (1218 Euclid Avenue)
Leona's Ice Cream: Leona's Ice Cream sandwiches and pints are still available in many select retail locations, markets, and breweries in and around Pittsburgh. Use their tracking tool for updates.
Klavon's Ice Cream: You can get Klavon's homemade ice cream for pickup or delivery through GrubHub or Uber Eats. You can also order their 'Ice Cream Survival Packs,' which three gallons of ice cream, cones and toppings for $47. Order online.
Kip's Ice Cream: Moon Township's Kip's Ice Cream is open daily from 12:00 to 9:00 p.m. with call-ahead ordering for pickup. They're cash-only, and orders for floats, sundaes, smoothies, banana splits, scoops and more can be made by calling 412-269-7475. (1136 Thorn Run Road, Coraopolis)
NatuRoll Creamery: All three locations (in Lawrenceville, Cranberry Township and Robinson) are now open seven days a week. Customers are invited to order online ahead for curbside pickup, or for delivery through Uber Eats and GrubHub.
Page Dairy Mart: It was big news when Page Dairy Mart announced earlier this month that they were reopening with curbside pickup and DoorDash delivery. Place your order on their website, then pull into a designated Curbside Pickup parking spot in their lot, and a staff member will bring it out to your door. They're offering their full menu, including their famous Nancy B's Chocolate Chip Cookie Sundaes! (4112 East Carson Street)
The Peach Tree Creamery and Bakery: The Peach Tree Creamery and Bakery in Mars has a new ice cream program that just launched, serving scoops, shakes and pints, with flavors like Cotton Candy, Almond Torte, Birthday Cake, S'Mars, Fresh Strawberry and Cookie Dough. (118 Grand Avenue, Mars)
Sarris Candies: The Cansonsburg chocolate and ice cream shop is open for curbside pickup of their frozen treats. Order milkshakes, sundaes, scoops of ice cream (don't forget the chocolate hard cap!), banana splits, and half gallons online, choose a pick up time, and check in when you arrive. Your ice cream creation will be brought right out to your car! (511 Adams Avenue, Canonsburg)
Scoops: Scoops locations in Mt. Lebanon and Bellevue are currently open for takeout orders, and GrubHub delivery. They're also currently taking specialty cake orders.
Sugar Spell Scoops: Pittsburgh's all-vegan ice cream parlor is currently taking pre-orders for pickup for select products, at select times during the week. If you want to place an order (and they fill up quickly!), follow their Instagram page for the latest updates. (1014 N. Canal Street)
Sugar & Spice Ice Cream: Not only is Sugar & Spice Ice Cream open for takeout orders of milkshakes, sundaes, scoops, and pints, but they're also also offering Ice Cream Sundae Kits to go. Each kit is $20, and includes four scoops of their homemade vanilla ice cream, chocolate syrup, confetti sprinkles, and other assorted toppings. To place an order, call 412+882-7326, and they'll bring your order out to your car. (5200 Clairton Blvd.)
Know of any other ice cream shops open for business? Share with us in our comments!
Read even more ice cream stories here: