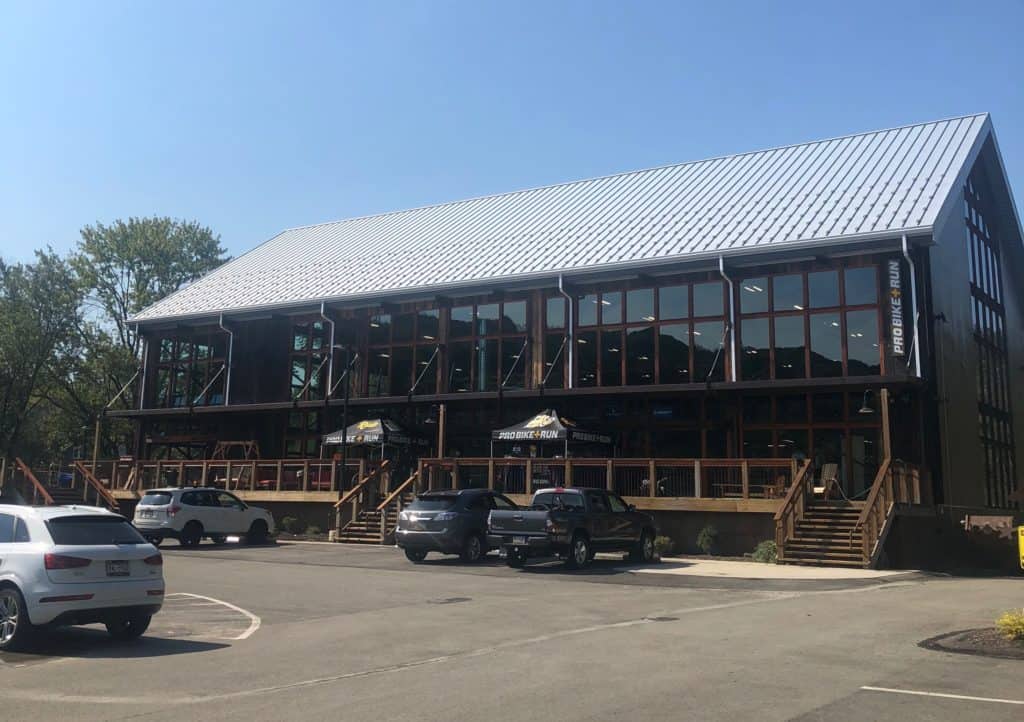 Whether it's your morning cup of coffee, or your post-workout beer, this new cafe has you covered.
Pro Bike+Run has been aiding Pittsburgh's cyclist and running community during their workouts for years. When their new Cadence Clubhouse opens this winter, they'll start fueling athletes before and after their workouts as well.
The local athletic chain has five locations in the Pittsburgh area. They opened their new North Park shop in early 2019. The stores are known for their top-of-the-line selection of gear, accessories, and apparel for cyclists and runners at any level.
"We can get as crazy as people want," owner Craig Cozza says of the store's selection. "We can do a Tour de France level fit."
While the North Park shop – located inside of a newly built, 7,000 sq ft barn – can, of course, outfit any cyclist or runner, it was always the plan for the store to be something more.
"There are so many athletic clubs in Pittsburgh, and we want to be the clubhouse," says Cozza.
And a clubhouse they will be. Located on Kumar Road in the heart of North Park's infamous 5 mile loop, Pro Bike + Run plans to open the Cadence Clubhouse on the ground floor of the barn before the end of 2019.
The clubhouse will be an all-encompassing bar, market, cafe, and event space. Park visitors can pop in to grab a smoothie or coffee before a workout, or stop by after for a post-workout beer and bite. And, with the market component, they will also be able to pick up fresh produce and kitchen staples to take home.
The clubhouse hopes to be a place where patrons and their friends can meet to reminisce about past adventures, and plan new ones.
"How many people meet at the park, run, and then have to say, 'See you next week,'" says Cozza.
The full-service coffee program will be handled by Mechanic Coffee, located in Verona, PA. The juices and smoothies will be managed by the Salud Juicery team. The bar will serve local beers, as well as cocktails made with fresh juices from the juice bar. For food, there will be grab-and-go options, and light bites like sandwiches and wraps. Guests can sit inside, or outside on the deck.
"Local, no junk, no preservatives," says Cozza of the menu.
The bar will have exactly one TV, but only to watch special events.
"For watching the Boston Marathon, or Tour De France… and maybe the Steelers game," Cozza concedes with a laugh.
For the market, Pro Bike + Run is working with Penn's Corner Farm Alliance to supply a fresh, grab-and-go market with offerings like local produce, eggs, and milk. It will also be a pickup spot for their CSA and online farm stand shop.
Another hallmark of the clubhouse are the event spaces. Next to the bar there is a studio that will be used for various events, including both private rentals, and public fitness classes (think yoga and beer). There is also a 3,500 sq ft event space under the building with an additional bar, covered seating, and space for food trucks to pull up.
"Cadence Club will serve everyone, offering a great place to hang out before, after and anytime we just want to escape," Pro Bike + Run writes online.
To aid their community building, Pro Bike + Run is running a campaign with Honeycomb Credit, a local crowd-financing company, to fund the Cadence Clubhouse.
"We are raising community money for the clubhouse because this is 'our clubhouse' and that's the way a real clubhouse is built, all our friends investing time, energy and money," Pro Bike + Run continues on their Honeycomb page.
North Park is a 3,075 acre public park located Hampton, McCandless and Pine townships. The park has a 65-acre lake for fishing and kayaking, as well as miles of trails for biking, hiking, and running.
Update on the Cadence Clubhouse can be followed online.
PRO BIKE+RUN (9999 Kummer Rd)