Before Amazon and Target, Pittsburghers shopped in style, not a hurry.
Shopping meant making a special trip (or tram ride!) Downtown to peruse the plethora of department stores spread across the Golden Triangle. To this day, names like Joseph Horne Company, Gimbel Brothers, Rosenbaum's, Boggs & Buhl, and Kaufmann's conjure up memories of the golden days of department stores… especially in regards to holiday shopping.
For decades, the window displays alone were worth a trip Downtown during the holidays. The department stores all competed to attract the largest crowd when it was time to "flip the switch" on Light Up Night. No expense was spared on marketing and decorations – the stores were wrapped like presents, and Downtown buzzed with holiday cheer from November through the new year. A few of these traditions – like the electric tree on the corner of the former Joseph Horne Co building – we continue to enjoy today.
To honor this longtime Pittsburgh holiday tradition, we gathered a few of our favorite memories from the comments on the online Department Store Museum below. But we'd love your holiday memories! To share, please leave it in the comments below!
Happy Holidays!
Holiday Traditions at a Few of Pittsburgh's Beloved Department Stores:
Gimbel Brothers (Gimbels)
It all started in 1925 when Gimbel Brothers acquired the former 'Kaufmann & Baer Co.' department store (not to be confused with the other 'Kaufmann's' store, owned by their cousins) on Sixth and Smithfield in Downtown Pittsburgh. The Philadelphia-based company already had department stores in Milwaukee, Philadelphia, and New York City. Their next conquest? Pittsburgh.
Working to establish themselves in Pittsburgh during the Great Depression, Gimbels garnered a reputation as an affordable place to shop. They also garnered a reputation for their delectable bakery and candy counter, especially the "Annaclair" chocolates.
Gimbels worked Myron Cope in 1978 to create and sell the first Terrible Towel (which, of course, sold out immediately).
The store closed in 1986. Here are a few Gimbels memories from The Department Store Museum…
Memories at Gimbels:
The candy counter
"… The best candy ever. My Mom worked at the competition, Donahoe's, but she always said Gimbels candies were the best." – ap, 14 September, 2011
"Gimbals also had the best bakery in the city – bran muffins, bear's claws couldn't be beat. I wonder if the recipes exist anywhere." – Anonymous, 14 March, 2012
"Gimbel's chocolate covered strawberries were the best EVER. Many have tried to duplicate them but none compare. Does anyone remember the name of the luscious candy they were noted for which was composed of nuts, caramel, and several other ingredients. It had a name all its own." – Anonymous, 06 April, 2018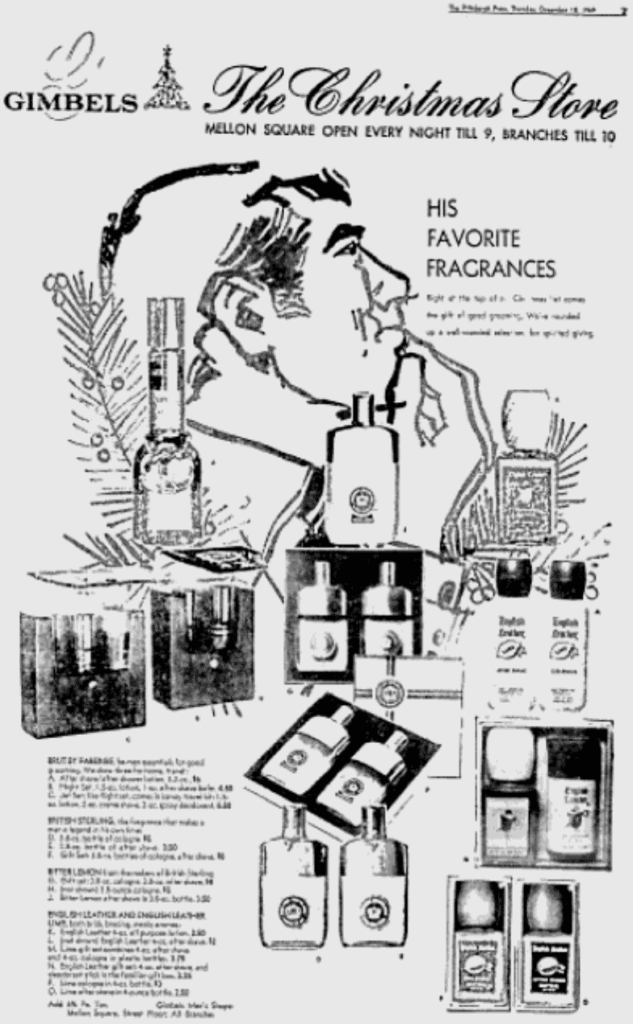 Trina, the talking Christmas tree
"Does anyone remember the talking tree in Gimbels toy dept. at Christmas?" – Anonymous, 26 December, 2011
"Yes, it was "Trina, the talking Christmas tree". It was located on the 11th floor. A young lady was secured on the inside and could see children when they approached. The tree lights would blink when the young lady in the tree would respond to children's questions. It was great." – Joe Haley, 15 May, 2016
"I was Trina the talking Christmas tree downtown in 1976 and 77!!!! It was the most magical job ever! I also worked in the Clinique department and the little shop off the side street garage." – Kim, 10 December, 2019
"Yes! I remember the Talking Tree!! My mother took me there every year when I was young..North Hills Village location." – Anonymous, 29 February, 2012
"Yes I vividly remember the "Talking Christmas Tree" at South Hills Village, and I was PETRIFIED OF IT!!!!, LOL. I must have been about 4 years old, my mother would drag me along with her while she was Christmas shopping. I swear I would try ducking behind or below clothes racks to avoid the dreaded tree from seeing me and attempting to lure me closer with a "Hey little boy with the blue shirt on, what do you want for Christmas? Lord Almighty, it scared the you know what out of me!!!! I thought it was very creepy, LOL!!!" – Anonymous, 14 December, 2013
Decorations
"The toyland monorail was the greatest thing on the world! My grandma took us shopping there every Christmas season as children. Thanks for the memories!" – Brenda, 02 January, 2016
"I worked at Gimbels in the Book Department for a few years (1964-66), right out of high school. We were on the same floor with Saks and Gifts, the sixth. The display windows at Christmastime were a wonderland with ornate animated displays…" – Anonymous, 23 November, 2013
More information and memories of Gimbel Brothers can be found on The Department Store Museum.
Kaufmann's
Ah. The Big Store.
Pittsburgh's longest-standing Downtown department store is well-known for their iconic location on Fifth Avenue, but Kaufmann's actually opened on the South Side in 1871. The flagship "Big Store" opened in 1887. It expanded over the years and during it's its heyday covered 13 floors and 1.2 million square feet of space (including an office designed by Frank Lloyd Wright on the top floor).
Kaufmann's (at this point renamed Macy's) closed in 2015, but it is still fondly remembered for its restaurants, thumbprint cookies, holiday window displays, and gilded clock.
Here are a few Kaufmann's memories from The Department Store Museum…
Memories at Kaufmann's:
"I worked in the downtown Pittsburgh store until the name changed to Macy's. My wife had worked there as well and that's how we met. We got engaged outside of the Christmas windows in 2004. My handwritten proposal was worked into one of the Christmas windows thanks to our friends in the visual department. We have the moment she saw it on tape thanks to our friends in the security department. It's a shame the building is shuttered now." – Ed Scott, 27 December, 2015
"…Such Marketing as the Month of Roses, the month of June. The La Grand Tour Shops and Christmas Trim the Tree Shop sale that causes a stamped one year in the mid 1960's when two thousand people came to the after Christmas half-off sale on the 9th floor. What a wonderful,beautiful store…" – Anonymous, 17 July, 2012
The toy department
"Kaufmann's also had a wonderful toy department, especially at Christmas, also many trains and displays and exclusive European toys." – Anonymous, 12 February, 2013
"Don't forget the toy departmanet on the ninth floor, this area expanded for Christmas and included a train display. Also at Christmas time there was the children's very own gift shop, and on the eleventh floor, there was an activity area for children visiting Santa, that included rides as well as activity tables" – Anonymous, 24 January, 2016
Seeing Santa
"I just posted a picture on my FB page of me, sitting on Santa's lap and I believe it was at Kaufmann's in the early 1960s! We followed the red and green lights in the ceiling to find him. What a wonderful memory." – Anonymous, 02 December
"Yes, Kaufmann's was The Place to see Santa Clause and get a photo taken! Only after being awestruck by the miracle of moving toys and people in the grand window displays, ceremoniously unveiled on a certain day!" – Unknown, 05 November, 2013
"My father would take us kids downtown every December for a day of Christmas shopping… my favorite part was the Santa Shop where you could shop without your parents. We'd hit all the big department stores, but I loved the Santa Shop at Kaufmanns the most…" – Anonymous, 23 April, 2013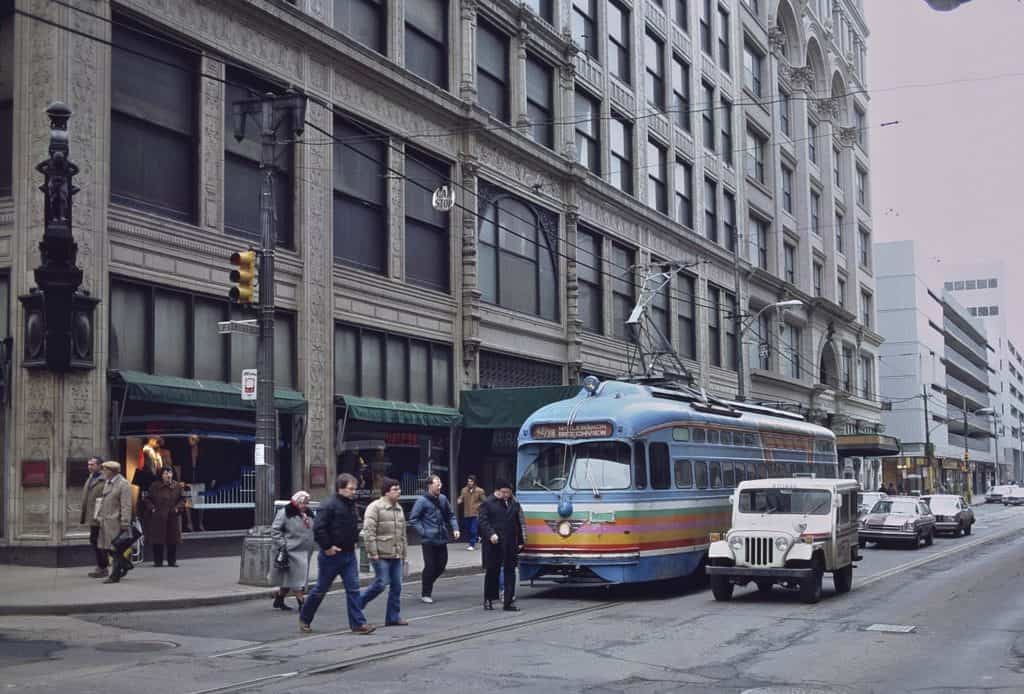 Window displays
"…I also remember when Kaufmann's Christmas boxes had red tops with Christmas trees on them. And the Christmas windows! So much time and effort went into making those windows delight little kids!…" – Anonymous, 02 November, 2016
"…I will truly miss the windows at Christmas time, (some years their holiday theme was a little bizarre, but the "Yes, Elizabeth, there is a Santa Clause" was my favorite) and how shiny the first floor was decorated for the holidays… Santa Claus was on the 7th Floor, in the toy department. The line was forever! I remember Elizabeth Taylor on the 1st floor when she was promoting her Diamonds perfume. They had the Steelers/Penguins/Pirates championship trophies on display in the auditorium, also on the 11th floor. You could get autographs of Hall of Famers when they were at the presentations. Loretta Swit and Cyril Wecht (and many more) would be at B. Dalton books signing copies on the 9th floor." – Anonymous, 01 August, 2015
Decorations
"… It was a magical thing and a real adventure to be in downtown for a young boy. A world unto itself. . We almost always got lunch at one of the many nice restaurants that were in these stores, ( Kaufmann's, Gimbels, Joseph Horne. ) I did not know that these were the stores we went to but my Mom wrapped our Christmas decorations in paper and boxes from these stores and now that she has passed it was the only way I would have known…" – Anonymous, 01 May, 2015
More information and memories of Kaufmann's can be found on The Department Store Museum.
Joseph Horne Company (Horne's)
In 1849 at age 23, Joseph Horne, a Bedford County native, bought the F.H. Eaton store in Pittsburgh and renamed it The Joseph Horne Company. Thus, one of the first department store chains in the country was born.
Horne's was Pittsburgh's very first department store and quickly established itself as the city's top shopping destination. For decades it was known for it's high-end goods, elegant interior, and exemplary customer service. When it closed in 1994, it had been in business for over 145 years. Horne plaques and sidewalk logos can still be seen on the exterior of the building, located at Penn Avenue and Stanwix Street Downtown… not to mention the beloved six-story electric Christmas tree that is still lit-up annually as part of Light Up Night.
Pittsburgh's very own Andy Warhol worked Horne's in 1940s, designing window displays before moving to New York City and fulfilling a similar position at Bonwit Teller department store.
Here are a few Horne's memories from The Department Store Museum…
Memories at Horne's:
Holiday decorations
"Does anyone remember as a child at Christmas time, Horne's used to decorate they're elevators to look like space ships. The outsides had rockets on either side of the doors and the inside of the car walls were lined with buttons, switches, and lights that you could play with as if you were in a rocket ship. the elevator operators were dressed as space men and they would do a count down before the elevator went up. They actually played rocket sounds over the inside speakers for effect. It was great." – Anonymous, 16 December, 2014
"Yes I well remember that. I was part of it. The day after Thanksgiving welcomed the Christmas Season to Pittsburgh. Horne's used the Good Ship Lollipop to bring Santa to the store. It started at 5:30 AM. The boat would be decorated with trees etc., a band would be on board and of course Santa (Ed Shauganessy from KDKA)..The boat would sail up the Allegheny, turn around and come back to the wharf. Another band would be waiting and Santa was welcomed to Horne's. After a parade, the participants would be escorted to the "Rocket Ship" elevator on the Stanwix St bank of elevators (not normally used for customers). The rocket "took off" to the 7th floor where there was Santa's village–complete with animated figures–and of course Santa (not Ed Shauganessy). It was a magical time in a beautiful store. Thank you for remembering,reminding others and appreciating our efforts. It is all sadly gone. Merry Christmas! Dick" – Anonymous, 19 December, 2014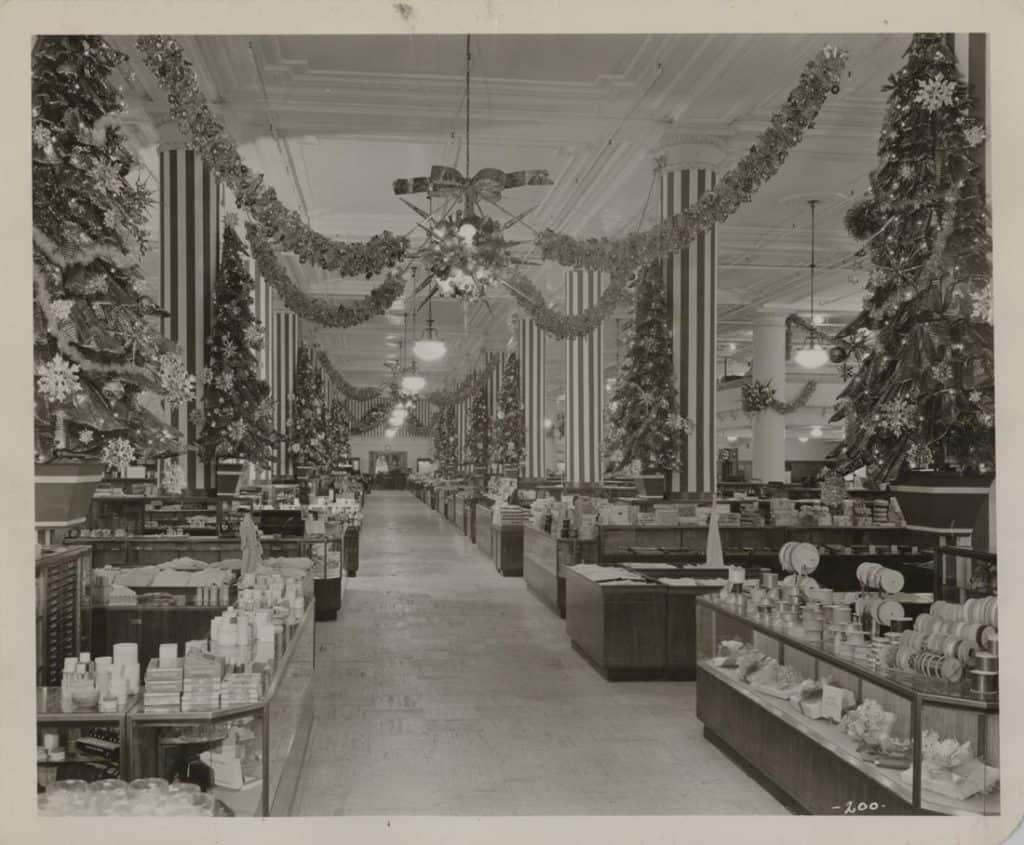 "…My son stood in the freezing cold in a r-e-a-l-l-y l-o-n-g line to talk with Art Pallan the disc jockey who was holding court in Horne's Christmas window to benefit Children's Hospital. He felt the need to make a donation (in truth, I think he just wanted that Penguins' hockey puck that Art was distributing to donors)…" – Anonymous, 09 March, 2015
"I worked at the Joseph Horne Co flagship store in the mid 60's in the Visual Merchandising dept and was part of that magical time when, especially at Christmas, the main floor was transformed into a Christmas fantasy…" – Anonymous, 16 February, 2011
"I am so glad son sent me the link for this site. I used to love to go downtown on the bus with my mother and later "my car" taking mom and my kids to see the Christmas window displays. Many many happy memories." – Anonymous, 05 August, 2013
"Anyone remember the year (late 60's/early 70's) when Horne's used Scrooge as their Christmas advertising on the cover of their catalog and the real gift boxes (not pop up). All in full color… " – Anonymous, 11 November, 2011
Shopping
"Does anyone remember the Santa Belles? I remember going Christmas shopping with my dad and sister. We always went to Horne's. Dad would take us up to the mezzanine where he would hire a Santa Belle. These were college women working over the Christmas season. My dad would tell them what he wanted to buy and the Santa Belle would take us to all the departments and help us select presents for my mother. We would eat lunch in the restaurant on the ground floor. When we were done shopping, the Santa Belle would take all of the packages back to her desk. She would arrange to have everything gift wrapped and shipped to my dad's office in the city. I don't know how much this service cost but it was great. The Santa Belle was allowed to get merchandise out of display cases so we didn't have to wait for a department sales clerk to help us. This was a classy store. The Santa Belles would have been during the 1950's. By the time they were phased out, my sister and I were old enough to help dad shop without a Santa Belle." – Anonymous, 17 December, 2016
"In the mid '60s, Horne's apparently reworked the Santa Belle idea and came up the "Stag Shop". Only men were allowed into the snug back room decorated in the style of an exclusive mens' only club with subdued colors, leather covered club chairs and heavy wood tables. The shop was filled with very nice items from sparkly jewelry to fur coats. The men were offered a glass of sherry along with a tray of Christmas cookies from the first floor bake shop. I was one of the college age girls who staffed the room. We ran around the store gathering a selection of items that the gentleman shopper suggested his wife might like. Sometimes, we were asked to model the item, be it a jacket, a dress or a negligee! The shop provided us girls a few weeks of work during Christmas break. It was wonderful to become familiar with all the departments in the store and get to know the other staff. I always felt fortunate to have been a part of the Stag Shop for two seasons." – Jeanine, 30 April, 2017
"We used to go every year on the day after thanksgiving to buy our own, new special tree ornament and then have yes. Remember the annual fall and spring clothing buying. Most precious memory–being chosen to be one of the college board members in the mid-60s…" – sharon, 26 January, 2014
Candy
"I bit into a Betsy Ann peanut butter meltaway this evening that my mother gave me in an assortment of holiday sweets and my first thought was that it has to be the same candy that was sold at Horne's when I was a kid in the 80s. My mom used to love to buy a piece of their candy when we went to the mall stores and she would always get me a peanut butter melt away bar. The taste and texture are unmistakable. I also read elsewhere that Betsy Ann sold their candy in Horne's stores so I believe it was packaged under Horne's name probably until Lazarus took over, but I never made the connection that Betsy Ann made was the same candy. It's an ultimate throwback for me!" – Tim Ruffner, 23 January, 2019
"…From Cartier watches and Yves St. Laurent Rive Gauche in the Fourth Floor's Galleries of Fashion to Jaeger British Sportswear and, of course, Hornes' own handipped chocolates, it was first class all the way…" – Steven M. Plavny, 11 February, 2011
"Yes, I was the Candy Buyer at Hornes in the early 1970's. The Chocolates were made by Betsy Anne Chocolate…i believe they bare still in business, although I do not know if they use the same recipes." – Anonymous, 18 May, 2020
Santa
"As a young child I used to hide in the circular clothes racks. Mom didn't panic back then in the 50's and 60's, She just said my name and out I came. Also the delectible restaurant in the downtown Pittsburgh store. What a treat! Santa and the little childrens area where they set up a place for the kids to buy their parents a gift. I still have the pin I chose for mom. What a fine store! And those chocolate mints! Yum. Wasn't the balcony called the mezzanine?" – Debbie in FL now, Pitts before, 24 November, 2011
"I worked for Horne's in the 80's, in the accounting department, then went to work for Dave Kaplan in the Horne's Commercial Interiors Division, down on Seventh Avenue. Oh, the joy of receiving your first employee discount card! I have two Christmas copies of the "Horne Pipe" the company newsletter. For Christmas, the back of the newsletter was printed with a lovely Christmas-themed picture, suitable for display. I also have two "service award" pins, one goldtone, one silvertone, with the double horn logo; two original Snowy Joey bears (1987), a Snowy Joey mug, Snowy Joey puzzles, Snowy Joey underwear, a box of Snowy Joey shopping bags; and a throw (blanket) with an image of the Horne's Christmas tree on it…" – Anonymous, 07 April, 2013
Tea room
"I remember as a child having breakfast in the Tea Room with Mr. Rogers and shopping in Santa's Secret Gift Shop for presents for my parents – with money they gave me to spend! We would drive downtown and look at the Christmas decorations in the windows after every Thanksgiving meal…" – Anonymous, 23 April, 2013
"… I am in the south hills area of Pittsburgh and treasure my Hornes memories; particularly the tea room. I never minded waiting in line with my mom for a table, because the book section was near the entrance and I'd go there and browse till my mom reached the entrance of the tea room. I always hoped we'd get a space around the edges with the nifty pull out tables!" – Diane, 06 February, 2012
"I grew up in Pittsburgh and have many fond memories of Saturday trips to Pittsburgh in the 1950's when mother and I wore our white gloves and went to the tea room. Horne's was my favorite store – it was a magical place to a small child, especially at Christmas with the decorated windows and Secret Santa Shop…" – Anonymous, 27 June, 2016
More information and memories of Horne's can be found on The Department Store Museum.
More pictures from Pittsburgh holidays of yore…
What are some of your Pittsburgh holiday memories? We would love to hear – please leave them in the comments below!