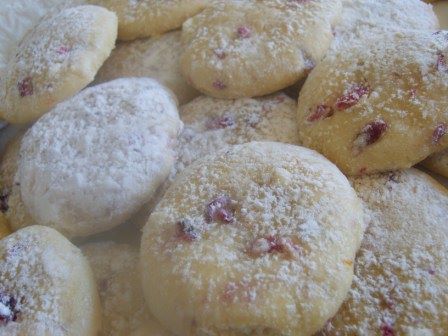 They're a Pittsburgh holiday tradition. But despite their popularity, the history behind this tasty cookie with a funny name remains a mystery. 
"It's interesting because almost no one seems to know the story," says Marc Serrao, owner of Oakmont Bakery. "But year after year, people wait for them like the paczki."
We're talking, of course, about the Farkleberry Cookie, an orange and cranberry flavored cookie, loaded with white chocolate chips and dusted with powdered sugar. The cookie is sold annually at Oakmont Bakery between Thanksgiving and New Year's Day. 
One might guess that it's the cookies memorable name that's captured the city's attention and keeps them coming back every year. But that wouldn't be the full story.
"A lot of people will come in and say, 'There is some type of a berry cookie…'" says Serrao.
This famous cookie got its start in radio. And if you lived in Pittsburgh during the 70s and 80s, this story should sound familiar.
Once upon a time, in 1970s Pittsburgh, KDKA Radio was hosting their annual holiday fundraiser for the Children's Hospital. According to the Pittsburgh Post-Gazette, Jack Bogut, host of the broadcast, would pick a different comical shtick every year to entice listeners into donating.
Broadcasting from a local department store window, jokes ranged from warning children about the Shel Silverstein monster Slitheree Dee, to ranting about his hatred of rutabagas. The topics were often devised on the spot, but every year, just in the nick of time, Bogut would develop an inside joke with listeners to inspire them to donate.
One year, it was the Farkleberry.
The Post-Gazette details that a listener told Bogut about the Farkleberry: a bitter berry (not native to Pittsburgh) with a funny name.
Bogut recounts on his blog that one day, with the Farkleberry on the top of his head, he spontaneously said, "Start your heart, eat a Farkleberry Tart, and tear the world apart," on air.
It was a quick hit, and became the slogan for the Children's Hospital broadcast for years to come.
According to Jack Bogut's blog, over the years, Bogut worked with Jim Delligatti, owner of western Pennsylvania McDonald's and inventor of the Big Mac, to create Farkleberry Tarts (and eventually Farkleberry Snickerdoodles, Coffee Cake, Ding Dongs, Farkleberry Brew) to sell and raise money for Children's Hospital Free Care Fund.
The name persisted in various iterations over the years. Oakmont started selling their version of the cookie over a decade ago.
"We've always had a great relationship with KDKA radio," says Serrao.
Though tasty, their version of the cookie is missing a conspicuous ingredient.
"We don't use real farkleberries because… well, you wouldn't necessarily want to eat a Farkleberry," laughs Serro.
Oakmont's Farkleberry cookies continue their legacy, and a portion of sales are donated to the Children's Hospital Free Care Fund Fund. Farkleberry cookies can also be purchased during Oakmont Bakery Carnival in July.
Oakmont Bakery (1 Sweet St)