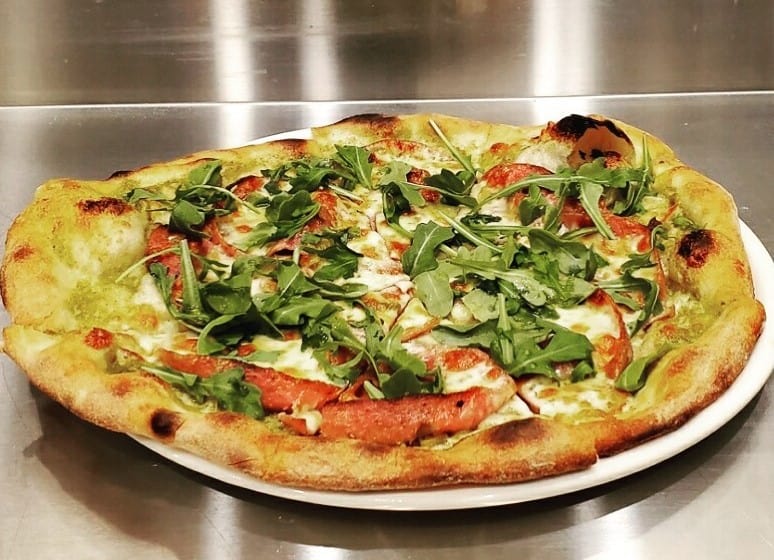 There's a new takeout pizza option in Carnegie – and it's from a beloved neighborhood restaurant.
L&G Pizzeria quietly opened last month offering to-go pizzas from the team behind LeoGreta.
Owner Greg Alauzen says that the pizzeria space was originally set to be part of the LeoGreta wine bar. The pandemic delayed the opening of the space, so Alauzen decided to use the space in a different way, for the time being.
The pizza at L&G Pizzeria is made in the bar's Swiss-made pizza oven, which features an electric stone deck that reaches 930° F, creating a thinner crust with a bit of crispiness. Alauzen is also working on a thick-crust pizza, and spending time perfecting the dough.
The menu features five different pizza options each night on the permanent menu, and sometimes additional specials.
Many of the toppings are inspired by some of the dishes from LeoGreta's menu.
"We make our mortadella in-house and when we were open for lunch (pre-COVID), we had a mortadella sandwich on our menu," Alauzen says. "So, I thought, 'Why don't I just make a pizza that's similar to what we offered?' It has our mortadella, mozzarella, and olive oil, and instead of our regular red sauce, we did a tapenade sauce with green olives and capers."
Other options include the Prosciutto Pizza, with prosciutto and Italian yellow cherry tomatoes, the Sausage Pizza, with house-made hot sausage, rapini, pecornio and mozzarella, and their Pepperoni Pizza, with Italian plum tomato sauce, a cheese blend and pepperoni.
"We're using good quality ingredients, good flour, fresh mozzarella, really good Italian tomatoes," he says. "We just want to keep it really simple, but also we wanted to make it something that you can't just get anywhere else."
Prices range from $16 – $20.
L&G Pizzeria is open for takeout Wednesdays through Sundays from 3:00 p.m. to 8:00 p.m. To order, call 412-489-6382.
And the wine bar is still slated to open, eventually.
"It's a really beautiful space, and we want to open it when we can do it the right way, and sit at the bar," Alauzen says. "We'll definitely keep pizza on the menu, but will also have other small plates, like flat breads and roasted chicken wings."
In the meantime, follow L&G Pizzeria on Instagram for more updates.
L&G Pizzeria (301 W. Main Street, Carnegie)