Moonlit Burgers first pop-up was a success from the start.
Last Friday, Mike McCoy set up shop outside of Millie's Homemade Ice Cream in Shadyside, serving Los Angeles-style smash burgers and hand-fried chips, and hoped that he'd be able to sell out his 100 orders at some point before the end of the night.
It only took two-and-a-half hours before everything was gone.
For the uninitiated, smash burgers are double-patty burgers, made with meat that starts out in meatball form. The meatballs are put on a griddle, and smashed down with a special square spatula, and then seasoned with salt and pepper, and topped with sliced Vidalia onion.
"We let that get a nice seared crust on the bottom side, flip in, and let the other side do the same," McCoy says. "So, now the onions are cooking on the burger until they're ready to come off the grill."
McCoy adds homemade pickles and American cheese, puts both patties in a Martin's Potato Roll, and tops it with their homemade 'Moon Sauce,' made with gojuchang, Duke's mayonnaise, pickles, Dijon mustard, Sriracha, white vinegar and sesame.
The sauce is what makes the burgers truly special, McCoy says. "It's sort of our version of a combination of the sauces at In-N-Out Burger, and the burger sauce [used] at Emily in Brooklyn."
McCoy rounds out the menu with housemade chips (available in Habanero BBQ) and a selection of drinks, like Topo Chico, Mexican Coke, and San Pellegrino sparkling waters.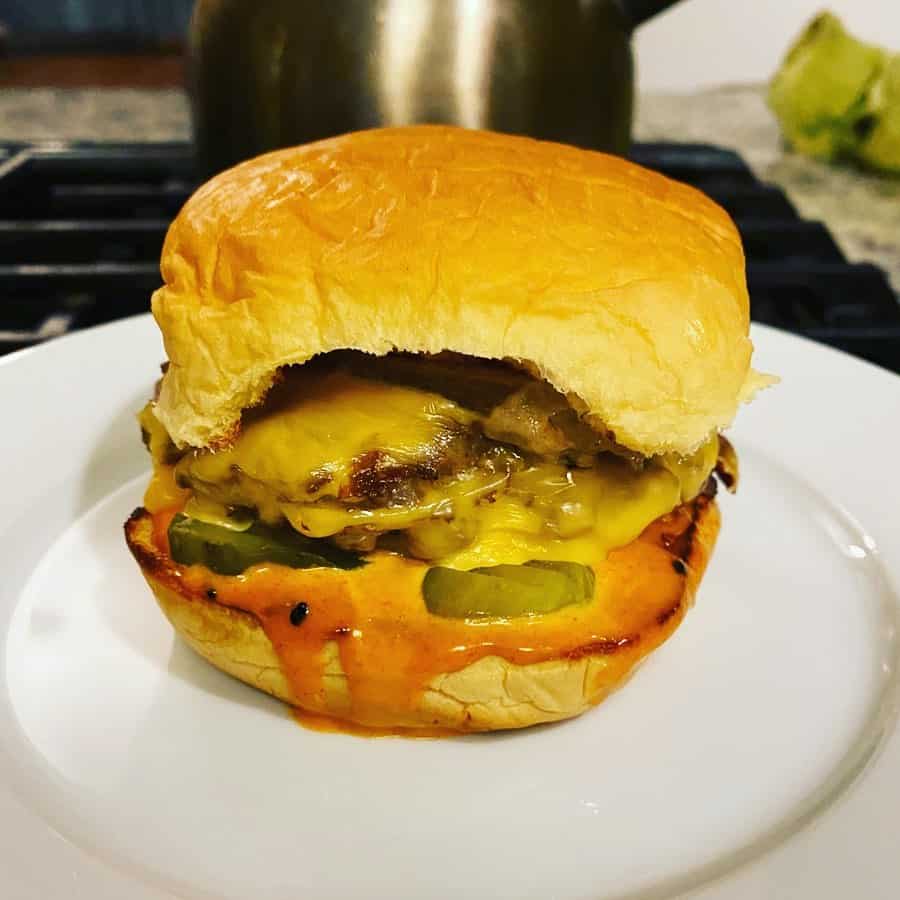 Though Moonlit Burgers just launched, McCoy is no stranger to the food industry in Pittsburgh, working for big Burrito Restaurant Group for a decade as an FOH manager and Wine Director at Soba and Eleven. From there he moved on to Burnt Orange Restaurant Group (owners of Sienna Mercato and Emporio), and has spent the last couple of years building pop-up bars downtown, including last year's Zombie Bar.
But the burgers are a love letter to McCoy's home state.
"I grew up in Southern California, eating at In-N-Out Burger," he says. "Over the last few years, I've been able to go back and spend some time out there, and there's a real smash burger movement happening out there right now, with a lot of places doing what we're doing, and starting out as a pop-up."
McCoy had been thinking about opening a brick-and-mortar Moonlit Burgers location before the pandemic hit, but now plans to continue with the Shadyside pop-ups at least through October.
"We may eventually open something up, but right now, we're just enjoying the pop-up, and plan on doing it at least weekly," McCoy says. "We have a pretty good system down. I have some chef friends who are not working now who are able to help me out."
Each burger is $7, and Moonlit Burgers only accepts cards. You can follow their Instagram page for the latest updates, including upcoming pop-ups.
"This time," McCoy says, "we'll bring twice as many burgers."