Many of us will be spending our Thanksgiving holiday with only our immediate family – or with a much smaller group than we typically would.
If you're hoping to take it a little easier this year, and want to leave the cooking to the pros, these restaurant and catering companies in Pittsburgh are offering full Thanksgiving meals for pickup (and in some cases, delivery).
Please note: Many of these places have order deadlines, so if place your orders soon!
Pittsburgh restaurants offering Thanksgiving Meals for Pickup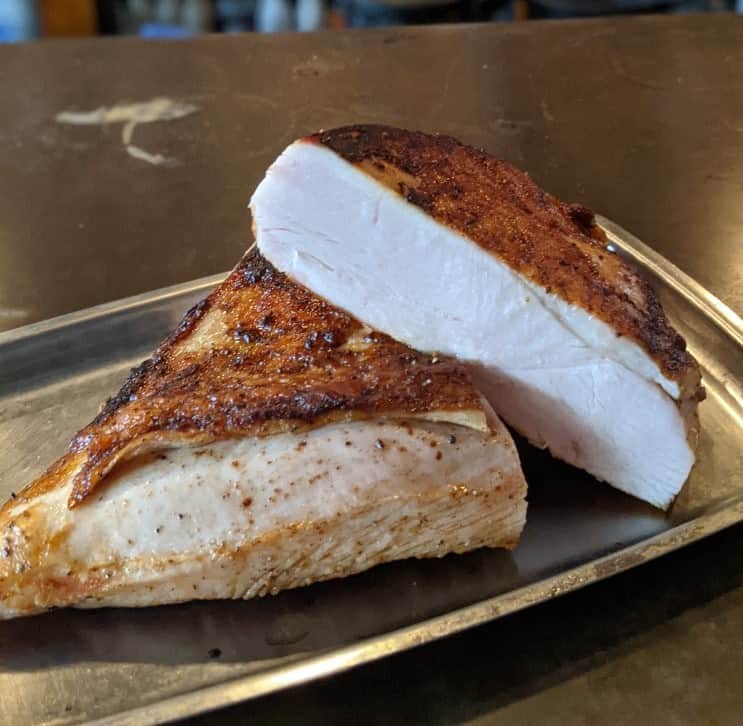 Station: Station is offering Thanksgiving dinner packages to go this year, which include enough to feed two (with leftovers!) for $60. The menu includes a smoked sous vide turkey breast, braised turkey leg and thigh, turkey gravy, house-made fusillo Mac & Cheese, roasted Brussels sprouts, smashed and whipped sweet potatoes, and fudge from Fusion Fudge. Pickup is available on Wednesday, November 25, and orders are available online.
Home: Order heat-and-serve meals for 4-6 ($80) or 8-10 ($110) people from Home, starting at $80. Meals include roasted and sliced turkey breast, turkey gravy, mashed potatoes, sweet potato casserole, traditional sage stuffing, Dijon-glazed carrots and cranberry compote. Pumpkin pie and Cranberry Apple pie can be added to each order, too. Orders must be placed by November 19, and pickup is on Wednesday, November 25. Order online.
Spork Pit: Spork Pit's smoked turkey (about 13 pounds, pre-cooked) is available for purchase this Thanksgiving. Pick it up cold on Wednesday, November 25 from 9:00 a.m. to 2:00 p.m., or pick it up hot on Thanksgiving Day from 9:00 a.m. to 2:00 p.m. Each order is $107, and comes with a quart of cranberry-pepita-sage stuffing, and a quart of foie gras gravy. They're also offering platters of bread pudding (in pumpkin or apple) for $21.40. Order online.
Black Radish Kitchen: There are a lot of options coming from Kate Romane's Black Radish Kitchen for Thanksgiving meals, starting with a 'Turkey Day Happy Hour,' appetizer option ($200, serves 6-8), which includes antipasto with house-made focaccia, crudités with dressing and hummus, and Old Bay shrimp with classic cocktail sauce. A variety of Turkey Day side dishes ($350, serves 6-8) is also available (with a vegetarian selection, too), and uncooked, brined 16-pound turkeys (with gravy) are available for $200. For the full menu, visit their online shop.
Khalil's: Khalil's is offering a Mediterranean Thanksgiving dinner pacakge for $130, which serves four to six people. The package includes Individual Lamb Shanks, vegetable medley, Syrian-style stuffing with raisins and toasted almonds, cranberries with pomegranate and mint, and more. A la carte options include vegan Pumpkin Kibbee trays, Syrian-style stuffing, Khalil's signature salad, and trays of Pumpkin Baklava. Orders must be placed by November 20. Khalil's
Chef's Table: Chef's Table will have to-go Thanksgiving dinners available for $135 (serving 4-6 people). Dinners will include roast turkey, mashed potatoes, green beans, sweet candied yams, stuffing, cranberry relish, pan gravy and rolls. Order by calling 412-821-8100. Orders must be made by Saturday, November 21, and pickup is on Wednesday, November 25.
Bob's Diner: For $60, Bob's Diner in Carnegie will make a Thanksgiving dinner to feed 4-6 people, including turkey breast, homemade stuffing, mashed potatoes, corn, gravy, cole slaw, cranberry sauce and dinner rolls. call 412-429-7400 to order – pickup is on Wednesday, November 25.
Big Rig's BBQ: Monroeville's Big Rig's BBQ is offering smoked turkey (whole and breasts) and platters of brisket, plus an assortment of sides for Thanksgiving dinner, including collard greens, Mac & Cheese and corn bread with honey butter. Pickup is available on Wednesday, November 25 and Thanksgiving morning.
Bistro 19: Bistro 19 in Mt. Lebanon will have Thanksgiving dinner packages available for $140 (serves 4), including brined turkey breast with gravy, sourdough & sage stuffing, buttermilk whipped potatoes, smashed yams, French green beans and more. Pickup is available on Wednesday, November 25 and orders are available online. Call 412-306-1919 for more details.
Proper Brick Oven: Proper Brick Oven is offering fully-cooked Thanksgiving meals for two people (for $100), or four people (for $200). Each dinner includes Butternut Squash Bisque, turkey breast, gravy, stuffing, vegetables and dessert. Orders are open through Saturday.
Eat'n Park: Options include individual turkey dinners that include oven-baked turkey, stuffing, gravy and cranberry sauce, along with two sides and bread. Price: $11.99. For gatherings of 4-6 people, Eat'n Park's Turkey Dinner Family Meal is the easy solution, with oven-baked turkey, mashed potatoes, stuffing, gravy and cranberry sauce, one side and a loaf of Cellone's Italian bread. Cost: $39.99. Add a freshly baked pumpkin pie as part of the meal for an additional $6.00. The Family Meal also is available as "Take and Bake," with everything packed cold and ready to heat, serve and enjoy. Eat'n Park's beloved Pumpkin Pie is $9.49 for a whole pie and $3.49 per slice.
Know of any other Pittsburgh restaurants offering Thanksgiving meals for pickup? Let us know in the comments and we'll update our post!
Keep reading…