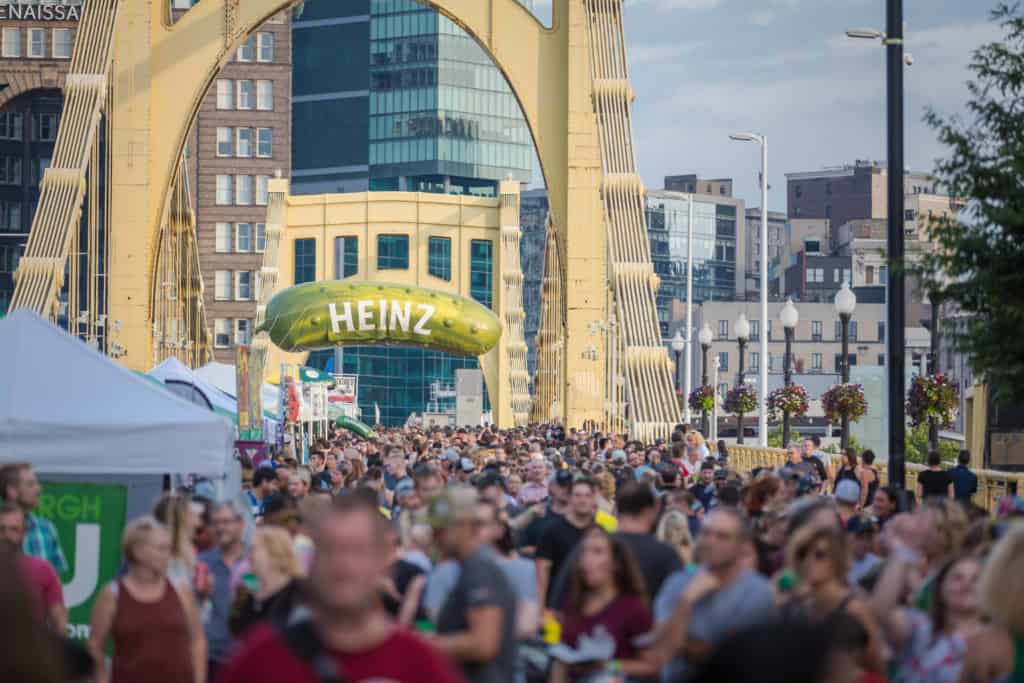 Picklesburgh is back this month, with an expanded location, more food vendors, live music, lots of pickle products – and its famous 35-foot Heinz Pickle balloon ready for action.
The food festival will take place Friday, July 15 through Sunday, July 17, and will now encompass a larger space, including the Rachel Carson (9th Street) Bridge, and the riverside on the 10th Street bypass.
More than 40 food and beverage vendors will be on hand, sharing their best pickle-inspired food and drink options, including a pickle-peppered burger from BRGR, pickled mozzarella from DiAnoia's Eatery, spicy pickled margaritas from Shorty's Pints x Pins, dill pickle cotton candy from Social Pittsburgh, a pickle doughnut from The Pickle Jar, and pickle-brined chicken fingers from the newly-opened Sally Ann's (check out the full vendor list below to see all of the menu options).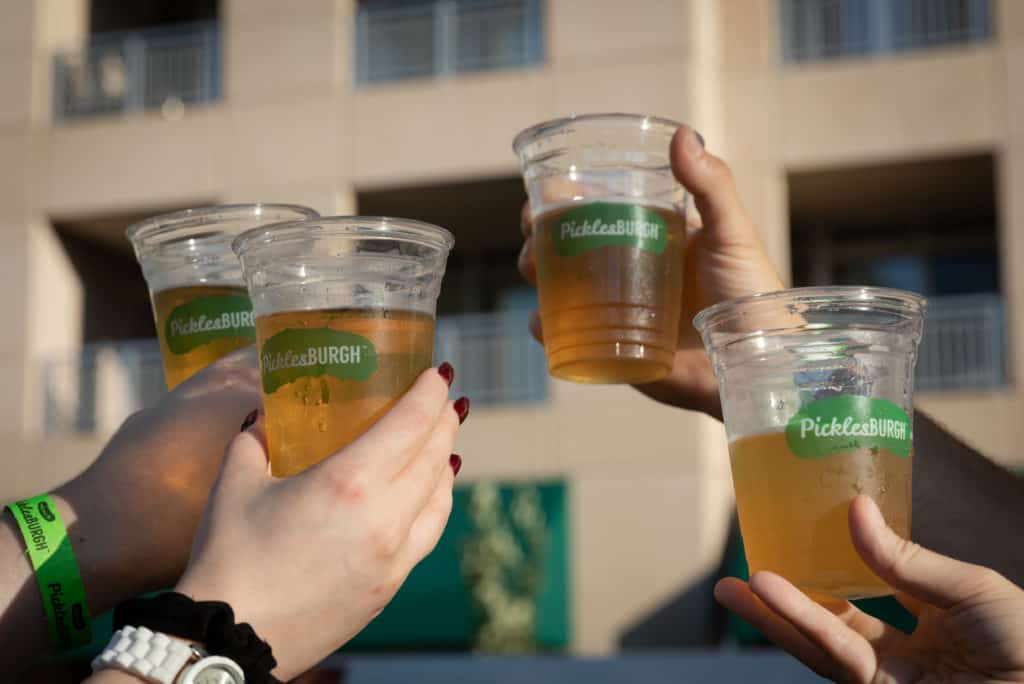 There will also be festival bars set up throughout the event, with limited-edition pickle beers from Southern Tier Brewing and Great Lakes Brewing, made exclusively for Picklesburgh.
Special events include a kid-friendly 'Li'l Gherkins Kidsplay' area with arts and crafts, a "pickle-wielding" speed painter that will be creating rapid-fire portraits, a pickle juice-drinking competition, and live music on two stages.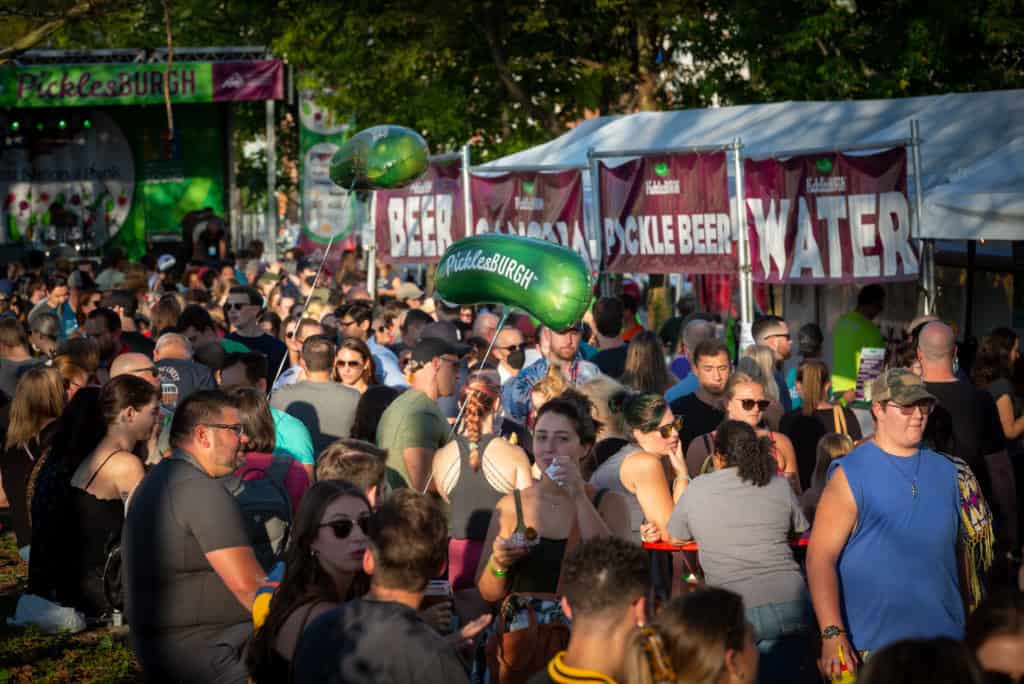 In anticipation of the event, a 'Taste of Picklesburgh' restaurant week will feature special pickle-ish menu items from 15 participating downtown restaurants from July 8 through July 14.
Picklesburgh will be open on July 15 and July 16 from noon until 10:00 p.m., and on July 17 from noon until 6:00 p.m. The festival, which is produced by the Pittsburgh Downtown Partnership, is free to attend.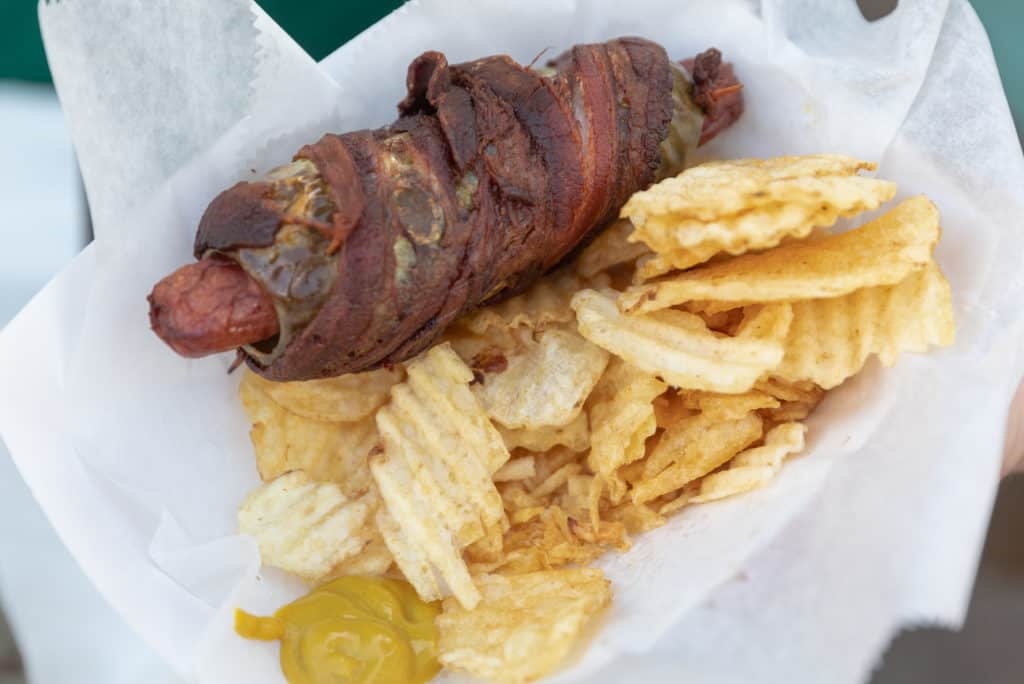 2022 Picklesburgh Vendors
Aunt Carol's Gourmet Dips: Gourmet dry dip packets plus homemade snack packs of dip with dill pickles, pickled green beans, and pickled cauliflower along with kits to make your own pickled vegetables!
Bae Bae's Kitchen: A Downtown favorite serves up a fresh take on Korean-inspired comfort food with a dill-ightful twist.
Big Spring Spirits: Local micro-distillery offering craft liquors including limited edition hot pepper vodka plus pickle-themed cocktails like the refreshing pickled governor fizz.
Bold Pickins: Small batch pickles with creative bold flavors including, "Laid Back Lemon" a lemon and mint pickle, "Open Sesame" an Asian-inspired pickle and "Ring Around the Rosemary", Italian style with herbs, banana peppers & onions.
BRGR: Gourmet burgers and handheld delights including a pickled pepper burger, fried pickles, kimchi hot dog, and creative cocktails including Tickle My Pickle and refreshing pickle-rita.
Bridge City Brinery: If you love their addictive onion tots, then you will be hooked on their new pickle tots made exclusively for Picklesburgh! Wash it down with their pickled iced tea
The Brinery @ Two Acre Farm: Hand-crafted fresh pickles and pickle shots in crazy exciting flavors, like Peach Maple Bourbon, Pineapple Sriracha, Garlic Herb & Wine and even a Monster Energy Pickle Shot for a quick boost. Plus, relishes, hot sauces, BBQ sauces and dill pickle sea salt.
Byler's Relish House: Dozens of pickled options straight from the farm made with the freshest vegetables in small batches using time-tested traditional recipes including old-fashioned dill pickles, sweet dill, and sweet fire dill pickles (Friday and Saturday only).
Cherish Creamery: Gourmet feta pickled in olive oil, 10 flavors of chèvre including dill pickle + onion, dill spiced cheddar cheese curds and assorted hard cheeses.
Chocolate Moonshine Co.: Chocolate covered pickles on a stick plus more than 30 flavors of gourmet fudge made with Belgian chocolate.
CinnaRoast Gourmet Nuts & Confections: Sweet or sour? Choose between pickle-flavored almonds and pickled peanuts, or the sweet taste of cinnamon roasted almonds, pecans, and cashews.
Copper Coast Confections: Creative sweets from Pittsburgh's premiere artisan fudge company including chocolate covered dill pickle popsicles, peanut butter pickle swirl Fudge, and even pickleback fudge with smoked whiskey, caramel and dill pickle peanuts!
Country Hammer Moonshine: No prohibition here with jars of flavored moonshines including tangy dill pickle moonshine or a sip a boozy dill pickle slushie during festival happy hours.
Crooked Creek Distillery: Local craft distillery offering alcohol infused jarred pickles, limited release pickle themed spirits including Bloody Mary Vodka and Dill Moonshine as well as pickled and non-pickled cocktails.
DiAnoia's Eatery: A spin on their renowned menu items, enjoy pickled meatballs, pickled mozzarella, pickled caprese salads, pickled cannoli along with pickled Aperol Spritz and Pickled negronis.
Ekernally Yours Gourmet Popcorn & Sweet Treats: Partnering with Two Acre Farms to bring a full menu of dill pickled, hot pickled, or bread & butter kettle corn as well as fresh-squeezed pickle-ade and pickled Hawaiian ice.
Gosia's Pierogies: Would it be a Pittsburgh event without pierogis? Get the traditional flavors we all love and try out a potato and pickle pierogi for something new!
Grandpa Joe's Candy Shop: Kids of all ages will love an entirely pickled menu that includes astronaut pickles, pickle saltwater taffy, pickle soda, and pickle flavored lollipops!
Haff's Hot Sauce: All-natural, locally made hot sauces, Haff's is offering two secret pickle-themed hot sauces available for purchase exclusively at Picklesburgh!
The I 'Dill Pickle presented by the Pittsburgh Irish Festival: Featuring bacon-wrapped pickles, cheese-stuffed pickles, and the Meat Monster – hot dog inside a pickle, wrapped in bacon. Wash it down with a non-alcoholic Limerick Limeade with a Pickle Twist.
Keystone Cultures Co: Refreshing fermented beverages like pickled kombucha or water kefir with healthful probiotics!
Le's Oriental: Asian-inspired restaurant offering addictive pickle stuffed eggrolls, pickle-ade, and Kim-chi chicken on a stick!
Mclaughlin Distillery: More than 19 different locally brewed whiskeys, bourbons, and moonshines. Special for Picklesburgh, pickle moonshine and jalapeno moonshine to take home!
Millie's Homemade Ice Cream: A Pittsburgh success story ice-cream spots returns to Picklesburgh with their beloved pickle-flavored soft serve ice cream and other refreshing favorites.
Patti's Pastries: Jumbo Gourmet Cupcakes including the famous Dilly Dilly DILLICIOUS infused with dill pickles, Death by Chocolate with chocolate Stout and sauerkraut, Maple Bourbon Pickle Buttercream topped, and White Chocolate Raspberry Truffle.
The Pickled Chef: Killer grilled cheese sandwiches, made-to-order with bacon jam, pickled veggies, kimchi, and sauerkraut. Buy their jarred pickle product, jams, jellies, mustards, BBQ sauce to take home!
The Pickle Jar: Have you ever tried a pickle-flavored donut? The Pickle Jar has that as well as 10 different flavors of pickle chips, kettle corn, iced tea, and pickle-ade!
Pickle Me Pete: Pickles straight from the Big Apple serving up nine varieties of fresh NY pickles famous fried pickle stickle, and French fries dusted with pickle salt.
Pittsburgh Mobile Bars: Choose from mocktails or happy hour cocktails From Goodlander Cocktail Brewery including dill pickle lemonade, pickled jalapeno limeade, or a strawberry basil fizz.
Pittsburgh Pickle Co.: A hometown success-story, this family-owned business is dedicated to crafting the finest pickles, and even has a patent for their one-of-a-kind Crow Cut pickle slice. Sample their wide range of flavors and pucker up for their Briney Mary and Picklexir pickle juice.
Popped Envy Gourmet Popcorn: 50+ handmade flavors of gourmet popcorn, including delicious dill pickle popcorn! All their popcorn is gluten-free, egg-free, tree nut, and peanut-free.
Pretzel Revolution: A dill-iciously simple menu with fresh baked pickled chicken stuffed pretzel, pickled cheese dogs, pickles in a pretzel, or a hand-twisted soft pretzel made with diced pickle dough.
Rusty Musket Distilling Co.: A family-owned craft spirit distillery located high in the Allegheny Mountains offering traditional mountain-style moonshine, flavored moonshine, vodka, and whiskey. Try out the Pickleback, shoot it straight, pour it over ice, add it to a Bloody Mary, or make a pickletini.
Sally Ann's: The newest addition to the Richard DeShantz Restaurant Group offering a gourmet pickle-inspired menu including pickle brined chicken fingers, pickled cauliflower, Cuban sandwich with giardiniera, pickleback whisky highballs, and pickled peach highballs.
Scratch & Co: Adding a Thai fusion twist to Picklesburgh with traditional dishes that include Fried Peanuts and cashews with fried pickled herbs, five spiced braised pork with pickled mustard greens, grilled corn with salted coconut cream, and donuts with pickled banana custard.
Shorty's Pins x Pints: Food truck inspired street food offering pickle twists on nachos, tacos, chow chow, cocktails, including a Watermelon Shrub and Spicy Pickled Margarita!
Sienna Mercato: Downtown's three-story culinary destination is serving up pickled lemonade (spiked or not) pickled margaritas, two-handed Italian hoagie with pickled giardiniera and pickled macaroni salad!
Simons Food Concessions: Pickle funnel cake! Pickle dogs! Pickle chips and pickled lemonade! Along with a full menu of regular festival bites!
Social Pittsburgh: Hand-spun, all-natural, artisan cotton candy! Flavors include dill pickle, pickled pepper, pickled ginger peach, jalapeno lime Ricky, and way more amazing flavors!
Sub Zero Nitrogen Ice Cream: Sub Zero whips up mouth-watering nitrogen ice cream right before your eyes! Cool down with some pickle ice cream on a summer day!
Uncle Bunk's: Family owned, award-winning pickles and condiments based on old Appalachian recipes, such as traditional 14-day pickles, mustard relish with pickle chunks, pepper sauces, and dry rubs.
The Warren Bar & Burrow: Cuban egg rolls, pickle-brined Carolina pork BBQ sliders, and shrimp ceviche with pickled strawberries and onions. Drink the summer heat away with a pickled watermelon margarita.
Wigle Whiskey: Picklesburgh inspired Eau de Pickle, Pickled Rye Whiskey and City of Champions bourbon available for sale as well as offering two craft cocktails to enjoy during happy hour!