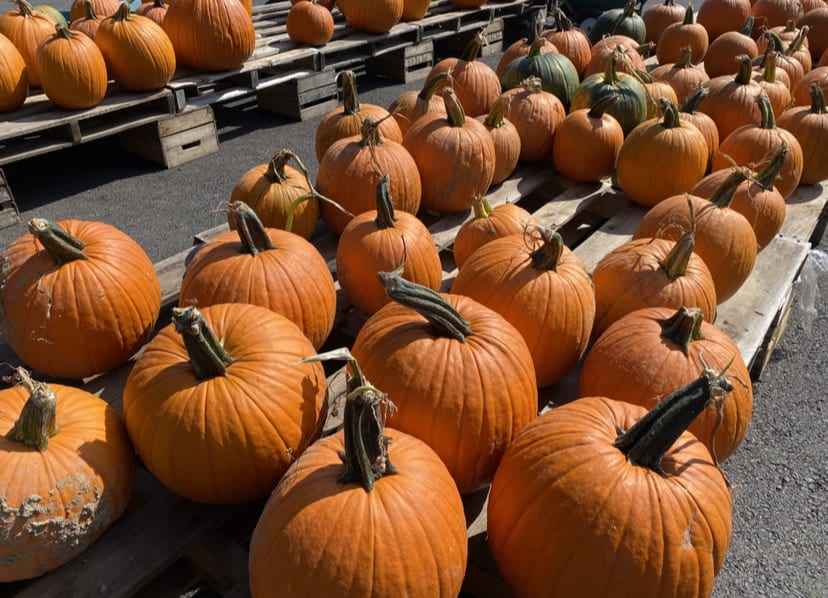 Who's ready for a season full of Pittsburgh fall festivals? We've rounded up everything from apple fests to pumpkin picking at farms all across western Pennsylvania.
These family-friendly farm events are sometimes weather-dependent, so check each individual location's website before visiting so you'll be completely prepared.
Be sure to bookmark this page and use it as a reference all autumn to see what is happening around town. We'll keep updating it as we find more festivals.
Let us know in our comments if we've missed any of your favorite Pittsburgh fall festivals!
Pittsburgh Fall Festivals 2023
Fair Haven Farms Fall Festivals
Fridays, Saturdays and Sundays from September 15 – October 29
Located just two miles from the Grove City Premium Outlets, this beautiful family farm offers fun for all ages. Visit their Family Fun Center during their Fall Festival weekends, which includes a corn maze, pumpkin patch, petting zoo, food shack, and a hayride into the fields. Fair Havens Farms (206 Lee Road, Grove City)
Iron Mills Farmstead
September 2 – November 4
A short drive from Pittsburgh, Iron Mills Farmstead in New Wilmington, is now open for their annual Fall Fun weekends. They have more than 40 attractions, including a corn maze, tractor rides, candy cannon show, pig races, slides, corn cob beach, sunflower picking, jumping pillows and more, and is a great trip to take with kids. Tickets start at $15.95 for Thursdays, and $24.95 for Fridays, Saturdays and Sundays. Iron Mills Farmstead (252 Greenfield Road, New Wilmington)
Trax Farms Fall Festival
Saturdays and Sundays, September 23 through October 22
Trax Farms in Finleyville's annual Fall Festival is a celebration of all things on autumn on their 150-year-old farm. The event includes a hayride to their pumpkin patch to pick-your-own pumpkins, a giant, three-acre corn maze, a train ride, axe-throwing, and more. Tickets start at $12 (online, and $14 in-person), and pumpkin-picking and select other events are extra. Advanced tickets are required. Trax Farms (528 Trax Road, Finleyville)
Simmons Farm Fall Activities
Daily, September 16 – October 29
Simmons Farm in McMurray will be offering hayrides, apple picking and more Fall activities this year. Tickets are available online, and include pumpkin corn hole, a hay maze, corn maze, pumpkin patch and more. They also offer daily flower picking. This year, Simmons Farm is offering night hayrides and fire pits for private reservations. For more information, visit their website. Simmons Farm (170 Simmons Road, McMurray)
Soergel Orchards Fall Festival Weekends
Weekends, September 16 – October 29
Soergel Orchards' Fall Festivals Weekends are back! Starting on Saturday, September 16, the Wexford farm will have their Pumpkin Patch and Apple Orchard open for picking, along with their market, offering candy apples, cider doughnuts, fresh-baked pies and pumpkin treats – along with Oram's doughnuts! There will also be a lot of family-friendly activities, including tractor rides. Pumpkin patch and apple picking hours are from 10:00 a.m. to 5:00 p.m. on the weekends, and check their social media for weekly updates on weekday picking. Soergel Orchards (2573 Brandt School Road, Wexford)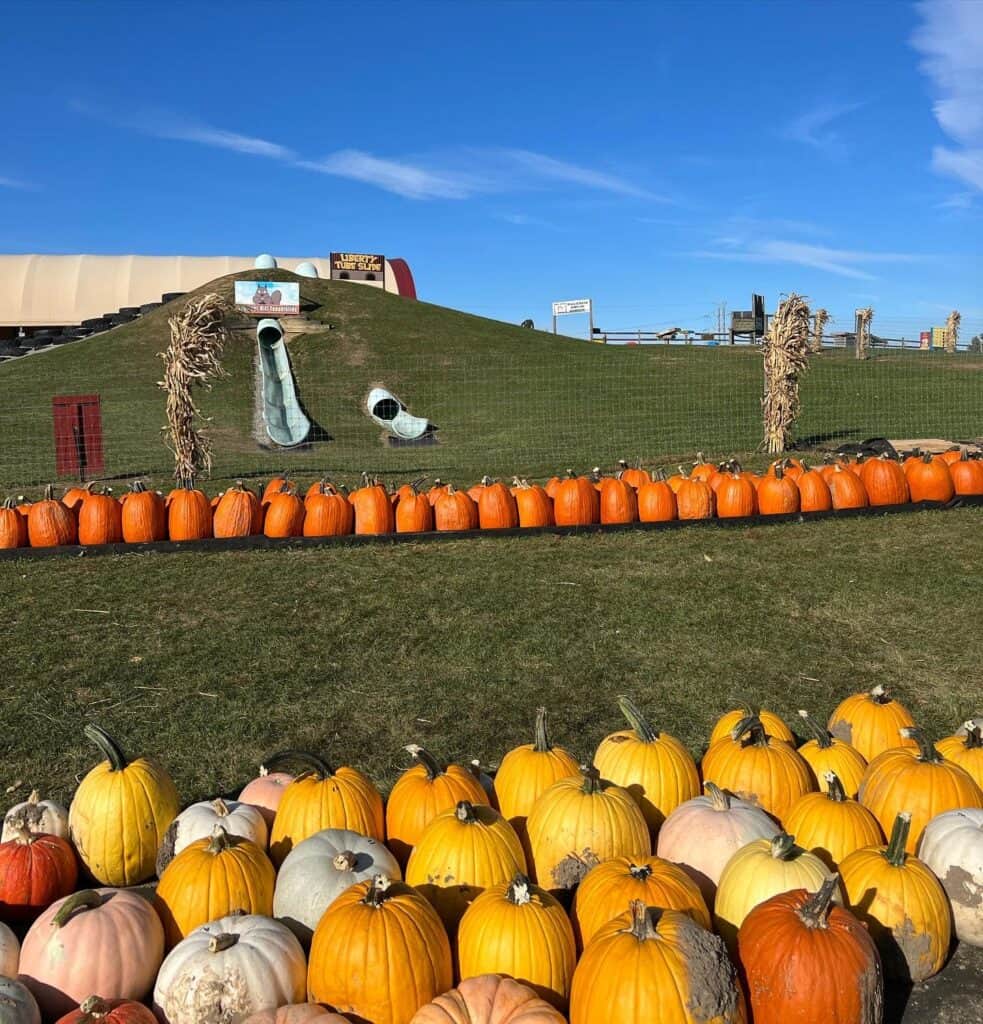 Triple B Farms Fall Fun
September 16 – October 29
This year, Triple B Farms is hosting a lot of Fall Fun, with hayrides, animal barn tours, corn mazes, pumpkin patches and more. Admission includes farm animals, hayrides, corn mazes, giant slides, rope mazes and more. They also have pick-your-own apples, flowers and pumpkins, for an additional fee. Triple B Farms (823 Berry Lane, Monongahela)
Pumpkin Festival and Fright Night at Cheeseman Farm
Weekends, September 16 – October 29
You'll find daytime fun for the whole family, including pumpkin picking, hayrides, corn maze, a petting zoo, corn stalks and shopping at Cheeseman Farm in Portersville. They're also well known for their scary Fright Farm, which has haunted hayrides and corn mazes and opens after sunset. Cheeseman Farm (147 Kennedy Road, Portersville)
Shenot Farm Pumpkin Patch
September 30 – October 29
Starting Saturday, September 30, the Pumpkin Patch at Shenot Farm in Wexford will be open daily from 10:00 a.m. to 5:00 p.m. for pick-your-own pumpkins. Hayrides to the pumpkin fields cost $5 per person (pumpkins not included). They will regularly host food trucks on the weekends, and will have already-picked pumpkins available, too. For more regulations and information, visit the website. Shenot Farm (3754 Wexford Run Rd., Wexford)
Great Pumpkin Weekends at Spring House Market
Weekends, September 24 – October 29
Head to Washington, PA for the Spring House Market's Great Pumpkin Weekends, which includes hayrides, pumpkin picking, giant hay bale climbing, a corn maze, hillside slide, corn hole and more. Check their website for tickets. The kitchen will also be serving lots of homemade dishes, including homemade pumpkin cookies, pumpkin pies, cabbage rolls, and hog roasts. Spring House Market (1531 Route 136, Washington, PA)
Zombies of the Corn
Weekends, September 22 – October 29
Forget about your zombie video games – Zombies of the Corn in Freedom, PA, brings zombie nightmares to life. This ride takes guests through a haunted corn maze on a truck loaded up with paintball guns. Guests shoot at zombies as they pop up from the maze. Tickets include zombie shoot ride (150 zombie killing Paintballs), walk through the zombie compound, spooky ghost stories, campfire, and parking. Ticket prices range from $34.99 to $59.99, and more information can be found online. (282 Rochester Road, Freedom)
Janoski's Pumpkinland
Saturdays and Sundays from October 1 through October 30
Janoski's Farm & Greenhouse in Clinton will be hosting their annual Pumpkinland event every weekend through October, featuring a walk-able pumpkin patch, scenic hayride, corn maze, haunted barn, pony rides for kids, and more. Tickets are $10 per person (children 2 and under are free), and more information can be found on their event page. Janoski's Farm & Greenhouse (1714 Route 30, Clinton)
Fright Farm at Rich Farms
Fridays – Sundays, September 8 – October 31
For more than 30 years, Rich Farms in Smithfield, PA opens on the weekends for their annual Fright Farm. Tickets are available online, and be warned – they sell out quickly! The attraction is also open on Thursdays in October. Fright Farm (2043 Springhill Furnace Road, Smithfield)
Phantom Fall Fest at Kennywood
Fridays, Saturdays and Sundays from September 22 – October 29
Kennywood's signature fall event features family-friendly activities and festive food during the day (along with roller coasters and Kennywood rides), and some spookier celebrations in the evening, with six haunted houses and four scare zones. Kennywood (4800 Kennywood Blvd., West Mifflin)
Freedom Farms Fall Festival
Weekends, October 1 – October 29
Every weekend this October (and on Columbus Day, October 9), Freedom Farms hosts their biggest event of the year: Fall Festival. They will have lots of fun autumn activities, like hay rides, a petting zoo, pumpkin patch, tractor rides, farm fresh food, local alcohol vendors, face painting, corn pit, hay mountain, sunflower maze, and a corn maze. Admission is $10 per person, and children 3 and under are free. Freedom Farms (795 Pittsburgh Road, Butler)
Confluence Pumpkinfest
Friday, October 6 – Sunday, October 8
Enjoy the fall foliage in Confluence (located in the southwestern corner of Somerset County in the Laurel Highlands), at their annual Pumpkinfest festival during the weekend of October 6 through October 8. They'll have arts & crafts vendors, food, an antique and classic auto show, a parade, tractor square dancing, live music, and a pumpkin contest. Confluence Pumpkinfest
Mars Applefest
Saturday, October 7
Head to downtown Mars for the Mars Applefest on Saturday, October 7. They'll have more than 150 vendors, offering everything from food, flowers, crafts and art – and lots of apple products. All entertainment is free and open to the public. Mars Applefest
Autumnfest at Seven Springs Resort
Saturdays and Sundays from October 7 – October 22
Autumnfest, one of the most popular events at Seven Springs Resort is back for another year. Enjoy live entertainment, crafters and artisans, face painting, a pumpkin patch, a hay maze, outdoor activities, an Alpine Slide, and more at this family-friendly event. More details can be found online. Seven Springs (777 Waterwheel Drive, Seven Springs)
Houston Pumpkin Festival
Friday, October 13 – Sunday, October 15
Celebrating its 40th year, the Houston Pumpkin Festival features family-friendly entertainment in Washington County, including more than 175 food and craft vendors, music and entertainment, children's activities, a parade, and a scarecrow contest. Admission to the festival is free, and proceeds benefit the Houston Volunteer Fire Department. Houston Pumpkin Festival
Fort Ligonier Days
Friday, October 13 – Sunday, October 15
Fort Ligonier Days commemorates a key battle of the French & Indian War, which occurred on October 12, 1758. The three-day event features historic battle reenactments, plus a market with crafts, food, local spirits, and live music. There's also a parade, and special museum tours. Fort Ligonier Days
Fall Festival in Zelienople
Saturday, October 14 – Sunday, October 15
With wagon rides, a chili cookoff, dozens of arts and crafts vendors, a car cruise, and a bounce house corner (with kid's activities!), one of the most beloved Pittsburgh fall festivals is back for another year! The annual Fall Festival in Zelienople offers loads of fun for the whole family, and plenty of leaf-peeping opportunities. Fall Festival
Pittsburgh Monster Pumpkins Festival
Saturday, October 21- Sunday, October 22
Pittsburgh's annual Monster Pumpkins Festival is back for another year! On October 21 and October 22, head to the 3 Crossings Campus between 28th and 29th Streets in the Strip District to see a massive display of giant carved pumpkins from some truly talented artists. Admission is free, and the event is family-friendly.
Did we miss any of your favorite Pittsburgh Fall festivals? Let us know in the comments!