If you're getting a little tired of eating out of your fridge, you're in luck – though dine-in services are closed indefinitely, there are still plenty of restaurants offering takeout and delivery.
We've been updating our massive #TakeOutPGH list, and organized it by neighborhood, but thought we'd share a few of our favorite places for a Takeout Tuesday dinner.
And, don't forget to follow #TakeOutPGH on Instagram (and share your pics of your own takeout meals!) to find even more choices.
Acorn
Shadyside
Acorn is offering a limited menu for takeout and delivery (through GrubHub, or free by calling the restaurant directly at 412-530-5950). The menu includes classics like Mac & Cheese, Fried Chicken Sandwiches, Burgers, Shrimp & Grits and Fish Tacos. Plus, they're taking pre-orders for house-made bagels available on the weekends. Acorn (5528 Walnut Street)
Alta Via
O'Hara Township
Fresh-made pasta? Check. Fresh-made bread? Check. Fresh-made salads? Check. Alta Via is offering their seriously delicious menu available for pickup from 11:00 a.m. to 8:00 p.m., and for delivery through Grub Hub. They also have family-style meals for two or four, featuring salads, pasta, and an entree. Alta Via (46 Fox Chapel Road)
Big Rig's BBQ
Monroeville
Get yourself a BBQ feast from Monroeville's Big Rig's BBQ. They're currently offering their full menu for takeout, including brisket, baby back ribs, pulled pork, and lots of sides (baked beans, Cole slaw, Mac & Cheese, corn bread, collard greens and more). And, to make dinner especially easy, they have family platters for $59. Big Rig's BBQ (226 Center Road, Monroeville)
Burgatory
Various Locations
Order up burgers, fries, shakes and more from Burgatory. The Pittsburgh restaurant chain is offering their full menu (which also includes salads and sandwiches) for takeout and delivery through DoorDash, GrubHub and UberEats. Burgatory (various locations)
Carson Street Deli & Craft Beer Bar
South Side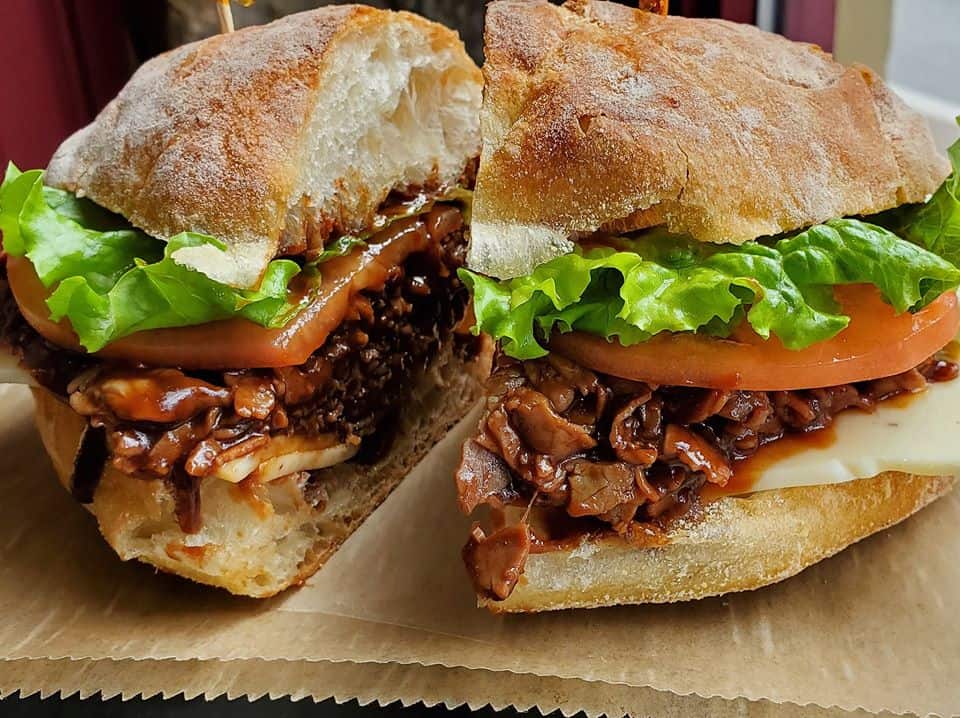 Need a sandwich? Of course you do! Carson Street Deli & Craft Beer Bar is slinging sandwiches all day long for takeout, and they offer delivery daily from 11:00 a.m. to 2:00 p.m. Carson Street Deli & Craft Beer Bar (1507 East Carson Street)
Cenacolo
North Huntingdon
Not only can you get the full Cenacolo menu for delivery or takeout (hello, house-made pasta!), but they're also serving pizza from their sister restaurant Salvi's Pizza & Wine Bar. Plus, you can order family-sized half-pans of their pasta (Four Cheese Ravioli, Rigatoni, Bruco or Giglio), which includes a loaf of bread, butter and salad, and a bottle of red or white wine. Cenacolo (2000 Commerce Loop, North Huntingdon)
El Burro
Various Locations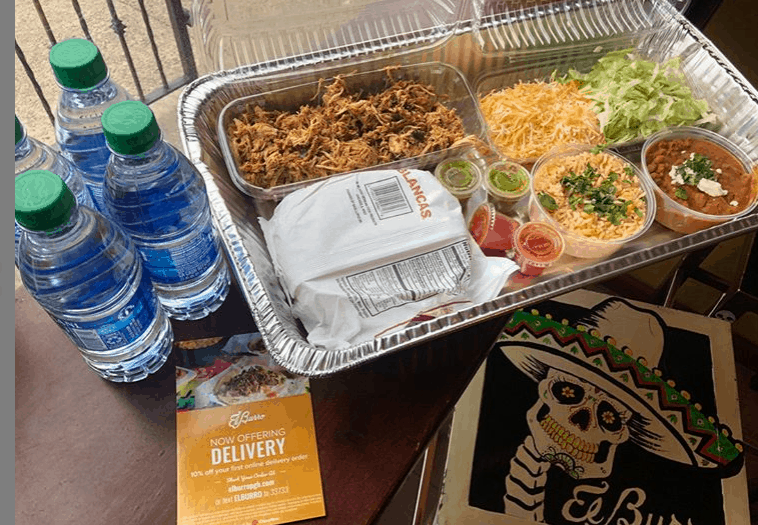 Family four-packs are now available at El Burro (along with their regular menu of tacos and burritos). The special includes tortillas, chicken or carnitas, and all the lettuce, cheese, rice beans, hot sauce and sour cream to make your own tacos at home. Both El Burro locations have no-contact pick up and delivery stations set up, and if you order directly from their website, you get 10% off your first order. El Burro (various locations)
Il Pizzaiolo
Mt. Lebanon ⁠
Family-style trays of pasta, plus a full takeout menu with pizza, pasta, salads, and select antipasto is available from Il Pizzaiolo in Mt. Lebanon. Order for curbside pickup, or free delivery on orders more than $100. *Bonus* Il Pizzaiolo's house-made limonecello is also now available for purchase by the bottle! Il Pizzaiolo (703 Washington Road, Mt. Lebanon)
Iron Born Pizza
Various Locations
Both Iron Born locations in Millvale and the Strip District are currently open for takeout. In addition to their Detroit-style pizzas, the Strip District location is also offering fresh-made pasta – and, word on the street (or, from chef Ryan Peters' Instagram page) is that next week, they'll also have Mac & Cheese. Iron Born (various locations)
Ki Ramen
Lawrenceville
Ki Ramen is open for takeout, offering a limited menu with favorites like Shoyu Ramen, Tonkatsu Ramen, Kimchi Fried Rice, Salt & Pepper Chicken Wings, Edamame and Kimchi. Delivery is available through UberEats, GrubHub and Postmates. Ki Ramen (4401 Butler Street)
La Palapa
South Side
La Palapa is open during regular hours for takeout and delivery, and they're offering free delivery when you call them directly at 412-586-7015 to South Side, South Side Slopes, Squirrell Hill, Carrick, Mt. Oliver, Brentwood, Oakland, Strip District, Downtown Pittsburgh, Mt. Washington, and Beechview. They also have a 'Palapa Savings combo' for families of 2, 4 or 6. La Palapa (2224 East Carson Street)
Mediterra Cafe
Sewickley
You can find pretty anything you could ever want for take out at Mediterra Cafe – they have pizza kits and charcuterie platters, plus sandwiches, salads, and lots of grab-and-go prepared dishes, including Mac & Cheese, meatballs, egg salad, salmon and clam chowder, tuna salad and more. Mediterra Cafe (430 Beaver Street)
Muddy Waters Oyster Bar
East Liberty
Family-style dinners are on the takeout menu at Muddy Waters Oyster Bar. Call them at 412-361-0555 to place your order for $35 meals, with entree options like a bucket of fried chicken, Jambalaya with chicken and shrimp, Seafood Gumbo and Po'Boys. Muddy Waters Oyster Bar (130 S. Highland Avenue)
Noodlehead
Shadyside
One of our favorite noodle spots is serving their full menu of noodles and snacks for takeout, with orders available on their website, or by calling 412-295-4580 (yep, Noodlehead is breaking their own "no-phone" rule for the cause!). One thing to remember: They continue to be cash-only. Noodlehead (242 S. Highland Avenue)
Smoke
Lawrenceville
Smoke is offering a limited takeout menu for lunch and dinner, with burgers, fried chicken sandwiches, salads, and house-made drinks. They also have doughnuts (until they run out). Call 412-224-2070 to order. Smoke (4115 Butler Street)
Square Cafe
Regent Square
Neighborhood spot Square Cafe may not be open for dinner, but they are offering takeout for breakfast and lunch, and this week, they're also offering delivery this week to neighborhoods throughout the city. Check their Instagram for more information. Square Cafe (1137 South Braddock Avenue)
What restaurants are offering your favorite takeout right now? Share with us in the comments!